Pittsburgh Steelers: Have These 5 Players Played Their Last Game in Pittsburgh?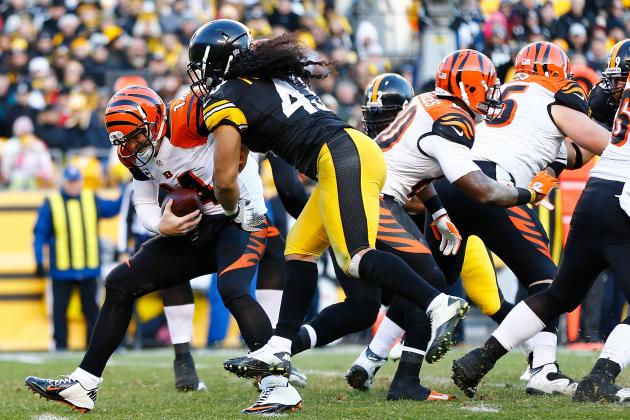 Jared Wickerham/Getty Images

With their 24-10 victory over the Cleveland Browns, the Pittsburgh Steelers have completed a disappointing and confusing 8-8 campaign. Now, it is up to Mike Tomlin and his staff to pick up the pieces, fix the leaks and prepare for a more successful 2013.
Part of that process will surely involve turnover on the team's roster. Given the team's potential salary cap issues and the age and erosion of the roster, some big names may no longer be in the team's plans.
Here's a look at five players who may have played their last game in black and gold.
Begin Slideshow

»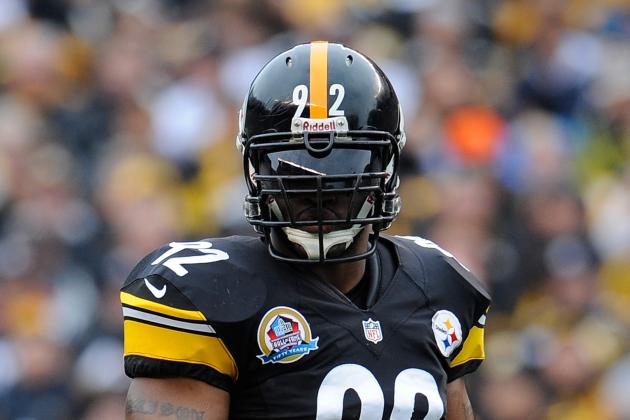 Joe Sargent/Getty Images

The Problems
Harrison, one of the team's signature defensive players, will be 35 years old when the NFL opens the 2013 season. He's also going to count $10 million against the salary cap in 2013.
Given his drop in production (only six sacks in 2012 after having nine in 2011 and 10.5 in 2010), the Steelers may need to go with a less expensive and younger alternative.
Analysis
This would be an easy call if Harrison weren't such a devastating defender when he's fully on his game.
The problem is his game has eroded due to some injuries and the natural march of age. With Jason Worilds, a much younger player that has impressed in limited action, seemingly ready to take over, the Steelers must make the difficult decision to say farewell.
The cap savings is the other part of the equation. If Pittsburgh can recoup the money due Harrison, they can plug some other leaks on their team (inside linebacker, running back or safety) without having to restructure every major player on the team.
In the end, this should go the same way things did with Joey Porter. Harrison's age and limited effectiveness have put him on the outside of the bubble. It's time to say goodbye.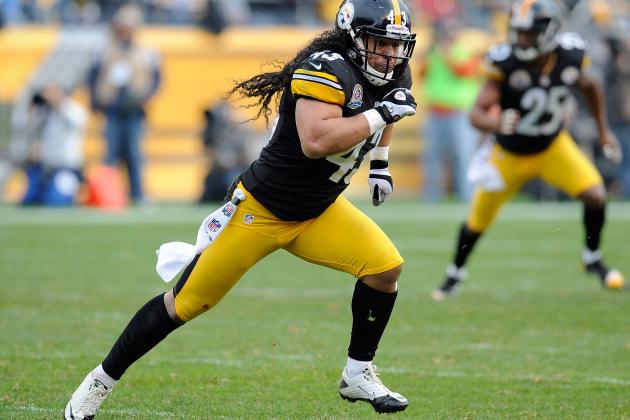 Joe Sargent/Getty Images

The Problem
Beyond the obvious problem of Polamalu's salary ($7.5 million in 2013), there's the issue of his production and injury history not being what you'd like to see from an expensive player that an entire scheme is virtually designed around.
The Steelers haven't had Polamalu for even half of this season. He played a full season last year, and his effectiveness wasn't there anymore. The consistency is gone.
Analysis
This hurts. Polamalu is one of the team's most-recognizable and beloved players. He's been a huge part of two Super Bowl-winning teams and a bunch of playoff teams. He's transformed the strong safety position.
He's also going to have a bust in Canton someday. It's just a matter of time.
But in the here and now, Polamalu doesn't fit the team's needs anymore. While they could restructure his deal for another year, they'd be better off cutting him to save the money and drafting a player like Matt Elam from Florida.
In the end, they may cut Polamalu, draft Elam and resign Polamalu to tutor him for one year on a reduced-cost deal. That is probably the most-likely outcome here.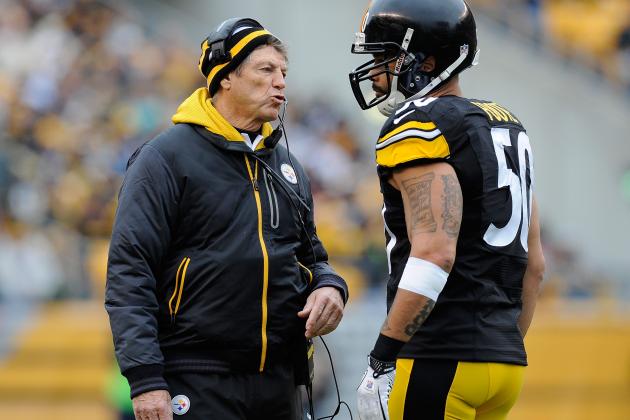 Joe Sargent/Getty Images

The Problem
The problem for Foote hasn't been his play. The problem is that the Steelers are probably not making a good decision if they rely on the soon-to-be 32-year-old linebacker as the starter next to Lawrence Timmons in 2013.
Foote is an unrestricted free agent and probably won't be an expensive signing for Pittsburgh, but the Steelers may be better off spending that money somewhere else or on a younger player at the position.
Analysis
Game-changing plays in the middle of the Pittsburgh defense used to be commonplace. James Farrior could drill a quarterback, pick off a pass in coverage or come up and snuff out a potential gain from the running game.
Foote is part of the problem there. He's older, doesn't have the blitzing ability he did a few years back and doesn't have the size or strength to be a consistently effective run stuffer.
There will be several free-agent options (Rey Maualuga from Cincinnati for one) and several draft prospects that could fit the Steelers at inside linebacker. Sean Spence, drafted last year, could be an option as well if his knee is ready to go.
The bottom line is that Foote isn't really a necessary keeper. The Steelers can (and probably will) move on.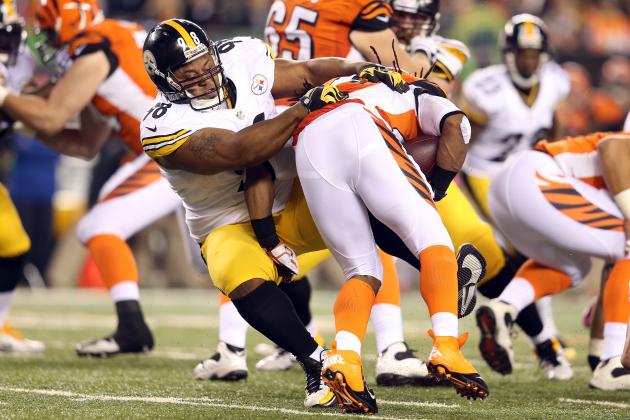 Andy Lyons/Getty Images

The Problem
Hampton will be 36 early in the 2013 season. He's a mammoth nose tackle who's had a history of knee problems (three ACL procedures during his career). He's recently said he wants to play two more seasons regardless of what uniform he's wearing.
For the Steelers, it might be time to get younger in the middle of a defense that ranked near the top of the NFL despite creating little pressure or turnovers.
Hampton won't be an inexpensive signing in free agency either.
Analysis
This shouldn't even be a question. If Hampton hadn't had a late resurgence down the stretch as his knee returned to full strength, it wouldn't have been an issue.
But after starting all 16 games and playing well toward the end of the year, Hampton may have earned himself a new deal somewhere.
That shouldn't be in Pittsburgh. The Steelers must go with the younger, more athletic Steve McLendon at the nose tackle position.
The Steelers were on board with saying farewell to Hines Ward last year knowing he might sign with a new team instead of retiring. Expect them to take the same approach with Hampton this year.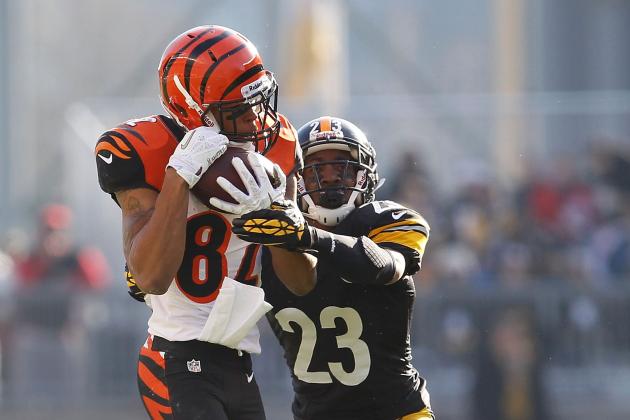 Gregory Shamus/Getty Images

The Problem
Lewis, unlike others on this list, is a young player with a ton of future upside. He's a guy whose future looks bright.
The problem for Pittsburgh is that future looks more expensive by the game. That's not good news for a small-market team that doesn't have a ton of projected space under the cap even if they can clear veteran contracts and restructure others.
Analysis
If the Steelers make a play for any one of their own unrestricted free agents this year, it needs to be Lewis. Pittsburgh cannot afford to let a rising star like him go in free agency.
That pursuit, however, has to be tempered by price. The Steelers were here with Ike Taylor and Ryan Clark before. Both ended up back in Pittsburgh after flirting briefly with other possibilities.
If the Steelers can do the same with Lewis, they're in decent shape at corner for the next year. If they can't, they'll need to spend a high draft choice on the position to make sure they don't have a significant drop off.
Lewis was one of the league's best corners at defending passes this year. That's something the Steelers desperately need from their secondary in a division and conference that possesses a long list of elite passing and receiving threats.