UFC 155: Top 10 Middleweights in the UFC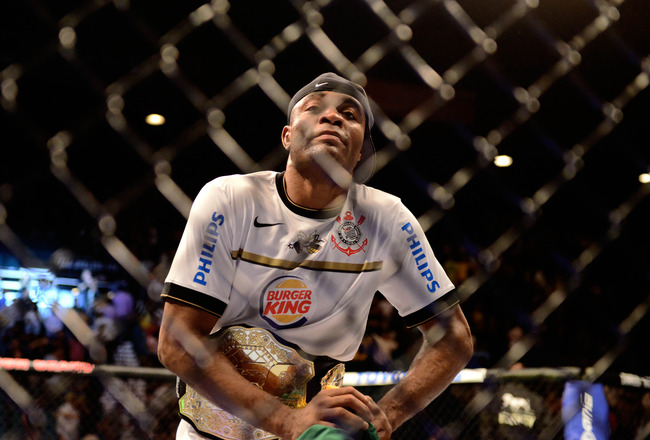 Mark J. Rebilas-USA TODAY Sports
The UFC's final event of 2012 has come and gone, and aside from the heavyweights and lightweights fighting in the main and co-main event, the card was stacked with some of the middleweight division's most important contenders.
Chris Leben returned after a long layoff, newcomer Costa Philippou extended his winning streak to five fights, and both Alan Belcher and Yushin Okami slugged it out in the middle of the pack at UFC 155 in Las Vegas on Saturday night.
Perfect time to take stock, then, on how the UFC's 185-pound rankings stack up.
10. Costa Philippou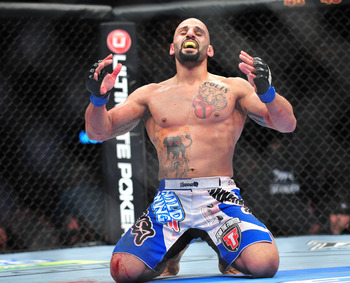 Gary A. Vasquez-USA TODAY Sports
It took former pro boxer Costa Phillipou three rounds to score his second stoppage in the UFC against Tim Boetsch. His win is his fifth in the promotion and, after a stuttering start to his UFC career with a loss against Nick Catone, he's come good and broken into the top 10.
Tim Boetsch struggled from the moment the bell went off to take the Greek-Cypriot down in their fight at UFC 155, and even when he did, Boetsch could do little against his opponent.
Philippou is a long way from the finished product or from being considered a contender, but his performance on Saturday night proved he's a fighter on the rise.
9. Brian Stann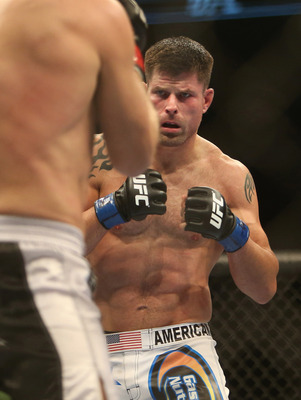 Tom Szczerbowski-USA TODAY Sports
Brian Stann was considered one of the most exciting talents in the middleweight division after he dropped to the 185-pound weight class in 2010.
However, the former WEC Light Heavyweight Champion has lost two of his last three fights to both Chael Sonnen and Michael Bisping. His losses have cost him any potential title shot and he's now inching toward the wrong end of the top 10.
8. Mark Munoz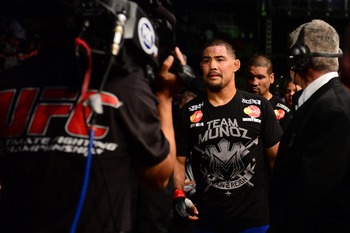 Kyle Terada-USA TODAY Sports
At the end of 2011, Mark Munoz had stacked four straight wins in the UFC and was poised for a title shot. Such aspirations were abruptly put to an end with a brutal KO at the hands of Chris Weidman and Munoz hasn't been seen in the cage since.
However, his wins in 2011 against C.B. Dollaway, Demian Maia and Chris Leben still count for something, which puts him eighth in the middleweight rankings.
7. Vitor Belfort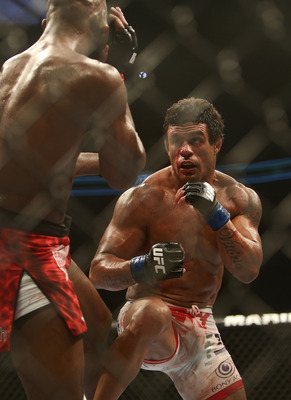 Tom Szczerbowski-USA TODAY Sports
Vitor Belfort may be coming off a light heavyweight title loss to Jon Jones at UFC 152 in September, but he'd gone 5-1 as a middleweight before then, with wins over Rich Franklin, Matt Lindland, Yoshihiro Akiyama and Anthony Johnson.
He finished all those fights in the first round which means, despite his embarrassing front-kick KO loss to Anderson Silva in February 2011, he's still one of the most dangerous men at 185 pounds.
6. Alan Belcher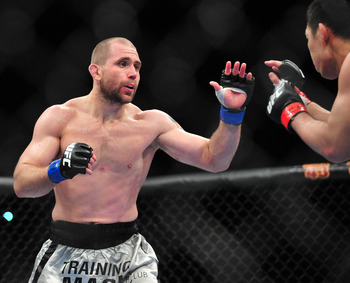 Gary A. Vasquez-USA TODAY Sports
After his assured TKO win against Rousimar Palhares in May, Alan Belcher was being talked of as a potential title contender; but not after last night's performance.
He proved completely ineffective against veteran Yushin Okami and was beaten in a one-sided, three-round decision.
He's still a dangerous middleweight with an 8-3 record in his last 11 UFC fights and only needs one good fight to get him back on track. But another slip-up like the one last night could prove equally costly, and Belcher knows he has a lot of work to do to catch the UFC's attention again.
5. Yushin Okami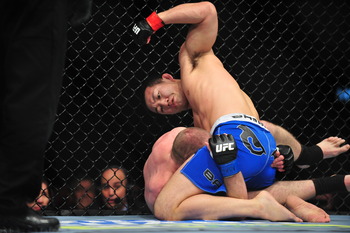 Gary A. Vasquez-USA TODAY Sports
It may be hard to imagine Japanese veteran Yushin Okami as a top-five middleweight with potential title aspirations, considering his one-sided beating against champion Anderson Silva at UFC 134. What makes it even harder is the unfortunate TKO loss he suffered at the hands of Tim Boetsch in his subsequent fight in February.
But that loss against Boetsch, which occurred 54 seconds into the third round, can be put down as an anomaly; a momentary lapse in concentration which allowed Boetsch to steal a match Okami was easily winning.
Beating Belcher at UFC 155 on Saturday night proves Okami's worth as a potential title contender, even if that shot is unlikely at this stage.
4. Hector Lombard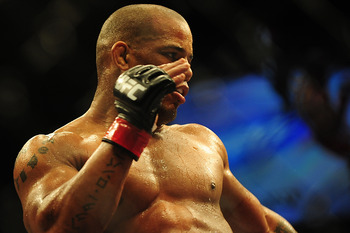 Anne-Marie Sorvin-USA TODAY Sports
Hector Lombard hasn't done much in the UFC, and many would consider his placement among the top five middleweights as unwarranted.
However, he did enter the promotion in July with a 25-fight undefeated streak stretching back to 2007. And even his loss to Tim Boetsch at UFC 149 could have easily gone his way.
Lombard has since righted his career with a first-round KO win against Rousimar Palhares earlier in the month and is a serious title hopeful once again.
3. Michael Bisping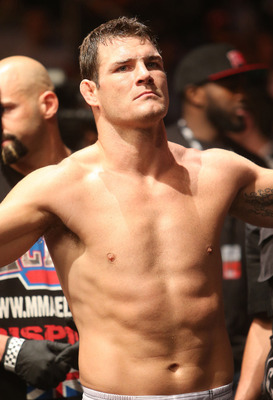 Tom Szczerbowski-USA TODAY Sports
Michael Bisping has been fighting in the UFC for a long time. Since 2006 in fact. However, every time he's come close to being considered a serious title hopeful, he's failed in a crucial match.
In 2009, he tasted Dan Henderson's H-bomb and was put to sleep at UFC 100 in the first round. Against Wanderlei Silva the following February, he was beaten over three rounds and lost a unanimous decision.
By the time he was ready to face Chael Sonnen at the start of this year, Bisping again had a chance to upset the odds and take his opponent's place as a title contender. But he suffered a close decision loss and suffered another setback.
However, with Sonnen losing to champion Anderson Silva this summer, and then vacating the division, things have opened up for the English middleweight—especially after his dominant performance against Brian Stann at UFC 152 in September.
Bisping is now set to face Vitor Belfort on January 19 in Brazil and has been promised a title shot if he wins. He is now rightfully in the top three in the UFC.
2. Chris Weidman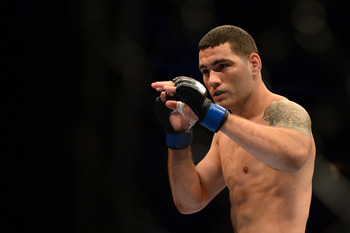 Kyle Terada-USA TODAY Sports
Considering he's only fought five times in the UFC, placing Chris Weidman as the second-best middleweight in the promotion could seem slightly premature.
But considering the brutal talent he's displayed inside the Octagon, and especially his performance against Mark Munoz in July, it's not surprising that he was talked of as a No. 1 contender for a shot at Anderson Silva's belt.
He could have put an exclamation point on those claims if he'd won his scheduled UFC 155 match against Tim Boetsch, but he was sidelined with an injury and replaced by his teammate Costa Philippou.
Until Michael Bisping has his day against Vitor Belfort next month, Weidman is still the second-best middleweight in the UFC.
1. Anderson Silva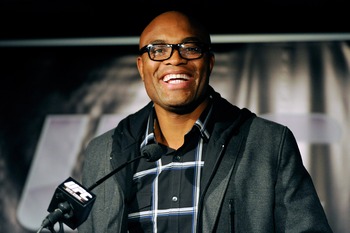 Eric Bolte-USA TODAY Sports
Unsurprisingly Anderson Silva is ranked the No. 1 middleweight in the UFC, and in fact, the world.
The man with claims to be the greatest fighter of all time, extended his streak of UFC title defenses to 10 with a win over Chael Sonnen at UFC 148, and his total-win record in the UFC went to 16 fights after defeating Stephan Bonnar on short notice at UFC 153.
Until Weidman can prove that wrestling really is Silva's Achilles' heel, Silva will remain at the top of the UFC's middleweight rankings.
Keep Reading