Arizona Basketball: Ranking the 5 Biggest Roadblocks to the Pac-12 Title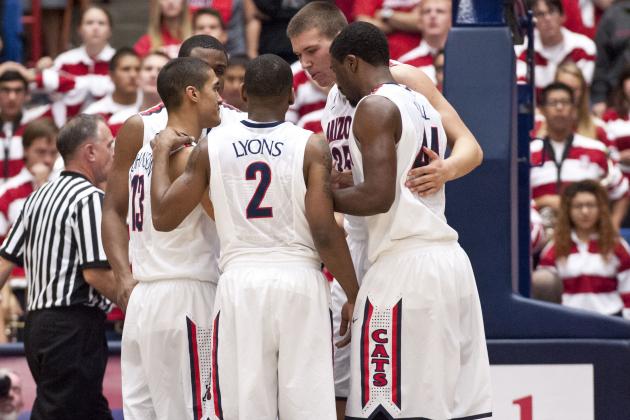 Casey Sapio-USA TODAY Sports

Moving into the Pac-12 season, Arizona looks like the odds-on favorite to pick up another Pac-12 title. Ranked third in the country with an unblemished record of 12-0, the Wildcats seem to be the only premier team in the conference.
And while the Pac-12 is improved from last year, it is still weak overall, and a competitor for Arizona has not emerged. Even with the competition gap and a clear path to the title, Arizona will have roadblocks to the Pac-12 championship. This list reviews the five biggest challenges.
Begin Slideshow

»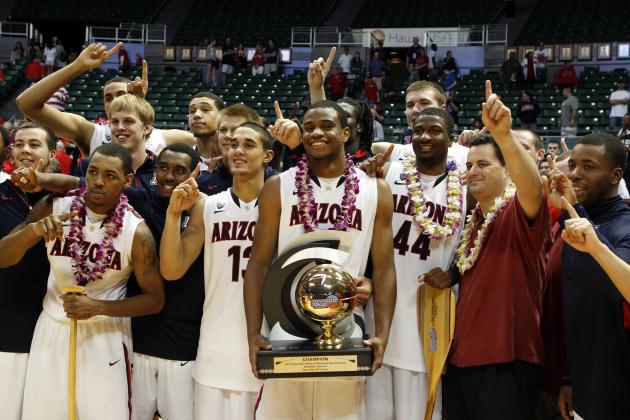 Marco Garcia-USA TODAY Sports

Arizona is a very good team. The Wildcats have everything a basketball team could want. They are deep, have great guard and wing play, have incredible size, are athletic and experienced and have a great coach and leadership. This has moved them to third in the country behind a 12-0 record.
But Wildcat fans should not get carried away. While these Wildcats are good, they aren't great. They aren't the second coming of the 1998 team, or the 2003 team, or the 2001 team for that matter. Those were great teams. This is a very good team. The margin for error against good competition is small (see the one-point, final-seconds victory over Florida; also see the one-point, final-seconds victory over San Diego State) and absolute focus is required.
When a team starts to believe they are great, that focus is lost. This happened to all of the great teams listed above (maybe not the 2001 team that ran into a crazy-stacked Duke team in the title game) and their great seasons were wasted. And those teams had large margins for error. This team does not.
This team needs to remember it is just a couple of shots away from two losses, which would have resulted in a ranking of around 20th in the nation—not third. The hype shouldn't be believed and the focus should remain. If so, this team is one of the best in the country and certainly the best in the Pac-12.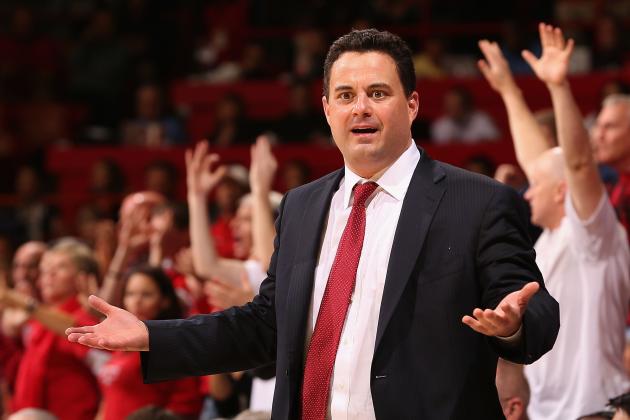 Christian Petersen/Getty Images

Arizona is averaging 14.5 turnovers a game this season.
In several games, turnovers and bad decisions have nearly cost the Wildcats a victory. As the competition ramps up, if the turnovers continue at this pace, at least two victories will be lost. In most games the pure talent on this team is going to be enough to get them beyond nearly all competition they face. But when they are playing Cal or Stanford in the Bay Area, or Colorado at 5,400 feet, or in Pauley Pavilion, 15-20 turnovers will do the Wildcats in.
Considering the inexperience on the Arizona roster, each of these teams on their home court will be within striking distance late in the game. Extra possessions via turnovers by the Wildcats are going to give the good teams in the league opportunities to beat the Wildcats. This is one big obstacle to Arizona finishing first in the league, and hopefully Sean Miller is able to address it.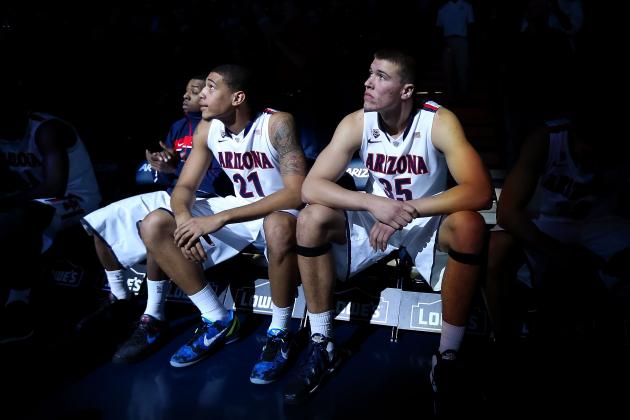 Christian Petersen/Getty Images

The three freshman studs have played well in the first part of the season. None have played off the charts, but each, at certain points, has shown why they were so highly regarded coming out of high school.
Game after game, the contributions have been solid, and each one has improved since the start of the year. But they must continue to contribute.
Every season, with nearly every young player, there is a point at which things just don't go right, where shots don't fall, the game speeds up and overall quality of play drops. As the season progresses, Arizona will face many tough tests in the Pac-12. To get out of each with a victory, the freshmen must continue to contribute.
So far, it seems they are up for the job. They seem to be resilient, competitive and eager to improve. At points each one could have hung his head, but there is something about these three that keeps them from doing so. That toughness will get them through any wall they face and will bode well for the Wildcats' chances.
Christian Petersen/Getty Images

So far this season, the leadership has been the biggest component of the Wildcats' success. In the game against San Diego State, when the Aztecs surged ahead by eight and Arizona had difficulty scoring, Solomon Hill came to the rescue. At that time, it was as if he knew that he had to take over. And he did. He got incredibly aggressive and fought his team back into the game. That is senior leadership.
It was Mark Lyons who ran the final offensive play against San Diego State to perfection by getting a switch on ball and then getting fouled on a drive to the basket. At that point he was having one of his worst offensive games of the season, but it did not matter. He is a leader.
It was also Lyons who was ready to take and make the final shot against No. 5 Florida. In the game against Clemson, again with the Wildcats down and across the country, Lyons stepped up and poured in 20 points. That is senior leadership.
Add Kevin Parrom to the mix and there is a trio of great examples set for the team. Despite not starting, all Parrom does is come in, play great defense and knock down big shots. He is a humble leader. On a team full of stars, sometimes a humble leader is the thing needed most.
With that said, 18-22-year-old athletes are volatile. They are competitive and in battle with each other every day. It can be a combustible situation. If at any point that leadership were to turn sour, this team would not be competing for a national championship, maybe not even for a Pac-12 title.
UCLA's teams of the recent past are great examples of how profound talent can be destroyed by bad leadership. However, the Arizona guys have shown themselves to be great leaders, and there is no reason to think this will change as the season unfolds.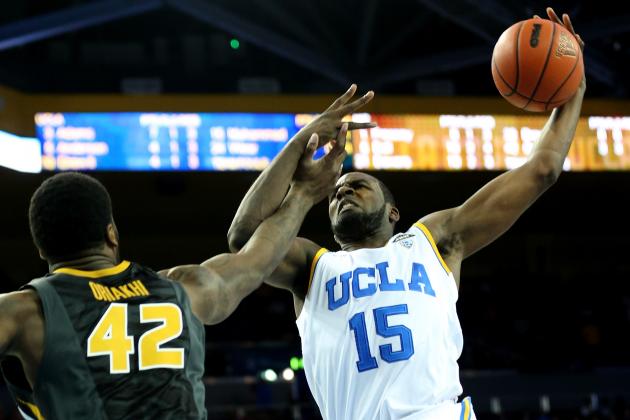 Stephen Dunn/Getty Images

UCLA started the year slow by losing three of their first eight games, including a loss to the Cal Poly Mustangs. Since that loss, they have won six of seven. Their last game was a thrilling overtime victory over then-No. 7 Missouri. In that game Shabazz Muhammad displayed why he was the second-ranked recruit coming out of high school by scoring 27 points. In sum, the Bruins are becoming the team that many thought they would be to start the season.
The fulfillment of the Bruins' potential means that Arizona has a dogfight on their hands. They may end up being every bit as good as the Wildcats and could be better. The Bruins have something the Wildcats don't, which is a premier scorer.
When the defense tightens up, all the Bruins have to do is get the ball to Muhammad. The Wildcats don't have this luxury, and at several points in the season the offense has completely bogged down. As noted in the previous slide, this is where Hill and Lyons must step up and equalize this weapon owned by UCLA.
Arizona has so much talent, depth and balance that they will beat nearly every team in the league with ease. Most of the roadblocks won't be all that much for Arizona to handle, but UCLA will be.
The Bruins have the talent to match Arizona. The combine youth and experience like Arizona. They have size down low and great guard play like Arizona. In the two games these teams play each other, each will probably win at home. So the Pac-12 champion will come in the other 16 conference games. This is where Arizona's greatest advantage, Sean Miller, will come into play.
Miller has his team ready to play every game. In every outing Arizona has played at 100 percent and with a nastiness required to go 12-0. Arizona beats bad teams by 30. Ben Howland's teams lose to UC Irvine. Arizona won't overlook WSU or Utah on the road. UCLA will, and one or two of those games will be lost. The result will be a 15-3 conference record for Arizona and a 13-5 record for UCLA.