20 Best Premier League Players of 2012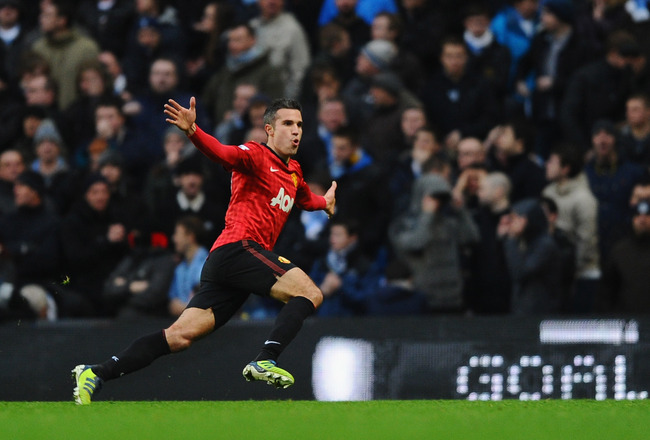 Laurence Griffiths/Getty Images
The English Premier League never fails to excite.
If this year is going to be remembered for one thing, it'll be extreme drama. 2012 produced ridiculous comebacks, huge upsets and—of course—that Sergio Aguero goal.
The Argentinian is just one name on this list. Here, I've compiled the 20 best Premier League players during the calendar year of 2012.
Are your picks included? Read on to find out.
20. Mousa Dembele, Tottenham Hotspur/Fulham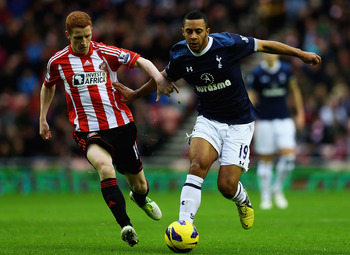 Matthew Lewis/Getty Images
Mousa Dembele's emergence as one of the Premier League's most combative midfielders has been swift. His performances for Fulham oozed energy, incisiveness and enough creativity to coax Spurs into tabling a bid back in August (via BBC Sport).
Since moving to White Hart Lane, Dembele's career has stuttered with injury. He is yet to put together a significant string of games for Andre Villas-Boas' side, but looks to be improving with every performance in North London.
19. John Ruddy, Norwich City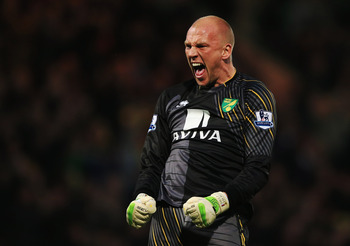 Richard Heathcote/Getty Images
John Ruddy's excellent year has also been cut short by injury.
In key moments, the Norwich stopper has suffered the unfortunate fate of extended time on the sidelines. Roy Hodgson sought his services at Euro 2012—only for Ruddy to break his finger before the tournament's opening (via BBC Sport).
His year should be defined by the recent Premier League performance against Manchester United. Ruddy made seven saves and led the Canaries to a stunning 1-0 win.
The 26-year-old is a key part of Chris Hughton's new defence. Unfortunately for Norwich, Ruddy's dominance has once again been stifled by injury (via BBC Sport).
18. Nikica Jelavic, Everton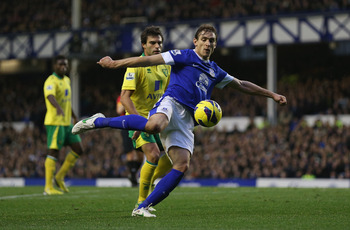 Clive Brunskill/Getty Images
Everton's lack of firepower lessened in January 2012. David Moyes snapped up Rangers striker Nikica Jelavic for a remarkably low fee of £5 million (via The Daily Mail).
The Croatian striker's impact was instant. He scored his first goal in a 1-0 win over Spurs, which just so happened to be his first start for the club. Jelavic went on to become the quickest Everton player to reach 10 league goals since Tom Browell in 1912, finishing on 11 for his half season (via Official Everton site).
This campaign, much of the focus has been on Marouane Fellaini. Jelavic continues to run Everton's front line by himself and could use a partner in the upcoming January transfer window.
17. Demba Ba, Newcastle United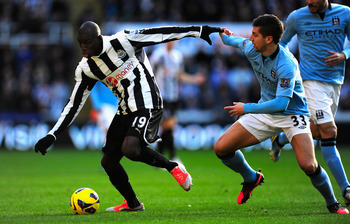 Stu Forster/Getty Images
Tony Pulis must be kicking himself. Stoke City were odds on to sign Ba before concerns over the striker's knee ended any possibility of a deal (via BBC Sport).
Newcastle United were ready to take a punt. Although Ba started 2012 in lacklustre form, he has gotten back on track during the 2012-13 season. The arrival of Papiss Cisse pushed him out wide and away from the goal. Alan Pardew eventually saw sense and reinstated the player into his preferred forward role.
It could be a case of unlucky 13 for Pardew. Ba has hit a baker's dozen worth of goals this season, prompting Chelsea to reportedly trigger his £7.5 million release clause in his contract (via The Telegraph).
16. Jonathan Walters, Stoke City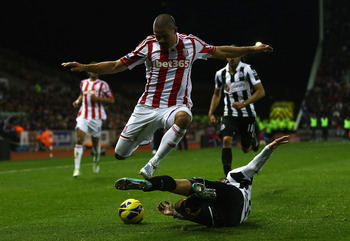 Matthew Lewis/Getty Images
Jonathan Walters epitomizes what it means to work hard. The Irish forward isn't particularly gifted in any one area, but his willingness to throw his weight around has proven extremely successful in 2012.
Tony Pulis typically plays Walters just behind a towering striker.
Whether Peter Crouch or Kenwyne Jones sits ahead, they are likely to receive plenty of chances due to Walters' grafting ability. He scored 12 goals in the Premier League during 2012, including a fantastic strike in the recent 3-1 win against Liverpool.
15. Michu, Swansea City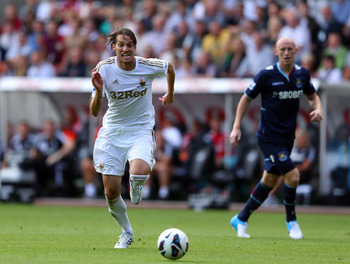 Richard Heathcote/Getty Images
Michu cost Swansea City £3 million.
He has started 19 Premier League games and scored 13 goals. Michael Laudrup's decision to bring the Spaniard in was an inspired one, especially as many expected Swansea to dip after losing Brendan Rodgers.
Instead, Michu's displays have galvanised the Welsh side. Two goals against Arsenal remain the highlight for this insanely cool forward.
14. Ryan Shawcross, Stoke City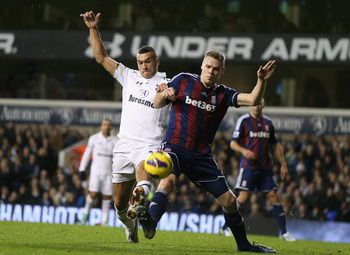 Bryn Lennon/Getty Images
The old joke that Stoke City are nothing but a rugby team has died down recently. Nine clean sheets in the current Premier League season suggests Tony Pulis is getting something right.
Ryan Shawcross' consistent displays have dominated many strikers throughout 2012. His physical attributes combine athleticism and extreme strength into a formidable package.
Alongside Robert Huth, Shawcross' performances have outlined him as one of the Premier League's best defenders. It will be interesting to see whether Stoke can hold onto him much longer.
13. Joe Allen, Liverpool/Swansea City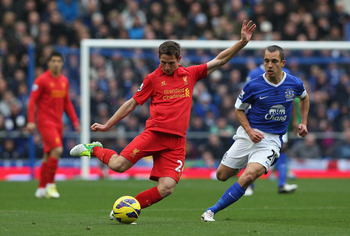 Clive Brunskill/Getty Images
Joe Allen defined the style of Brendan Rodgers' Swansea City side. So much so, the Liverpool boss tucked the tiny Welshman into his suitcase and brought him to Anfield during the summer.
The 22-year-old has made 19 Premier League appearances for the Reds. His ability to keep things ticking over is uncanny. Often looking to receive the ball and quickly spray possession across the pitch, Allen is the type of player who allows stars like Luis Suarez and Steven Gerrard to shine.
So far, the Liverpool midfielder has a pass completion rate of 90.5 percent in the domestic league.
12. Leighton Baines, Everton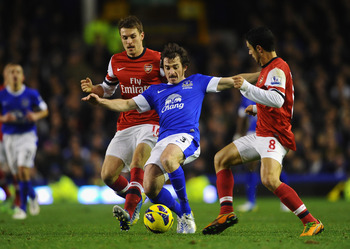 Laurence Griffiths/Getty Images
David Moyes trusts Leighton Baines. The left back comes close to having a free role at Everton. He is often found bombing up the pitch, dribbling to the opposition's byline and delivering accurate crosses.
Fortunately for the Toffees, Baines has the tools to dig his side out of a sticky situation.
He possesses decent speed and awareness, ensuring the opposition is always more likely to succeed if they attack the opposite flank. Throw in masterful set piece delivery and it's easy to understand why Manchester United are rumoured to want his signature (via The Daily Mail).
11. Marouane Fellaini, Everton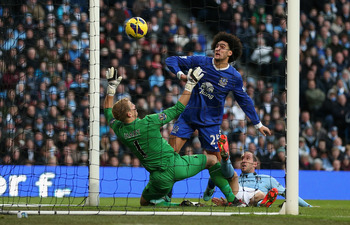 Clive Brunskill/Getty Images
Some players are hideously superstitious. Like Fernando Torres, would Marouane Fellaini be as brilliant if he didn't have a ridiculous head of hair?
Probably. The Belgian behemoth took time to settle at Goodison Park, but his 2012 has been filled with memorable moments. Manchester United fans will certainly want to see the back of Fellaini, who tormented the side with goals during the year.
Most memorably, Fellaini nodded home the only goal in Everton's Premier League opener against the Red Devils. He also netted past Joe Hart in the recent 1-1 draw with Manchester City. Fellaini has said he wants to stay at Everton—but if the right money comes in—will Moyes sell? (via The Daily Mirror)
10. Gareth Bale, Tottenham Hotspur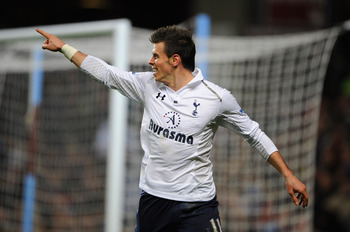 Michael Regan/Getty Images
Gareth Bale's ability to zip across the pitch is quite something. The Welshman's unbelievable pace and power have been at the heart of his fantastic year.
Putting his diving antics to one side, Bale typifies exactly what Spurs are about these days. He is fearless, relentlessly exciting and often unplayable. Every so often, he also has an awful day.
This doesn't take away from a player who scored 10 goals and provided 11 assists in the 2011-12 campaign. Throw in nine goals and another assist for this season—it's clear Spurs could receive a monumental bid for the world-class talent anytime soon.
9. Wayne Rooney, Manchester United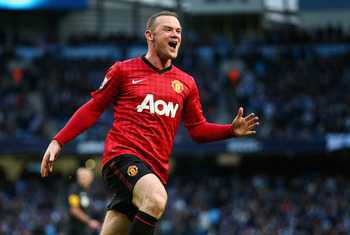 Clive Mason/Getty Images
Wayne Rooney was once again Manchester United's talisman in 2012.
The Englishman has netted 34 goals in the last season and a half. His recent adaptation to the role of an attacking playmaker has seen successful strikes lessen. Instead, the physical forward is contributing plenty of assists for Sir Alex Ferguson's men.
United's superstar is currently sidelined with injury (via The Telegraph). After an abysmal performance against Swansea, perhaps some time to recuperate is exactly what Rooney needs. The former Everton striker's highlight of the year came in the recent 3-2 defeat of Manchester City, where he bagged a brace.
8. Steven Fletcher, Sunderland/Wolves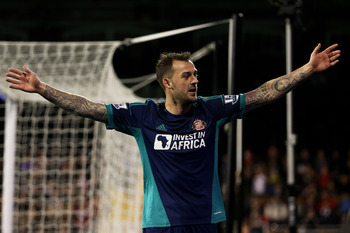 Julian Finney/Getty Images
Many forwards on this list are internationally renowned superstars. They secure advertising deals, big-money contracts and plenty of headlines to boot.
Steven Fletcher is one of the Premier League's unsung heroes—and after a fantastic 2012—cemented himself as one of the competition's deadliest finishers.
The Scottish striker is the kind of player who can steal clubs vital victories with just one chance. He often prolonged Wolves' fight for Premier League survival. Right now, he appears to be doing the same for Sunderland.
Imagine what would happen if one of the elite took a punt on Fletcher. With world-class service, his reputation could enhance even further.
7. Sergio Aguero, Manchester City
Julian Finney/Getty Images
It takes a special kind of forward to outline himself at Manchester City. Despite owning the considerable talents of Carlos Tevez, Edin Dzeko and Mario Balotelli, a certain Argentinian was key to City's title win.
I'm not sure if you've seen it before. When Sergio Aguero lashed the ball past Paddy Kenny to claim the Premier League crown, his name was forever immortalized in football history. The former Atletico Madrid player is City's most natural finisher and will continue to capitalize across the next year.
6. Juan Mata, Chelsea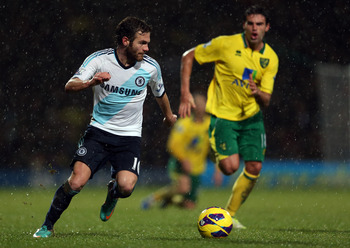 Julian Finney/Getty Images
Juan Mata's stature at Chelsea continues to grow.
The Spaniard's importance has heightened massively across the last year. He has scored seven Premier League goals and racked up seven assists this season. Mata has been directly involved in 36 percent of Chelsea's 39 goals during the current campaign.
Most impressively, many of his goals have been absolutely sensational. Mata plays with the confidence of someone who is used to winning. His pace, directness and passing ability would strengthen any side in the world. If Chelsea has a defining star, it is him.
5. Clint Dempsey, Tottenham Hotspur/Fulham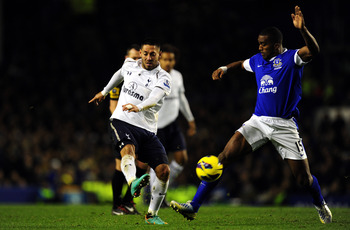 Stu Forster/Getty Images
It's easy to forget just how stunning Clint Dempsey's 2012 was. His career-defining spell at Fulham was underlined with 17 goals and six assists in the 2011-12 campaign.
As with Dembele, no wonder a bigger club came calling. Although Liverpool were rumoured to sign the American international, Spurs once again dipped into the kitty.
Injuries and poor form have hampered Dempsey's opening season at White Hart Lane, even though he appears to be improving.
4. Luis Suarez, Liverpool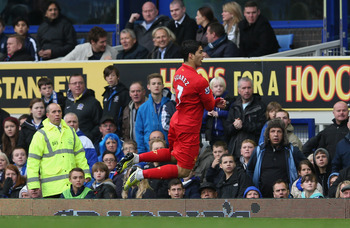 Clive Brunskill/Getty Images
Can you imagine where Liverpool would be without Luis Suarez?
The Uruguayan's year started with an eight-match ban (via The Daily Mail). Since returning, Suarez has been integral to the little success his club have enjoyed this year.
His dribbling effectiveness and ability to creep his way out of tight situations are unmatched in the Premier League. Many defences simply can't live with this intense style of play that always forces the opposition to commit.
Suarez has scored 13 of Liverpool's 31 goals this season. Love him or hate him, English football's most-loathed villain delivers when called upon.
3. Vincent Kompany, Manchester City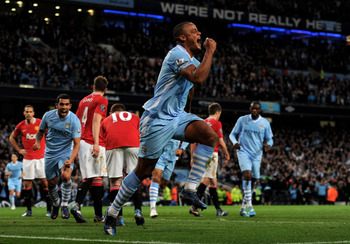 Michael Regan/Getty Images
Vincent Kompany may be the nicest man in the Premier League. When Manchester United came to the Etihad in last season's title decider, the match-winning goal couldn't have gone to a more deserving hero.
Interestingly, Kompany's importance is most apparent when he isn't on the pitch. Roberto Mancini's men have a tendency to relax when the influential Belgian is injured. Without a leader at the back, City often become unhinged.
Strikers fear Kompany. His positioning and athletic ability mark him as one of the world's top centre backs. City will hope he gets a decent run of games soon.
2. Yaya Toure, Manchester City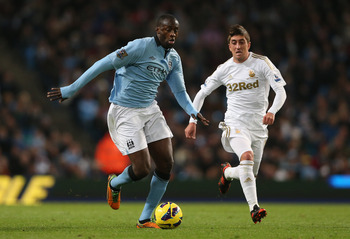 Clive Brunskill/Getty Images
Another Manchester-based juggernaut makes it to No. 2 on this list.
In 50 years' time, when Manchester City have accumulated an array of trophies and established world dominance, Yaya Toure will be remembered. He provided Roberto Mancini's men with a driving force that couldn't be stopped.
Although struggling slightly in the current campaign, Yaya's physical attributes blasted City toward the promised land. His pace is frightening for such a huge man. When Mancini allows Yaya to get forward, there's very little the opposition can do to halt his progress.
The Etihad fortress will be much weaker when the Ivorian international jets off to the African Cup of Nations.
1. Robin Van Persie, Manchester United/Arsenal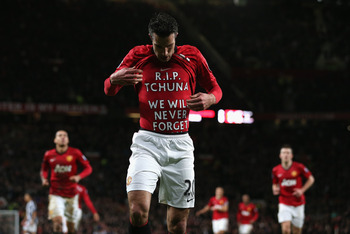 Clive Brunskill/Getty Images
Robin van Persie has 44 goals and 16 assists in his last 57 Premier League appearances. His 30-goal haul in the 2011-12 campaign ensured Arsenal were never going to hold onto his signature.
Manchester United came calling. The Dutchman has rocketed to success at Old Trafford. After 17 starts and three Premier League substitute appearances, van Persie has netted 14 goals.
His 2012 highlights are difficult to pin down. A hat trick in the 3-2 comeback win over Southampton is right up there. Important strikes against Chelsea should also be considered. Even so, it's difficult to overlook his last-minute free kick winner in the recent Manchester derby.
In his last match of the year, Van Persie came off the bench to curl home a fantastic clincher against West Brom. Looking back at his 2012, this was the perfect way to end.
Honorable Mentions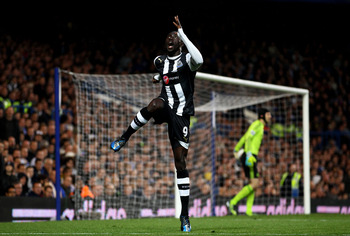 Julian Finney/Getty Images
Here's a handful of players who were close to being included on the main list:
Mikel Arteta
Theo Walcott
Glen Johnson
Joe Hart
Pablo Zabaleta
David Silva
Edin Dzeko
Hatem Ben Arfa
Papiss Cisse
Asmir Begovic
Stephane Sessegnon
Michel Vorm
Jermain Defoe
Luke Modric
Kevin Nolan
Ali Al-Habsi
Do you agree with my selections? Let me know in the comments section below and be sure to follow me on Twitter:
All statistics in this article are courtesy of Whoscored or ESPN.
Keep Reading