8 Biggest Questions Facing Boston Red Sox Heading into 2013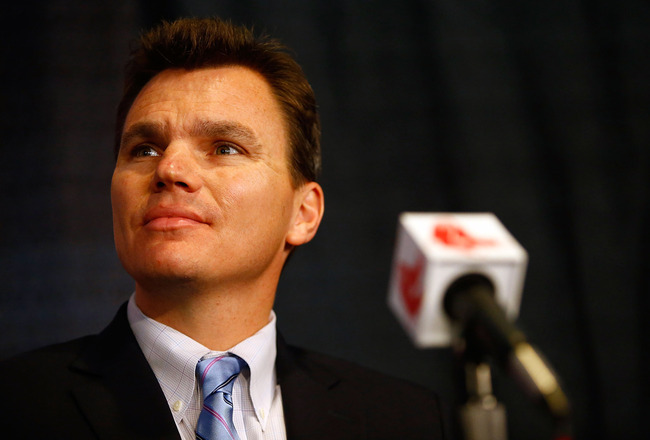 GM Ben Cherington still has to answer some questions.
Jared Wickerham/Getty Images
The Boston Red Sox have filled several voids that faced them when the season concluded, but there are still several questions that need to be answered before Opening Day.
From the starting rotation to the bullpen to the infield to the outfield and even to the coaching staff, the Red Sox have made changes this offseason.
Don't be surprised if the Red Sox make a couple more changes as well. There are still plenty of things that can happen between now and Opening Day, and the Red Sox have to be prepared for anything and everything.
Boston wasn't as prepared as it could have been the past two seasons and that has led to disappointing campaigns. That's mainly because the Red Sox didn't know what to do when problems arose.
Here are some questions for general manager Ben Cherington to ponder before the start of the 2013 season—and hopefully thinking of answers early can help him avoid such problems in the future.
Who's on First?
Will Mike Napoli be Boston's first baseman?
Rick Yeatts/Getty Images
The one position that the Red Sox have yet to fill is first base. It looked as if Boston had it all figured out when it signed free-agent catcher/first baseman Mike Napoli to a three-year deal on December 3.
But the Red Sox have yet to announce the deal after Napoli's physical raised red flags. Boston is still working to sign Napoli, according to Peter Abraham of The Boston Globe:
"That is still being worked on," said manager John Farrell. "As Ben [Cherington] has mentioned, there are no updates in terms of where that situation exists. We're hopeful he is in a Red Sox uniform, but there are still things to work through."
While Napoli is technically a free agent, the Red Sox have been looking elsewhere. Ken Rosenthal of Fox Sports reports that Boston is looking into former Washington National Adam LaRoche:
While the Sox prefer to complete their deal with Napoli, they are also talking to free-agent first baseman Adam LaRoche, according to major league sources.
The main problem with LaRoche is that he's seeking a three-year deal and would cost Boston a draft pick, which Peter Gammons of MLB.com reports is causing disinterest.
Mauro Gomez is the only first baseman on Boston's 40-man roster at the moment. Gomez hit .275/.324/.422 with two home runs and 17 RBI in 37 games last season.
Will Daniel Bard Bounce Back?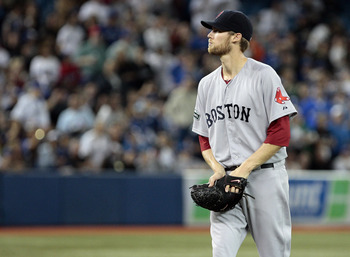 Daniel Bard as a starter was a major fail.
Abelimages/Getty Images
2012 was not very kind to Daniel Bard. Bard joined the starting rotation, but struggled mightily in his limited chances to stay there.
In Bard's 10 starts, he went 4-6 with a 5.30 ERA in 54.1 innings of work. He also walked 36 batters while striking out 34 in those starts. His final start came against the Toronto Blue Jays on June 3, where he allowed five earned runs and walked six in 1.2 innings.
That led to Bard being demoted to Triple-A Pawtucket where he continued to struggle as a starter. He eventually did enough to make it back to the Red Sox, only this time, he came back as a reliever.
The problem was that once Bard returned—even as a reliever—he was still miserable. In six appearances, he allowed nine earned runs in 4.1 innings while also walking six batters.
Boston plans to work with Bard over the offseason, according to Tim Britton of The Providence Journal:
Listening to Red Sox brass discuss their plans for the offseason, one thing has become clear: Fixing Daniel Bard is a top priority.

Pitching coach Juan Nieves has already said he plans to visit Bard personally in January down in Mississippi. On Tuesday [December 4], manager John Farrell said he's identified some mechanical issues that he plans to discuss with Bard.
A clean slate in 2013 is exactly what Bard needs. He won't be a starter, he won't be the closer and he won't be the setup man. There's no pressure on him, but that doesn't mean that he'll be able to bounce back.
Will Boston Trade One of Its Catchers?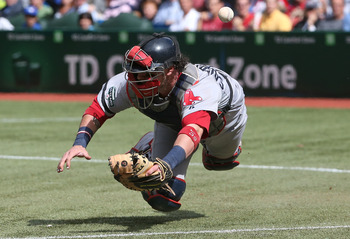 Will Boston end up keeping all of its catchers?
Tom Szczerbowski/Getty Images
If the Red Sox finalize a deal with Mike Napoli, that will leave them with four catchers on the 25-man roster. Boston does not need four catchers on the 25-man roster.
Boston has Jarrod Saltalamacchia—who was the team's primary starter last season—and Ryan Lavarnway—who is ready to make the full-time jump to the majors. Even with that tandem, the Red Sox signed free-agent backstop David Ross this offseason as well.
It wouldn't make sense for Boston to ditch Ross since it just signed him, so Peter Abraham of The Boston Globe thinks Saltalamacchia or Lavarnway could get dealt:
Tradeable #RedSox pieces: One of the catchers, Aceves, Bailey, one of the lefty relievers.Not sure what that adds up, however.

— Pete Abraham (@PeteAbe) December 27, 2012
Saltalamacchia is a veteran catcher who doesn't hit with consistency, but has shown good power the past two seasons—hitting 16 home runs in 2011 and a career-high 25 home runs in 2012. It would seem more likely that Boston would keep Lavarnway since he's three years younger and has more promise.
But Boston could end up keeping all three—or four—catchers, according to Jon Heyman of CBS Sports:
#redsox had some inquiries on saltalamacchia but it appears they may go to spring w/ 3 catchers (plus napoli, maybe)

— Jon Heyman (@JonHeymanCBS) December 20, 2012
How manager John Farrell would decide which of the four catches each day remains to be seen.
Which John Lackey Will Boston Get?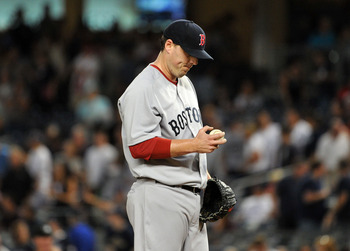 How will John Lackey pitch after missing all of 2012?
Christopher Pasatieri/Getty Images
It's a complete toss up as to how John Lackey will pitch in 2013 for Boston.
In Lackey's first season with the Red Sox, he went 14-11 with a 4.40 ERA in 215 innings. In 2011, he went 12-12 with a 6.41 ERA in 160 innings. He missed all of last season after undergoing Tommy John surgery.
Generally, Lackey has not been good since coming to Boston, especially for a pitcher who once finished third in the American League Cy Young award voting—coming in 2007 while with the Los Angeles Angels. In that season, Lackey went 19-9 with a 3.01 ERA in 224 innings.
So will Lackey be good after missing an entire season?
I recently predicted that Lackey would finish 2013 with an 11-8 record in 28 starts, a 4.13 ERA in 185 innings and 139 strikeouts. Those would be decent numbers considering Lackey's career with the Red Sox, but obviously, those are just my thoughts on how he will do.
Although it isn't known how well Lackey will pitch, it is known that he'll be in Boston's starting rotation, according to Peter Abraham of The Boston Globe:
"Spring training is going to tell us a lot about where John's at, and we fully expect him to be ready to go," said manager John Farrell, who said Lackey would be in the rotation.
Boston could really use a good year from Lackey, who's owed $15.25 million in the next two seasons. But will the Red Sox get the performance that they are hoping for?
Is Jose Iglesias Headed Back to Triple-A?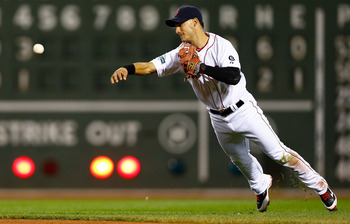 Jose Iglesias' lack of hitting hurts his 25-man roster chances.
Jared Wickerham/Getty Images
Jose Iglesias has been one of the biggest question marks for the Red Sox for the past couple of seasons. He has the tools of an amazing fielder, but he is a terrible hitter, which has kept him from securing the starting shortstop role.
It seemed as if 2013 was going to be Iglesias' year to be the starter, but that's no longer the case.
Instead of going with Iglesias, the Red Sox signed free-agent shortstop Stephen Drew to a one-year deal. Drew will now likely be the team's starter at short. This would mean that Iglesias would return to Triple-A Pawtucket, and an MLB.com story confirms this assumption:
The presumption when Drew agreed to terms Monday was that Iglesias, who will be just 23 next season, would still need to play every day because of his age and upside, and Cherington confirmed that Wednesday. Once Drew is officially in the fold, Iglesias will likely be ticketed for Triple-A.
Iglesias hit .118/.200/.191 with one home run and two RBI in 25 games with the Red Sox in 2012. He hit .269/.321/.310 with one home run and 23 RBI in 90 games in the minors last season.
Unless Iglesias makes a miraculous change over the offseason and comes into spring training hitting with some consistency, he will be headed back to Pawtucket.
Will Jacoby Ellsbury's Power Return?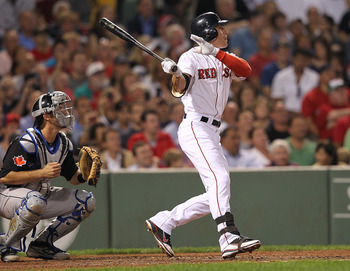 Jacoby Ellsbury hit 32 home runs in 2011.
Jim Rogash/Getty Images
After hitting 32 home runs in 2011—and finishing second in the American League MVP race—Jacoby Ellsbury hit just four home runs in 2012. Of course, Ellsbury played in 84 fewer games, but it still seemed that his power has disappeared, even when healthy.
In the final year of Ellsbury's contract, will he flaunt a high home run total or prove that 2011 was a fluke?
Ellsbury has only played three full seasons in his six-year career. He has hit more than 10 home runs in a season just once—nine in 2008, eight in 2009 and 32 in 2011. It's fair to say that before 2011, Ellsbury was more of a contact hitter than a power hitter.
A separated shoulder limited Ellsbury's playing time in 2012—limiting him to just 74 games—so that isn't very fair to judge off of. The problem is that injuries also plagued him in 2010 when he appeared in just 18 games. He hasn't been healthy enough to determine whether he can be a power hitter or not.
2012 would have been the perfect year to see if Ellsbury could replicate the 32 home runs that he hit in the previous year, but that didn't happen.
It will be interesting to see whether Ellsbury swings a little harder this season to earn more cash in the offseason. But just because he swings harder doesn't mean that more balls will leave the park.
How Will Will Middlebrooks Rebound?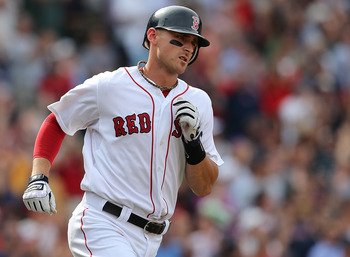 Will Middlebrooks forced a trade of Kevin Youkilis.
Jim Rogash/Getty Images
Will Middlebrooks had a successful first season with the Red Sox. That is until a broken wrist kept him out of action after August 10.
Even with the lost time toward the end of the season, Middlebrooks still lived up to the hype as a top prospect in the organization. In 75 games, he hit .288/.325/.509 with 15 home runs and 54 RBI.
Middlebrooks got the call after Kevin Youkilis was injured and was under-performing, leaving the Red Sox with a big decision to make—they could have either sent Middlebrooks back to Triple-A or tired to get rid of Youkilis. Ultimately, Boston put their confidence in the rookie and shipped Youkilis to the Chicago White Sox.
Unlike last season, Middlebrooks won't have to outplay anyone to earn the starting role. If he's healthy, he will be Boston's starting third baseman on Opening Day.
But how will Middlebrooks play after several months off and coming off of the biggest injury of his career?
Even without an injury, it could be argued that Middlebrooks would suffer a sophomore slump. The injury just increases those chances since he didn't play in as many games as the Red Sox would have liked.
Let's not sell Middlebrooks short, though, as he was playing well at the time of the injury. His numbers are pretty good for a rookie third baseman that only played in 75 games. The Red Sox have no reason to doubt their third baseman of the future.
How Healthy Is David Ortiz?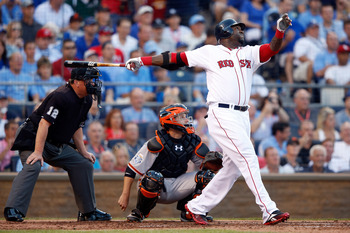 Will David Ortiz be healthy for Opening Day?
Jamie Squire/Getty Images
A strain to David Ortiz's Achilles tendon kept him out of action from July 17 through August 23.
Ortiz went 2-for-4 against the Kansas City Royals on August 24, but didn't play the remainder of the season thereafter. He played in just 90 games in 2012, which is the fewest games that he's played in a season since 2001.
After several months of recovering, Ortiz still wasn't fully healthy in early December, according to Peter Abraham of The Boston Globe:
"At this point, not yet," Ortiz said on Friday when asked if he was working out like he normally would. "Very soon." Will Ortiz be ready [for spring training]? "I hope so. Hopefully."
Hopefully is not a synonym for definitely, which should concern the Red Sox. Boston would be without one of their top threats if Ortiz isn't ready for the start of the season.
Although Boston could use Mauro Gomez or a combination of starters as the designated hitter, it wouldn't be nearly the same. Ortiz has averaged 37 home runs and 109 RBI in his 10 years in Boston (via Baseball-Reference). Those numbers are tough to replace.
What's also a concerning is that this injury is one that could reappear at any moment. Ortiz did not have surgery and is hoping rest will allow him to play.
Hoping to be ready for spring training could easily turn into hoping to play at all in 2013 and beyond.
Keep Reading

Boston Red Sox: Like this team?