WWE/TNA Wrestling: My Top 10 Moments of the Year 2012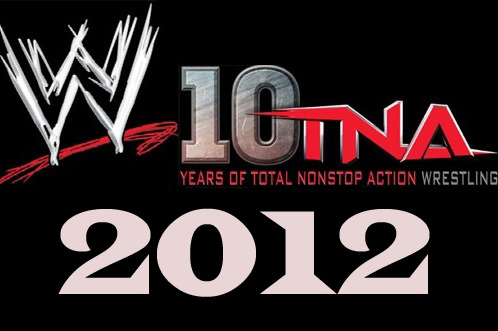 Logos copyright to their respective companies
It has been quite the year for both WWE and TNA Wrestling. While both companies certainly had some bad moments, there was plenty of good to cancel out the bad. 2012 was an overall good year for both as they went back and forth with the momentum.
The winter and spring months without a doubt belong to the WWE thanks to the Road to WrestleMania, while I feel that the summer months were highlighted by TNA Wrestling. The fall and winter months of 2012 could go either way, though, as TNA presented a great event in Bound for Glory and WWE began the Shield storyline. I really can't decide who had the better year, and no, I don't take ratings into account. My personal enjoyment is how I decide.
I was originally going to do separate top-10 articles for both like I did last year, but this year it seemed best to take five from each in one list. So here are my top 10 moments of the year, with some honorable mentions as well!
Begin Slideshow

»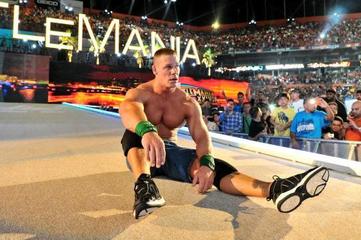 wwe.com
Here are four moments I liked that didn't make the top 10 for one reason or another...
The Rock vs. John Cena
For me personally, I don't think the Rock vs. John Cena lived up to the hype. I also didn't think it was that good of a match. Being billed as "Once in a Lifetime," The Rock and Cena delivered what I thought was a decent match.
It would have made the main list due to the emotion that the storyline had with it, but "once in a lifetime" is most likely going to prove false come WrestleMania XXIX. If I was sure that I would never see this match again, it would become something special for me and probably at least make the top five.
I have a feeling, though, that the Rock will be winning the title at the Royal Rumble and face Cena at WrestleMania for the second time in my lifetime.
It was good for what it was; a way to hype the biggest event of the year and to bring a lot of excitement to the event. I was disappointed with it overall, though, so it doesn't make the main list.
Option C
In July, TNA Wrestling finally did something worthwhile with the X-Division. With Austin Aries as X-Division champion, Option C was created. It stated that the come Destination X the champion would have the choice to give up the X-Division Championship for a shot at the TNA World Heavyweight Championship that night.
I thought it was great when it was created. Not only would it elevate the top guy in the X-Division to the main event, it would put a lot of importance on the title. The division is not what it used to be and Option C gave it quite the boost.
Then Aries gave up the title and nothing seemed to change. Zema Ion won the title and appeared here and there. Even with Rob Van Dam now as champion nothing has changed. The title is still put on the backburner for the most part.
It seems to me that the belt and champion will only get the spotlight when the pay-per-view comes around.
Since the stipulation hasn't seemed to change anything in the long run, it doesn't make the main list, but it gets an honorable mention due to the excitement it initially created.
The Shield Debuts
NXT, formally Florida Championship Wrestling, has a lot of talent. Whether it's a superstar like Bo Dallas or a Diva like Paige, NXT shows fans that the future is bright for WWE.
There were two guys that pretty much everyone wanted to see make it to the main roster, and those were former Dragon Gate USA wrestler Dean Ambrose and former ROH World champion Seth Rollins. At Survivor Series, fans got their wish when the two of them debuted alongside Roman Reigns as a group called the Shield.
Aiming to rid the WWE of injustice, they targeted superstars who caused another an injustice of some kind.
It was definitely great to see both Ambrose and Rollins make it to the main roster. Both of them are very talented wrestlers and could go far in WWE if given the chance. I'm not that big a fan of Reigns and feel that Kassius Ohno or Leo Kruger would have been a better fit. Then again, I'm more of a fan of them two than I am of Reigns.
The reason this makes the honorable mention section and not the main list is because it just started, so I want to give it some time to develop. If they make a bigger impact in 2013, perhaps they'll make the main list.
The Shield gets a special mention, though, as it led to the debuts of both Ambrose and Rollins.
Velvet Sky Returns to TNA
Velvet Sky left TNA earlier this year and it led to a lot of displeasure from TNA fans. She is no doubt one of the most popular Knockouts on the roster and just letting her go was a bad decision.
On the December 9 episode of Impact Wrestling, Velvet made her return to TNA after being away for five months. She declared that 2013 would be the year of Velvet Sky and if TNA is smart, they'd make that happen.
Her one reign as Knockouts champion was very short and she just didn't get the chance to shine as champion.
While she's certainly not the best wrestler in the Knockouts division, she has progressed a lot since her debut in TNA in 2007. She has worked very hard to improve and it's time for her hard work to pay off with a decent reign as champion.
While her return wasn't exactly impactful at the time, I feel that it will be in the long run.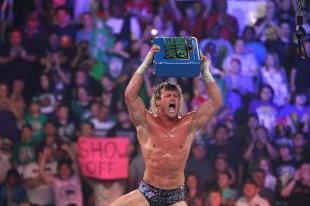 wwe.com
Dolph Ziggler has come a long way since being a member of the Spirit Squad. He has progressed into one of WWE's best in-ring wrestlers and his mic skills are usually top notch. He had a taste of the main event at the Royal Rumble when he faced CM Punk for the WWE Championship, but he sunk back down to the midcard with his then-partner Jack Swagger afterwards.
When he was entered into the World Heavyweight Championship Money in the Bank match at the MITB PPV, a lot of fans were hoping for a Ziggler win. My personal pick was Cody Rhodes that night, but a win for the Showoff would have been just as good.
Ziggler's win was certainly a big one. The main event scene in WWE is just like "business as usual." You've got Punk, John Cena, Sheamus, the Big Show and Alberto Del Rio vying for the title every week. Daniel Bryan and Kane were thrown into the mix this year for a bit, but fans saw the same thing every week for the most part.
Ziggler added some depth, but he hasn't cashed in yet. He has tried a few times, but WWE just didn't pull the trigger. There have also been many wasted opportunities for Ziggler to at least tease cashing in like after Sheamus beat the hell out of the Big Show with a chair at Survivor Series.
This is so low on the list for me because WWE is making him look weak with all the failed cash-ins and his inability to recognize a great opportunity to cash-in. It makes the list, though, since the win has put Ziggler in the spotlight. It's just that the spotlight isn't turned all the way on yet.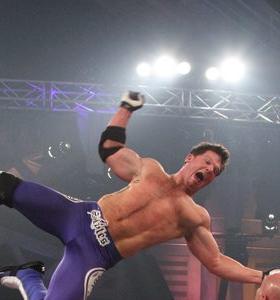 facebook.com/ImpactWrestling
This chapter in the AJ Styles/Christopher Daniels feud has been a long one. It began at the 2011 Destination X and finally ended at TNA's final PPV of 2012, Final Resolution. Despite its length, it has been an overall great feud as both wrestlers battled to find out who was truly the best between them.
Each match these two had ranged from good to phenomenal. Out of all the matches they had in 2012, not a single one disappointed. Styles and Daniels are two of the best wrestlers in TNA Wrestling and they proved that with each and every match.
I felt that their two best singles matches came at Destination X and Final Resolution. Both matches were excellent and were the highlights of those particular PPV's.
Whether their match at Final Resolution truly was "One Final Time" remains to be seen, but if the record books have Daniels defeating Styles that night in the quality match that they had, then it was a fitting end.
You're probably wondering why this is so low when I'm singing its praises right now. Well, that answer is a simple one: Claire Lynch.
One of the worst storylines of the year came out of this feud and it saw Styles accused of impregnating a former drug addict. While the storyline did see some great entertainment from Daniels and Kazarian, better known as Bad Influence, the great pairing that they turned into couldn't save the storyline from wrestling's Hall of Shame.
The Claire Lynch portion of this feud knocked it down big time.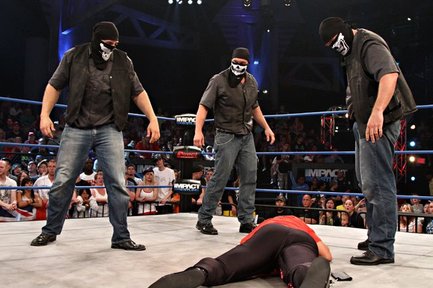 facebook.com/ImpactWrestling
When three masked men attacked Sting on the episode of Impact Wrestling after Slammiversary, the first thought that went through my head was, "Oh great, another invasion angle in wrestling."
As it continued, though, I found myself more and more intrigued by it. Their numbers increased over time and they just kept on attacking Sting, Hulk Hogan, Kurt Angle, Austin Aries and many more. Who were they? Why were they doing this? Only two members in Devon and the former Luke Gallows have been revealed so far and their intentions with TNA are not completely clear.
The Four Horsemen wanted to be on top, the New World Order wanted to kill WCW, D-Generation X wanted to raise hell, the Alliance wanted to kill WWE and the Shield want to fix injustices. What do the Aces and 8s want? All of the biggest stables/invasions in recent memory have had an agenda, but the Aces and 8s pick their victims with the throw of a dart. One would assume that they want to destroy TNA, though I can't remember whether or not they have outright said that.
The president and vice-president have yet to be revealed and I think it'll create quite the interesting situation when they are unmasked. Plus the addition of Mr. Anderson raises a lot of questions.
While TNA has gone overboard at times with the storyline, the Aces and 8s have made for some excellent television this year. I don't think the storyline will last much longer, though, as I feel it'll end at Lockdown in a TNA vs. Aces and 8s Lethal Lockdown match.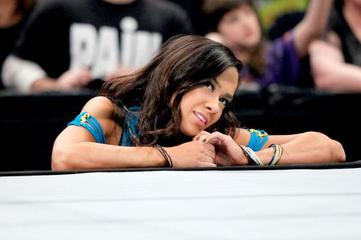 wwe.com
The Divas division in WWE has been a complete joke over the past few years. The days of great women's wrestling from the likes of Trish Stratus, Lita, Ivory and Molly Holly are long gone. I remember when the division had legit storylines and not a random No. 1 contender's battle royal to determine the champion's challenger for later on in the night.
If there was any shining light coming out of the Divas division in 2012, it was certainly AJ Lee. She went from a love sick puppy at the beginning of the year to a serious general manager with some issues during the summer to a crazed maniac of sorts a few weeks ago.
AJ is the first woman in WWE to get a certain something in years, and that something is character development. She can also cut a great promo as well and that really adds to her character.
Despite not wrestling much, AJ has been the best thing in the Divas division in 2012. She can get it done in the ring when given the chance, though.
Since she was a babyface throughout the entire year, I absolutely love her heel turn. Pairing her with Dolph Ziggler not only adds to the promiscuous side of her character, it also creates an interesting situation. Is she going to kick him to the curb when she finds someone else? Is she just with him to screw with Vickie Guerrero? Are they together for the long haul?
No matter how long it lasts, AJ stays in the much deserved spotlight, and it's that spotlight that I believe will lead to the Divas Championship.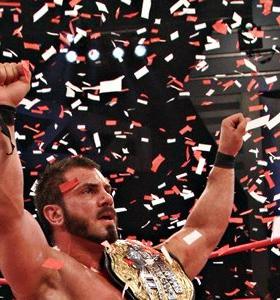 facebook.com/ImpactWrestling
Austin Aries returned to TNA in July 2011 and stayed permanently after Destination X. He quickly catapulted to the top of the X-Division and went onto hold the TNA X-Division Championship for a record 298 days, shattering the previous record of 182 days held by Christopher Daniels.
His reign only ended because of Option C. He gave up the title for a shot at Bobby Roode and the World Heavyweight Championship at Destination X this past July and a lot of questions were raised. Does TNA end Roode's record breaking title reign, or do they leave Aries with nothing?
The answer was Aries picking up his first world title in TNA and it was quite the moment! Someone that wasn't Sting or a former WWE superstar had the title, and it helped cement Aries' gimmick of "The Greatest Man That Ever Lived." The former, and only, two-time ROH World champion added another World Championship to his collection and it added to the massive momentum TNA had going during the summer months.
Aries' close to 200 day reign as champion wasn't the most eventful, though. He ended his feud with Roode at Hardcore Justice the following month even though the feud had a lot more steam behind it. Since it was ended after a month, Aries was thrown into the Aces and 8s storyline to keep him busy until after No Surrender.
That moment when the bell rang and Aries was handed the title, though, was one of my favorite TNA moments this year!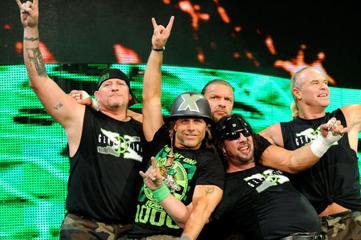 wwe.com
This was just a fun show to watch. While some of the former superstar's cameos weren't as eventful as I thought, it was the first Raw for me that was entertaining since the Road to WrestleMania ended.
I did attend a Raw a few weeks earlier, but being there live and watching on television are two completely different experiences.
From the full reunion of D-Generation X to CM Punk delivering the Go to Sleep to the Rock, Raw 1,000 delivered in a big way overall. There were even some nice little nods to some of the Attitude Era's more ridiculous storylines like when Mae Young showed up with the hand she gave birth to, now all grown up.
The only thing that would have made that even funnier was if Mark Henry was present in the room!
It was a night full of laughs, entertainment and some good wrestling. If WWE made their 1,000th episode as fun as they did, imagine what's going to happen during Raw's 20th anniversary show in a few weeks!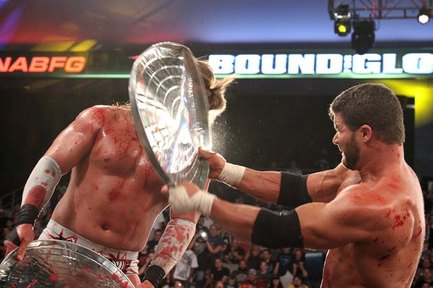 facebook.com/ImpactWrestling
Starting in November 2011, Bobby Roode and James Storm had what was no doubt a Feud of the Year candidate. When Roode smashed a beer bottle over Storm's head and practically stole the TNA World Heavyweight Championship away from him, the war was definitely on.
It was a slow building war, though, which I thought was good. Too many times are some storylines rushed and that rushing can ruin a feud.
It wouldn't be until Lockdown in April in Storm's home state of Tennessee that he got his fair rematch. The match was built up huge with everyone expecting Storm to come out as champion. Then TNA threw a monkey wrench into things and kept the title on Roode.
TNA once again began another slow build with Roode as champion and Storm competing in the Bound for Glory Series. After Roode lost the belt to Austin Aries in July, it became obvious that Storm wasn't going to win the series anymore. The feud was personal enough that it didn't need the world title anyway.
They faced off in what was no doubt the Match of the Night at Bound for Glory and ended the feud right there. Both Roode and Storm absolutely stole the show in their Street Fight and the match was a sure candidate for Match of the Year.
While they have crossed paths after the event, the feud is over. It ended on a perfect note and became one of the best feuds in TNA history as a result.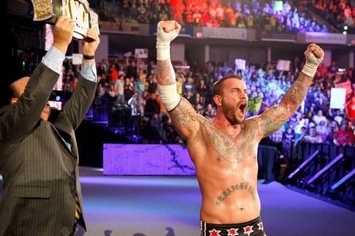 wwe.com
As of this writing, CM Punk's WWE Championship reign is at 408 days. He is ranked number six overall in the longest single title reign category and is 620 days away from breaking Pedro Morales' 1,027-day reign. That is a feat that is most likely untouchable, but Punk's record in itself is impressive.
Winning the title at the 2011 Survivor Series and holding onto it the entirety of 2012, Punk has without a doubt made history seeing as he's the longest reigning champion in the last 25 years.
Throughout his title reign, Punk has had great matches with the likes of Dolph Ziggler, Chris Jericho, Daniel Bryan, Kane and John Cena while also delivering some of the best in-ring promos of the year 2012. CM Punk has certainly had a phenomenal year.
Some of you are probably wondering why this isn't in the top spot, and I'm sure a few will blast me for it. His title reign is impressive, but his character is staler than the bread sitting on my counter.
While his promos are good, it's the same exact thing every single time. It's always "Respect" this, "Best in the World" that and I've grown bored with it all. I was hoping that his heel turn at Raw 1,000 would freshen him up, but it only made things worse for me.
Don't get me wrong, I'm still a fan of CM Punk the wrestler; I just find myself muting my television now when he has a microphone in hand because he basically says the same thing he did the week before.
And just remember, this isn't a reflection of fans in general; it's my personal opinion.
His long title reign is incredibly impressive, but the two moments that follow were my absolute favorites of the year, and those moments are what I felt were the best matches of the year in each company.
TNA Wrestling featured a lot of great matches both on television and on PPV this year, but I felt the Tag Team Championship match at Slammiversary X between then-champions Bad Influence and challengers AJ Styles and Kurt Angle was the company's Match of the Year.
If you didn't see it, I highly suggest watching the video I included.
The match was a part of the Styles/Daniels feud that added Angle when he began to back Styles after Bad Influence ticked him off. It was good to finally see Styles have some backup and it created quite the dream team.
When this match was booked, I knew that it was going to be good. All four of these wrestlers are some of the best TNA Wrestling has to offer and neither rarely disappoints in the ring. From start to finish, this match absolutely blew me away. The second that bell rang to end the match I knew that nothing TNA did was going to be able to top this.
The fatal four way ladder match at Hardcore Justice between Styles, Daniels, Angle and Samoa Joe actually came close for me, but at the end of the day, the best match at Slammiversary was without a doubt the best match of the year.
TNA tried to do it again three times with the rematch from this, another one at No Surrender in September and one that also included the team of Chavo Guerrero and Hernandez at Bound for Glory, but neither lived up to the first match.
This could have taken the top spot if not for a match that happened two months earlier.
To me, WrestleMania is the Undertaker's event. Every year I look forward to the Deadman's match no matter who it's against. The past four years alone, the Undertaker has had the best match of the night at the event.
This match wasn't much of a wrestling match like CM Punk vs. Chris Jericho was, but it was an all-out fight between two of the last remaining active wrestlers from the infamous Attitude Era.
Inside Hell in a Cell, the Undertaker and Triple H brought each other to the limit while creating a lot of emotion in the process. Do you root for Triple H trying to break the Undertaker's undefeated streak for the third time, or do you cheer for the Deadman becoming 20-0 at the biggest event of the year?
The crowd was definitely split and WWE booked the match to make it seem like it was truly anyone's game.
The addition of Shawn Michaels as referee really added some extra emotion to the contest. As Tripe H yelled at Michaels to just end the match or he would, and the Undertaker pleading with him to keep it going, the Heartbreak Kid was put into a position nobody wants to be in. Does he side with his best friend or respect the wishes of one of the most well respected wrestlers in the WWE locker room?
Michaels' facial expressions and actions during the match sold every hit from the chairs and sledgehammer and every plea from both Triple H and the Undertaker. It has been years since I got that emotionally involved in a match. My eyes were glued on my television the entire time and I was so far at the edge of my seat that I almost fell off.
The final shot of the Undertaker, Triple H and Shawn Michaels embracing is a sight and moment I'll never forget!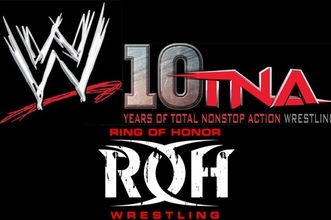 Logos copyright to their respective companies
Thank you to everyone that has read what I put out this year. Whether it was the end of my Abandoned series, the Wrestling Gold series (which is returning tomorrow and not stopping until it finishes) or my top moments of the week, you made 2012 quite the year for me here on Bleacher Report!
I hope you stick around for the New Year!
Stay tuned for something new I'll be doing at the end of each month, which will be a monthly awards kind of thing. I just haven't figured out how to put it together yet. Once again, thank you all for the continued support!
Don't forget to hit me up on Twitter, where I always follow back fellow wrestling fans and usually tweet during the shows!