Philadelphia Eagles vs. New York Giants: Live Game Analysis, Reactions and More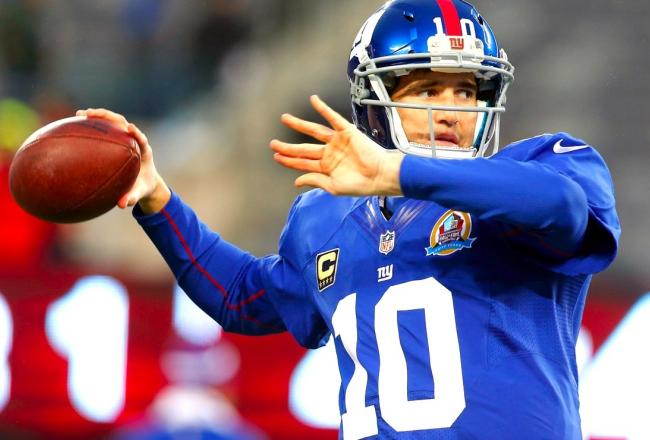 Eagles 7, Giants 42 late 4th Quarter
This game is just over, folks.
It was completely dominated by the New York Giants. In fact, it was so bad that backup QBs David Carr and Trent Edwards heard their numbers called.
From the start, the Giants had the Eagles beat everywhere. Michael Vick looked terrible under pressure, Jeremy Maclin didn't feel like catching a few balls, and Nnamdi Asomugha had to resort to cheating.
On the other side, Eli Manning and the Giants' offense was an unstoppable machine, and just about everyone was involved in the effort.
In what was likely Andy Reid's last game as the head coach of the Philadelphia Eagles, Reid's team looked awful.
Now, the Giants need a lot to happen to make the playoffs. Regardless, the G-men ended their season on a high note.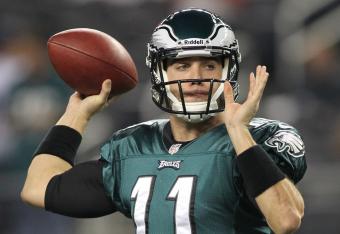 Trent Edwards is in the game.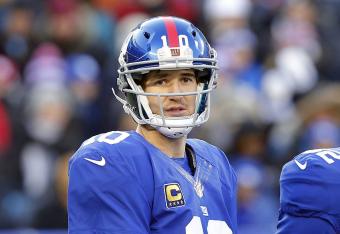 This is, surprisingly, the first time Eli Manning has ever thrown five touchdown passes in a game.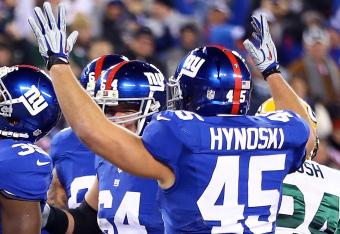 Henry Hynoski, the fullback who does the Giants' dirty work, just scored on pass from Eli Manning that is currently under review.
It would be a nice reward for a player whose work goes under the radar as much as Hynoski's does.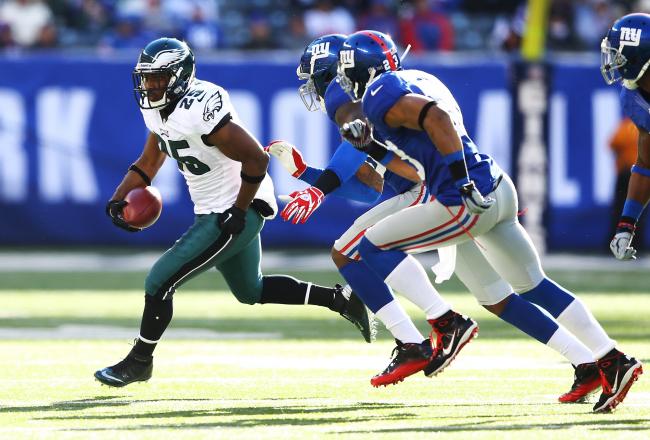 Fans at MetLife Stadium chanting "Eagles suck!"
They aren't far off.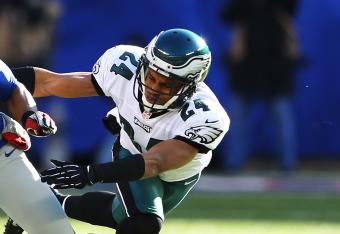 Asomugha done for the day?
Nnamdi standing behind Andy Reid on sideline.Curtis Marsh playing

— John Clark NBC10 (@johnclarknbc10) December 30, 2012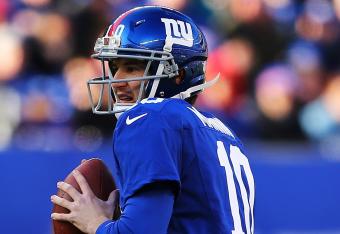 So far, Eli Manning has 12 completions and four TDs. 25% of his completions are TDs.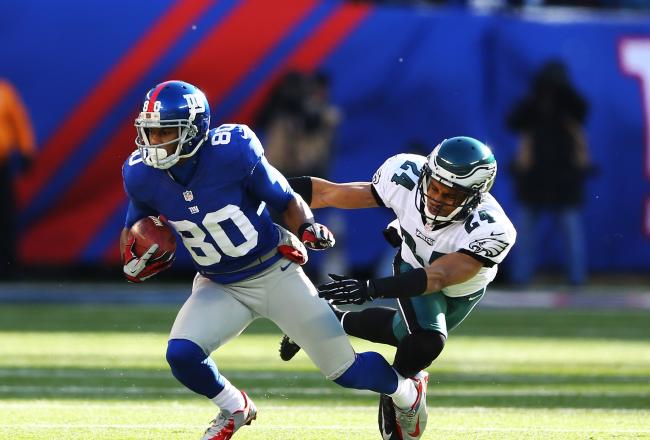 Nnamdi Asomugha continues to cheat, but to no avail.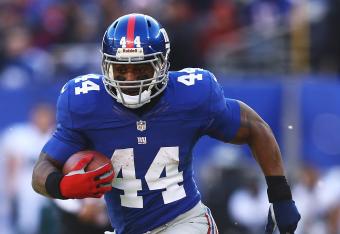 "Alert! Alert! Omaha, set, set!" precedes a Bradshaw run up the middle every time.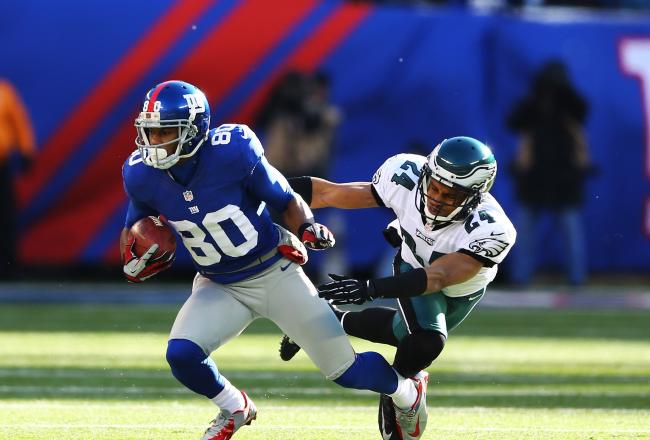 The Eagles and Giants are entering the final quarter, and it's been all Big Blue.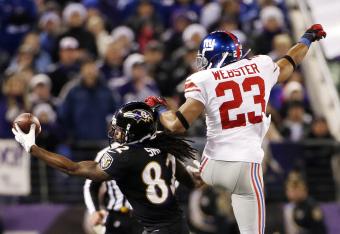 Corey Webster didn't redeem himself for his performance last week, but that was great coverage on Jeremy Maclin.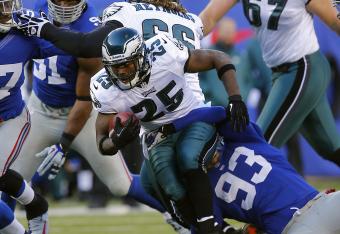 If LeSean McCoy wasn't playing, there would be no reason for Eagles fans to watch this game.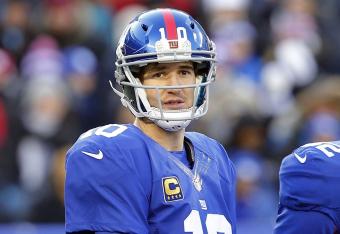 The Giants didn't score on that possession, which hasn't been the case five of their others.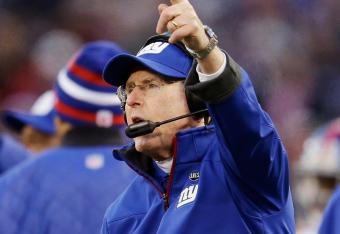 This game hasn't been impacted much by turnovers. The Giants only have one score off a turnover. It's been great management by the Giants, and superior coaching from Tom Coughlin.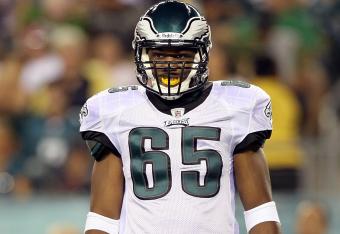 King Dunlap adds insult to embarrassment with a personal foul after the play, disrespecting himself and his team.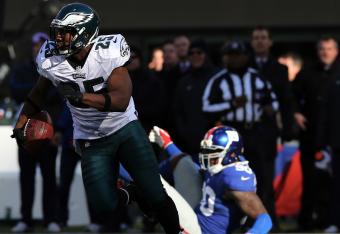 Andy Reid and Marty Mornhinweg choose to run shotgun draw plays while trailing by what might as well be a million.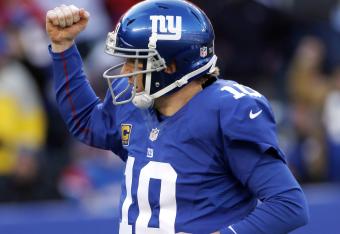 The story today has been all about the quarterbacks, as it was expected to have been.
Stats:
Michael Vick: 13/24, 142 yards, 1 TD
Eli Manning: 11/16, 196 yards, 4 TDs
Eli Manning is doing what he wants, and so is Michael Vick. The only difference is that Eli Manning wants to do the right thing, and Michael Vick wants to do what he thinks is the right thing.
More bad management from the Eagles with less than a minute left in the first half leads to another Giants touchdown.
On the first possession, the Eagles defense brought the house, and Eli Manning and Domenik Hixon brought the noise.
Then, with three timeouts and ten seconds to work with, Manning throws a beautiful TD pass to Victor Cruz, who salsa dances and rubs it in to the Birds a bit more.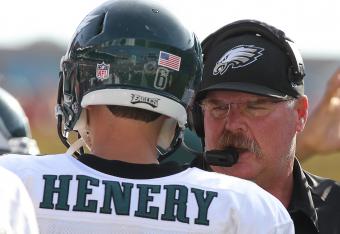 Correction: Alex Henery misses the field goal because he is a bad kicker, and not because of the elements.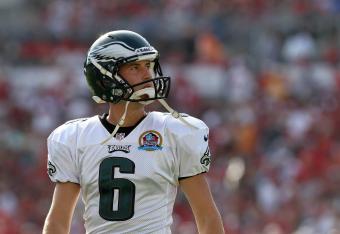 Alex Henery misses a chip-shot field goal because of a bad ball-holding job. The football gods continue to make things as easy as possible for the Giants.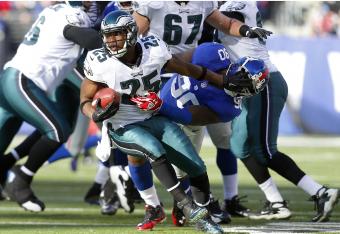 The Giants stop rushing five or six guys in the red zone. Why?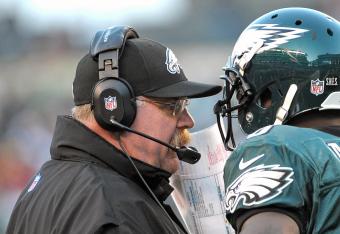 Jeremy "Gator Arms" Maclin doesn't like to catch the ball in traffic. He also doesn't like to catch the ball when he can get hit.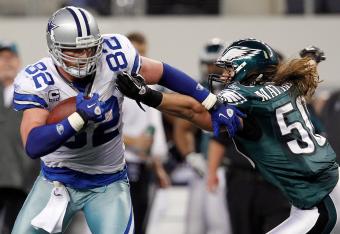 Eagles linebacker and special teamer Casey Matthews is out with a concussion.
Casey Matthews (concussion) is out.

— Tim McManus (@Tim_McManus) December 30, 2012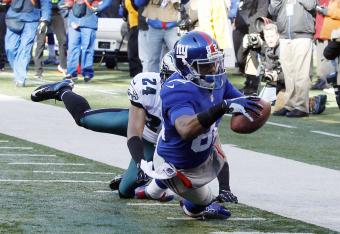 Nnamdi Asomugha finally gets flagged for breaking all the rules.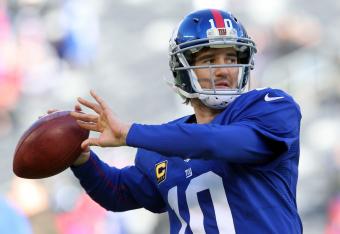 Eli Manning, Victor Cruz, and Ahmad Bradshaw are doing the dirty work. Rueben Randle is scoring the touchdowns.
The stingy Giants' defense just gave up a TD to Jeremy Maclin on 4th down. That's twice they've failed to stop the Eagles on 4th down.
This article is
What is the duplicate article?
Why is this article offensive?
Where is this article plagiarized from?
Why is this article poorly edited?