10 Things We Learned in UFC 155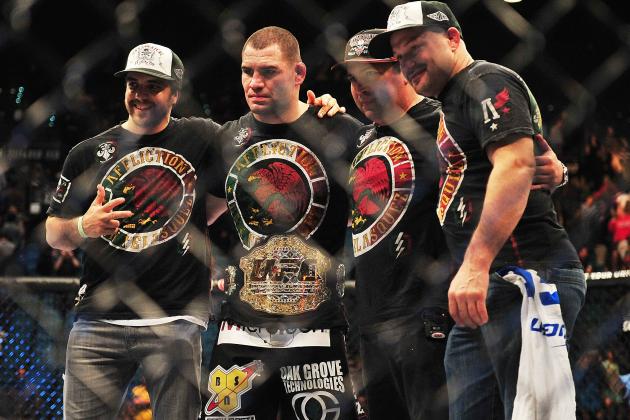 Gary A. Vasquez-USA TODAY Sports
Cain celebrates after a hard fought victory to regain the heavyweight championship.
UFC 155 is in the books and it was mixed at best. It got off to a lackluster start in the first 90 minutes, but the last two fights clearly got the crowd alive. Despite only one true finish, the last two fights really kept people standing and left people standing.
The odd part of this card is that I went 1-4 in my predictions. Usually I go either 3-2 or 4-1, but this time was a colossal bust. Jim Miller's first-round assault and intelligent ground game saved me from looking even worse.
We have a new world heavyweight champion in Cain Velasquez, which may be a shock to some. I'm not too shocked about it because Velasquez has always been the real deal to me. The way it shocked me was how dominant he looked.
The heavyweight championship is a constant carousel, with a plethora of great fighters in the division, so Velasquez better be fully prepared for his title reign.
Here's 10 things we learned from UFC 155:
Begin Slideshow

»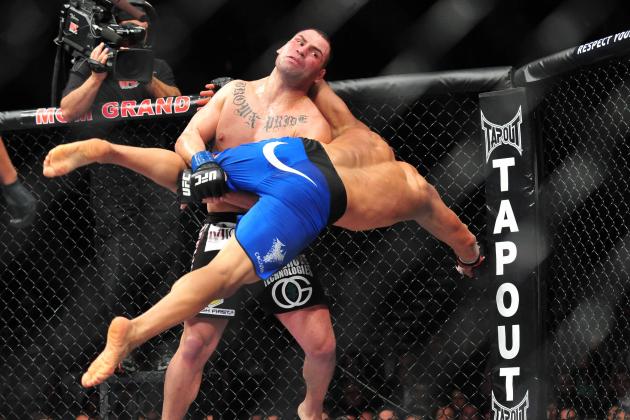 Gary A. Vasquez-USA TODAY Sports
Velasquez mauled Dos Santos all around the octagon.
You may look at the title and question what I mean by that since wrestlers are starting to win more fights than lose in the UFC.
When you look at the heavyweight division, it's mostly full of strikers. Sure you have submission specialists like Frank Mir or all-around ability like Alistair Overeem, but it's rare to see a true college wrestler at heavyweight.
Cain Velasquez proved that wrestling can still be a difference maker in the heavyweight division and exposed Junior Dos Santos' flaw. Even though Dos Santos has shown he can defend takedowns, it was the relentless assault by Velasquez that left him in disarray.
Unlike the first fight when he was hesitant, Velasquez was on the prowl early and began to constantly either go for a takedown or grapple with Dos Santos.
What shocked me the most was that Velasquez had some major success in stand-up. His stand-up is decent, but it was never something that you could see affecting Dos Santos to the extent of making him wobbly.
His performance overall was remarkable and it silenced any critics saying that he was a one-hit wonder. Even after his dominant win over Antonio Silva, there were still critics that didn't believe in Velasquez. Yet he continues to be a machine that has a nonstop motor, similar to how Brock Lesnar was during the prime of his run in the UFC.
Velasquez is that good, and shows fighting similarities to Lesnar by showing that wrestling matters even within the biggest division in the UFC.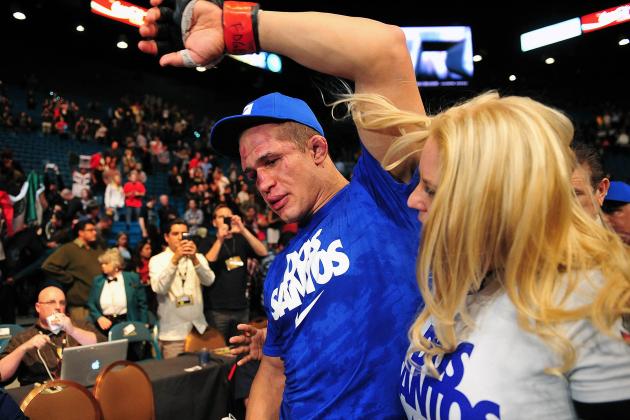 Gary A. Vasquez-USA TODAY Sports
Dos Santos walks out battered and bruised for the first time in his UFC career.
Even the most feared strikers get taken down a notch at some point, but being dominated in all aspects of the fight was something that nobody expected from Junior Dos Santos. The most dangerous striker in the division never looked like a threat to knock out Velasquez and seemed to be on his heels for the majority of the fight.
It was a bad performance overall, but this was going to happen eventually. My prediction was that Alistair Overeem was going to be the one to give Dos Santos his first loss in the UFC and really dominate through out the fight.
Instead Velasquez did that and it spoiled the chance of a Dos Santos versus Overeem dream fight for many people such as myself.
Dos Santos left with some positives, which was knowing how much he has to work on his takedown defense. After seeing how much he was tossed around, his next opponent is going to look to do the same.
Also, he proved that he can take a punch and that his chin can last in a major fight.
Obviously his flaws were exposed, including his stamina, but he can easily bounce back from this. It's a shame that he didn't break the record for longest heavyweight title reign, but expect him to have a title shot again sometime in late 2013 or early 2014.
I'm not sure why the fans booed him afterwards, but it was pretty sad and it was pretty disrespectful towards a fighter and person of the caliber of Junior Dos Santos.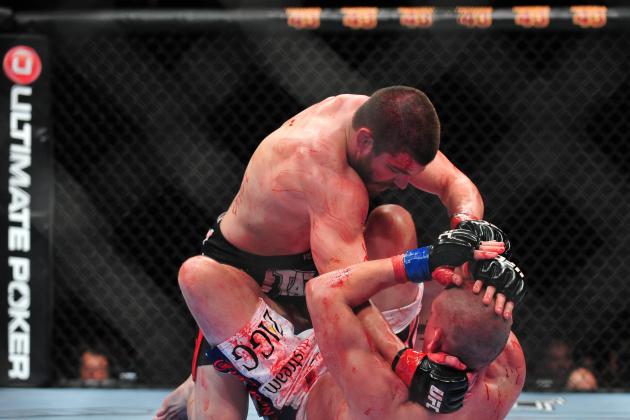 Gary A. Vasquez-USA TODAY Sports
Miller was all over Lauzon for most of the fight.
After losing to Nate Diaz in dominant fashion, the future of Jim Miller was pretty unclear. Miller has been one of the top lightweights in the world, but after losing the chance for a title shot and the growth of lightweights in the division, Miller's days of possibly getting another title shot were numbered.
Instead he continued to show why he's one of the best in the world in his division with the usual grittiness and aggressiveness that has helped him win so many fights. His overall performance against Joe Lauzon was incredible and instantly won him fight of the night honors.
What impressed me the most was his striking accuracy and how much damage he caused Lauzon. It was one of the best first rounds I've seen from any fighter in a long time, and it showed that Miller had a lot to prove after the loss to Diaz.
Eventually he seemed to fatigue and lost some control over the fight. But Miller was constantly striking and using his takedowns to keep Lauzon from using any major submissions.
At the end, it was a minor scare from Lauzon trying to use an ankle lock. Still, Miller put on a terrific performance that puts him back in the upper echelon of lightweights. You may even see a possible rematch of Diaz versus Miller after a performance like this.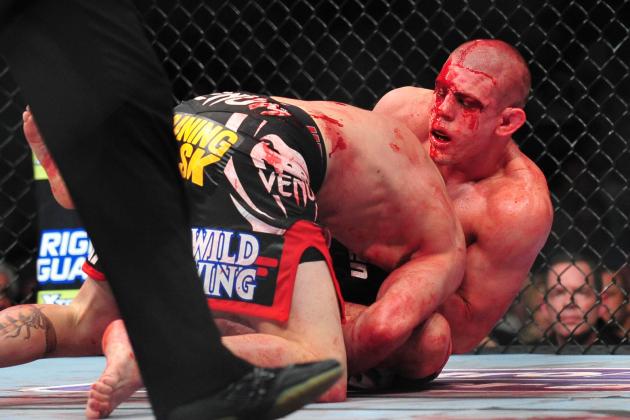 Gary A. Vasquez-USA TODAY Sports
Lauzon somehow managed to go to distance and cause a few nervy moments for Miller.
Joe Lauzon is a human highlight reel. With his constant submission of the night victories, he's becoming more of a fan favorite. It was clear that the crowd was on his side last night and he shined even in defeat.
The issue with his fighting style is that he takes too much punishment by leaving far too much space for fighters to attack him. Jamie Varner had his moments of nearly finishing Lauzon off, and who can forget Anthony Pettis knocking him out with a head kick. Lauzon needs to tighten up defensively if he ever wants to be a legitimate title contender.
If he can do that, then you'll see even more of him. He will still get major fights because he's one of the more known fighters in the division that will put on an exciting fight.
What Lauzon needs to do is tighten up his strikes and to pick his spots when going on the offensive. Miller was striking at will in the first round and Lauzon never fully recovered from the beating.
He still has all the potential in the world to be a champion, but there have been too many fights where he has taken too much damage and then it becomes nearly impossible for him to make a comeback.
There is a line between being just a fighter that will give you a good performance and a fighter that can beat someone like Benson Henderson. Lauzon is at that position right now and 2013 could be his make or break year.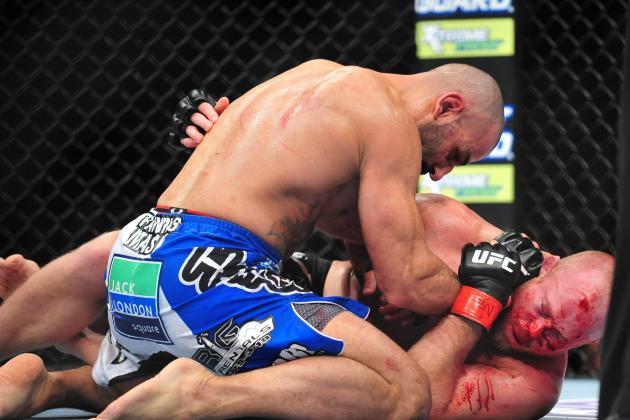 Gary A. Vasquez-USA TODAY Sports
As the fight went longer, Philippou became more aggressive.
I'm not overly impressed by the victory, but it was great to see Costa Philippou execute the game plan on how to beat Tim Boetsch.
You saw as the fight went on how he easily defended take down attempts and was effective by sprawling. Then he would use his ground and pound to damage Boetsch.
It wasn't flashy or anything to go wild about. But it was a solid performance by Philippou, who continues his winning streak, which could land him a bigger fight. He never got too aggressive and he worked on the same cut through out the fight that left Boetsch blind by his own blood.
Eventually by the late second round, you could see how he was dictating the pace of the fight. His focus on making sure Boetsch never got going with the takedowns and using his body to gain upper position on the ground was the difference.
Other than the first round where he looked a bit unsteady, it was a good performance that can be used as a building block. I'm not sure who would be good for him in the middleweight division but expect him to land a big name somewhere. His winning streak has caught the attention of many and deserves to be rewarded.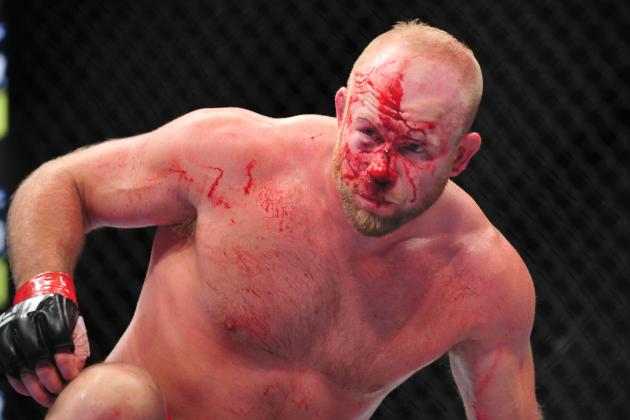 Gary A. Vasquez-USA TODAY Sports
Boetsch couldn't last after being bloodied that badly.
A hard-fought effort by Tim Boetsch shouldn't be ignored, but he was clearly outmatched.
He didn't look to be in great shape for this one and became too reliant on the takedowns. After having some success with strikes in the first round, he began to forget about it and became too desperate.
His lack of variety made him predictable and it was the end for him. His vision was impaired by the extreme amounts of blood and that led to him becoming desperate. It was a sad ending because he got off to a bright start and has momentum in the middleweight division.
His early success on takedowns were positive but he didn't seem to be effective in ground and pound. Then when it came to stand-up, he was affected heavily by the strikes from Philippou.
It was a poor performance overall but it can't be denied that Boetsch doesn't go down easily and that he showed a great amount of courage.
From the impaired vision to the possible broken hand after Round 1, he never walked off from the fight. He was still aggressive and he was willing to fight through anything that was affecting him. It was a handful of injuries, which left him incapable of retaliating to Philippou's constant ground and pound. That was the end and it could be the end for Boetsch to come near a title shot.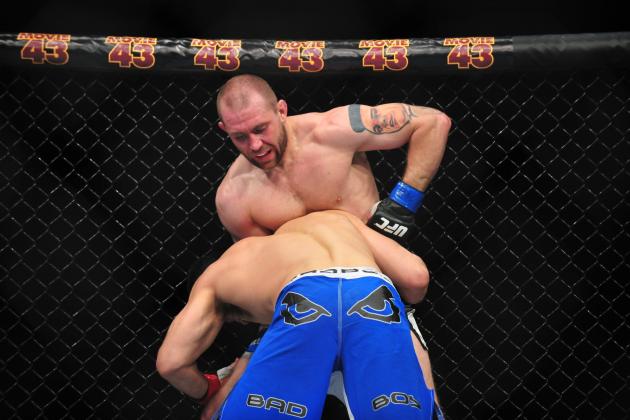 Gary A. Vasquez-USA TODAY Sports
This image basically explains how every round went.
The overused tactic and lack of ground and pound really left me annoyed with Yushin Okami. I'm aware he's a grinder and uses more of that style where he doesn't really have knockout power, but this was pretty ridiculous.
In every round he underhooked Alan Belcher's arms and just pressed him against the cage. Then he managed to take him down in some odd way that wasn't really a takedown. His ground and pound barley did nothing.
It was overall just a performance that had fans booing and really nothing to brag about.
In his post-fight interview, he was looking forward to facing a bigger name. But I find that ridiculous. If you want to grind out fights, then at least do it by properly taking down someone. When you look at fighters like George St.Pierre and Chael Sonnen, at least they take fighters down convincingly.
Some may be impressed by how Okami held down a threatening striker like Belcher, but it just seemed lackluster all around. I don't see any true value in Okami going forward and it doesn't seem deserving if he gets a bigger name to fight next. Yet for some reason, it wouldn't surprise me if they put him against Chris Weidman for some odd reason. That won't last very long if that's the case for Okami.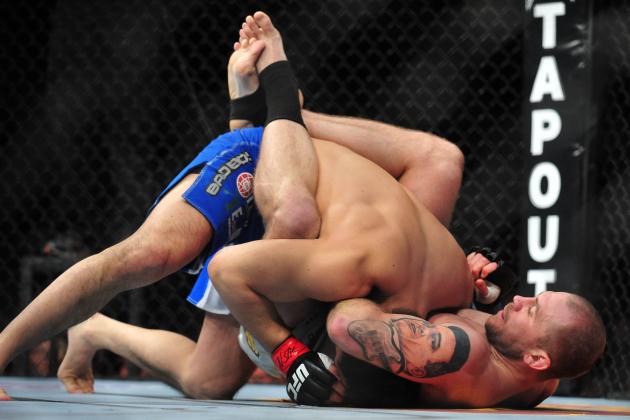 Gary A. Vasquez-USA TODAY Sports
Belcher tried his best on the ground to counter Okami's smothering.
It was a shame to see Alan Belcher so limited in the fight due to constant grappling by Okami. Belcher was another fighter that was starting to become a human highlight reel with his finishes. His kick boxing was always his main specialty going into fights, but his ground game has improved so much over the years.
Sadly, Okami's upper body strength was the difference and Belcher couldn't muster up much. It was nice to see him try a few guillotines especially since I predicted that he would finish the fight with a guillotine. It never resulted into anything though, and it was a performance that is going to annoy him for a long time.
This was supposed to be his breakout fight to the upper echelon of the middleweight division. He made his comeback from a severe spinal fracture and had the clear advantage in stand-up. It never came to fruition despite a few nice jabs by Belcher in the third round.
I'm not sure where he goes from here, but it's a shame if they put him on the under card or something that isn't very relevant. He's such a dynamic fighter and can be a threat in the middleweight division.
If he can improve his upper body strength and use some more knees to keep opponents at bay, then you'll possibly see a new contender in the division.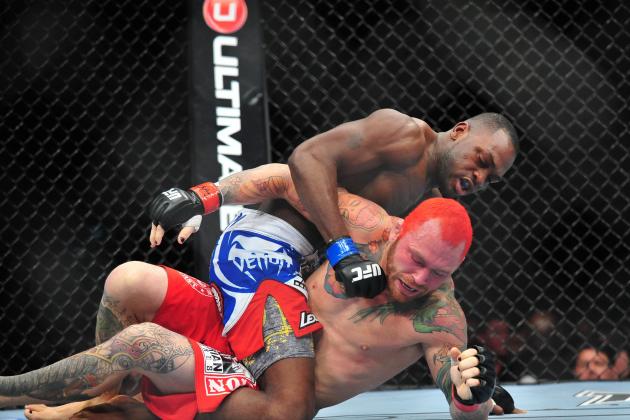 Gary A. Vasquez-USA TODAY Sports
Brunson's wrestling made the difference in a lackluster opener.
You would think Roy Nelson was fighting if you had a close listen on how both fighters were breathing heavily in the late second round. Both fighters looked fatigued and neither really showed anything. Derek Brunson did come out victorious thanks to some takedowns, but other than that he did nothing to show that he could be a threat in the middleweight division.
It was nice to see Chris Leben back in the Octagon, but he didn't look in shape and seemed lost out there. He was slow with his combinations and he was rusty as you could be. It was good to see Dana White admit that Leben shouldn't have been on the main card.
Nobody won in this one and it was as lackluster as it could get. Then you had Brunson with his over-the-top celebration despite looking at the clock numerous times because he was that fatigued. It was just bad all around and nothing to waste your time with.
They should have put Melvin Guillard versus Jamie Varner on the main card, which was far more exciting.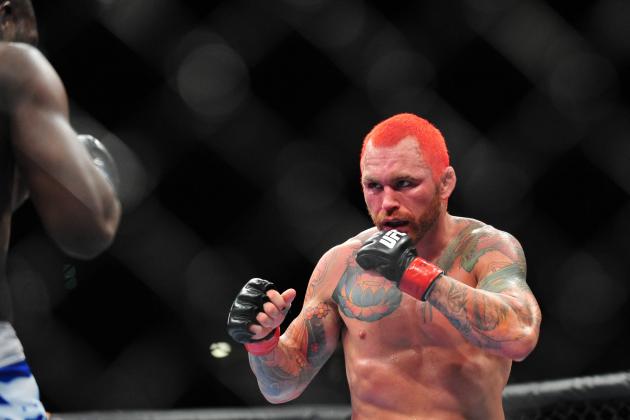 Gary A. Vasquez-USA TODAY Sports
Leben couldn't shake off the rust.
The UFC picks out the fight of the night, submission of the night, and knockout of the night so I'll do something separate. As usual, I'll give out the awards for best fighter of the night that impressed the most and did great for themselves for the future. Then I'll give the award for worst fighter of the night.
The best fighter of the night has to go to Cain Velasquez. It was a performance that nobody expected to be dominant and now he's cemented himself as one of the best heavyweights to ever set foot in the UFC. I'm not sure how long his title reign will last, but that was a fight that nobody will forget.
The worst fighter of the night has to go to Chris Leben. He didn't look like he was prepared at all and he didn't show anything. At least every other fight on the card has their moment of a takedown or a knock down from a punch. He was very slow and lackluster throughout the fight, which is a shame because it was great to see him back fighting after all of the personal issues he went through.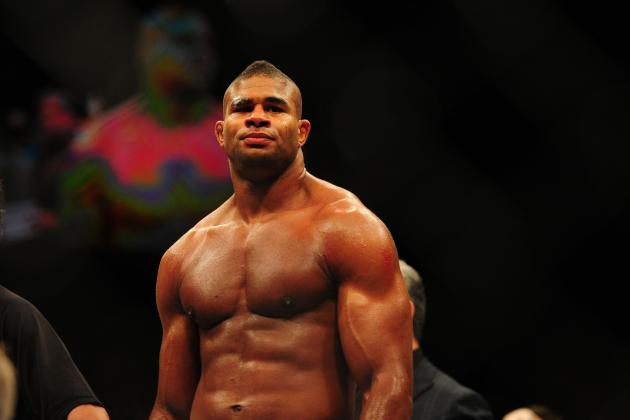 Mark J. Rebilas-USA TODAY Sports
Overeem's return is coming.
Overall it was definitely a decent PPV at best, with the last two fights saving a dull beginning. All of the fights in the co-main event and main event definitely put on performances that were memorable. Dos Santos may have taken a beating, but when have you ever seen a heavyweight title fight go to distance? He knows how to take punishment—something that was questioned with Dos Santos.
After a major stretch of major title fights, a mini-break is needed for the UFC. It wasn't a great year due to so many injuries but it had its moments. I'll be writing a 2012 awards column and it will be up at some point in early January.
Until then, it should be a dynamic year for the UFC in 2013 with Strikeforce talent coming over and possible super fights happening. Georges St-Pierre is fully healthy along with stars like Alistair Overeem and Nick Diaz coming back from year-long suspensions. You'll see better cards in the future hopefully and the organization as a whole should rebound from a disappointing year. I wish you all a Happy New Year and thanks for reading.
Allen Strk is a columnist on Bleacher Report. You can read more of my work atTJRSports.com covering the NFL, NBA, and MMA. You can follow me at @Allen_Strk on Twitter or e-mail questions/comments at AStrk19@gmail.com.