Atlanta Falcons: Secondary Should Make Case in Playoffs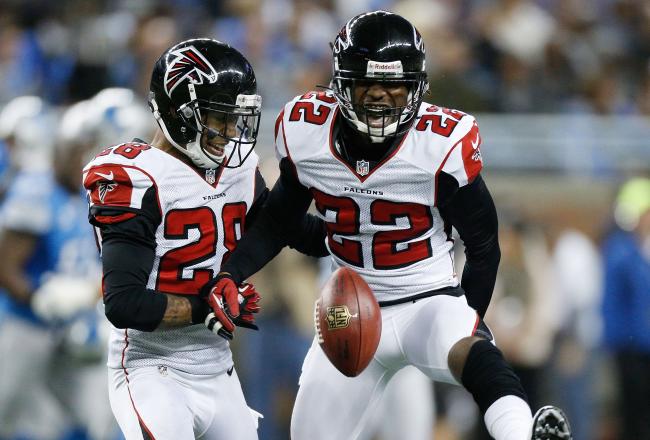 Gregory Shamus/Getty Images
If there was a time to bring back the nickname "Dirty Birds," it's now.
After all, the Atlanta Falcons could match their franchise record for wins in a season if they prevail today in an essentially meaningless game against the Tampa Bay Buccaneers. The last time Atlanta finished the regular season 14-2 was in 1998, when the "Dirty Birds" (as they were called that year) marched all the way to the Super Bowl.
Shades of the '98 season aren't the only thing that's warranting the return of the nickname, however.
Atlanta's secondary, which consists of William Moore, Thomas DeCoud, Asante Samuel and Dunta Robinson, has lived up to the billing in 2012. Even newcomer Robert McClain has been impressive.
To call that group of ballhawks "Dirty Birds "would seem more than appropriate. Asante Samuel has defended 17 passes while notching four interceptions, all while nursing a bum shoulder for the past quarter of the season.
Robinson, DeCoud and Moore have each defended eight passes and have 11 interceptions between them.
Overall, the Falcons are fourth in the NFL in interceptions with 19. It's actually hard to imagine that number isn't even higher, and it probably would be if the secondary had been healthy the entire year.
Along with Samuel's injury that has kept him on and off the field, Moore hasn't seen the field in four weeks due to a hamstring injury he suffered against the New Orleans Saints.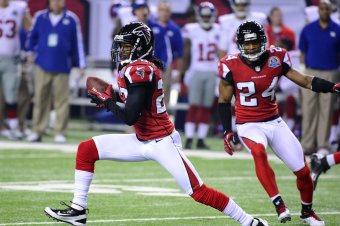 Scott Cunningham/Getty Images
Moore stood out in that game with two interceptions, and he has since become a starter for the Atlanta defense. If you ask any Falcons fanatic or expert, they will probably tell you Moore is the best player in that secondary.
That's frightening.
When Moore's Pro Bowl season came to a stop, it was supplemented by the play of Thomas DeCoud.
DeCoud is the epitome of the type of player general manager Thomas Dimitroff has gone after since arriving in Atlanta in 2008. Dimitroff made himself known, ironically enough, by taking no-name, blue-collar players from smaller schools when he was in New England. That worked out pretty well for him up there, as he helped the Patriots build a dynasty.
When he came to Atlanta, he got a guy a lot like Brady in Matt Ryan. He also kept going after a bunch of unknowns in other draft rounds. Nobody knew who Thomas DeCoud was in 2008, but they know now.
Well, at least fans in Atlanta. The lack of star power, along with the fact that he was a developed player from California, might have to do with why DeCoud didn't make the Pro Bowl this year either.
He has character. He's a smart player. He's no flash and dash, but his numbers tell you everything you need to know.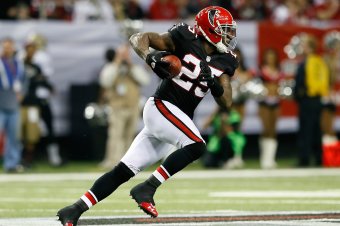 Kevin C. Cox/Getty Images
This season DeCoud has pulled in six interceptions and tallied 70 tackles. He also, just recently, received the Good Guy Award from the Pro Football Writers of America. That basically means he has charisma and gives a good interview, which people like us like.
He's the purest of Dimitroff's prototype players, which aren't the same prototypes most would think of. But, his presence has helped mold a secondary that might remind people of the secondary the Patriots and Packers have boasted in recent years—years they won the Super Bowl.
In fact, the formula for making it to the big game since the turn of the decade has seemingly included a strong passing game with a franchise quarterback and a defense that can create turnovers.
Check, and check.
Many have doubted the Atlanta Falcons all season and reminded us of the 2010 year when Atlanta finished 13-3 but flopped at home against the Packers, 48-21.
But the "Dirty Birds" have evolved since then. Matt Ryan is having the best season of what should be an amazing career, and the Falcons secondary has become one of the most exciting elements of the team.
Their performance as a unit would and should have been a story at some point this year, but the majority of the media never shed light on it. Unfortunately, that contributed to DeCoud not getting an invitation to Hawaii.
If the Falcons are going to make that Super Bowl run, which has seemed like their destiny ever since Matt Ryan completed his first professional pass for a 62-yard touchdown to Michael Jenkins, they will rely on the arm of Ryan and the ability of the secondary to thwart the opposition.
Atlanta's secondary has been one of the best in the business all year. It's even functioned pretty well when banged up.
With Moore and Samuel back and healthy in a few weeks time, look for the "Dirty Birds" in the defensive backfield to make or break the Falcons' chances at a trip to New Orleans for the big dance.
This article is
What is the duplicate article?
Why is this article offensive?
Where is this article plagiarized from?
Why is this article poorly edited?

Atlanta Falcons: Like this team?