2013 NFL Mock Draft: Projecting the First Round with Trades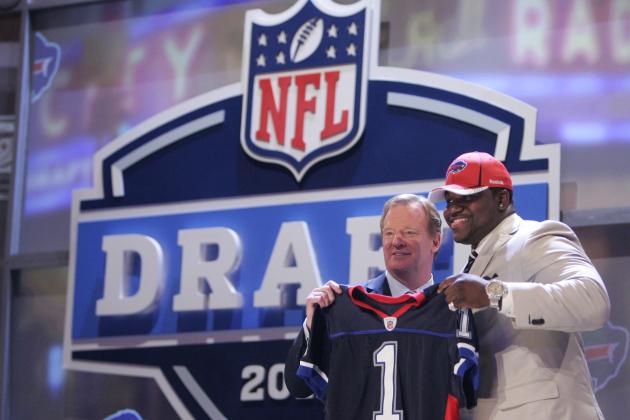 Jerry Lai-USA TODAY Sports

The off-season has officially begun for 20 NFL teams as of this Sunday and surely many fan bases have diverted their attentions towards the spectacle and lure that is the NFL Draft. With a new year upon us and bowl season in full swing, now is a great time to see the best college football has to offer in terms of talent available next April.
While this year's class may lack elite talent at the top, there is still plenty of potential and depth throughout, rewarding teams that invest wisely and identify which positions the talent is the deepest and most abundant. Although the official draft order will be unknown until February or which underclassmen have officially declared themselves eligible until January 15, now is a great time play around and get a general feeling for what some teams may be looking to do come draft day. Surely things will change between now and then but its always fun to project trades and generate debate amongst fans and loyal followers.
In a period of personal New Years Resolutions and weight loss goals, many teams are now in full-fledged evaluation mode, looking to "trim the fat" and "pack on the muscle". To see the impact the NFL Draft can have on a franchise, one must look no further than the Indianapolis Colts and their young quarterback Andrew Luck who has managed to lead his team from the darkness and despair of a losing season to the joy and jubilation of an NFL playoff run. Lets take an early look at how I could see the draft potentially playing out, with a few keynote trades sprinkled in to keep things interesting
Begin Slideshow

»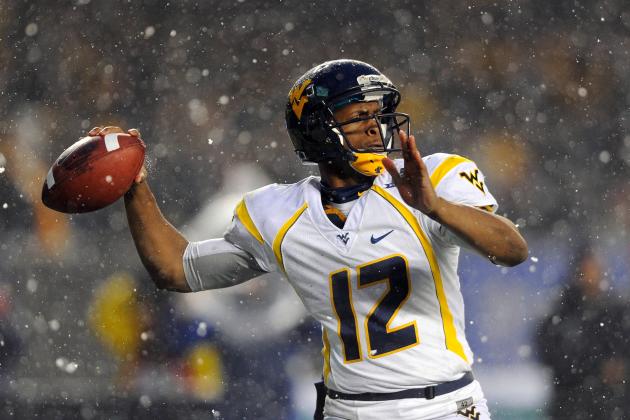 Rich Barnes-USA TODAY Sports

Scott Pioli finds himself in an unfortunate situation to have the No. 1 overall pick as there is no one quarterback that stands out in a relatively weak class. Both Matt Cassell and Brady Quinn have proven to be less than ideal starting quarterbacks and a change must be made to squander any hopes to revive what has been a struggling franchise in dire need of a quarterback change.
Geno Smith may not be deserving of the No. 1 overall choice but he is the quarterback with the most potential to lead the Chiefs back to respectability. With an NFL caliber arm and accuracy to all levels of the field, Smith has proven the ability to drive the football into tight windows as well as make all the throws necessary to succeed in the NFL.
A pass first quarterback, Smith also has unique athleticism and foot speed to escape the pocket and extend the play, which will translate very well at the next level. A tough call, but one Pioli must make to potentially save his job and spark enthusiasm and excitement into a fan base that more than deserves to see a winner on the field.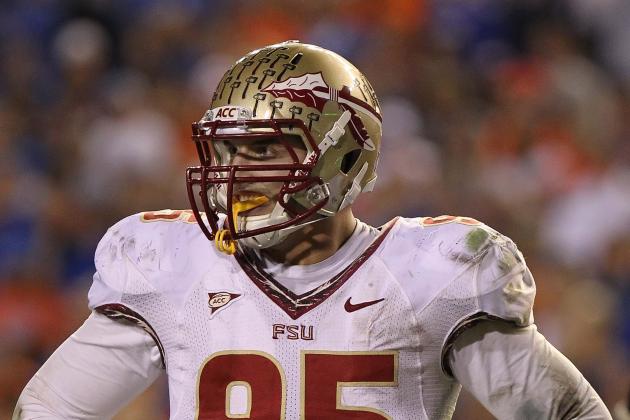 Kim Klement-USA TODAY Sports

Last in the NFL with only 20 sacks on the season, Jacksonville desperately needs some pass rush help. Quarterback is also a desperate need for the Jaguars, however due to the lack of talent at the position the Jaguars would be plenty wise to invest in this German born sack machine.
Blessed with exceptional quickness, lightning quick hands and a non-stop motor, Werner reminds many evaluators of former No. 2 overall pick Chris Long of the St. Louis Rams, who has blossomed into one of the better pass rushers in the NFL. Werner is still learning the nuances of the game but flashes the handwork and persistence to be a consistent threat off the edge, while also showing the ability to stop the run.
Although it is yet to be seen whether recently acquired Jason Babin will be retained next season, Bjoern Werner is exactly the type of pass rusher that Jacksonville needs to turn a weakness into a strength quickly.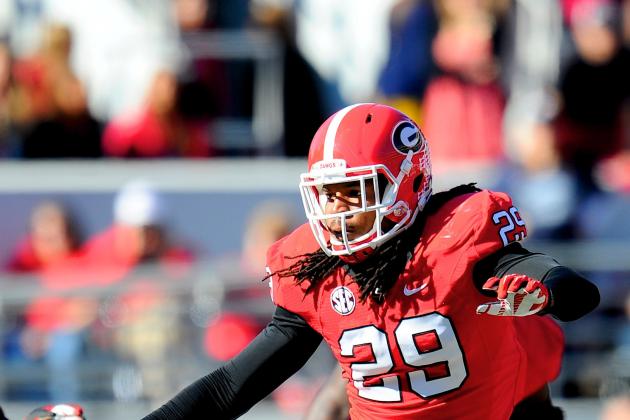 Dale Zanine-USA TODAY Sports

Perhaps the best overall pass rusher in the draft, Jarvis Jones is a special athlete, capable of replenishing a defensive unit that ranked 31st in the NFL in sacks this year. A balanced athlete with a non-stop motor, Jones thrives working off the edge to get after the quarterback. While Jones is an established pass rusher he is also very effective at setting the edge and has the overall ability to be a player you must account for at all times.
One thing the Raiders will have to make sure of before selecting Jones however is the neck injury he sustained in his first year while at USC. Jones has stayed healthy for two seasons now but neck injuries are always a scary deal and must be closely evaluated by team physicians before investing such a high and critical draft pick.
If he is able to pass the rigorous health tests at the NFL Combine, expect Jones to make his way in the top 5 overall selections; however a negative test result could send him sailing down or completely off team draft boards.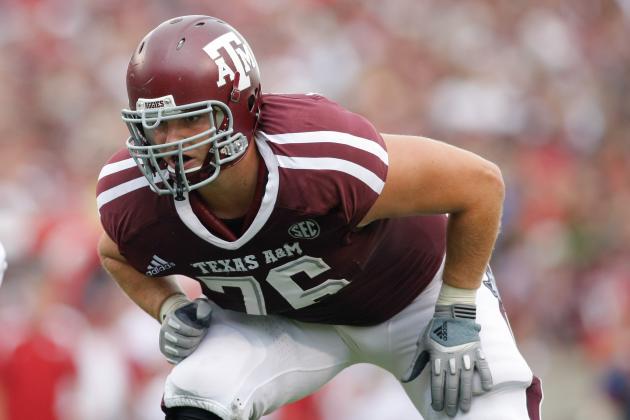 Brett Davis-USA TODAY Sports

To say the Eagles have struggled to protect their quarterback this season would be an understatement. Having surrendered 48 sacks on the season to date, the Eagles desperately need to address the offensive line situation if they're to expect Nick Foles to develop into a starter before he loses all confidence.
Losing All-Pro left tackle Jason Peters hurt, but no one could have envisioned how much his absence would affect this offense. With Peters expected to make a full recovery, bringing in another pass protector in Joeckel would do both Foles and McCoy wonders in a season full of disappointment for Eagles fans.
One of the best pass protectors to come out in quite some time, Joeckel has great athleticism and footwork to beat edge rushers with his quickness in his drop step, as well as his ability to recover when temporarily caught out of position. Although he is not the most powerful run blocker, his finesse skills in this area and ability to take good angles makes him a more than capable of holding his own. Perhaps the best overall prospect in the draft, the Eagles are extremely fortunate to find great value at what is a huge position of need.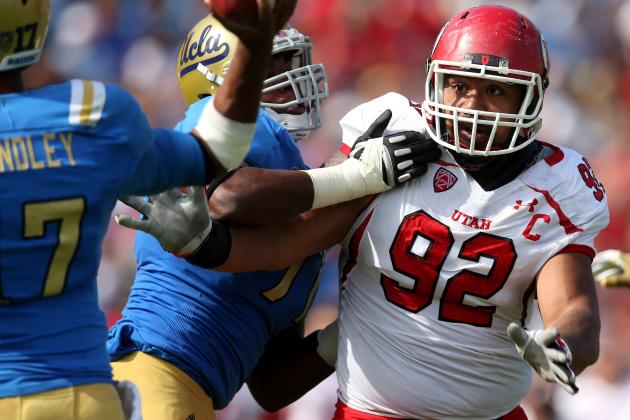 Stephen Dunn/Getty Images

The first trade of the 2013 draft, the Lions realize they have limited cap space and plenty of holes to fill, wisely moving down to acquire more picks and greater flexibility.
The Cowboys traded up last year to snag talented LSU Cornerback Morris Clairborne and again find themselves eyeing a playmaking defensive player. Although the Cowboys could use some interior offensive line help with the addition of Chance Warmack here, the Cowboys ultimately decide on grabbing their next big star in Star Lotlueleli.
Blessed with a unique blend of size, quickness and strength, Lotulelei has all the tools to become a dominating force on the interior. Pairing Lotulelei with All-Pro linebacker Demarcus Ware would give the Cowboys one of the best pass rushing tandems in the NFL and a solid balance along the defensive front.
With the ability to play nose tackle and eat up space in the middle, the addition of Lotulelei also allows supremely talented linebacker Sean Lee to stay clean and roam sideline to sideline.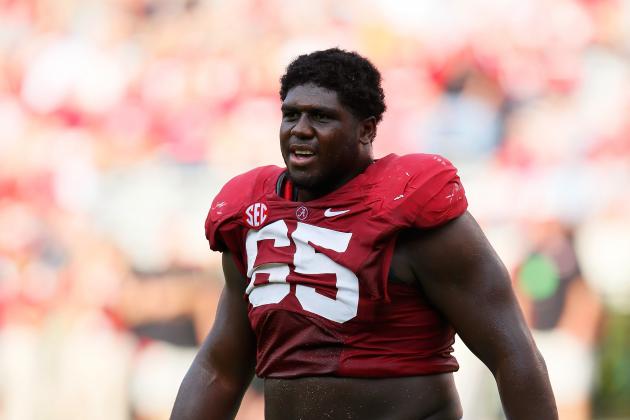 Kevin C. Cox/Getty Images

An unsexy pick that Browns fans are surely to question at first, however Warmack is a quality plug and play guard prospect that can "move the furniture" inside and create massive running lanes for his former team-mate, running back Trent Richardson.
Wide Receiver is certainly a priority as well, however Warmack makes the most sense and presents the most value. Eventually the team must give Brandon Weeden more passing options but a quality running game is always a quarterback's best friend; just ask Christian Ponder.
The social norm in the NFL is to build around your quarterback, however Trent Richardson is a special back that deserves more inside help where both Shawn Lauvao and John Greco have done little to generate the necessary push up the middle. Warmack is very good as a pulling guard and does a great job getting to the second level, while also generating great pop on contact to consistently move defenders off the ball.
A unique prospect at the guard position, Warmack is one of the few that should be taken in the top 10 based on his talent level and impact on the game.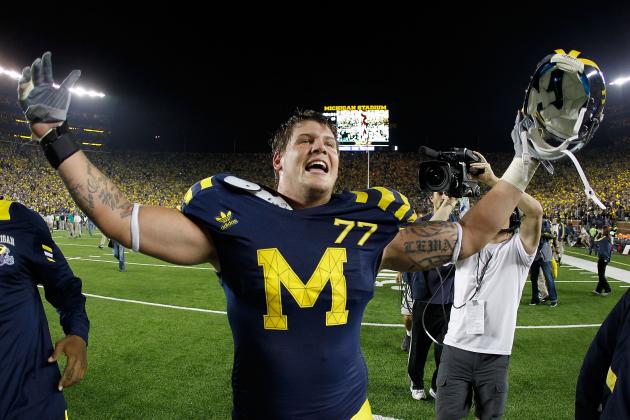 Gregory Shamus/Getty Images

Having sacrificed 58 sacks on the season, the Arizona Cardinals are in desperate need of a pass protecting left tackle. Many Cardinal fans will claim that a quarterback would be the wisest choice, however nobody available would be worth a top 10 pick at this point. Kevin Kolb may not be the most popular quarterback out there but the truth is he played well before his injury and deserves one last shot to show his worth.
Rookie bookends Nate Potter and Bobby Massie have been thrust into the lineup and the lack of depth at the position is alarming and in need of a budding talent. Lewan offers exceptional length and athleticism for the position and may be a little bit of a reach here but a potential franchise left tackle is too hard to pass up in what has become a pass first league.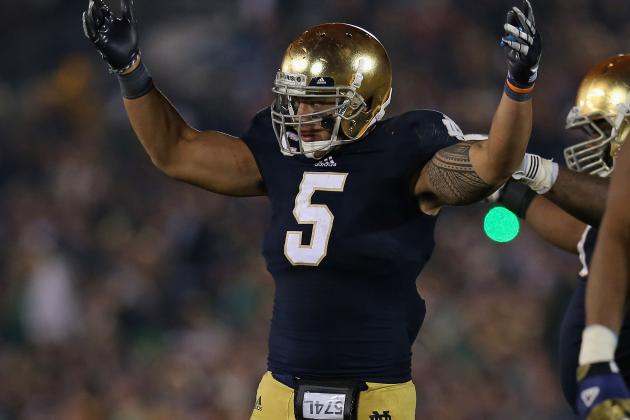 Jonathan Daniel/Getty Images

Another trade in the top ten, the new rookie wage scale makes this kind of leap of faith much less frightening for teams' looking to make a move for a coveted player. When moving up into the top 10 the margin for error is much more polarized, as sacrificing draft picks is never a move many front offices have the brass to make. However, when a player of Te'o's caliber is available the situation becomes more enticing because of the quality, fit and value he presents to a team like the Chicago Bears.
The Bears have long been looking for Brian Urlacher's potential replacement to man the all important "Mike" position in the Bears staple Cover 2 defense. With Urlacher aging and coming to the end of his career, the addition of Te'o makes sense from a schematic standpoint.
Te'o shows rare leadership qualities as well as the ability to defend the run between the hashes and drop back into coverage and make plays against the pass where he recorded 7 interceptions this past season. Te'o may not display the same type of range and athleticism as Urlacher, however his fit in the scheme is very good as both Bears fans and coaches know the importance of having a dependable Middle Linebacker.
While somewhat risky, this move gives Te'o ample time to adjust to the Bears defensive system while also learning under the tutelage of one of the greatest Cover 2 linebackers to ever play the game for a couple seasons. Pairing Te'o with Urlacher and Lance Briggs gives the Bears defense another standout linebacker that can eventually take over for what has consistently been one of the best defenses in the entire NFL.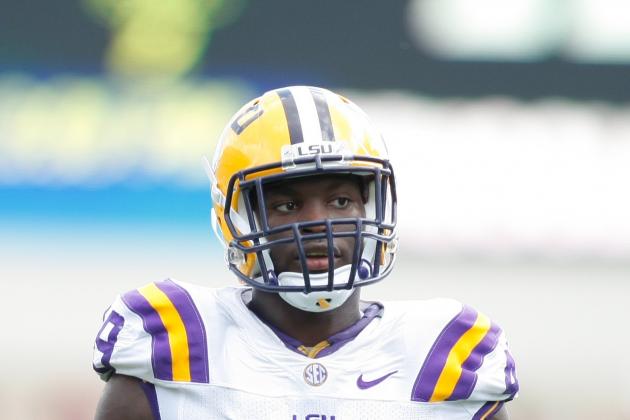 Brett Davis-USA TODAY Sports

Jake Matthews could also be in play with this pick for the New York Football Jets but Mingo's raw athleticism and potential will be too much for Rex Ryan to pass up; assuming he keeps his job. Both Calvin Pace and Bart Scott are on the wrong side of the 30 and the infusion of some young talent could very well improve a pass rush that was very average this season.
Mingo has incredible first step quickness and the long rangy frame to pack on muscle and become a terror off the edge. His athleticism allows him to play in space, however this truly could be a boom or bust type prospect. Mingo must work on his pass rush arsenal, especially in the form of a counter move, while also developing greater upper body strength to collapse the pocket if he is ever to reach his true potential. Mingo is raw but has impressive tools to work with if coached up and developed correctly.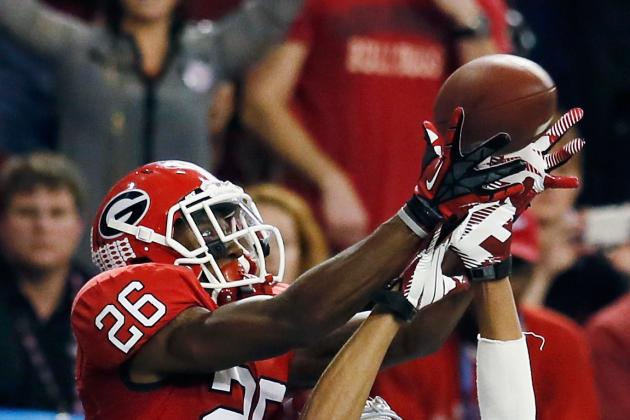 Kevin C. Cox/Getty Images

The Tennessee Titans have struggled at defending the pass all season, ranking towards the bottom of the league in many important categories. The loss of All-Pro cornerback Cortland Finnegan last season has left a gaping hole on the back end of the Titans secondary and the addition of a player like Milliner could prove to be a quality fit for a struggling pass defense.
Milliner possesses ideal size for an NFL corner and is also very well versed in both man to man and zone coverage alignments. A smart player who plays assignment football and runs effortlessly down the field and competes in jump ball situations, Milliner does all the little things right to become a quality starter. While he may not have shutdown corner ability, he most certainly will become a very solid and dependable pro and would be a welcome addition to a secondary that needs a jolt of energy.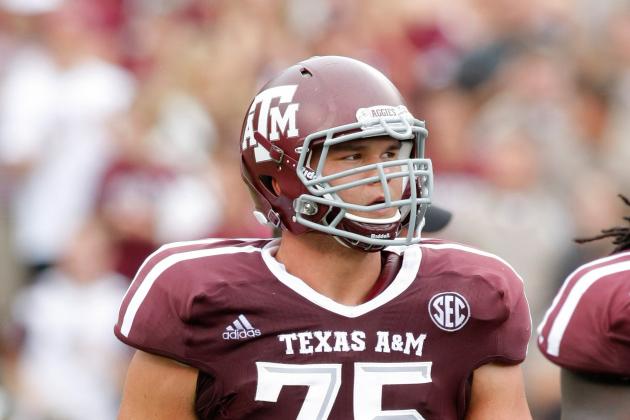 Brett Davis-USA TODAY Sports

The son of Hall of Fame offensive lineman Bruce Matthews, Jake is next in line for a family that has produced some quality NFL players over the past few decades. The Chargers desperately need offensive line help, especially at the tackle position where Jared Gaither has been serviceable but has struggled to remain healthy.
Matthews may not have the foot speed and athleticism of his college teammate Luke Joeckel, however he does show exceptional balance and anchoring ability to handle bull rushers as well as the upper body strength to generate a push in the run game. Matthews's best fit may be on the right side at the next level but I personally think he can become a legitimate left tackle as well. NFL bloodlines are always a huge positive for scouts when evaluating players that should make him a hot and very valuable commodity come next April.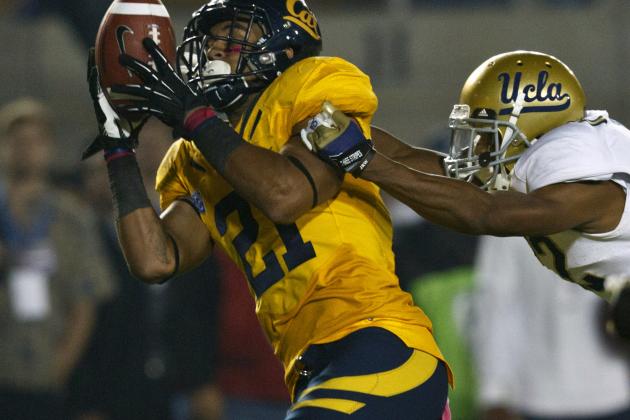 Jason O. Watson/Getty Images

Ryan Tannehill quietly enjoyed a very good rookie season but has been overshadowed by Andrew Luck, RG3 and Russell Wilson. With that said, Tannehill has done very well for himself as well and now its time to give him a true No. 1 wide receiver to really see what this kid can do. Both Brian Hartline and Davone Bess have proven to be legitimate NFL caliber receivers but neither can cause the match up problems that Allen can create because of his size and overall skill-set.
The biggest knock against Allen is that he lacks the straight-line speed and explosiveness to be a big play threat. However, with what he may lack in overall speed, Keenan Allen possesses the strong hands, agility and vision to create yards after the catch. Allen also displays very good body control and overall awareness to make plays all over the football field. Expect the Dolphins to build around their franchise quarterback and also give a strong look towards Notre Dame tight end Tyler Eifert.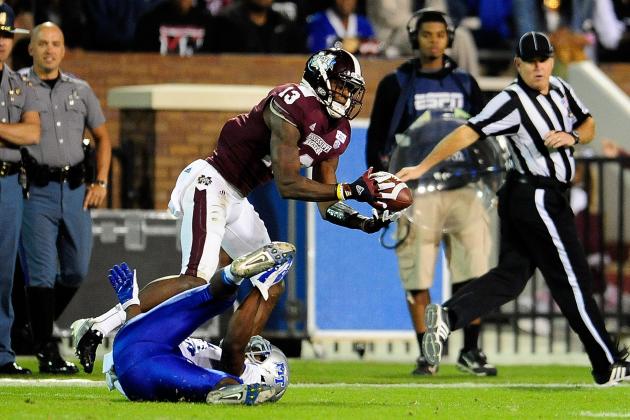 Stacy Revere/Getty Images

Tampa Bay has been decimated by injuries in the secondary this season and could really use a player like Banks to shore up a porous secondary. Eric Wright has failed to live up to his free agent contract and the Buccaneers decided to part ways with disgruntled but talented corner and former first round pick Aqib Talib earlier this season, trading him to the New England Patriots.
Banks gives the Buccaneers a potential shut down corner with excellent length and ball skills to compete with larger Wide Receivers. Banks lacks deep speed to turn and run down the field but is at his best when he is able to keep the play in front of him, anticipating and breaking on the ball. His long arms allow him to play press coverage, while also showing the awareness and instincts to drop into zone coverage and read the quarterbacks eyes. The Cover 2 Defense the Buccaneers employ may be the perfect fit for Banks as it can mask some of his deficiencies, while highlighting the things he does exceptionally well.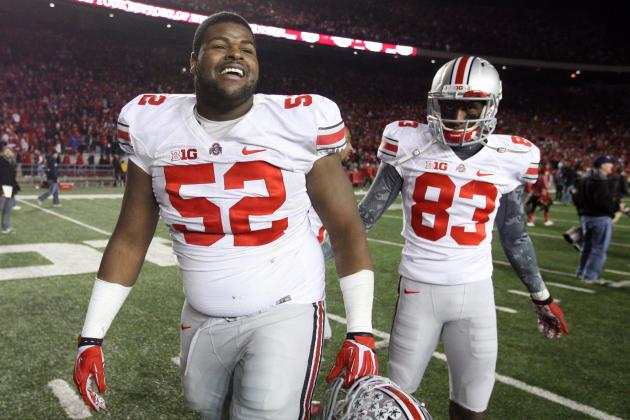 Mary Langenfeld-USA TODAY Sports

Greg Hardy and Charles Johnson have both given the Panthers double digit sacks on the season but the interior of the defensive line needs to be improved. Sione Fua, Dwan and Ron Edwards simply aren't getting the job done to collapse the pocket from the inside and generate enough push.
Hankins is an intimidating force on the interior of the offensive line, who occupies blocks and eats up space while also showing the ability to rush the passer and get after the quarterback. His presence would give the Panthers a much-needed upgrade at the defensive tackle position, while also allowing both Luke Kuechly and Jon Beason to flow to the football and make plays behind the line of scrimmage.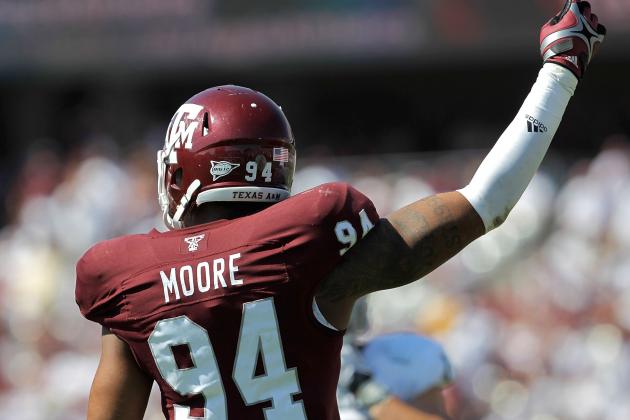 Sarah Glenn/Getty Images

The New Orleans Saints struggled with their pass rush all season as Will Smith has begun to decline due to age and former first round pick Cameron Jordan has shown little with the opportunities he has been given. Ranking 31st against both the run and pass, the Saints would be wise to invest early on a pass rush specialist who can generate pressure and spark some life into an underwhelming unit.
Damontre Moore has benefited astronomically from this past season at A&M and has improved his draft position more than any other player in the country with his performances against SEC talent. Moore has flourished in the Aggies new 4-3 system under Kevin Sumlin, making a nearly seamless transition to his new position. Although he is still raw and plays high at times, Moore has a non-stop motor and relentless pursuit that allows him to fight through blocks and get after the quarterback. His ability to rush from multiple angles and generate effort sacks is an extremely enviable trait for a flourishing pass rusher who should only continue to get better with experience.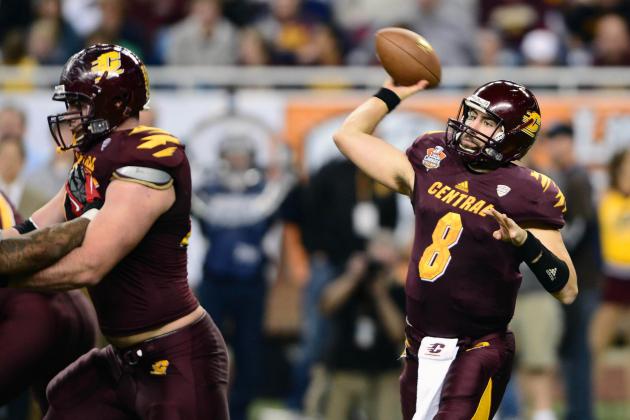 Andrew Weber-USA TODAY Sports

Lets face it, the Wayne Hunter trade didn't exactly work out, but was anyone really expecting it to? If Sam Bradford is to ever succeed at this level he needs to get some protection and remain upright for a longer period of time. Wide Receiver help is also needed but luckily the Rams have another first round pick from the Redskins to acquire more talent at that position later in the first.
Right now the Rams must focus on protecting Bradford's blindside and a player that has risen considerably over the last few months is Central Michigan offensive tackle Eric Fischer. Fischer has a very good combination of length, power and athleticism to man one of the tackle spots for the Rams immediately.
Rodger Saffold has proven to be a good starter but has found himself on the sidelines with injuries lately and cannot be counted on to stay healthy. Fischer adds another piece to a still developing offense and young team that has the potential to win if they are able to surround Bradford with the supporting cast he needs to be successful.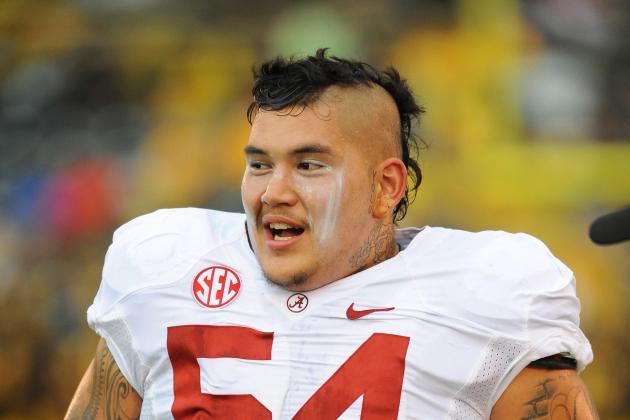 Denny Medley-USA TODAY Sports

A safety like Kenny Vaccaro could make a lot of sense here as both Polamalu and Ryan Clark are on the wrong side of 30.
However, Jesse Williams is a perfect fit as a run-stuffing nose tackle that occupies blocks and shows the ability to anchor and hold his ground. Williams ability to play with proper pad level and excellent base strength makes him an extremely attractive option and player that is just too difficult to pass up at this point in the draft.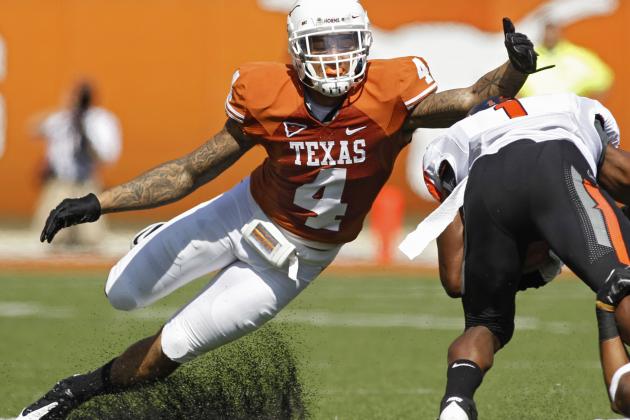 Erich Schlegel/Getty Images

Detroit acquired this pick from the Cowboys who moved up to grab defensive tackle Star Lotulelei. Anyone who has paid any attention to Detroit this season realizes the atrocity that is the Lions secondary. Injuries have riddled an already depleted depth chart, so addressing the back half of the defense will be one of the biggest priorities this off-season in Mo-Town.
Kenny Vaccaro has long been one of my personal favorites in the draft as he shows the ability to play in the box as a run defender or out in space covered up over a slot receiver, or tight end. Louis Delmas is the leader of the secondary but has struggled to stay healthy the past few seasons and needs a running mate he can depend on. Vaccaro brings both the stability and versatility to be the impact player the Lions desperately need to turn things around.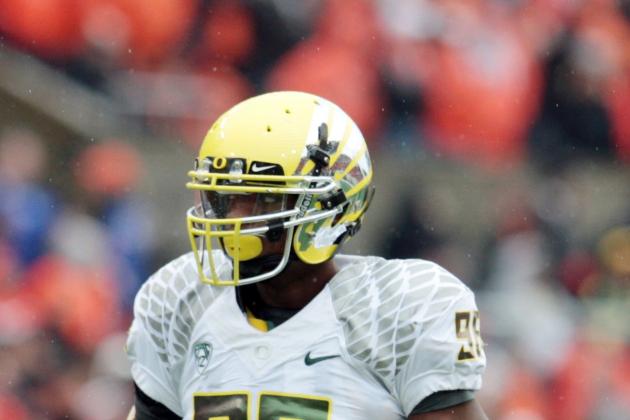 Scott Olmos-USA TODAY Sports

This pick may surprise some people but hear me out on this one. The Giants and Tom Coughlin love pass rushers and while they already have a great stable of defensive ends, it never hurts to have more. Jason Pierre-Paul is a freak athlete that has developed into one of the most feared edge rushers in the NFL. Dion Jordan is next in line to become the next great edge rusher but needs some seasoning first.
Jordan possesses elite first step quickness with the long rangy frame and quick hands to defeat blocks and close on the quarterback. With that said, Jordan still has some things to iron out as he struggles to play the run and convert speed to power to this point.
Jordan must also show that he is more than a one trick pony who consistently takes the high road and opts to go around rather than through his opponent. The sky is the limit with Jordan and the Giants would be an ideal landing spot for him as they can afford to bring him on slowly due to their current depth at the position. Other potential targets for the Giants include linebacker Alec Ogletree or tight end Tyler Eifert.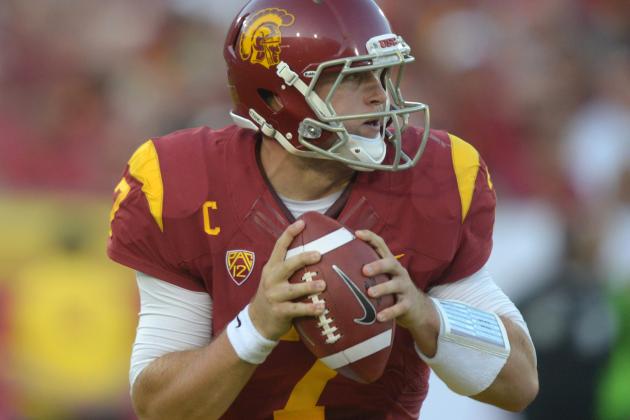 USA TODAY Sports

Pick was acquired via the Chicago Bears, who moved up to take Linebacker Manti Teo. With Chan Gailey being fired, the new regime will be looking to draft their quarterback of the future. Ryan Fitzpatrick has not made good on his opportunities and it is now time to bring somebody new into the mix.
Matt Barkley has fallen from the status he once held as a potential No. 1 overall pick after a poor Senior season that many thought would lead to a National Title and Heisman Trophy. However, despite his lack of an elite arm or adequate build and height for the position, Barkley is still a quality player who has started in an NFL system for four seasons. Barkley is a rhythm passer who excels in the short to intermediate game as he consistently places the ball where only his receiver can get it. He may not be the most polarizing quarterback in the world but you can win with Barkley if you put the right pieces and system in place around him.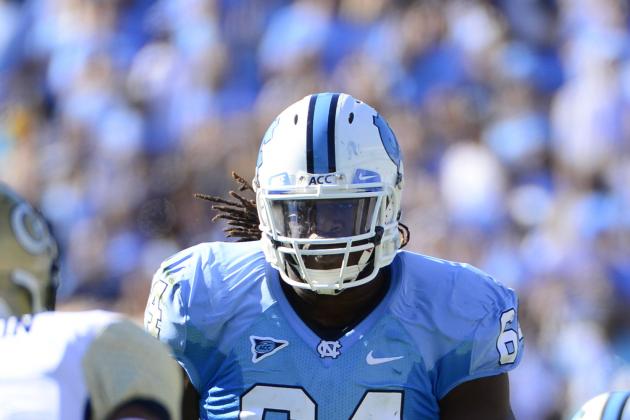 USA TODAY Sports

A player like Tyler Eifert or a Wide Receiver could make sense for the Rams here, however Cooper fills a need and is likely the best player available at this point in the draft.
Cooper offers great athleticism for a man his size and his quick feet allow him to seal off and gain inside positioning quickly on his defender. His ability to get out of his stance quickly and get out in front as a pulling guard and reach the second level is highly impressive and should make him an instant starter and help upgrade the offensive line immediately.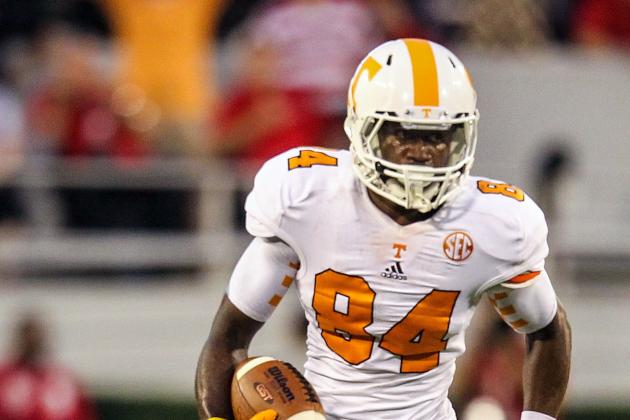 Daniel Shirey-USA TODAY Sports

The Vikings managed to squeak into the playoffs this year after beating the Green Bay Packers at Mall of America Field on Sunday. Minnesota received another super-human effort from All-Pro Running Back Adrian Peterson. Defensive tackle could be in the cards for the Vikings here but they must give Christian Ponder another receiving threat if they are to take the next step as an offense.
Percy Harvin has been very good when he can stay healthy but injuries have limited his ability to consistently take the field and produce. Jerome Simpson and Michael Jenkins are serviceable but neither are the type of players who can become true matchup problems in the NFL.
Cordarrelle Patterson would give the Vikings a potential No. 1 wide receiver with the size and athleticism to become a star; assuming he can develop accordingly. A raw route runner with plus size, Patterson has all the potential in the world but needs refinement on the keener aspects of playing wide receiver in the NFL. Blessed with extraordinary athleticism and agility for a receiver of his stature, Patterson has true home-run hitting ability, as he possesses excellent vision and speed to take it the distance after the catch. An absolute blur in the open field, Patterson would be a great fit in the Vikings offense and give them another dynamic playmaker that can also be a red-zone threat outside of their big tight end Kyle Rudolph.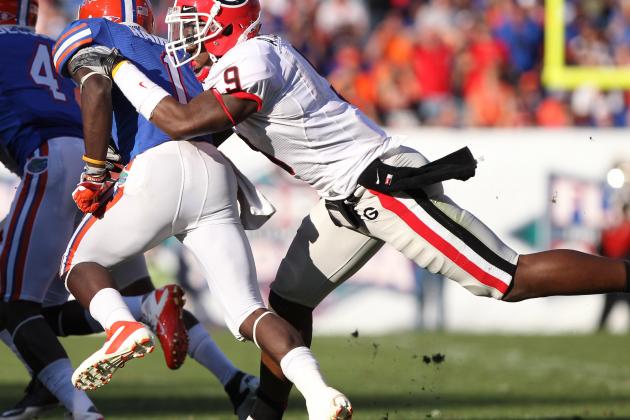 Kim Klement-USA TODAY Sports

The Bengals have found themselves in the playoffs for the second season in a row, thanks to their impressive quarterback-wide receiver combination of Andy Dalton and A.J. Green, as well as a physically imposing and solid defensive unit. Running back play has been less than stellar however, as BenJarvus Green-Ellis has failed to live up to expectations after coming over from the Patriots. No running backs available really warrant this high of a selection so the Bengals wisely select a young defensive player with upside to become a very good defender.
Alec Ogletree has played lights out for the Bulldogs this past season after serving an early season suspension. A player with high upside, Ogletree has impressive size and length as well as the range and athleticism to play sideline to sideline. His instincts are still developing and he must also improve his ability to stack and shed when trapped in the phone booth, however Ogletree has a penchant for making big plays, both in coverage and against the run.
A young safety could also be the selection here as Taylor Mays is replaceable and should be upgraded at some point this off-season but expect the Bengals to take the best player available with the most upside.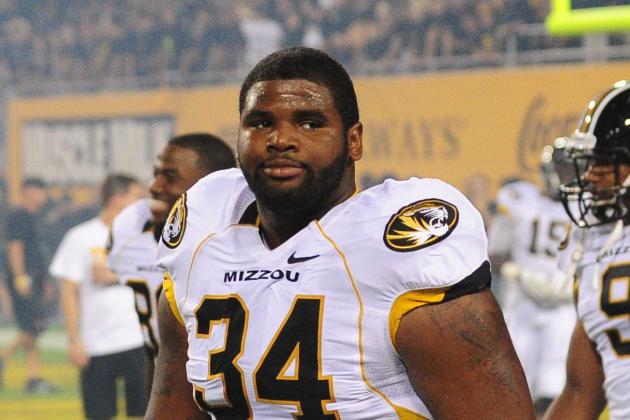 Matt Kartozian-USA TODAY Sports

I have a sneaking suspicion that Sheldon Richardson will go much higher by the time April rolls around but for now the Colts find themselves an extraordinary value this late in the first round. Having recently switched over to the 3-4 defense, the Colts will be looking to find players who fit their new system and can come in and compete right away for a team that struggled to stop the run all season.
Richardson is a big-bodied space eater with the quickness and relentlessness to consistently collapse the pocket while also holding up in the run game. His game is very well rounded which will likely cause him to rise in the coming months due to his impressive tape and upside as both a run defender and pass rusher. If Richardson is unavailable, look for the Colts to build around Andrew Luck on offense or address the secondary with a player like Xavier Rhodes.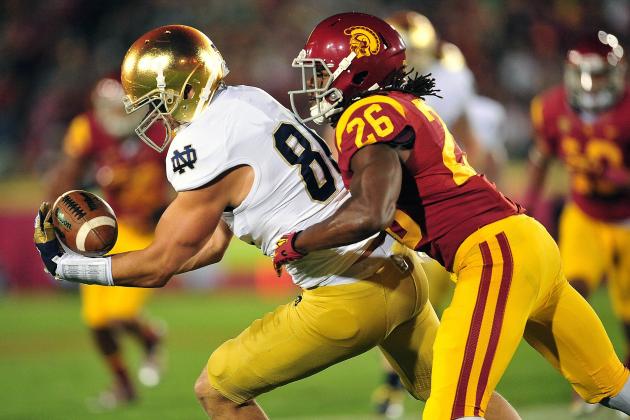 Gary A. Vasquez-USA TODAY Sports

The Seahawks are ecstatic to see Eifert still on the board and quickly run to the podium to select the star tight end from Notre Dame. They say the best way to help a young quarterback like Russell Wilson is to give him a big target and safety blanket. It has worked well in Minnesota with Christian Ponder and Kyle Rudolph and should work even better in Seattle.
Eifert is a huge red-zone target and possesses enormous mitts and long arms to consistently pluck the ball away from his frame. Perhaps the most impressive part of Eifert's overall game is his ability to go up and high point, as he displays fantastic body control which will make him an instant impact in the red-zone. Wilson will be very pleased to have an option like Eifert over the middle, who should be able to come in and have a very positive impact from day one.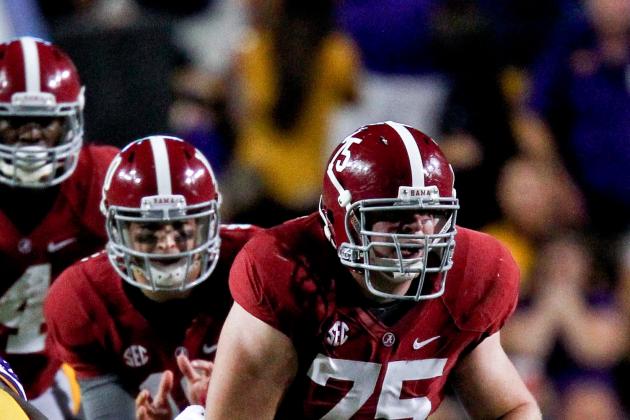 Derick E. Hingle-USA TODAY Sports

The Ravens are aging on defense and an influx of young talent is needed if they are to return to their status as one of the NFL's most feared defenses. However, former Vikings and current Ravens center Matt Birk is on his last leg and needs to be replaced very soon.
Barrett Jones, the former Outland Trophy winner and do-it-all offensive lineman for a talented Alabama line would be a logical choice and good fit for the Ravens. Jones doesn't stand out in any one area but is an extremely smart and dependable young lineman. More finesse than overpowering, Jones has done a commendable job filling multiple roles, while gaining loads of experience at multiple positions along the line. He's battle tested from the SEC and carries out his assignments very well by doing all the little things very well. An ideal locker room guy and team player, Jones can learn under Birk, while also competing for playing time at one of the guard positions early on in his career.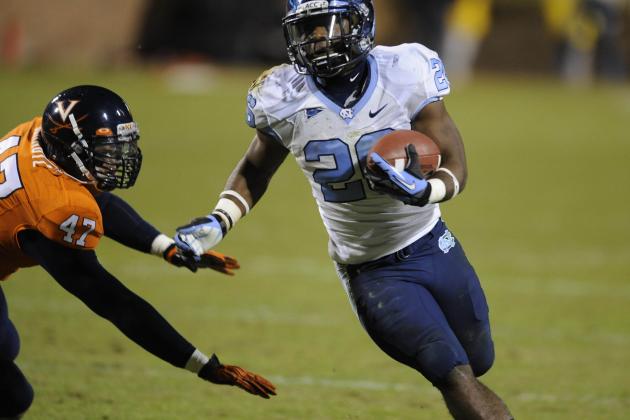 Rafael Suanes-USA TODAY Sports

The Packers have predominately stayed away from drafting running backs high, as they have found success with later round backs lately. With that said, Bernard is exactly the type of player the Packers could bring in to add another dimension to their already dynamic offense.
Bernard is a compact back with speed to burn and elusiveness in the open field, as he has become one of the most dangerous kick returners in college football this past season. The Packers philosophy has been to draft bigger backs that can get the tough yards in between the tackles and close out games, as their passing offense consistently ranks towards the top of the league. With that said, the Packers have the luxury to add a dynamic back like Bernard who could step in immediately as a third down back. Bernard's ability to catch the ball out of the backfield makes him a very valuable weapon in the Packers nearly perfectly executed screen game where he has the speed to take it the distance each time he touches the football.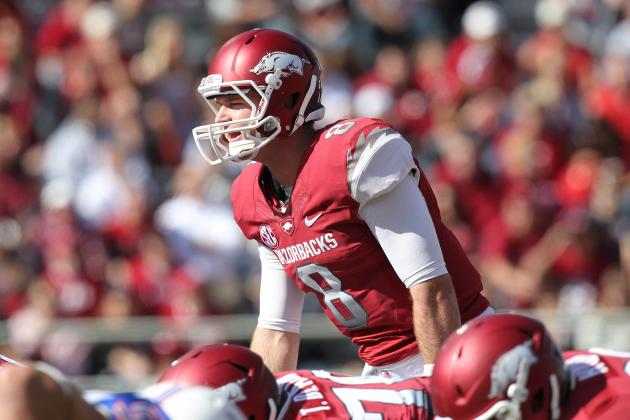 Nelson Chenault-USA TODAY Sports

The San Francisco 49er's choose to move back as they are no true weaknesses on the team that allows them the flexibility to stockpile picks and continue to add depth to their talented roster. The Jets however do need to do something, especially at the all-important quarterback position where Mark Sanchez has failed miserably and could very well be on his way out of the Big Apple.
Tyler Wilson is a tough, gritty quarterback with valuable experience in the SEC. A true competitor, Wilson shows the moxie and impressive arm strength to make all the throws. Although Wilson struggled this season, scouts and evaluators know the type of player Wilson can be from his fantastic junior campaign just one short year ago.
Expect the Jets to do some moving and shaking this offseason in regards to the quarterback position where Wilson could become the new face of the franchise for a struggling offense.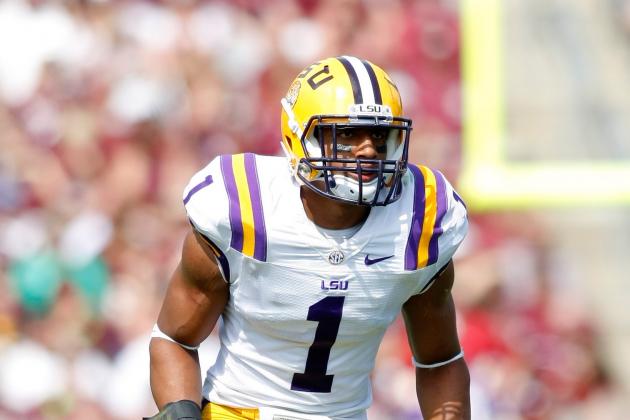 Brett Davis-USA TODAY Sports

The Texans very well could grab a wide receiver here to pair with Andre Johnson, as Kevin Walter has struggled to take coverage away from the talented former first round pick. Safety, however, is also a concern as Glover Quinn has been less than ideal on the back end in coverage this year.
Eric Reid is a safety that can bring the wood and displays fantastic instincts, as his eyes put him in position to make a play on the ball, whether it's against the run or pass. His angles are generally solid, although he has had a few miscues this season. A reliable tackler and physical presence on the field, Reid fits the Texans defensive philosophy very well and can play both the run and pass very efficiently.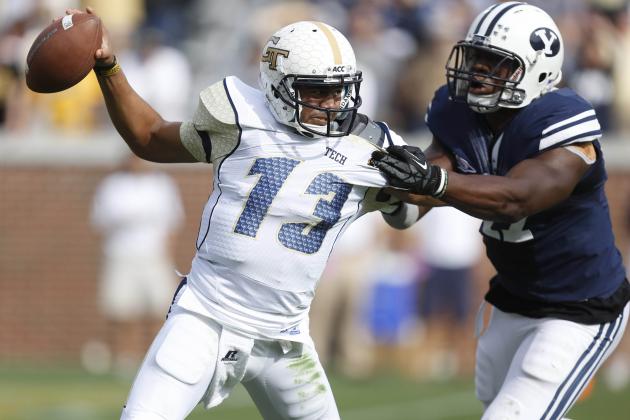 Josh D. Weiss-USA TODAY Sports

One of the better stories in college football this season, Ansah is definitely a player to keep a close eye on. A sprinter, Ansah came to BYU from Ghana to compete in track on scholarship before catching the eye of the football coaching staff. Blessed with long arms and extraordinary combination of size, speed and power, Ansah may have the highest ceiling of any prospect in the draft.
Having only played the game for a few seasons now, Ansah is more raw than refined at this point but flashes the ability to put it all together and become an impact player. Ansah needs to work on his pad level out of his stance but his versatility to play standing up in a 3-4 or with his hand in the dirt in a 4-3 will only add to his appeal. A project type player on the rise, expect Ansah to receive plenty of hype and attention as we head through the offseason leading up to the NFL Draft.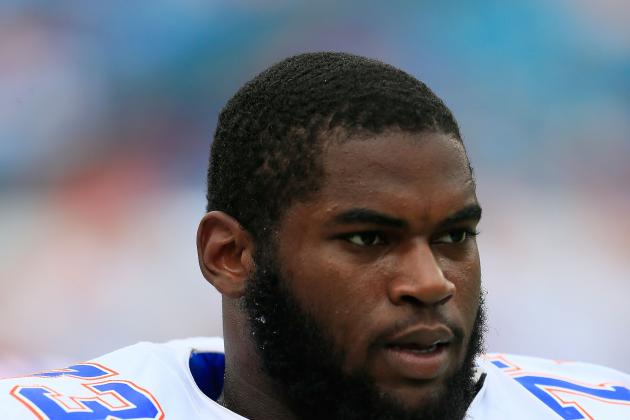 Sam Greenwood/Getty Images

Peyton Manning has lived up to expectations and may actually be having the best season of his long illustrious career to date.
On defense the Broncos have been stout against both the run and pass and have become one of the more balanced defenses in the NFL. Adding another defensive tackle like Floyd would add more depth to an already talented defensive line.
Shariff Floyd was one of the top recruits in the country coming out of high school and has shown flashes of brilliance while with the Gators. He has played both defensive end and defensive tackle for the Gators, speaking to his versatility. However, Floyd's best fit will be inside at the next level where he shows great pop on contact to knock opponents on their heels and anchor against the run. Although he is not the most agile athlete capable of shooting gaps, Floyd does display enough lateral agility to make plays down the line and be a physical presence. His ability to control the line of scrimmage and be a force in the middle should appeal to a team like the Broncos.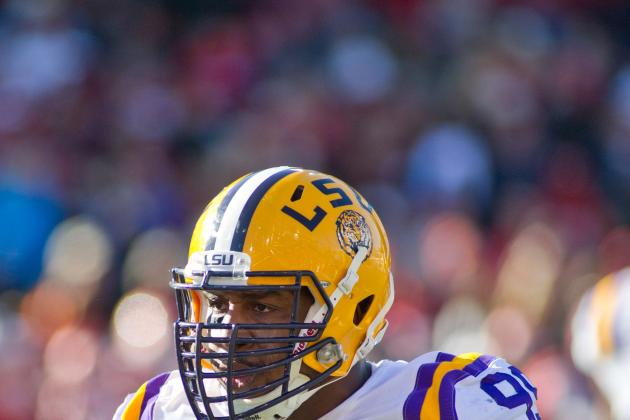 USA TODAY Sports

John Abraham is nearing the end of his impressive career and Montgomery is a good value at this point in the first round. A powerful and proportionately built athlete, Montgomery displays a very effective bull rush capable of collapsing the pocket from the outside in. Having ranked towards the bottom of the league in sacks this season, Montgomery is a logical fit for a team in need of another pass rush specialist.