Last-Minute Predictions for Each New Year's Day Bowl Game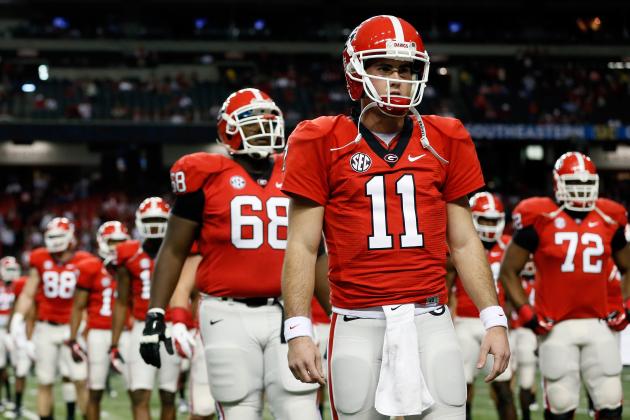 Kevin C. Cox/Getty Images

The BCS National Championship Game is next week, and between January 1 and that game, there are several scattered contests to maintain your interest.
But New Year's Day is still the meat and potatoes of bowl season, presenting a slate of games that is the highlight of the postseason for most.
There are six games taking place on the first day of 2013, three of them featuring Big Ten/SEC matchups, and two BCS games.
Check out this list for updated last-minute predictions, injury reports, and analysis, and follow up after the games for updated scores.
*All games listed in Eastern
Begin Slideshow

»
Justin K. Aller/Getty Images

Live: Northwestern and Mississippi State are underway in the Gator Bowl. Follow live here.
Northwestern is no longer the doormat of the Big Ten. That honor belongs to either Minnesota or Indiana.
Mississippi State fans better be prepared for a tussle against the Wildcats, who are looking to break through and win their first bowl game since the Truman administration. Northwestern has not won a postseason game since the 1949 Rose Bowl, and Pat Fitzgerald's team has fallen short in a bowl game each of the past four seasons.
This is going to be a barn-burner. Northwestern can't stop the pass, ranking 97th in the nation in pass defense, and they will have to try and slow quarterback Tyler Russell, who finished the season with 22 touchdowns and only six interceptions. Meanwhile, Northwestern averages 230.9 yards rushing per game and will have a field day against a Mississippi State defense that allows 223 yards on the ground per contest.
Given that both defenses have a significant weakness, we can expect a high score in this one.
Northwestern running back Venric Mark is 147 yards away from setting the school record for all-purpose yards, and the Bulldogs are going to have a tough time keeping him away from that record.
Key Injuries
MSU: QB Tyler Russell probable with an ankle injury suffered in the Bulldogs' last regular-season game
Northwestern: S Hunter Bates is doubtful with an undisclosed injury; LB Connor Ellis is probable with an undisclosed injury
Players to Watch
Bulldogs: Quarterback Tyler Russell
Wildcats: Quarterback Kain Colter
Prediction: Bulldogs 38, Wildcats 31
Final Score: Northwestern 34, Miss. State 20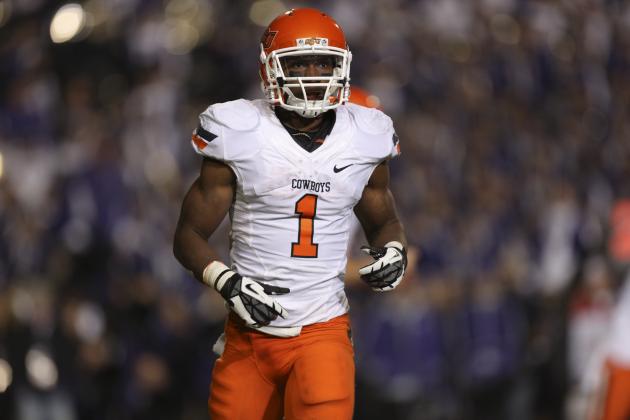 Ed Zurga/Getty Images

Live: Purdue and Oklahoma State are underway in the Heart of Dallas Bowl. Follow live here.
This is a mismatch on paper. It will also be one on the field.
Oklahoma State boasts one of the most potent offenses in football this season, averaging over 44 points and 548 yards per game. Purdue, meanwhile, was 11th in the Big Ten in defense in spite of All-American defensive tackle Kawann Short.
Oklahoma State has not exactly been the stoutest defense in the land, either, but Purdue does not have the horses on offense to take advantage. The Boilermakers struggled to score points in conference play this season, surpassing the 28-point mark just one time this season against lowly Indiana.
The Boilermakers only made this game due to postseason bans on Penn State and Ohio State and will definitely be playing against superior competition.
Key Injuries
Boilermakers: RB Ralph Bolden is questionable with a hamstring injury; DT Brandon Taylor is questionable with an ankle injury; WR Raheem Mostert is probable with a knee injury; TE Gabe Holmes is probable with an undisclosed injury; LB Antwon Higgs is probable with an ankle injury; QB Sean Robinson is probable with an ankle injury
Cowboys: QB Wes Lunt is questionable with a head injury; CB Justin Gilbert is questionable with a head injury; DT James Castleman is questionable with an undisclosed issue; DT Calvin Barnett is probable in spite of legal issues
Key Players
Purdue: DT Kawann Short
Oklahoma State: RB Joseph Randle
Prediction: OSU 42, Purdue 20
Final Score: Oklahoma State 58, Purdue 14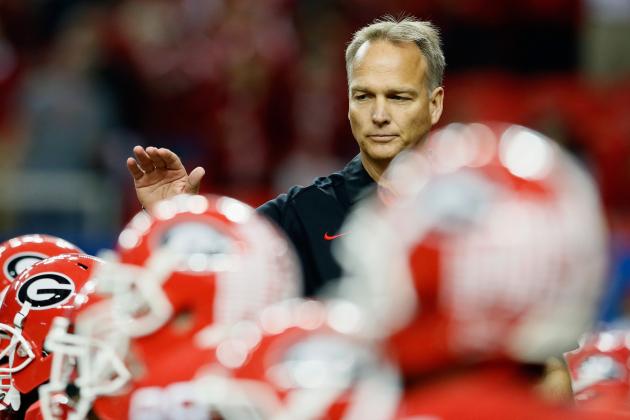 Kevin C. Cox/Getty Images

1 p.m., ABC
While Nebraska seems to be a major underdog in this game, let's not forget that they were big favorites going into the Big Ten title game and yet allowed over 500 yards rushing and 70 points to Wisconsin in a loss.
That's why they play the games: The favorite doesn't always come out on top.
While it is customary to question a team's motivation in this type of bowl, there will be no excuse if Georgia loses. And this is a lose-lose situation for them. If they win, they were supposed to, and if they lose, it's an upset. That's a pretty tough pill to swallow for a team that was four yards from the national title game.
Even so, the story of this game is going to be the run defenses. As mentioned, Nebraska gave up over 500 yards rushing to Wisconsin in the Big Ten title game, but Georgia was not exactly stout in that department in the SEC title game either.
The Bulldogs gave up 350 yards to Alabama and will be without run-stopper John Jenkins at noseguard, as he has been ruled academically ineligible for this contest.
This should mean plenty of attempts at rushing up the middle for Nebraska, led by Rex Burkhead and quarterback Taylor Martinez.
Even without Jenkins, Georgia's defense is stout, and Martinez has yet to do anything to inspire confidence in his arm this season.
Running backs Todd Gurley and Keith Marshall are going to find the end zone early for Georgia, and the Huskers will struggle to keep up.
Key Injuries
Georgia: DE Abry Jones is probable with an ankle injury, NG John Jenkins is ineligible, NT Mike Thornton is probable with an ankle injury, CB Malcolm Mitchell is probable with a groin injury, SE Tavarres King is probable with a hamstring injury, TE Jay Rome is probable with a hip injury, DB Devin Bowman is probable with a quad injury, T Austin Long is probable coming off of hand surgery.
Nebraska: OL Justin Jackson is doubtful with an ankle injury, FB Mike Marrow is questionable with a knee injury, DT Chase Rome is probable with a hand injury.
Key Players
Nebraska: QB Taylor Martinez
Georgia: LB Jarvis Jones
Prediction: Georgia 41, Nebraska 24
Final Score: Georgia 45, Nebraska 31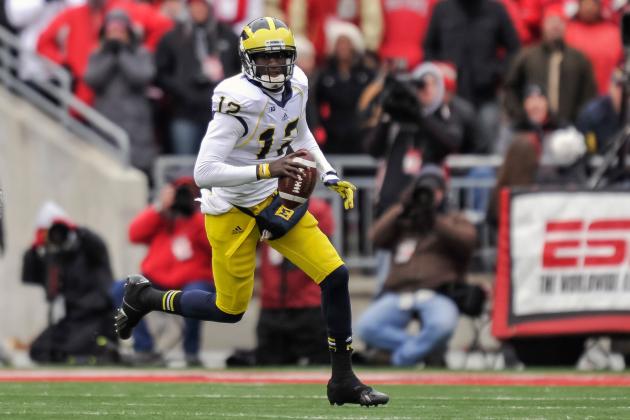 Jamie Sabau/Getty Images

1 p.m., ESPN
This matchup has so many storylines, it could pass for a library. There's Jadeveon Clowney trying to add to his impressive sack total against a Michigan O-line that has allowed a Big Ten-low in sacks this season.
Michigan's quarterback, Devin Gardner, took over for Denard Robinson and has been excellent, putting up 1,005 yards passing in five games and throwing eight touchdown passes. Meanwhile, Robinson has bounced from quarterback to wide receiver to running back, creating headaches wherever he lines up.
Michigan struggled this season against teams with great defensive lines, such as Alabama, Ohio State and Michigan State, and this is the fiercest line they have faced all season. Expect Clowney and company to spend the better part of the game camped in the Wolverines backfield.
Key Injuries
South Carolina: WR D.L. Moore and C Kyle Harris are both suspended for this game; LB Cedrick Cooper is doubtful with a knee injury; RB Shon Carson is probable with a wrist injury; QB Connor Shaw is probable with a foot injury; RB Kenny Miles is probable with a knee injury
Michigan: P Will Hagerup; LB Brandin Hawthorne and CB J.T. Floyd are suspended; OL Patrick Omameh is probable with a hand injury
Key Players
Michigan: Offensive Line
South Carolina: QB Connor Shaw
Prediction: Gamecocks 34, Wolverines 28
Final Score: South Carolina 33, Michigan 28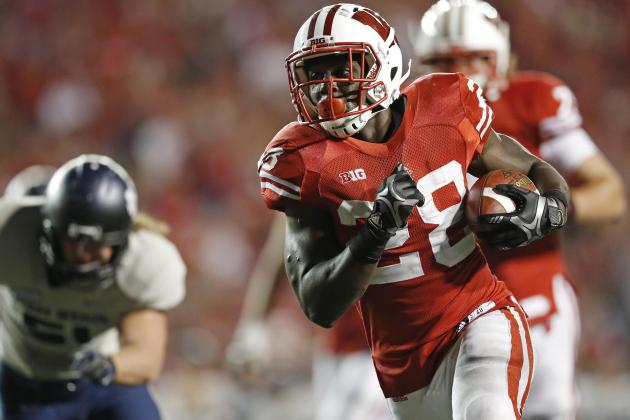 Tom Lynn/Getty Images

5 p.m., ESPN
Big 12 and Oregon fans, avert your eyes.
This is going to be an old-fashioned, black-and-blue slugfest that will feature bludgeoning offensive lines and great running backs. If you like watching great running backs do their thing, this is the game for you.
Stanford's Stepfan Taylor is coming off of his third consecutive 1,000-yard rushing season, while Wisconsin's Montee Ball is the NCAA's all-time career leader with 82 touchdowns and 76 rushing scores.
These teams mirror each other in other ways as well. Both had some upheaval at the quarterback position before settling on a starter this season. And each of them features a stout group of linebackers that can dominate a game. Stanford has settled on Kevin Hogan at quarterback, while the Badgers are still up in the air, with Curt Phillips starting if Joel Stave is unable to come back from injury.
The biggest difference is on the sideline, where David Shaw is the Cardinal coach, heading into his third season and bringing some continuity, while Wisconsin will be led by athletic director Barry Alvarez, who will come out of retirement to lead the Badgers.
Stanford is the favorite, but these teams are very similar. Though Wisconsin has five losses, they were by an average of just over three points per loss, and three of them were in overtime. With Alvarez at the helm and a stingy defense, the Badgers are primed to pull off an upset in overtime.
Key Injuries
Stanford: DT Terrence Stephens is doubtful with eligibility issues; P Daniel Zychlinski is questionable with a shoulder injury
Wisconsin: QB Curt Phillips and QB Joel Stave are both listed as probable, with Phillips starting if Stave is unable to come back from a shoulder injury; DB Devin Smith is probable with a head injury; DB Peniel Jean is questionable with a knee injury
Key Players
Wisconsin: RB Montee Ball/LB Chris Borland
Stanford: QB Kevin Hogan
Prediction: Badgers 31, Cardinal 24 OT
Final Score: Stanford 20, Michigan 14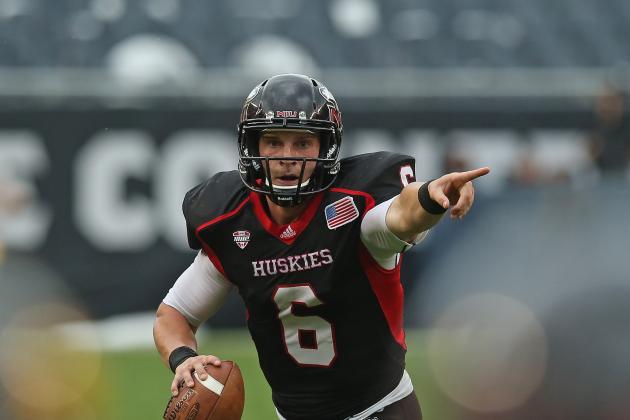 Jonathan Daniel/Getty Images

8:30 p.m., ESPN
Florida State ranked second in the nation in total defense, allowing just under 254 yards per game. Northern Illinois played a schedule ranked 120th in strength of schedule, and their lone loss came to 4-8 Iowa early in the season.
On paper, this should be a blowout. But we aren't writing a book here, these guys are going to play the game.
NIU quarterback Jordan Lynch finished second in the nation with 4,733 total yards, broke the QB rushing record, and led an offense that averaged 41 points per game.
The Seminoles faced only one really mobile quarterback this season against Georgia Tech in the conference title game, struggling to put away the Yellow Jackets until an interception in the final minutes sealed the game.
Lynch has his work cut out for him facing FSU end Bjoern Werner and his teammates, but has the skill to pull the major upset with a few breaks. With two running backs out against the Seminoles, the Huskies might be just short of pulling it off.
Key Injuries
NIU: RB Leighton Settle and RB Keith Harris are both doubtful with ankle injuries
FSU: DT Derrick Mitchel is questionable with a back injury; DT Moses McCray is questionable with a concussion; T Garrett Faircloth is questionable with a hip injury; OL Trey Pettis is questionable with a head injury; TE Will Tye is questionable with a back injury, DB Tyler Hunter is questionable with and undisclosed injury; S Nick Moody is questionable with a triceps injury
Key Players
NIU: QB Jordan Lynch
FSU: DE Bjoern Werner, RB Devonta Freeman
Prediction: 'Noles 42, Huskies 35
Final Score: Florida State 31, Northern Illinois 10