Predicting the NBA's Biggest Surprises for 2013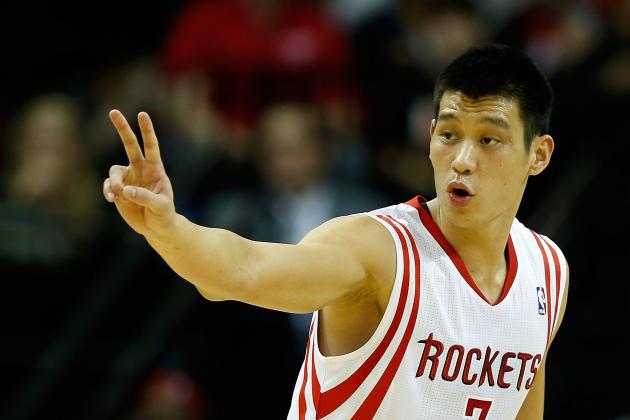 Scott Halleran/Getty Images

The 2012 portion of the 2012-13 NBA season is nearly over, and there have been plenty of surprises thus far.
James Harden's departure from Oklahoma City to Houston was probably the biggest surprise, but the New York Knicks' torrid start and the poor play of the Los Angeles Lakers have also been pretty surprising.
And we all knew that the Los Angeles Clippers were talented, but how could anybody foresee their ridiculous 16-game (and counting) winning streak?
The NBA is chock full of surprises, and the first quarter-plus of the season has lived up to that reputation.
In 2013, there are plenty of teams and players to look out for. The Lakers will have plenty of attention on them, as will the Knicks as they look to stay red-hot.
Some stories will come out of nowhere, though, and it's my job here to predict such stories. You're in luck, NBA fans—it figures to be an exciting 2013 filled with a ton of surprises.
Note: All stats current as of Dec. 30, 2012.
Begin Slideshow

»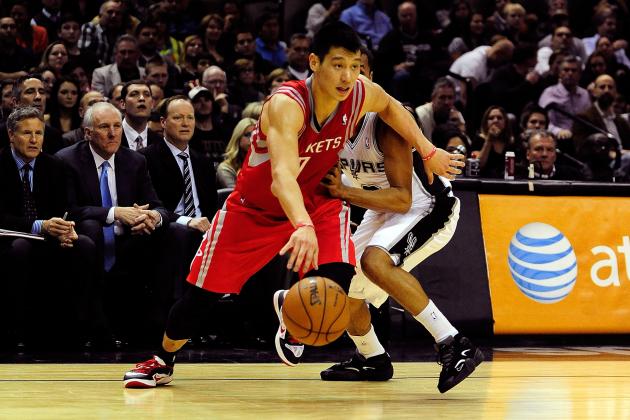 Stacy Revere/Getty Images

Jeremy Lin earned himself a hefty contract this past offseason on the heels of his great stretch of play late last season.
In 35 games (25 starts) for the New York Knicks, he averaged 14.6 points and 6.2 assists in just under 30 minutes per game.
His propensity for clutch shots and impressive drives to the basket quickly made him a fan favorite in Madison Square Garden—thus, "Linsanity" was born.
Linsanity has subsided ever since Lin began repping the Houston Rockets' gear, and a big part of that is that he's simply not playing at the same level.
He's averaging essentially the same number of assists per game, though he's experienced a slight decrease in scoring.
The biggest difference has come in his approach on offense. Last season, he averaged 5.2 free-throw attempts per contest. With the Rockets, that number has dropped to 2.6.
In 2013, Linsanity will return.
It won't be a huge surprise when it does (considering the fact that Lin's famous for coming out of nowhere), but it will be enough of a surprise to get fans across the league taking notice.
Look out for Lin in 2013.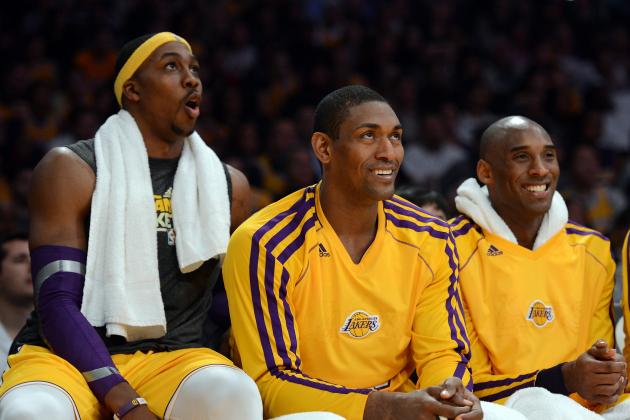 Harry How/Getty Images

The Los Angeles Lakers are not playing like a team that was expected to be one of the top teams in the Western Conference prior to tip-off on opening night.
The acquisitions of Dwight Howard and Steve Nash were supposed to propel this team to near-unbeatable status, but injuries to Nash and just overall poor play have resulted in a record of 15-15 through 30 games.
Sure, things could be worse, but not many people expected the Lakers to be .500 past the 10-game mark—let alone the 30-game mark.
The Golden State Warriors (21-10) and the Los Angeles Clippers (24-6) are currently ahead of Kobe Bryant's squad in the Pacific Division.
The standings will look the same come season's end, and the Lakers even run the risk of missing the postseason entirely. The Houston Rockets, Minnesota Timberwolves and Denver Nuggets are all in the hunt for one of the final two spots in the West, so the Lakers will have their hands full.
Many are expecting the Lakers to start playing up to their potential in the near future, but they'll be surprising the league by continuing their stretch of mediocrity.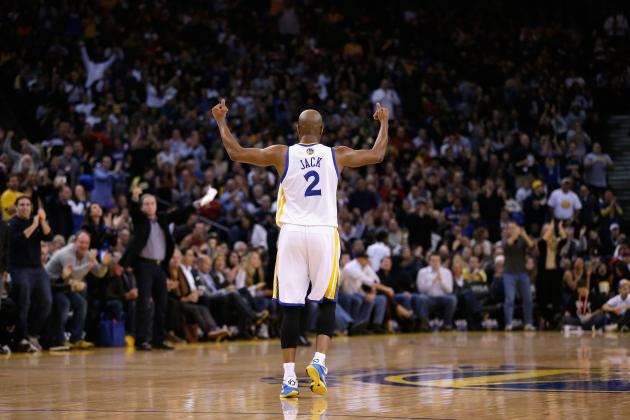 Ezra Shaw/Getty Images

Let me start by saying that Jamal Crawford is having a ridiculous season coming off the bench for the Los Angeles Clippers.
He's scoring 16.4 points per game in 28.9 minutes per contest. He's shooting lights-out from deep (36.6 percent) and above his career mark of 40.9 percent from the floor (42.6 percent).
Even still, he won't be the NBA's Sixth Man of the Year.
For that, NBA fans will have to take a look at the Golden State Warriors and their reserve guard Jarrett Jack.
In 27.7 minutes per game, Jack is providing the Warriors with the veteran presence that their young team needs.
He's shooting 48.8 percent from the floor, 43.9 percent from deep, 86.7 percent from the charity stripe and he's averaging 5.1 assists per game.
While his 12.3 points per contest aren't as flashy as Crawford's mark, the way Jack is getting it done has been very impressive.
The Warriors have arguably one of the deepest benches in the NBA, and Jack is the leader of the bunch.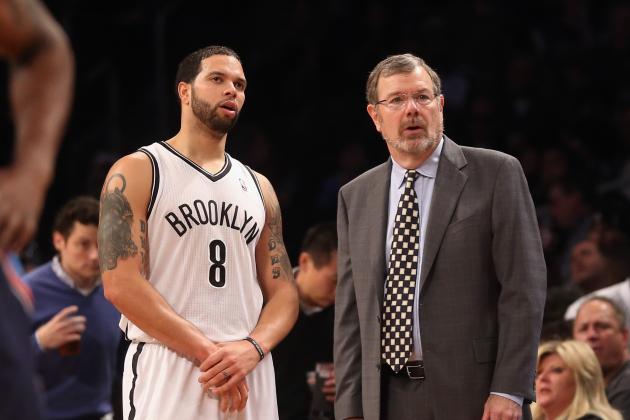 Bruce Bennett/Getty Images

The Brooklyn Nets were another team with high expectations entering the season. Maybe not as high as the Lakers, but they were definitely expected to be a playoff team.
Instead, they're 16-14 and hovering around mediocrity.
Prior to the firing of Avery Johnson, the Nets were 3-10 in December. Under interim coach P.J. Carlesimo, they are 2-0 with wins over the lowly Charlotte Bobcats and Cleveland Cavaliers.
So, 2-0 with a small asterisk afterward (sorry, Charlotte/Cleveland fans).
There have been several names floated around for the open position, even though owner Mikhail Prokhorov has publicly backed his current coach.
Phil Jackson, Kelvin Sampson, Jeff Van Gundy, Nate McMillan and Mike Dunleavy are all options for the Nets, but it really won't matter in the end.
Not even Jackson, the man with more championships than he has fingers, can save the Nets from mediocrity.
Their defense is beyond suspect, Deron Williams is not playing like a superstar, Brook Lopez can't rebound, and they've received inconsistent play from nearly everybody on the roster.
Maybe they finish just above .500, but it will be an up-and-down 2013 for the Nets.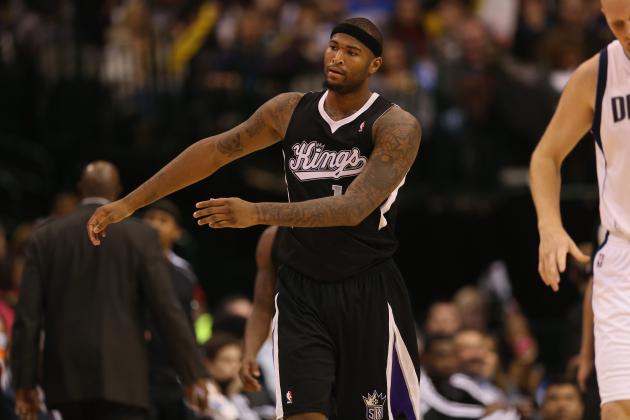 Ronald Martinez/Getty Images

The NBA trade deadline is Thursday, Feb. 21 at 3 p.m. ET, and there will most definitely be some movement by teams looking to solidify their rosters.
That being said, there surprisingly won't be any superstar players changing teams.
DeMarcus Cousins (pictured) is probably the best player that could potentially be available at this point, but most other rumors have to do with second-tier guys like Kyle Lowry, Richard Hamilton and Paul Millsap.
There's obviously still plenty of time for other rumors to grow. Sometimes the biggest trades are born the morning of the trade deadline. As of right now, it doesn't appear as if there will be many big names moving.
Blockbusters during the NBA season aren't always a frequent occurrence, but it's still pretty surprising when one doesn't happen—especially considering the fact that blockbuster trades are rumored to be going down just hours before the deadline passes.
There will be some blockbusters by the end of the calendar year. In regard to the current NBA season, it just won't happen.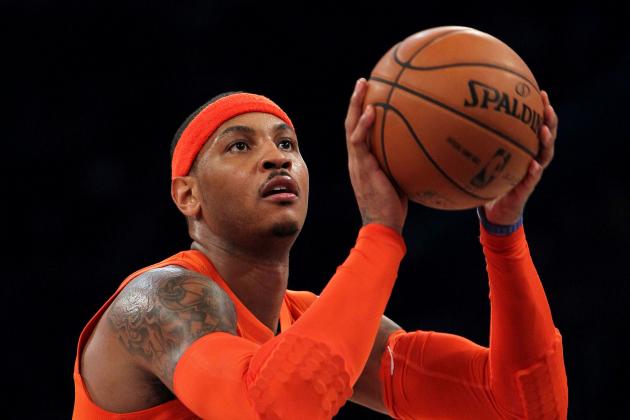 Victor Decolongon/Getty Images

The New York Knicks are 21-9 (second place in the Eastern Conference), and Carmelo Anthony is playing like a legitimate MVP candidate.
He's scoring 28.5 points per game and shooting 43.4 percent from deep.
Anthony is thriving in an offense that is clearly running through him. Last season, Jeremy Lin and Amar'e Stoudemire demanded a high number of looks between the two of them.
This obviously took away from Anthony's touches, inevitably hurting the Knicks in the end. The more touches he gets, the more opportunities he has to make something happen. As the team's best playmaker, the offense should run through him.
Well, Stoudemire will be returning from injury shortly, and he'll once again be cutting into Anthony's touches.
Granted, Stoudemire will be coming off the bench when he returns, so he won't be as much of an impact player as he was expected to be in previous seasons.
Anthony is adamant that he and Stoudemire can co-exist on the court with the Knicks, but team chemistry in past seasons has been notoriously poor when both share offensive duties.
Either Stoudemire will have to learn that this is Anthony's team, or the Knicks will suffer just a bit.
Unfortunately for Knicks fans, I predict the latter.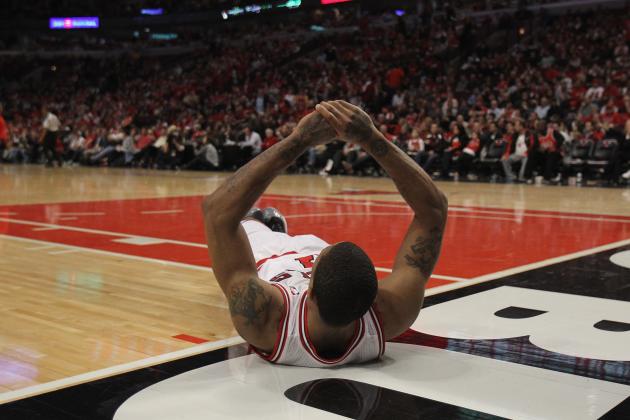 Jonathan Daniel/Getty Images

The Chicago Bulls are 16-12 and look to be in a good position to make the playoffs.
Even without superstar point guard Derrick Rose, the Bulls are holding their own. When he returns, though (at a point in time that is still unknown), he won't help the Bulls get over the hump.
They will still be a playoff team and will likely be a middle-seeded team too. Even still, Rose's presence won't be enough to move the Bulls through the playoffs.
Who's to say what kind of Rose the Bulls will be getting when he returns? Many expect him to just come back and be his old self, but his damaged knee may not be the same even after he's taken his time to recover.
Rose needs to use the time he gets when he returns to get himself back into playing shape. He needs to look toward the 2013-14 season and prepare himself and his team for a playoff push in the future.
His knee likely won't allow him to be explosive from the get-go, and expecting that from him is unfair. I know Bulls fans are waiting for their savior to return, but they should temper their expectations.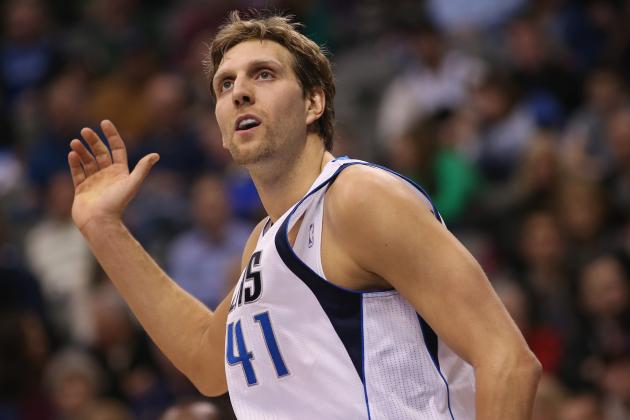 Ronald Martinez/Getty Images

At 12-18, the Dallas Mavericks have the fourth-worst record in the Western Conference. They have played all but three games without superstar Dirk Nowitzki, and boy, does it show.
Even in the three games Nowitzki has played, the Mavericks haven't played particularly well.
Nowitzki is still working his way back from injury, so it isn't fair to judge his performance until he's back in the starting lineup. When he makes it back to his usual role with the team, the Mavericks will surprise by going on a run and making the playoffs.
Not only is Nowitzki the best player on the team, he is the emotional leader of a veteran team that still has some talent.
When Nowitzki and O.J. Mayo develop a bit of chemistry, the Mavericks will be firing on all cylinders. Look for Nowitzki to steal the spotlight, however.
From the time he enters the starting lineup, expect him to put up around 25 points and eight rebounds per game.
His play will inspire the rest of the Mavericks to pick up their own performances, and Dallas will make the playoffs as the seventh or eighth seed.
Once you're in, anything can happen.