The 10 Most Beloved Players in NY Rangers History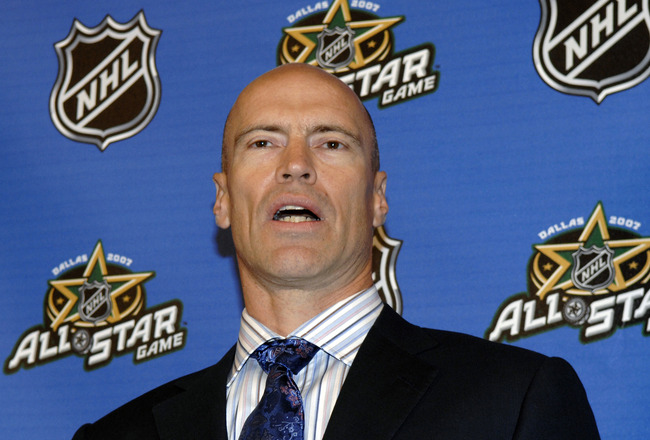 Mark Messier
A. Messerschmidt/Getty Images
In their storied 86-year history, the New York Rangers have been inundated with stars, busts and everything in between. Their rich history has produced some of the game's most memorable and lasting moments, as well as providing the hockey community with numerous fantastic players.
While Rangers fans love (almost) everyone who puts on the Broadway Blue, there are certain players who stand out. These players endear themselves to fans and quickly become the most popular.
Over the course of their history, there have been numerous popular players. But which have been the most popular? Which have been the most beloved? We comb through Rangers history and find which 10 players are the most beloved in the franchise's history.
Brad Park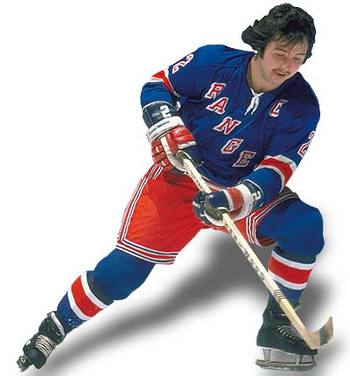 Brad Park. Legendsofhockey.net
Brad Park was one of the first true "offensive" defensemen. He played with the Rangers from 1968 to 1976.
Park , who served as captain, was a central figure in the rivalry with the Boston Bruins. Park and Bobby Orr would square off to see who was the best defenseman. He led his team to the 1972 Stanley Cup Finals and was the runner-up for the Norris Trophy.
Park was elected to the Hockey Hall of Fame in 1988. He's not only of the best Rangers of all time, but he's one of the most beloved.
Eddie Giacomin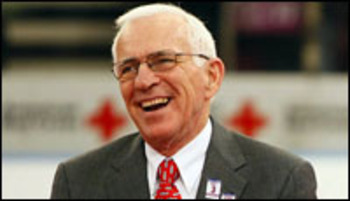 Eddie Giacomin. Rangers.nhl.com
Eddie Giacomin is not only one of the most beloved Rangers of all time, but he's one of the best goaltenders to lace up the skates.
Giacomin was the co-winner of the 1971 Vezina Trophy. He's ranked 25th in career wins by a goaltender, with 289. He's ranked 19th in career shutouts with 54. And he was named a Hockey Hall of Famer in 1987.
Every time Giacomin would hit the Garden ice, a cheer of "Eddie! Eddie! Eddie!" would rain down from the rafters. It still happens today. When he played with the Red Wings in the latter stages of his career and made his first return visit to the Garden, he was still serenaded with cheers by the Garden faithful. The image of him wiping tears off his face is one of the most legendary in Rangers history.
His No. 1 jersey is hanging in the rafters, and he is one of the immortal figures in Rangers history. He is one of the nicest people in the game and is always ready for a handshake and a photo op during his many Garden appearances.
Giacomin is a legend, both to Rangers fans and to the hockey community at large.
Rod Gilbert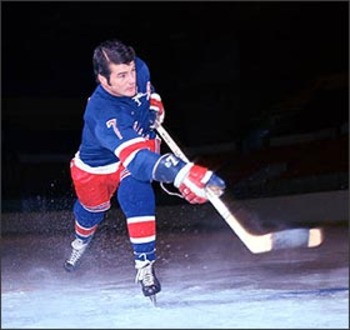 Rod Gilbert. Hhof.com
Rod Gilbert is one of the best players in hockey history. He was rewarded with a Hockey Hall of Fame induction in 1982.
Gilbert holds numerous Rangers records. He holds the team record for goals, with 408. He holds the team record for points, with 1,021. He has played in the most games of any forward in Rangers history, with 1,065. His jersey was the first one ever retired in Rangers history.
Gilbert spearheaded the "GAG" line, or goal a game, which also featured Jean Ratelle and Vic Hadfield, two beloved Rangers in their own right.
He's another legendary player and still makes his presence known around the team. He's involved with community relations for the team and is at almost every home game.
Dave Maloney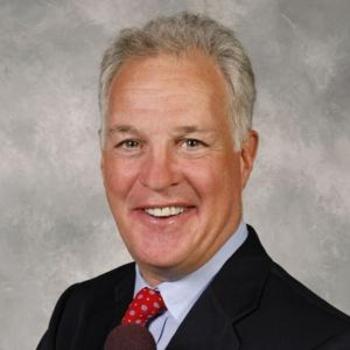 Dave Maloney. nypost.com
Dave Maloney has spent most of his adult life in the New York Rangers organization. Drafted 14th-overall in 1974, Maloney quickly endeared himself to fans.
He became the youngest captain in Rangers history and helped lead his team to the 1979 Cup Finals. He scored 70 goals in his Rangers career, as well as totaling 1,113 penalty minutes.
After his playing days were done, Maloney joined the broadcast booth, where he is currently the radio color commentator. His voice and face are known to Rangers fans, and he will forever be beloved.
Jaromir Jagr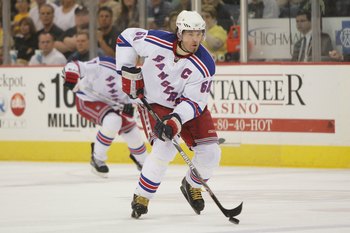 Jaromir Jagr
Jamie Sabau/Getty Images
The New York Rangers were in bad shape entering the 2004-05 lockout. They were old, slow and overpriced. They hadn't made the postseason in the previous seven years.
That all changed after the lockout. Led by Jaromir Jagr, the Rangers shocked the hockey world by making the playoffs. And they couldn't do it without Jagr.
Jagr scored 54 goals and added 123 points in 2005-06, both single-season Ranger records. He also had the most power-play goals by a Ranger that season, scoring 23 on the man advantage.
Jagr was unstoppable that season and played well the next two seasons before heading over to the KHL to play.
He wasn't in New York for long, but he took a moribund franchise and transformed them into perennial contenders. For that, Rangers fans will always be grateful.
Nick Fotiu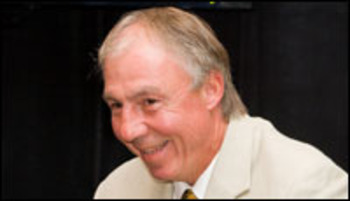 Nick Fotiu. rangers.nhl.com
Nick Fotiu is one of the most beloved Rangers of all time. He's the first player to hail from Staten Island to play for the Blueshirts.
He impressed fans with his hard work, his toughness and energy. He was not afraid to sacrifice his body or drop the gloves.
He was also known for flipping pucks up to the "blue seats," an area that's furthest from the ice and where Fotiu sat as a kid.
Fotiu was never the best player, but he was a true fan favorite, both during his playing days and now.
Brian Leetch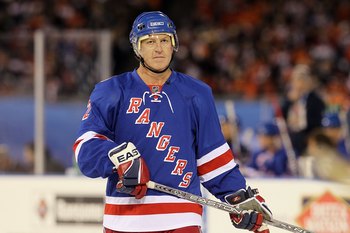 Brian Leetch
Jim McIsaac/Getty Images
Brian Leetch is one of the best players to ever lace up the skates for the Rangers.
Leetch scored 240 goals in his Rangers career, along with 741 assists. He won two Norris Trophies and was the Conn Smythe winner during the 1994 Stanley Cup victory.
His creative and captivating offensive play endeared himself to fans. His number was retired in 2008, and he was elected to the Hockey Hall of Fame in 2009.
Leetch still hangs around the Garden every so often, occasionally offering his insights on television broadcasts. For his work to help the Rangers win a Cup, and for his immense talent, Leetch will always be loved.
Mike Richter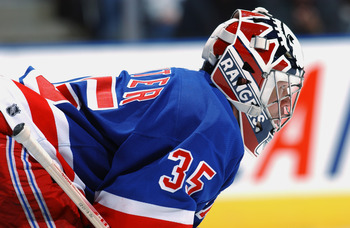 Mike Richter
Harry How/Getty Images
Mike Richter is one of the best American goaltenders of all time. He finished his career with 301 wins and a stellar 2.89 goals against average.
He was instrumental in the Rangers' 1994 run to the Cup, where he famously stopped Pavel Bure on a penalty shot in Game 4 of the Cup Finals.
Richter's number was retired in 2004 and is the Rangers' all-time leader in wins.
Richter's career was cut short by numerous injuries, but his efforts in the 1994 Cup win will never be forgotten.
Adam Graves
Adam Graves
Robert Laberge/Getty Images
In addition to being a great, hard-nosed player, Adam Graves is one of the most beloved Rangers of all time. Between his play on the ice and his work off it, Graves is constantly showered with adoration.
Currently, Graves is a special assistant with Prospect Development and Community Relations and is heavily involved in the Garden of Dreams foundation.
On the ice, Graves was instrumental in the 1994 Stanley Cup victory and scored 329 goals in an outstanding career.
For his efforts, Graves' number was retired by the Rangers in 2009. The alternate captain holds a special place in the hearts of many Rangers fans, and will do so for some time.
Mark Messier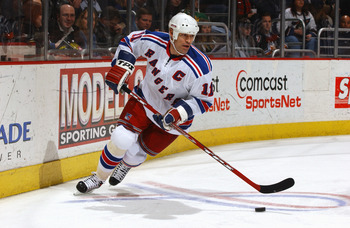 Mark Messier
Mitchell Layton/Getty Images
Mark Messier is one of the greatest hockey players of all time. He is the second all-time points getter in NHL history and played the second-most games. He won an outstanding five Stanley Cups and is the only player in professional sports to have captained two teams to a championship. He won two MVP awards and was elected to the Hockey Hall of Fame in 2007.
He's also, by far, the most beloved Rangers player of all time. He captained the magical 1994 Stanley Cup team, the first championship for the team since 1940. His number was retired by the Rangers in 2006 in one of the most remarkable moments in Rangers history
Currently, Messier is a special assistant to the president and general manager for the Rangers. He's the ultimate captain and is still thought of that way. Messier took a franchise that some believed was cursed and brought them to the ultimate destination. He put his reputation on the line when he guaranteed that the Rangers would win Game 6 of the 1994 Eastern Conference Finals, where the team was down 3-2 to the New Jersey Devils. Not only did they win that game, but Messier had a hat trick as well. He also scored the Cup-winning goal that year.
He's a legendary, if not magical, figure in Rangers lore. He defined what it is to be a hockey player and what it is to be a Ranger. Without him, the franchise would be completely different. He will forever be loved by Rangers fans.
Keep Reading

New York Rangers: Like this team?