Boxing's Biggest Surprises in 2012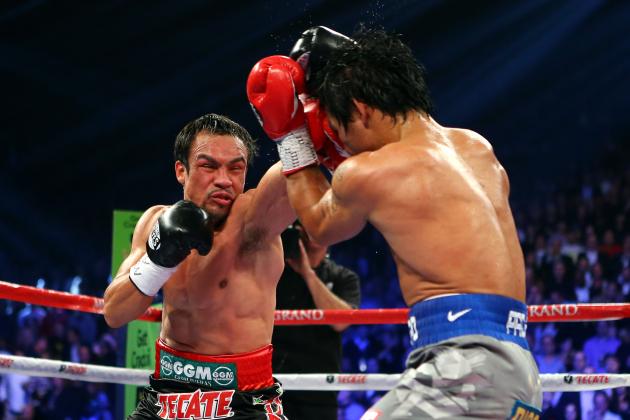 Al Bello/Getty Images
Many thought Marquez would win...but not how he did.
Boxing is unpredictable.
Oftentimes fights appear one way on paper and end up the opposite when the fighters get into the ring.
Upsets are common, and stars rise and fall as fast as you can reach the count of 10.
A fighter can lose every second of every round and land a shot in the final seconds to win the fight. For that reason, a fight is never truly over until the final bell rings.
The year 2012 showed all of these ideas in a stark light. It was a year of upsets, comebacks and rising and falling stars.
These are the most surprising outcomes in boxing in the past year.
Begin Slideshow

»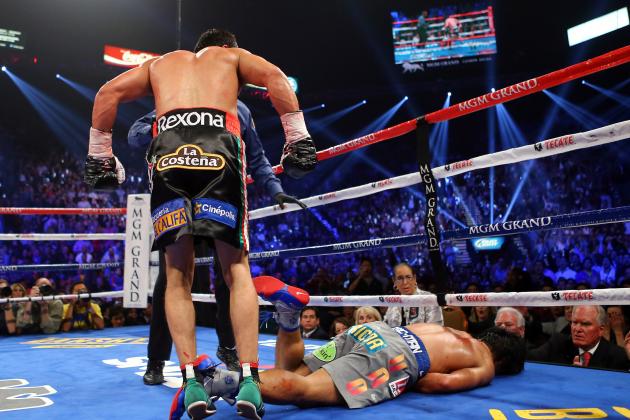 Al Bello/Getty Images
This is destined to become one of the most iconic images in boxing history.
Many observers felt that Juan Manuel Marquez would finally defeat Manny Pacquiao when the two met for a fourth time in early December.
Marquez had been so close, so often, and it seemed that for lack of a better word he was due.
Even among those who said he would win the fight, you would not have found many, if any, who predicted he'd do it by knockout.
Much less by sudden, devastating knockout.
Marquez's missile right hand in the sixth round is destined to become one of the most analyzed and talked-about punches in boxing history.
It not only ended the night, but it shocked the entire sport and was clearly the biggest surprise of 2012.
Josh Hedges/Getty Images
Alvarez is seemingly more dangerous outside the ring than in it.
Fighting Saul "Canelo" Alvarez in the ring is a tall task for any fighter, but it seems that it's even more dangerous to be discussed as a potential opponent.
Every possible misfortune befell the fighters who were supposed to challenge the 22-year-old rising star in 2012, from the tragic to the unpredictable.
First, Paul Williams saw his career tragically end in a life-threatening motorcycle accident.
Then James Kirkland refused the financial terms of the fight and pulled out.
Victor Ortiz was up next, and all he had to do was get by the unheralded Josesito Lopez. All Lopez did was break Ortiz's jaw and derail yet another marquee matchup.
Finally, Miguel Cotto saw his undefeated streak in NYC end at the hands of Austin Trout.
Seems like the last thing any fighter wants is to be mentioned as a possible opponent for Canelo.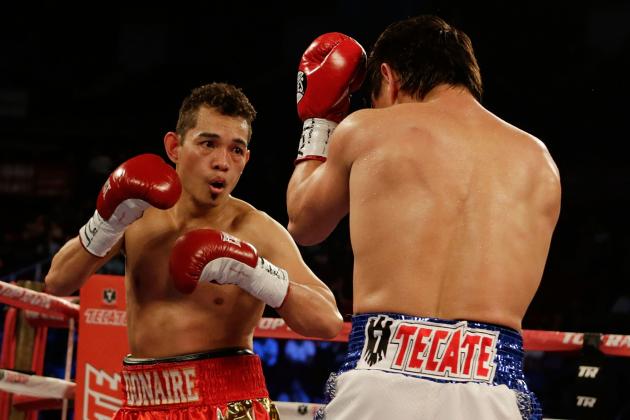 Scott Halleran/Getty Images
Donaire leads a class of exceptionally talented lower weight division fighters.
To say that the lower weight divisions are absolutely loaded with talent and potential big fights is an understatement.
Nonito Donaire, Abner Mares, Guillermo Rigondeaux, Leo Santa Cruz, Anselmo Moreno and Carl Frampton all compete at or below 122 pounds.
While Donaire is already a household name, all the others on that list could easily achieve that same level of respect in the sport with the right matchups.
Donaire against any of the above could easily become big events next year and showcase that great fights exist without the names Mayweather or Pacquiao being attached.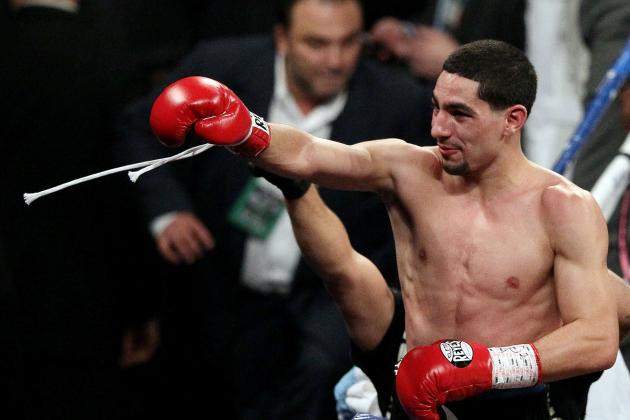 Alex Trautwig/Getty Images
Garcia is one of the fastest-rising stars in the sport.
Danny Garcia started out his 2012 campaign with a rugged decision win over Mexican legend Erik Morales to win the WBC junior welterweight title.
This win propelled him into a bout with British sensation Amir Khan. Garcia was supposed to show up and drop his belt but instead provided one of the upsets of the year.
Garcia stopped Khan in stunning and brutal fashion and then capped off his year with a near-decapitation knockout of Morales in a rematch.
Not bad for a guy who began the year off the radar and finished as one of boxing's fastest-rising young stars.
Jeff Bottari/Getty Images
Bradley's a tough SOB, but he did not win the fight.
Bad decisions are unfortunately a part of boxing. They always have been, and it's hard to see how they'll go away.
The year 2012 was no different with several high-profile and shockingly bad decisions.
Among those was Brandon Rios' ridiculous decision win over Richard Abril in April. To call the split decision ridiculous is an insult to the truly ridiculous.
Abril won no less than nine rounds in the fight and got blatantly jobbed by the judges, who gave Rios an absolute gift victory.
Then in June, proving even one of the sport's cash cows can become a victim, Manny Pacquiao was absolutely robbed against Timothy Bradley.
Say what you will, and it's all been said already, but Bradley lost that fight. He's a tough SOB and deserves credit for competing with Pacquiao on two bad legs.
But when two judges see something that absolutely nobody else saw, you have a problem.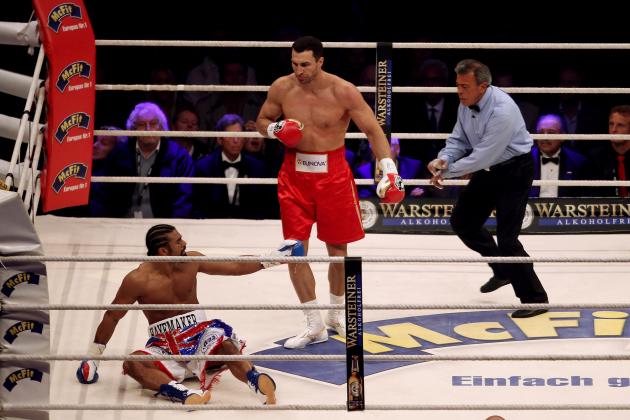 Scott Heavey/Getty Images
The heavyweight division is dead.
None of the following should be interpreted as a knock on the Klitschko brothers. They are both great champions who have dominated a dead era of the heavyweight division.
But seriously, it's very hard to take the heavyweights seriously these days. Either the Klitschkos are just that good or everyone else is just that bad.
It's amazing that during their reign not one single legitimate threat has emerged to challenge their dominance. They have been reduced to lining up and knocking down a string of relatively unknown or recycled opponents with few people outside of Europe paying attention.
The fact that David Haye, whose first shot at Wladimir Klitschko was a total non-effort, might be able to talk himself into a second shot shows how pathetic the division has become.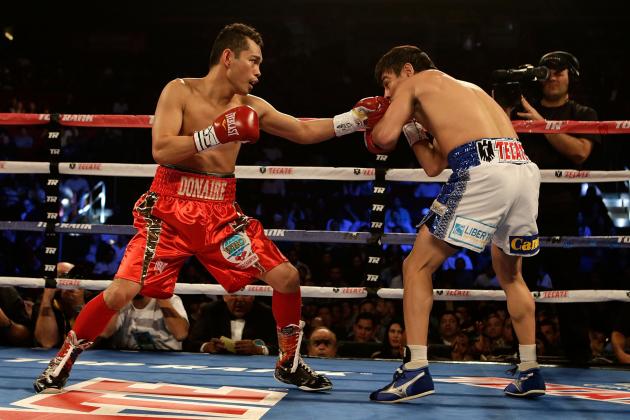 Scott Halleran/Getty Images
Donaire's participation in VADA should become the standard.
In just the past year Andre Berto, Lamont Peterson, Antonio Tarver and Erik Morales have tested positive for performance-enhancing drugs.
Yet little to nothing has been done to strengthen the testing regimen and sanctions attached to fighters who get caught.
It's as if boxing is waiting for a tragedy to spur action.
Nonito Donaire, who is a near lock for Fighter of the Year honors, has added to his star power by participating in the Voluntary Anti-Doping Association drug-testing program.
VADA requires truly random testing and has strict guidelines that make it very difficult to beat. This standard should become the rule across boxing, but it'll take more than one fighter participating for that to happen.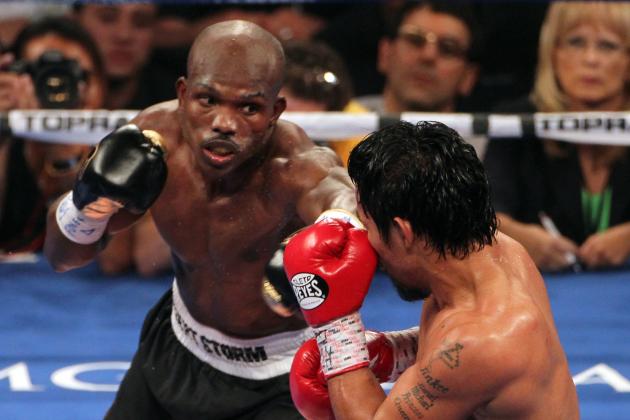 Jeff Bottari/Getty Images
Bradley failed to cash in after beating Pacquiao.
Make no mistake about it. Timothy Bradley got a win he didn't deserve, but he's still a damn good fighter.
You almost feel bad for him. Had he lost on June 9, the storylines would have been clearly in his favor. After all, he did go 12 tough rounds with two bad legs against one of the top fighters in the sport.
But with the bogus decision, Bradley received an unprecedented level of scorn from fans and media alike, as if it were somehow his fault.
To say he failed to cash in on the victory is an understatement. He went AWOL for the rest of the year and blew a chance to capitalize on the win and re-establish himself as a top fighter between 140 and 147 pounds.
Hopefully 2013 will be kinder to Timothy Bradley, who people shouldn't forget is one hell of a good fighter.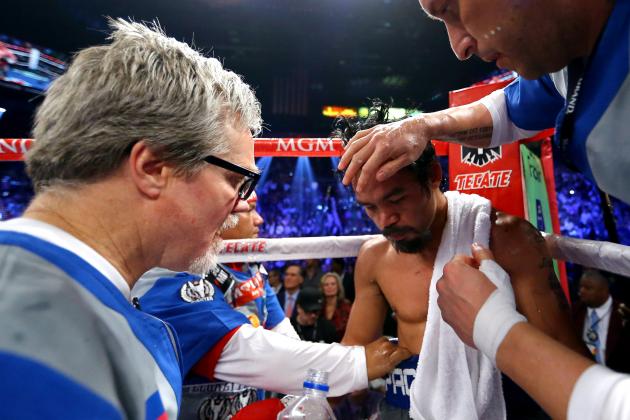 Al Bello/Getty Images
It was a shockingly bad year for Freddie Roach.
Let's be clear: Freddie Roach is still an elite trainer in boxing. But he had all sorts of difficulties in 2012 that he'll need to right in the coming year to retain his spot at the top.
Roach's fighters lost several high-profile bouts, including two by Manny Pacquiao, Amir Khan's stunning knockout at the hands of Danny Garcia and Julio Cesar Chavez Jr.'s disappointing non-effort against Sergio Martinez.
Now you can place most of the blame on the fighters; after all, they're the ones throwing the punches. But to say this many losses is uncharacteristic for Roach is an understatement.
Add to that being fired by Khan and seemingly allowing Chavez to run amok during training, and you have some troubling writing on the wall.
Here's hoping Freddie rights the ship next year.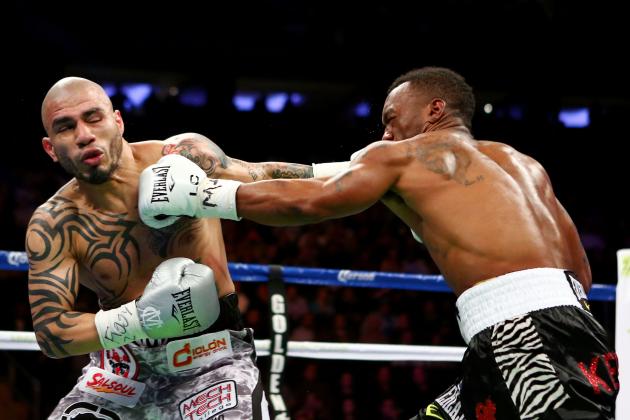 Elsa/Getty Images
Trout closed the year with a big upset at MSG.
The year 2012 was the year of upsets.
Many picked Austin Trout to upstage Miguel Cotto on Dec. 1 at MSG, but few thought he would dominate the Puerto Rican icon as he did en route to an easy unanimous decision.
Josesito Lopez came out of left field to break Victor Ortiz's jaw and derail a big fight with Canelo Alvarez.
Danny Garcia went from opponent to star with spectacular knockouts over Amir Khan in a big upset and Erik Morales.
How many people felt that Johnathon Banks would beat, much less knock out, Seth Mitchell within two rounds?
It was another crazy year for a sport known for stunning outcomes, and I'm hoping 2013 is no different.