Buffalo Wild Wings Bowl 2012: TCU vs. Michigan State Live Scores and Analysis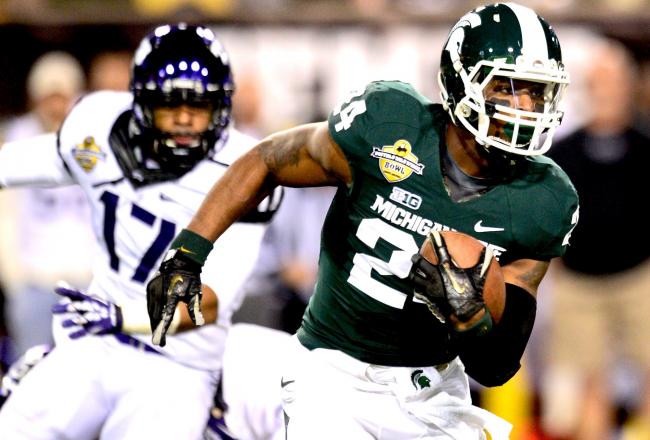 Final:
TCU — 16
Michigan State — 17
Make sure you check out the grades we passed out for Michigan State's and TCU's performances.
For the second straight year, Mark D'Antonio and Michigan State turned to veteran kicker Dan Conroy to seal a bowl victory.
With just over a minute remaining, Conroy drilled a FG that gave the Spartans the 17-16 win over the TCU Horned Frogs.
It was a defensive struggle for much of the night, as expected. TCU scored its only touchdown in the first quarter on a Matthew Tucker run from four yards out. TCU would score its remaining nine points via field goals.
Michigan State looked helpless offensively in the first half. It turned to offensive stalwart Le'Veon Bell to get things going in the second half.
With rotating QBs, Connor Cook was the hot hand on Saturday evening in Tempe. He found Aaron Burbridge in the third quarter to put the Spartans on the board.
Michigan State took over on TCU's four yard line after a miscue from the Horned Frogs' punt returner. He could not field a punt and Michigan State recovered. Bell would take care of the rest as he trotted in the end zone to put State up 14-13.
TCU didn't go away. With just under three minutes remaining, the Horned Frogs took a 16-13 lead.
That's when Mark D'Antonio called on Conroy to seal the victory for the Spartans. Conroy drilled a 47-yard field goal to give the Spartans the Buffalo Wild Wings Bowl trophy.
Congratulations to the Michigan State Spartans! The 2012 Buffalo Wild Wings Bowl champions!
Singing the fight song after the win in the Buffalo Wild Wings Bowl! twitter.com/MSU_Football/s…

— Spartan Football (@MSU_Football) December 30, 2012
Thanks for joining us tonight for the Buffalo Wild Wings Bowl! Be sure to join us on Monday for New Year's Day Bowl action!
Here is a scoring summary for tonight's action.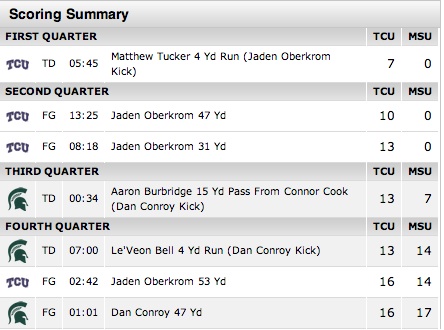 Summary is via ESPN.
Passing:
T. Boykin—13-of-29 for 201 yards, 1 INT
C. Cook—4-of-11 for 47 yards, 1 TD
Rushing:
T. Boykin—37 yards on 13 carries
L. Bell—145 yards on 32 carries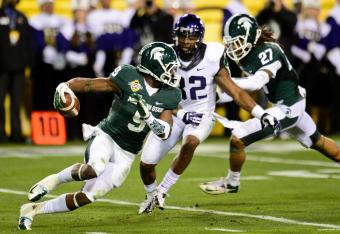 Total yards:
TCU—288 (201 passing, 87 rushing)
Michigan State—227 (104 passing, 123 rushing)
Turnovers:
TCU—2
Michigan State—0
Time of possession:
TCU—26:57
Michigan State—33:03
Congrats, Michigan State fans!
Congrats to Michigan State, your 2012 #BWWBowl Champions!!!

— BWW Bowl (@BWWBowl) December 30, 2012
Tough loss for TCU as it finishes its first season in the Big 12 with a 7-6 record. Michigan State finally wins a close one and finishes 2012 with a 7-6 record as well.
Final. TCU—16, Michigan State—17.
That will do it. Michigan State will come away victorious in the 2012 Buffalo Wild Wings Bowl with a 17-16 win over TCU.
A seasoned veteran.
Conroy hit the game winner in the third overtime of the 2012 Outback Bowl.

— BWW Bowl (@BWWBowl) December 30, 2012
This game will come down to the final play for TCU. The song "Living on a Prayer" is blaring in my head right now. Anyone else?
The defensive line for Michigan State is manhandling TCU's OL right now.
The field goal is GOOD!
TCU—16, Michigan State—17. Fourth quarter—1:01 remaining.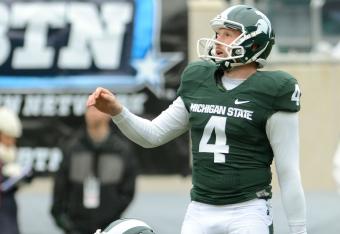 Ok, Dan Conroy. For all the Buffalo Wild Wings, it's your turn.
Big penalty on TCU. New set of downs for Michigan State.
Mark D'Antonio burns his last timeout with nearly two minutes remaining. Don't get it.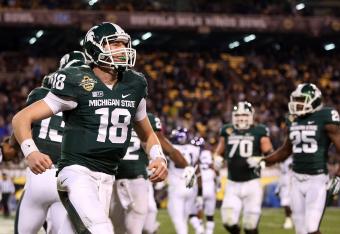 Cook looks calm back in the pocket trying to lead Michigan State to a victory in the Buffalo Wild Wings Bowl.
Right call here by D'antonio. Cook is the hot QB. Go with that.
Field goal is good. TCU—16, Michigan State—14. Fourth quarter—2:42.
BIG stop by Michigan State. Does TCU go for it here?
Patterson sends out his field goal kicker for a 53-yard attempt.
Wow. Fantastic run for Ladarius Brown. He shows his good hands and agility. TCU in business.
Is this a good record or bad?
That punt by #MSU Mike Sadler was his 11th of the night, tying the #BWWBowl record for punts in a game (Shafer, Syracuse, 2001).

— BWW Bowl (@BWWBowl) December 30, 2012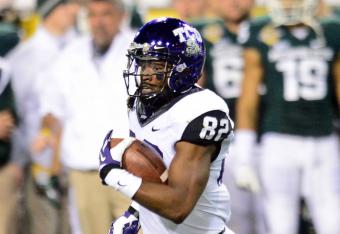 Could this be TCU's last possession?
The new punt returner looked very reluctant to make that catch. TCU is lucky to still have the ball. With a penalty, it gains 15 yards.
Having momentum is a crazy thing. Once a team has it, it is hard to snatch away from them.
It need about that much on this drive to have a chance to go ahead.
TCU offense has 58 yards in the second half.

— Stefan Stevenson (@FollowtheFrogs) December 30, 2012
This article is
What is the duplicate article?
Why is this article offensive?
Where is this article plagiarized from?
Why is this article poorly edited?