Final Regular-Season Grades for Each NFL Team's Rookie Class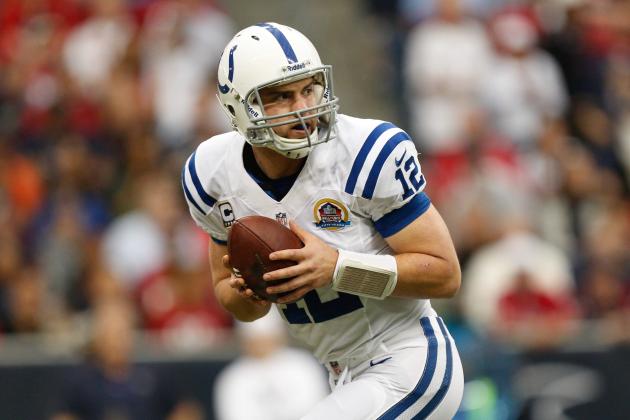 Thomas Campbell-USA TODAY Sports

Now that the 2012 regular season is finished, we can finally complete grades for each team's rookie class.
Obviously, it will still be a few years before each class can really be graded, but at least now it's no longer insane to attempt grading. After all, there are 16 games to analyze.
These grades take into account both early contributions and potential moving forward. It's great if a team had some rookies contribute in their first season, but they still need to have upside in future years.
You know what your team's rookies did in 2012. But just how does it compare to the rest of the league?
Begin Slideshow

»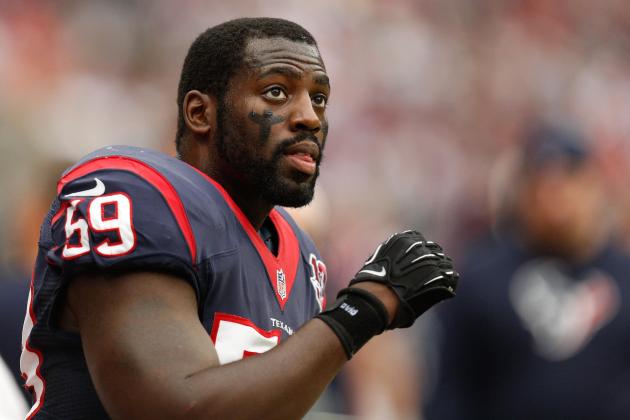 Thomas Campbell-USA TODAY Sports

Many were puzzled when Houston drafted Whitney Mercilus in the first round, but the pick is paying off thus far. With six sacks and two forced fumbles in limited playing time, Mercilus made an impact when he was on the field.
Houston also saw contributions from fourth-round pick Ben Jones, who started 10 games at right guard. Jones wasn't always great, but he was still playing and contributing.
Wide receivers DeVier Posey and Keshawn Martin saw limited action on offense, combining for just 172 yards. Martin did see action as the Texans return man, however.
Grade: B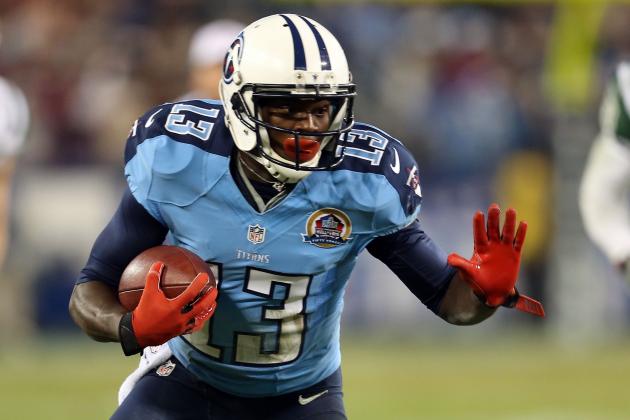 Andy Lyons/Getty Images

In the first round, Tennessee drafted wide receiver Kendall Wright, who didn't amaze anyone in his rookie year but still led the Titans with 64 receptions. Then, Tennessee added linebacker Zach Brown in the second round, and he impressed, racking up 93 tackles, three interceptions and 5.5 sacks.
Defensive tackle Mike Martin also saw playing time, picking up 37 tackles and three sacks on the year. Cornerback Coty Sensabaugh played as well but was unspectacular.
With these immediate contributors and future potential from a player such as Taylor Thompson, the Titans have a solid rookie class.
Grade: B+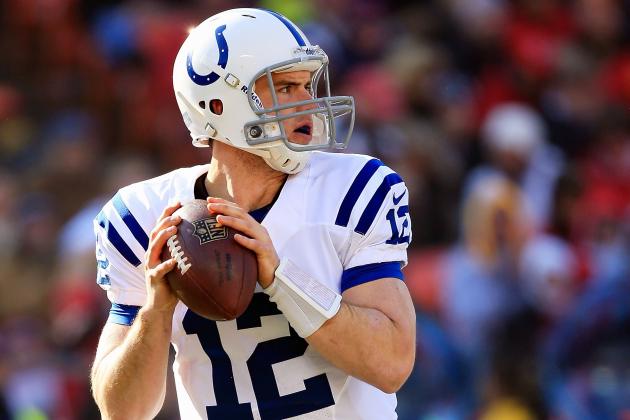 Jamie Squire/Getty Images

Whether or not this draft class is a success comes down to Andrew Luck.
Thus far, it's looking pretty good.
Luck had a terrific rookie campaign, throwing for 4,374 yards and 23 touchdowns while leading the Colts to the playoffs. He looks like a future star.
Luck wasn't the only rookie contributor for the Colts, however. Running back Vick Ballard rushed for 814 yards, and wideout T.Y. Hilton caught 50 passes for 861 yards while contributing as a return man. At tight end, Dwayne Allen and Coby Fleener gained 521 and 281 yards, respectively.
Grade: A+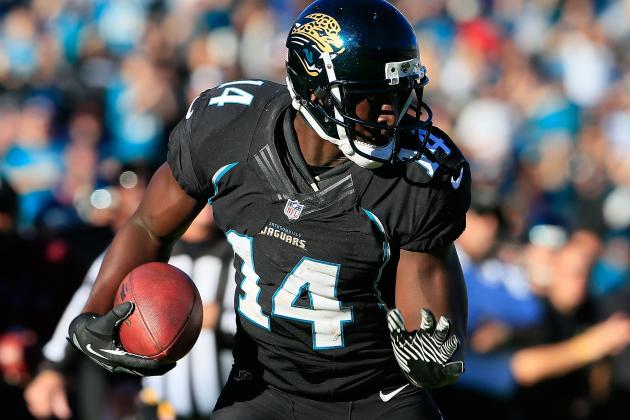 Sam Greenwood/Getty Images

No. 5 overall pick Justin Blackmon got off to a slow start but finished with an impressive 64 receptions for 865 yards. Poor quarterback play certainly limited Blackmon's numbers, as well.
The only other rookie to contribute much for the Jaguars was their third-round pick, punter Bryan Anger. Anger was great in his rookie year, but he's still a punter. Drafted in the third round.
Second-round defensive end Andre Branch, on the other hand, contributed next to nothing, picking up just 12 tackles and a single sack.
Grade: D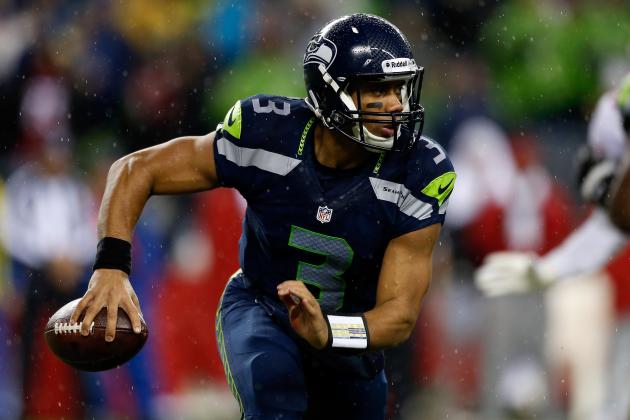 Otto Greule Jr/Getty Images

The highlight of Seattle's rookie class was obviously quarterback Russell Wilson, but he was far from the only rookie to contribute for the Seahawks.
Wilson was fantastic, however. He finished the year with a 100 quarterback rating, 30 total touchdowns and 3,607 total yards.
On defense, though, the Seahawks had a couple more rookie stars. Bruce Irvin led all rookies with eight sacks, and Bobby Wagner is a Defensive Rookie of the Year candidate with 140 tackles, two sacks and three interceptions.
This class is loaded with immediate starters and several more high-potential players who could contribute down the line.
Grade: A+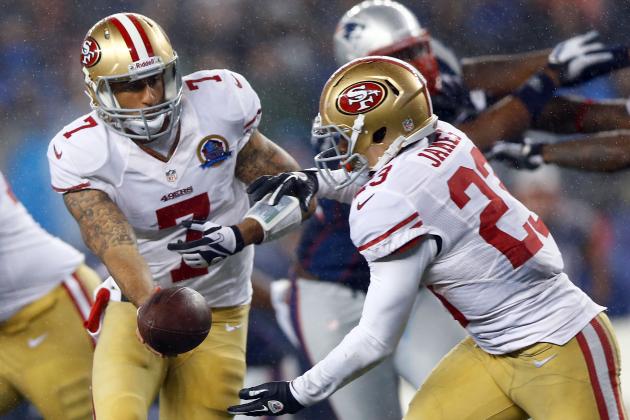 Jared Wickerham/Getty Images

In 2012, the 49ers coasted to the playoffs despite negligible contributions from their rookies. In fact, not a single rookie contributed anything of note.
The only rookie to do anything at all was second-round running back LaMichael James. His 154 yards on offense won't blow anyone away, however.
San Francisco does have a deep and talented roster, but that doesn't excuse the poor showing here.
Grade: F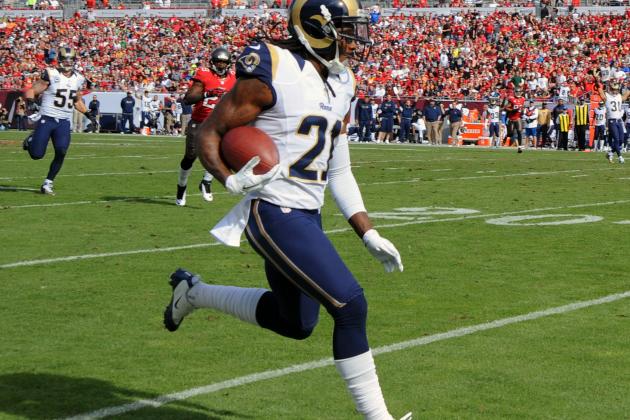 Al Messerschmidt/Getty Images

The Rams traded out of the top 10 in 2012, gaining a plethora of draft picks in the process. With these picks, St. Louis added several immediate contributors.
The team's first pick, defensive tackle Michael Brockers, excelled against the run and still picked up four sacks on the year. Cornerback Janoris Jenkins was the team's real star, though, as he had three pick-sixes on the year.
St. Louis also saw wideout Chris Givens contribute, catching 42 passes for 698 yards. Spelling off Steven Jackson was running back Daryl Richardson, who gained 475 yards on just 98 carries.
The Rams already saw their trades in the 2012 draft paying off, and they will continue to do so, as they have Washington's first-round pick the next two years.
Grade: A-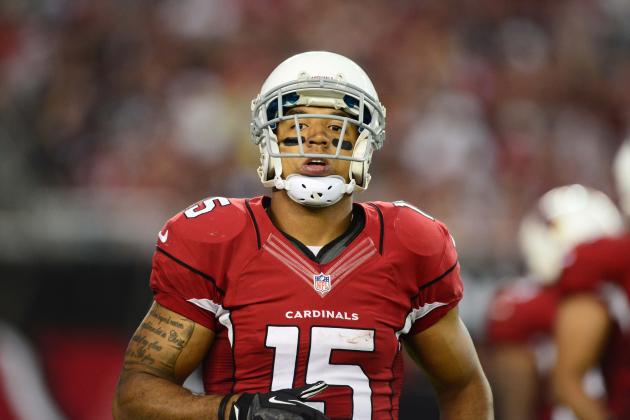 Mark J. Rebilas-USA TODAY Sports

Michael Floyd didn't play as much as Cardinals fans hoped he would, but he did progress throughout the year and finished with 45 receptions for 562 yards.
The Cardinals also saw two rookie linemen start for much of the year; however, that may not be a good thing considering how bad their line was. Right tackle Bobby Massie did improve, though, and Nate Potter showed that he can at least be a decent backup.
No other Arizona rookies contributed too much, save Ryan Lindley, who was just awful, and given Floyd's limited upside, this class isn't looking so great.
Grade: D+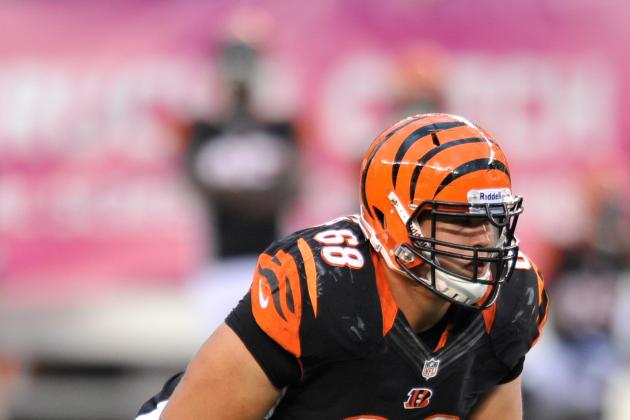 David Richard-USA TODAY Sports

With two first-round picks thanks to the Carson Palmer trade, Cincinnati added plenty of talent in the 2012 draft. The Bengals' first pick, cornerback Dre Kirkpatrick, failed to contribute much, however, as he struggled with injuries.
With its second first-round pick, Cincinnati added right guard Kevin Zeitler, a move that worked out much better. Zeitler played at a high level all year, starting every game.
Wide receivers Mohamed Sanu and Marvin Jones combined for 355 receiving yards, and undrafted linebacker Vontaze Burfict led the team with 127 tackles.
The Bengals saw rookies from all rounds—early and late—contribute throughout the year. That's a sign of a good draft.
Grade: B+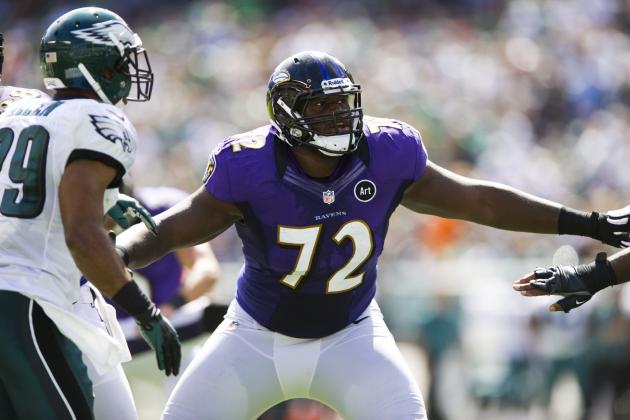 Howard Smith-USA TODAY Sports

Baltimore traded out of the first round and ended up with two second-round picks. The first one, linebacker Courtney Upshaw, didn't shine much as a pass-rusher, recording just 1.5 sacks. He was, however, solid against the run, picking up 60 tackles.
The other second-round selection fared better. Kelechi Osemele started all year at right tackle, performing excellently in the run game and adequately as a pass-blocker.
Running back Bernard Pierce played well backing up Ray Rice, gaining 532 yards on 108 carries.
No other rookies played much for Baltimore, but it received solid contributions from those who did, and others have upside for the future.
Grade: B-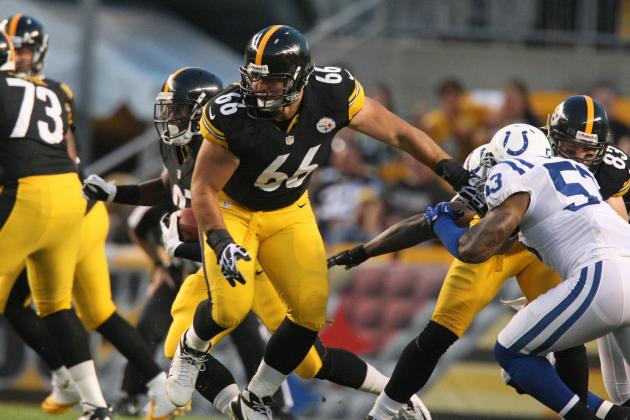 Jason Bridge-USA TODAY Sports

Pittsburgh's draft class was assaulted with injuries. First-round pick David DeCastro missed time with a knee injury, and third-round selection Sean Spence sat out the entire season.
However, the Steelers did still get some production. Mike Adams started most of the year at right tackle, and though he was somewhat inconsistent, he played fairly well.
DeCastro struggled some when he did finally return from his injury, though that was to be expected.
This draft class is still difficult to grade, but it does have upside moving forward. It lacked immediate contribution, though.
Grade: C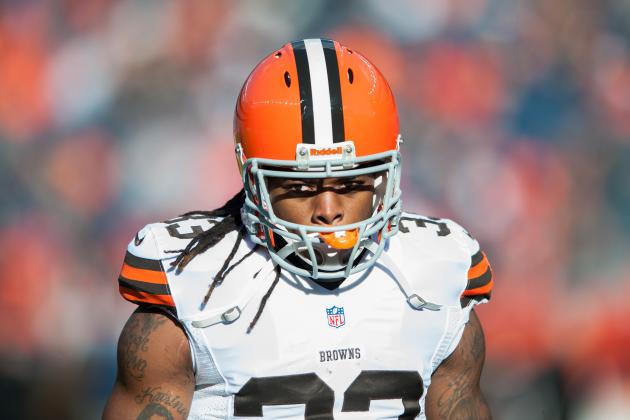 Dustin Bradford/Getty Images

There isn't a team in the NFL that received more from its rookie class than Cleveland did.
With the No. 3 pick, the Browns selected running back Trent Richardson. Richardson struggled with injuries all year but still gained 1,317 total yards and scored 12 touchdowns.
Quarterback Brandon Weeden started 15 games, throwing for 3,385 yards. Right tackle Mitchell Schwartz started all year with excellent results.
Supplemental pick Josh Gordon caught 50 passes for 805 yards and possesses elite upside. Defensive linemen Billy Winn and John Hughes played. Linebacker James-Michael Johnson started much of the year.
The Browns saw many of their draft picks contribute immediately, and they have tons of potential moving forward.
Grade: A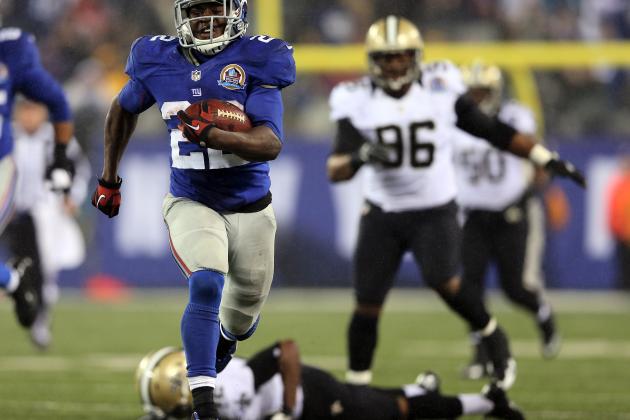 Elsa/Getty Images

The Giants didn't get a ton out of their rookies, but they did get something. First-round pick David Wilson excelled when he was given the chance, rushing for 358 yards on 71 carries while also starring on returns.
Second-round pick Rueben Randle didn't replace Mario Manningham like many expected him to, but he have 298 receiving yards on the year. Cornerback Jayron Hosley also saw significant playing time, albeit with varied results.
Though New York's rookie class didn't dominate like some others did, it has the potential to be great in a few years.
Grade: B-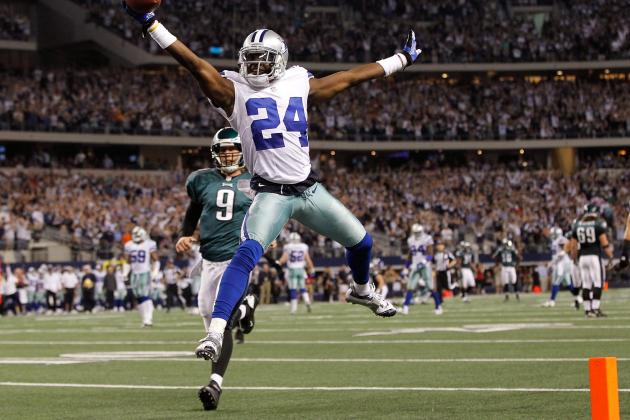 Tom Pennington/Getty Images

The Cowboys took a chance by trading their second-round pick in order to move up and acquire cornerback Morris Claiborne. This draft's success depends on the LSU product.
Thus far, Claiborne has neither excelled nor disappointed. He played reasonably well for a rookie, starting all year and recording one interception.
The only other rookie to contribute anything of note for the Cowboys was defensive end Tyrone Crawford. Even Crawford had just 20 tackles on the year, though.
Grade: D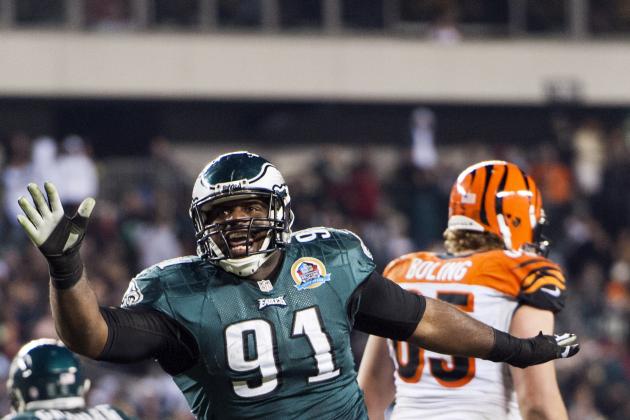 USA TODAY Sports

Philadelphia had a disappointing 2012 season, but its rookie class was not to blame.
First-round pick Fletcher Cox started at defensive tackle, and his 5.5 sacks ranked No. 5 among all rookies. Second-round linebacker Mychal Kendricks also started, racking up 75 tackles.
Then, in the third round, the Eagles added quarterback Nick Foles, who played surprisingly well when he replaced Michael Vick in the starting lineup. Cornerback Brandon Boykin also saw playing time.
Numerous Eagle rookies played well in 2012, adding hope to the team's future.
Grade: A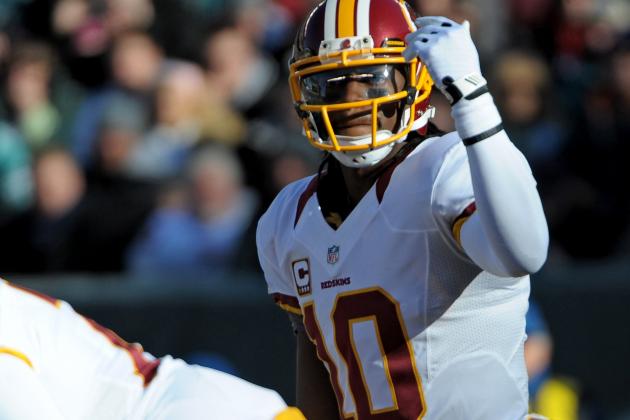 USA TODAY Sports

Two of the NFL's most outstanding rookies were selected by the Redskins.
First, there is Robert Griffin III. RG3 dominated all year, scoring 27 total touchdowns while gaining 4,015 total yards. That's great for any player, much less a rookie.
Don't forget running back Alfred Morris, though. Morris, a sixth-round pick, gained an astounding 1,613 yards on the ground. He scored 13 touchdowns as well.
Here, the Redskins seem to have added two long-term pieces to the puzzle. Washington's success in 2012 can be directly attributed to this draft.
Grade: A+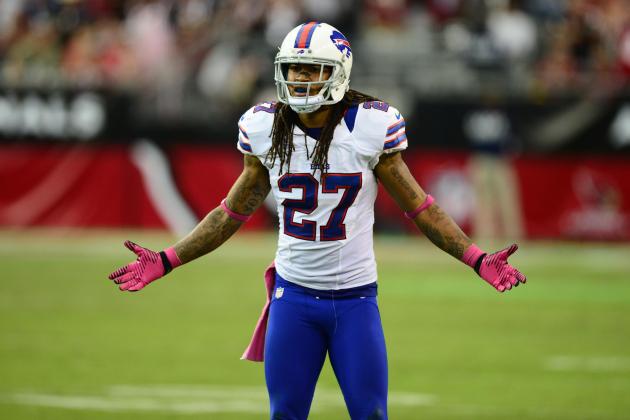 Mark J. Rebilas-USA TODAY Sports

With the No. 10 pick, Buffalo surprised many analysts by drafting cornerback Stephon Gilmore. Gilmore justified the pick in 2012, though, starting all year and playing well.
Then, in the second round, the Bills drafted Cordy Glenn to play left tackle. Many thought Glenn would be a guard in the NFL, but again, Buffalo looks smart here, as Glenn played well all year.
Linebacker Nigel Bradham started at linebacker, racking up 57 tackles on the year. Third-round pick T.J. Graham didn't light the world on fire, but he did play and finished the year with 322 receiving yards.
The Bills already have three starters courtesy of this draft, and there could be more down the line.
Grade: B+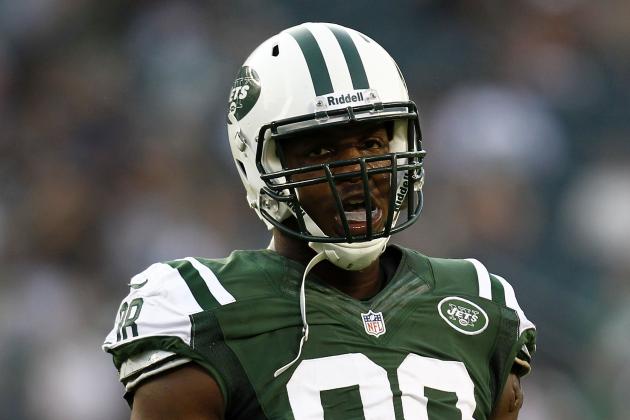 Jeff Zelevansky/Getty Images

With its first two picks, New York chose high-upside players. No. 16 overall pick Quinton Coples played well as a rookie, picking up 30 tackles and 5.5 sacks in limited playing time.
Second-round pick Stephen Hill wasn't quite as successful, but he was hindered by injuries—and Mark Sanchez. His 21 catches for 252 yards make for a decent year, however.
In the third round, the Jets added linebacker DeMario Davis. Davis didn't play too much, but he showed flashes of potential and could start as soon as next year.
Grade: B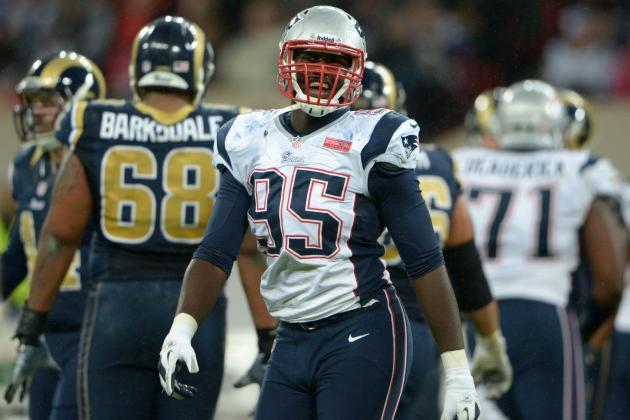 Kirby Lee-USA TODAY Sports

Prior to suffering an injury, Chandler Jones looked like a Defensive Rookie of the Year candidate. However, he finished the year with just six sacks after a disappointing finish. He still has plenty of potential in the future, though.
Fellow first-round pick Dont'a Hightower finished with a solid year, picking up 60 tackles and four sacks. Second-round safety Tavon Wilson had 41 tackles and four interceptions in limited playing time.
It didn't show too much this year, but this draft class could end up revamping New Enlgand's defense in future years. There is tons of upside on defense.
Grade: B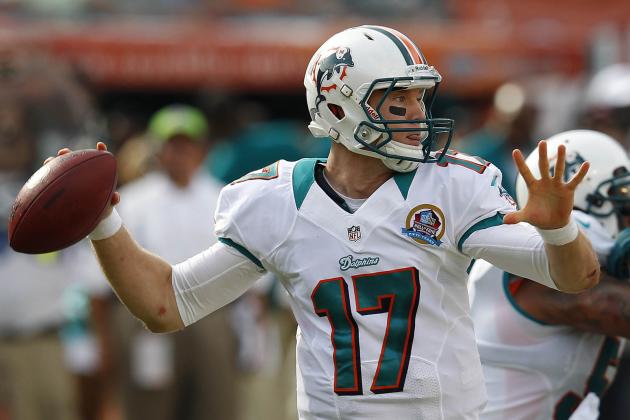 USA TODAY Sports

Many criticized the Dolphins for selecting Ryan Tannehill in the top 10, but he exceeded even the highest of expectations for him in 2012. Tannehill finished with 3,294 passing yards and a better-than-it-looks 76.1 passer rating.
Miami's second-round pick, right tackle Jonathan Martin, started all year. He wasn't great by any means, but he was a significant upgrade over last year's starter.
The Dolphins also saw fourth-round running back Lamar Miller flash when given the chance. He rushed for 249 yards on just 51 carries.
Moving forward, this draft could turn around the Dolphins. Adding a franchise quarterback tends to do that.
Grade: B+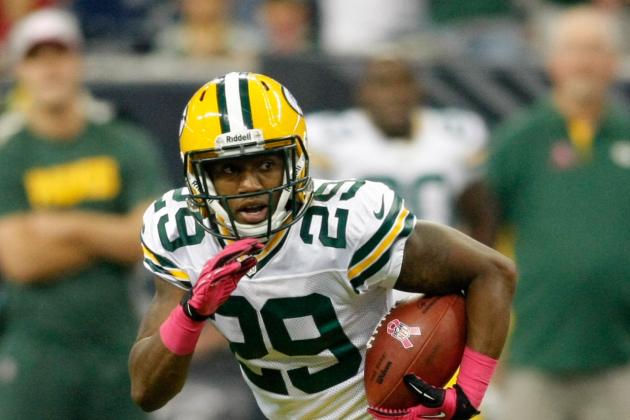 Brett Davis-USA TODAY Sports

Despite losing first-round linebacker Nick Perry for most of the season, the Packers saw their rookies contribute plenty throughout the season.
Second-round cornerback Casey Hayward excelled in his first year, picking off six passes and playing shut-down coverage. Few rookies were better.
Fellow second-round selection Jerel Worthy played along the defensive line, picking up 2.5 sacks on the year. Another gem was undrafted linebacker Dezman Moses, who started some in place of Clay Matthews. He finished the year with four sacks.
If Perry is able to develop into a solid starter, this draft class could be terrific. However, there are still several unknowns and only one starter thus far.
Grade: B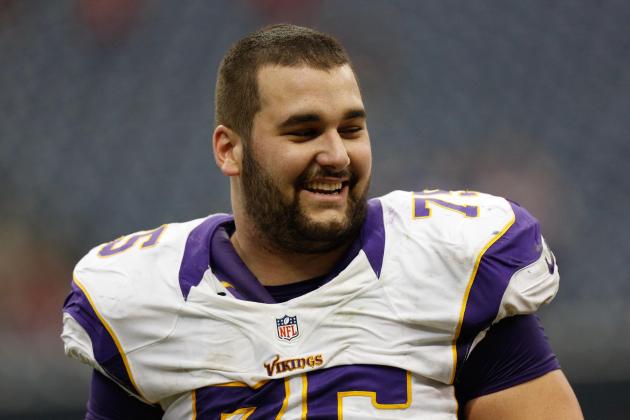 Thomas Campbell-USA TODAY Sports

When Minnesota selected Matt Kalil with the No. 4 pick, he was expected to step in at left tackle and immediately play at a high level.
That's exactly what he did.
Kalil was key in giving Christian Ponder time to throw, and he also had an underrated impact on Adrian Peterson's terrific season.
Kalil wasn't the only rookie Viking to play, however. First-round safety Harrison Smith ended the year with 103 tackles, three interceptions and two touchdowns.
Cornerback Josh Robinson also saw playing time, though he wasn't nearly as impressive. Wide receiver Jarius Wright added 310 receiving yards. Don't forget kicker Blair Walsh, either, who performed brilliantly and was named to the Pro Bowl.
Grade: A-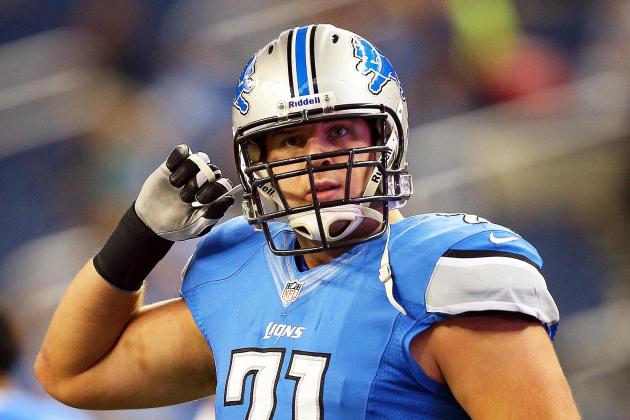 Mike Carter-USA TODAY Sports

Detroit used its first-round pick on an offensive lineman for once, but Riley Reiff failed to make much of an impact. He saw time in the Lions' jumbo package but rarely started.
Cornerback Bill Bentley started the year receiving plenty of playing time, but he played poorly and saw the field less as the season progressed. Second-round wideout Ryan Broyles suffered a torn ACL, which cut his season short, limiting him to just 310 receiving yards.
This was a somewhat disappointing year for Lions rookies, but next year could be better. Reiff should still be a solid starter, and a healthy Broyles is a dangerous weapon in the slot.
Grade: C-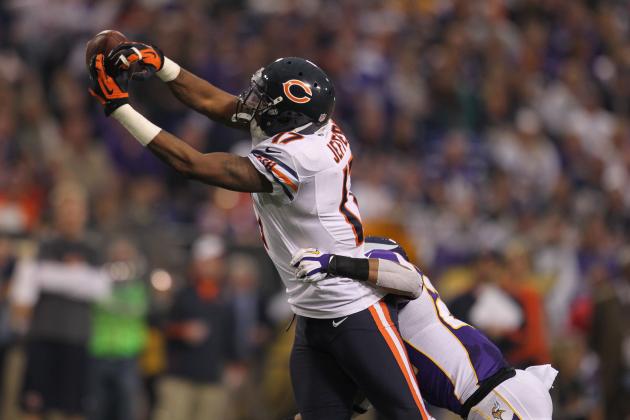 Brace Hemmelgarn-USA TODAY Sports

What many thought could be a promising rookie class disappointed, largely due to injuries.
First-round defensive end Shea McClellin suffered a serious concussion and hardly played at all, finishing the year with 14 tackles and 2.5 sacks. He wouldn't have started anyway, but his numbers certainly would have been much more promising.
Second-round wideout Alshon Jeffery also struggled with injuries. He still ended up with 367 receiving yards and four touchdowns, however.
Chicago's first two picks still have upside, but the rest of this draft isn't going to offer much down the line.
Grade: D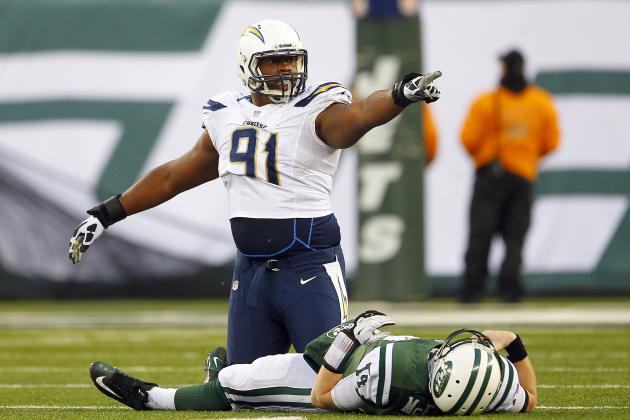 Rich Schultz/Getty Images

This was the draft that sealed both A.J. Smith's and Norv Turner's fates.
No. 18 overall pick Melvin Ingram was praised for his versatility but added almost nothing to the Chargers, ending the year with just one sack.
Second-round pick Kendall Reyes was the lone player from this class to impress. Reyes didn't start but still finished the year with 5.5 sacks, playing defensive end in a 3-4 defense.
The rest of this class was incredibly unimpressive. There's a reason Smith was shown the door, and it's his terrible drafting.
Grade: D-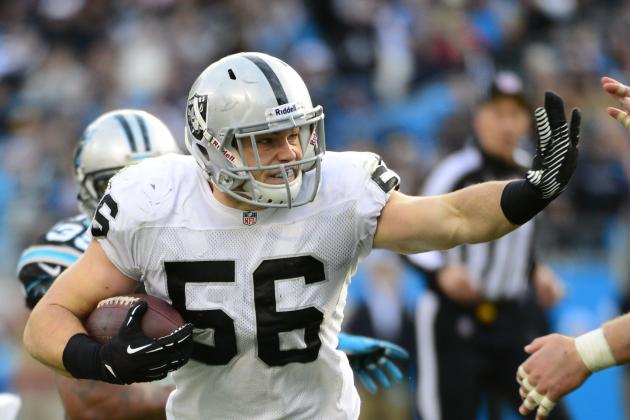 USA TODAY Sports

Oakland's draft was depleted thanks to the ill-advised Carson Palmer trade, and it didn't pick until the end of the third round.
As a result, the Raiders didn't see many rookies contribute this year. However, fourth-round linebacker Miles Burris started and finished second on the team with 96 tackles.
No other Raiders added anything of note. This isn't really general manager Reggie McKenzie's fault but rather former head coach Hue Jackson's, who made the trade for Palmer.
That doesn't change the fact that this is a disappointing class, though.
Grade: D-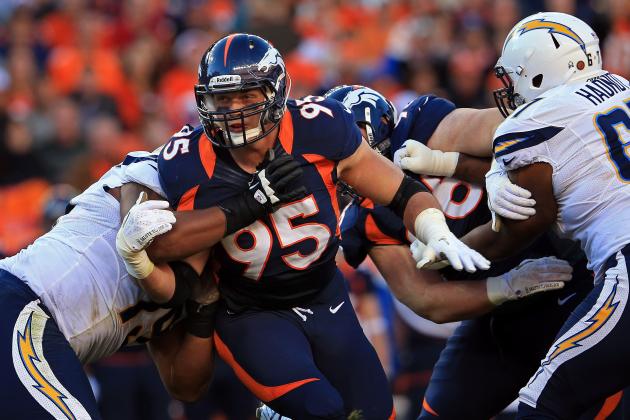 Doug Pensinger/Getty Images

Denver traded out of the first round and didn't pick until No. 36 overall, where it selected defensive end Derek Wolfe. Wolfe played defensive tackle in college, but his lack of power forced him outside. He started all year, though, and picked up six sacks while excelling against the run.
Third-round running back Ronnie Hillman saw some action, gaining 330 yards on 85 carries. Sixth-round linebacker Danny Trevathan exceeded expectations, and he picked up 33 tackles on the year.
This wasn't a great class by any stretch, but there is some potential, and a few rookies did hit the field in their first year.
Grade: B-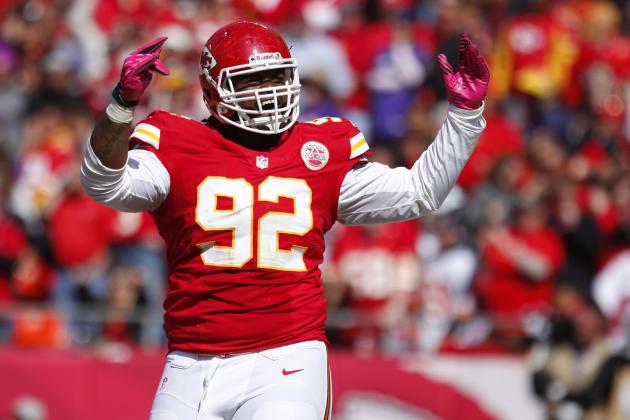 Kyle Rivas/Getty Images

Kansas City used the No. 11 pick on Dontari Poe, a massive defensive tackle many considered to be raw. However, Poe started at nose tackle all year for the Chiefs, and he played quite well.
Poe didn't make too many impact plays, but he was rarely a weakness in the Chiefs defense and did a good job of clogging up holes. He did his job.
In the second round, the Chiefs drafted guard Jeff Allen, who started much of the year but didn't play particularly well.
No other rookie did much for the Chiefs, and this is an altogether disappointing class that may contribute to the potential firing of general manager Scott Pioli.
Grade: D+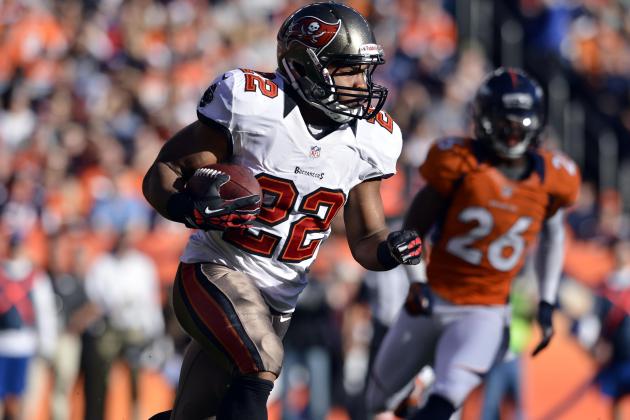 Ron Chenoy-USA TODAY Sports

The most well-known player among Tampa Bay's rookies is star running back Doug Martin, but he was far from the only rookie to contribute this year. Martin was, however, fantastic. The first-round pick rushed for 1,454 yards and 11 touchdowns and was also excellent in the pass game.
Tampa Bay's first pick was also excellent. Safety Mark Barron ended the year with 89 tackles and an interception, but his impact goes beyond the stats.
Linebacker LaVonte David was perhaps the Buccaneers' best rookie. A Defensive Rookie of the Year candidate, David racked up 139 tackles and two sacks while excelling in coverage.
Tampa Bay didn't have a great 2012 season, but with these rookies on board, 2013 could be a lot better.
Grade: A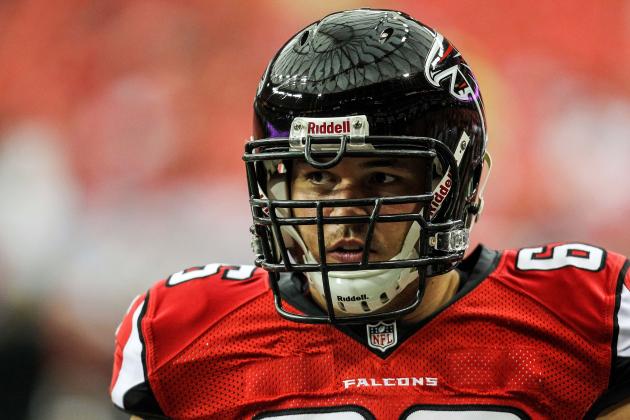 Daniel Shirey-USA TODAY Sports

Atlanta surrendered its first-round pick in 2012 when it traded up to acquire Julio Jones, and its class suffered as a result. Only one player added much to the Falcons' playoff effort.
That was Peter Konz. Konz, a college center, was drafted in the second round and played most of the year at right guard. Konz played well in space but was overpowered at times, leading to an average rookie campaign.
The rest of this class is looking pretty bleak. There may be some potential among the team's later picks, but that is probably a stretch.
Grade: D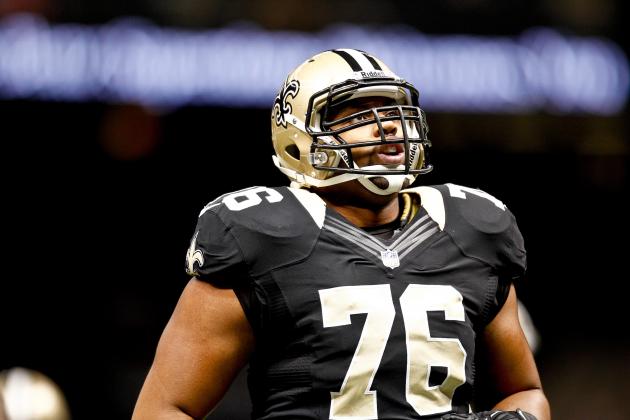 Derick E. Hingle-USA TODAY Sports

New Orleans didn't pick until the third round—the result of a trade and Bountygate penalties—which obviously hurt the impact its rookies could make.
The Saints' lone rookie to contribute was their first pick, defensive tackle Akiem Hicks. Hicks finished the year with just 20 tackles but showed flashes of potential throughout the year.
Since Hicks is unlikely to develop into a star, this class will go down as a failure. That's not entirely the fault of Mickey Loomis and company, but it's a fact nonetheless.
Grade: D-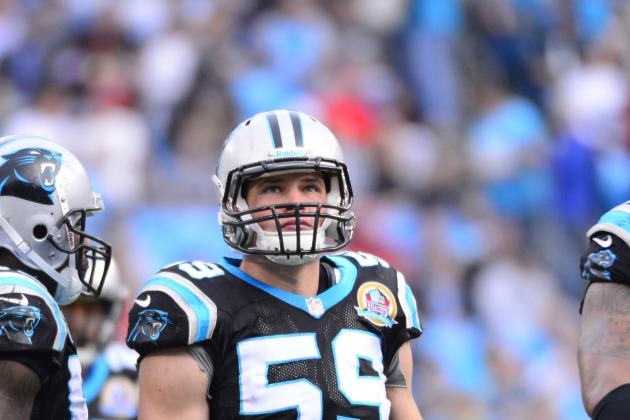 USA TODAY Sports

With the No. 9 pick, Carolina selected the likely Defensive Rookie of the Year in Luke Kuechly. Kuechly led the entire NFL with 164 tackles and made an impact against the run and pass.
The Panthers obviously got one star rookie, but they found contributors later as well. Second-round guard Amini Silatolu played well, starting most of the year at left guard, but his physical ability gives him a ton of potential in future years.
Cornerback Josh Norman also saw plenty of playing time and actually finished third on the team with 73 tackles. That's not necessarily a glowing endorsement of his ability to not allow catches, however.
This class is guaranteed to produce one long-term starter, and several more could reveal themselves down the line.
Grade: B