Alamo Bowl 2012: Texas vs. Oregon State Live Scores, Analysis and Results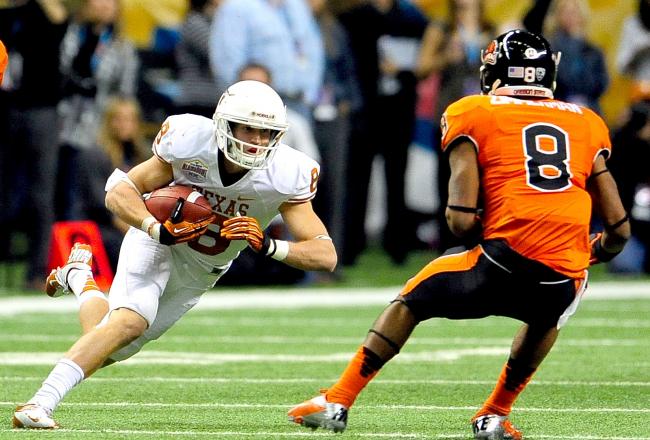 Texas 31, Oregon State 27 -- FINAL
We are final in San Antonio as the Longhorns came from behind to snatch victory from the jaws of defeat against a very formidable Oregon State team.
But fueled by a career performance from DE Alex Okafor, the Longhorns' defense, perhaps for the first time this season, really helped engineer the win.
It was not always pretty, but a strong second half performance from Texas overshadowed everything Oregon State was able to field.
Final Thoughts
-This was a strong result for a Texas program in deep need of an emotional win.
-David Ash solidified himself as the guy moving forward, and everyone will point to this performance as the starting point for that development.
-Oregon State just did not have it in the fourth quarter and was thoroughly dominated by a powerful Texas front four.
-Nevertheless, to go from 3-9 to 9-4 (almost 10-3) is shameless.
-Alex Okafor made himself a bunch of money, but I'm not so sure Kenny Vaccaro did the same.
-Oregon State has some serious evaluation to do regarding its quarterback philosophy.
From the Box Score
-UT finished with 358 total yards on offense, 241 passing and 117 rushing.
-UT improved with 12 second half first downs, bringing its game total to 16.
-UT was flagged nine times for 78 yards.
-UT's top rusher was a wide receiver who had a single carry.
-UT WR Jaxon Shipley showed up big time, catching eight critical passes for 88 yards.
-UT WR Marquise Goodwin has to be the offensive MVP, showcasing his speed on two scoring plays to help claim the victory.
-No UT RB rushed for more than 18 yards.
-UT had just one turnover.
-OSU finished with 297 total yards on offense, 194 passing and 103 rushing.
-After getting 16 first downs in the first half, OSU managed just five more first downs in the second half.
-OSU turned the ball over three times.
-OSU QB Cody Vaz threw two interceptions and was sacked 10 times totaling 81 yards for loss.
-OSU RB Storm Woods rushed for a game-high 118 yards and two touchdowns on 21 carries.
-OSU WRs Markus Wheaton and Brandin Cooks combined for just six catches for 68 yards.
Postgame Thoughts
-Alex Okafor earned himself a fat paycheck. Holy buckets.
-Nine tackles, four and a half sacks and a forced fumble for the senior, and that's how to go out on top.
-Texas was the much better team in the second half after stinking it up in the first 30 minutes.
-Oregon State was nowhere close to where it was in the first half, partly because it could not run the ball. The Beavers had 101 rushing yards at the break and finished with 103 rushing yards on the night.
-Texas DC Manny Diaz might have just saved his job.
-David Ash took man steps.
-Oregon State might be kicking itself for not changing it up at quarterback.
-Manny Diaz (Mr. Second Half) highlight some great adjustments, and his defense responded accordingly by playing a great brand of defensive football.
-RB Storm Woods is going to be a heck of a player.
-Credit Texas' defense for keeping Markus Wheaton and Brandin Cooks in check.
Victory formation for the Longhorns.
Game, set, match, Alex Okafor.
Four and a half sacks for Alex Okafor, an Alamo Bowl record. Holy buckets.
A clock that was once a big enemy for Texas is now a huge obstacle for Oregon State. Let's see how its time management works now.
Oregon State looks flat, but do not discount an offense that has been productive all season. Texas has to come out with the same fire it's been issuing all second half.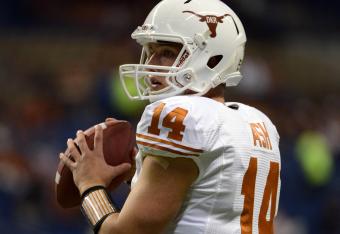 Touchdown Texas
David Ash finds the Oregon State secondary sleeping, finding Marquise Goodwin on a 36-yard touchdown over the top.
UT 31, OSU 27 -- 2:24 4th QTR
Texas' fourth-and-one conversion might be the biggest play of the game, should the Longhorns pull off the come-from-behind win.
For those stats junkies, Oregon State has not converted a third down in the second half. The Beavers were 3-of-5 on third down in the first half. They are 0-5 since.
As much as Oregon State dominated the first half, the Longhorns have come out with determination in the second half. Manny Diaz has been Mr. Second Half this season.
What a finish we got brewing in San Antonio!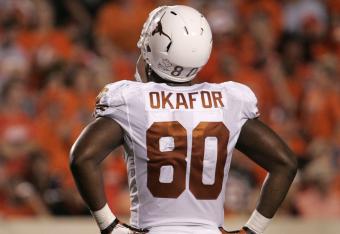 Alex Okafor made himself a bunch of money tonight. That's four sacks for the senior and eight total for the Longhorns.
Texas is getting all of its pressure on the line of scrimmage, and Oregon State has to find some plays to slip through the disruption.
The screen game has been huge for the Beavers, and they executed well against the aggressive Texas pass rush.
Oregon State needs a strong response, and getting away from its running game is definitely not part of it.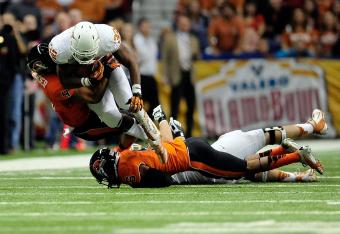 Touchdown Texas
Some great ingenuity and composure from David Ash leads to a Johnathan Gray touchdown catch.
UT 24, OSU 27 -- 8:18 4th QTR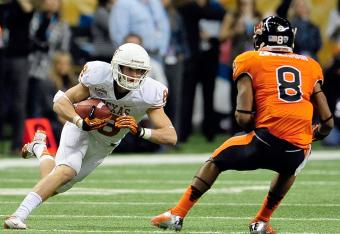 Decent catch from Jaxon Shipley on a ball well-behind him.
Points are a must on this drive for Texas. The whole field might be four-down territory.
Oregon State is getting away from what had worked all first half by not running the ball effectively on first and second down. The result, third-and-long allowing Texas' pass rushers to pin their ears back.
The Longhorns sputtered on offense and got a little more creative on fourth down drawing up a fake punt pass, but to no avail as the Beavers are set up with great field position with 13 minutes to go.
This article is
What is the duplicate article?
Why is this article offensive?
Where is this article plagiarized from?
Why is this article poorly edited?