Packers vs. Vikings: Final Report Card, Player Grades for Green Bay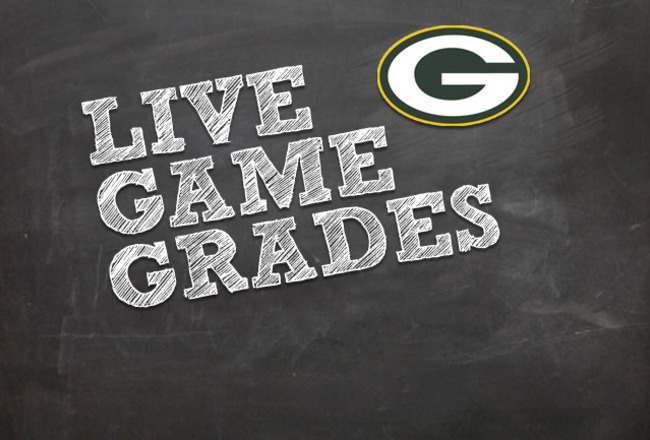 The Green Bay Packers fell 37-34 to the Minnesota Vikings as the Packers couldn't complete their comeback attempt. Aaron Rodgers did all he could with 365 passing yards and four touchdowns, but Adrian Peterson and Christian Ponder made enough plays to hold off the Packers.
Let's take a look at the final post-game grades and evaluations for the Packers.
Final Score
Packers–34
Vikings–37
Quarterbacks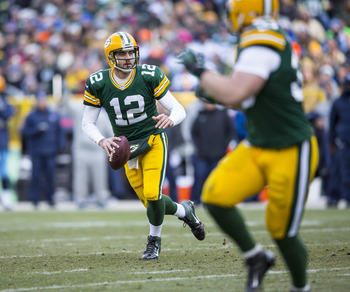 Tom Lynn/Getty Images
Aaron Rodgers–A
Rodgers put together a great performance and did all he could to get the Packers into position to have a chance late in the game. He didn't get many opportunities in the first quarter, but was very strong over the final three quarters. He enters the playoffs in solid form.
Running Backs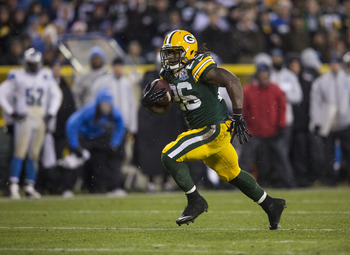 Tom Lynn/Getty Images
DuJuan Harris–B
Harris continued to impress as he rushed for 70 yards on his 14 carries for 5.0 yards per carry. Harris has been a nice addition for the Packers offense and has made them a much more balanced team. He should get the bulk of carries going forward.
Ryan Grant–D
After looking strong in his first games back, Grant looked terrible against the Vikings. He ran the ball twice for just two yards. He looked slow and sluggish in making his cuts. He will need to be better if he's going to get carries in the playoffs.
John Kuhn–C
Kuhn didn't get the ball in his hands, but did a fine job blocking for Harris. He was decent in pass protection, but could have been a little bit cleaner with his blocks.
Wide Receivers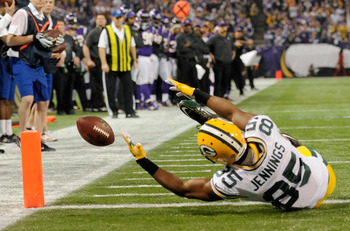 Hannah Foslien/Getty Images
Greg Jennings–A+
Jennings had a special game as he finished with eight catches for 120 yards and two touchdowns. His incredible effort in the first half to get a first down got the Packers going. He did everything in his power to bring the team within striking distance. If that was Jennings' last regular season game as a Packer, he sure went out with one of his best.
Jordy Nelson–B
Nelson struggled to get going early in his return from injury. He didn't look fluid coming out of the gates and also had a noticeable miscommunication with Rodgers early in the game. He made up for it late with his 73-yard catch that set up a Packers touchdown.
James Jones–B+
Jones got into the end zone once again as he put together another consistent game. He has played well throughout the season and been a threat for Rodgers. He only had three catches on the afternoon, but they were big ones.
Jarrett Boykin–A
Boykin deserves a ton of credit for this play on the ball on fourth down. The catch ended up being meaningless because of the pass interference call, but Boykin showed incredible strength and effort to catch the ball and hold onto while being twisted in an unnatural position.
Tight Ends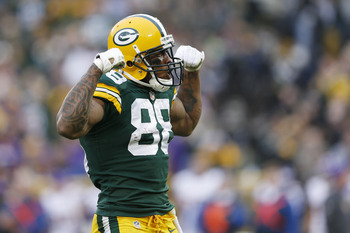 Joe Robbins/Getty Images
Jermichael Finley–B+
Finley had a very strong game with eight catches for 72 yards. He showed great effort on a number of plays to make sure he got the most yardage possible. With Randall Cobb injured, Finley saw a lot more work in the slot and he responded very well.
D.J. Williams–D
On his two targets, D.J. Williams didn't look good. He made a poor effort to catch a not-so-great throw and wasn't even eyeing the ball on his other as Rodgers tried to get rid of the ball under pressure.
Tom Crabtree–B
Crabtree didn't have a very noticeable game, but he did well with his blocks and helped the team up front. His physicality adds a lot to help out the offensive line that sometimes seems timid.
Offensive Line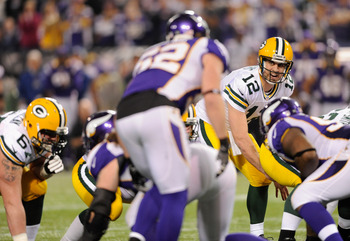 Hannah Foslien/Getty Images
Marshall Newhouse–B-
Newhouse has had his fair share of struggles this season, but did a decent job against the Vikings. He didn't give up a ton of pressure as the majority of it came from the other side of the line. He has struggled in the run game, but did better than usual.
T.J. Lang–C
Lang gave up a sack and looked average on the afternoon. He struggled when matched up against Jared Allen and it showed as Allen got a big sack to force a 2nd-and-22. Lang needs to be better on a consistent basis, especially heading into the playoffs.
Evan Dietrich-Smith–B
The Packers new center did a nice job in his second start at the position following him replacing Jeff Saturday. He has been better than Saturday and has added a lot more in the run game. He has made the unit better with his presence on the line.
Josh Sitton–B
Sitton was good on the afternoon and didn't give up too many pressures. He was physical both in pass protection and in the run game.
Don Barclay–D
Barclay was atrocious in pass protection. He gave up a number of sacks and pressures as Rodgers was sacked five times on the afternoon. If not for Barclay's physicality in the run-game, he would have easily gotten an F grade. He needs to improve his play for the playoffs.
Defensive Line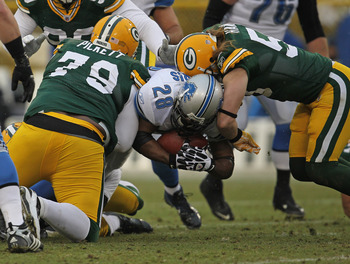 Jonathan Daniel/Getty Images
B.J. Raji–B+
Raji was the bright spot on defense for the Packers. He got some good push and helped to hold Adrian Peterson to a loss or short gain on a number of carries. If he had gotten some help, the Packers defense would have been able keep Peterson to manageable gains and have had a much better chance to win the game.
Ryan Pickett–D
Pickett should have helped stop Peterson a lot more than he did. Instead he was bounced around by the Vikings offensive line. He was unable to make any big as he came up with four tackles and a pass deflection. Next week, he needs to do a better job of clogging the middle.
Mike Neal–D
Neal was missing in action after being talked up all week for his great improvement and ability to stay on the field. He wasn't a big piece of this game and was erased from having an impact when he was out there. Neal needs a bounce back performance when called upon next week.
C.J. Wilson–C+
Wilson has one tackle for a loss, but also got somewhat lost trying to bring down Peterson. The Packers did a decent job of collapsing the offensive line, but failed to get hands on Peterson and bring him down.
Jerel Worthy–C
Worthy's season likely ended with a leg injury and he wasn't able to make much of a difference on a struggling Packers defense.
Linebackers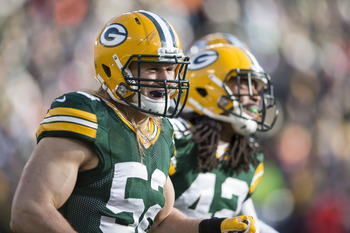 Tom Lynn/Getty Images
A.J. Hawk–C-
Hawk had an up-and-down game with a couple of nice plays followed by a couple of awful plays. He too often got sucked into the pile and failed to locate Peterson. He did come up with two tackles for losses, but it wasn't enough to slow up the Vikings attack.
Clay Matthews–C+
Matthews got the Packers only sack of the afternoon, but he wasn't able to get consistent enough pressure to rattle Christian Ponder. Matthews added so much to the Packers defense with his return, but he just didn't do enough to stand out. Matthews too easily blended into the rest of the defense.
Brad Jones–D+
Jones, at times, was physical in the run game and did a nice job of hitting Peterson. Other times he put a poor effort forward and it cost the Packers yardage. Jones didn't make any back-breaking plays for the Packers defense, but he didn't come up with any positive game-altering plays either.
Dezman Moses–D
The Packers did a terrible job of setting an edge and Peterson was able to bounce outside for big yardage. Moses struggled both in the run game and pass game. He wasn't able to get any pressure on Ponder, who escaped mostly untouched.
Erik Walden–D+
Walden got some very weak pressures early in the game, but failed to do so throughout the game as Ponder mostly had plenty of time to throw. Walden did come up with a big tackle late in the game, but it wasn't enough to make that much of an impact on the game as a whole.
Frank Zombo–F
Zombo didn't see much action and looked incredible slow out of his break. He failed to get anything going and doesn't look near the level of the rest of the outside linebackers.
Defensive Backs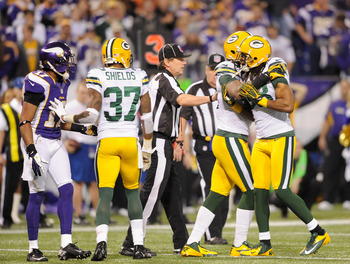 Hannah Foslien/Getty Images
Tramon Williams–F
Williams turned in one of his worst performances of his career. He was abused in the passing game and failed on a number of tackle attempts. In addition to his weak effort, Williams committed a terrible penalty that was not only cheap-shot, but it cost the Packers points in a game that came down to the wire.
Morgan Burnett–C-
Burnett was out of position on a number of Peterson's rushes, but did come up with what should have been a big play. Burnett's brightest moment was a flawless blitz of Ponder that forced a toss-up at the Packers failed to take advantage of by intercepting the pass. Burnett led the team with seven total tackles.
Jerron McMillian–D
McMillian struggled during his playing time and got whistled for a defensive holding penalty in the end zone. Instead of playing it out and forcing a fourth down, the Vikings got a first down and scored two plays later to take a 10-point lead. McMillian got afford to take dumb penalties during his limited time on the field.
Sam Shields–C
Shields' biggest play of the day was taken away as Adrian Peterson's fumble was reversed. Outside of that play, Shields didn't do much to help the Packers as he was beat by Jarius Wright for a 65-yard gain. The Packers can't afford Shields giving up big plays like that.
M.D. Jennings–D
Jennings had a chance to come up with a huge play when the game was tied at 27, but the potential interception went through his hands and resulted in a touchdown. It's a tough-ask for any defensive back to catch balls like that, but that's a play Jennings has to make.
Casey Hayward–D+
Hayward had a shot at an interception on Ponder's pass that was knocked straight up by Morgan Burnet's hit, but was bumped out of the way by A.J. Hawk. It was a tough break for Hayward, who also struggled to bring down Adrian Peterson. He missed a chance at a number of tackles or chances to just slow down Peterson.
Special Teams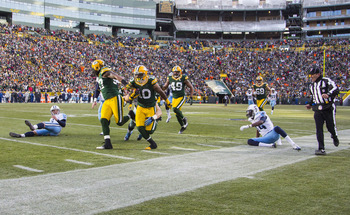 Tom Lynn/Getty Images
Mason Crosby–B
Mason Crosby nailed both of his field goal attempts and looked confident doing so. He hit both kicks very well and neither looked even close to missing. It's a nice sight for Packers fans, but he has work to do to fully convince Packers fans he's back to normal.
Tim Masthay–C
Masthay only punted three times in the game and definitely out-kicked his coverage on his first punt. That allowed the Vikings a nice return and good field position early in the game. He did have a punt inside the 20-yard line, but he can punt better than he did against the Vikings.
Jeremy Ross–A-
Ross did well filling in for Randall Cobb with 127 returning yards. He averaged 20.5 yards on two punt returns and 28.7 yards on three returns. With a solid outing, Ross may have earned himself more opportunities as the Packers may look to protect Randall Cobb and limit him to offense.
Coaching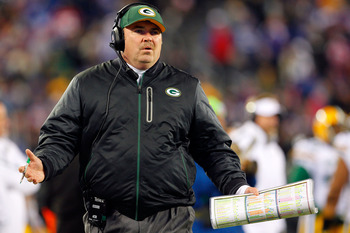 Rich Schultz/Getty Images
Mike McCarthy–D-
McCarthy deserves a lot of credit for the Packers loss, but a lot of credit for the comeback attempt. He made great adjustments to get the team back in the game, but the hole they dug was just too big to climb out.
Dom Capers–F
Capers called a terrible game and blew a call late in the game. With the Packers needing a stop on 3rd-and-11, Capers went with a prevent defense and allowed the Vikings a ton of room to complete a 20-plus yard gain for a first down. The first down put the Vikings in position to get the game-winning field goal.
Keep Reading

Green Bay Packers: Like this team?