Kentucky vs. Louisville: Live Score, Updates and Analysis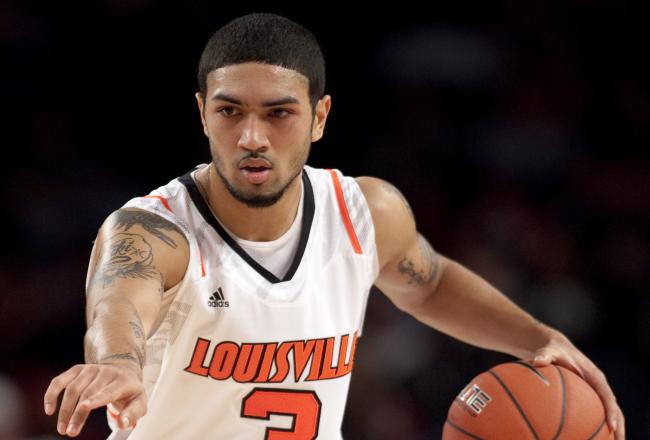 Final Score - Louisville 80 Kentucky 77
Despite the fact that Peyton Siva, Gorgui Dieng and Russ Smith all got themselves into foul trouble in the second half, the No. 3 Louisville Cardinals held off a furious rally to defeat the No. 23 Kentucky Wildcats 80-77 for the first time in five meetings.
Smith and Chane Behanan were clearly the top two players on the floor for the entire contest and finished the game with a combined 41 points and 14 rebounds.
Senior point guard Peyton Siva also poured in 19 points on 6-of-11 shooting for the Cardinals.
The Wildcats were down by as many as 17 points, but were able to make a comeback behind the play-making abilities of Archie Goodwin, who racked up 22 points, and a strong effort from sophomore point guard Ryan Harrow.
Kentucky also got 14 points from Kyle Wiltjer and freshman star Nerlens Noel chipped in eight points and eight boards.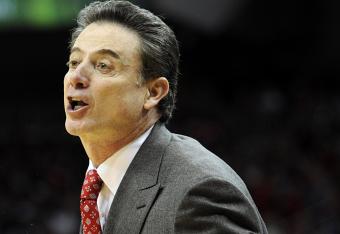 Finally, Louisville fans can bask in a victory over the Kentucky Wildcats as the Cardinals brought a halt to the four-game losing skid in the series thanks to outstanding games from Chane Behanan and Russ Smith.
Peyton Siva's 19 points did not hurt Louisville's cause either.
The Cardinals played tenacious defense and forced 14 turnovers, which allowed Louisville to stretch its lead to as many as 17 points.
There is no doubt the Cardinals are a Top Five team at this stage of the season, but Gorgui Dieng is going to have to stay out of foul trouble going forward to give Louisville a legitimate post presence.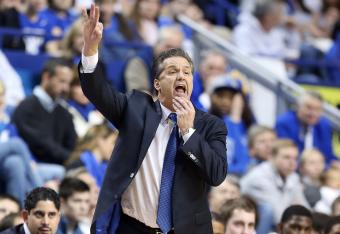 Although it came in a losing effort, Kentucky proved it belongs amongst the Top 25 teams in the nation and is coming together quickly with the return of sophomore point guard Ryan Harrow, who scored 17 points for the Wildcats.
The biggest flaw Kentucky has to address is the poise of its guards, which will only become a strength through experience in big games like the one the Wildcats were in today.
The Cardinals pressured Kentucky's young guards for much of the contest and were able to force them into making some bad passes that led to turnovers and easy lay ups for Louisville.
Kentucky also needs to spend some extra time shooting free throws in practices. The Wildcats were just 10-of-21 from the charity stripe and if they'd made half of those attempts it would have been a much different game.
Overall, Kentucky has a lot of athleticism and talent, but it is still developing and becoming a team. The Wildcats will be fine come NCAA tournament time.
Both teams shot 48 percent from the field. #UofL was 3-7 from 3. #UK was 10-21. Free throws: #UofL was 17-25, UK was 11-23.

— Eric Crawford (@ericcrawford) December 29, 2012
Louisville 80, UK 77 - End of Game
Goodwin pours in a three-pointer with just over one second left, but the Cardinals get the ball in and run the final ticks off of the clock.
Louisville wins.
Louisville 80, UK 74 - 8.1 seconds remaining
Behanan flushes another bucket off of a steal and that will likely end Kentucky's rally.
Louisville 78, UK 74
Behanan looked like he closed out the Wildcats with a wide open two-handed dunk, but Goodwin knocks down a three and draws a foul on Siva, which sends him to the bench with five personals.
Goodwin knocks down the free throw to complete the four-point play.
Smith rattles home one of two freebies.
Louisville 75, UK 70 - 0:49 2nd Half
Dieng swats Goodwin's three-point attempt and Louisville gets the ball along the baseline.
Dieng lost it and Kentucky takes over under the basket after a loose ball flies out of bounds.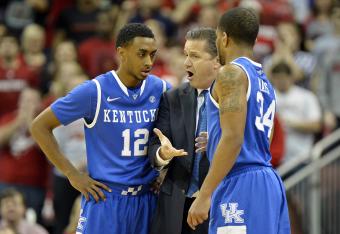 Louisville 75, UK 70 - 1:40 2nd Half
Mays knocks down a trey. Kentucky still hanging around, but Louisville is still in control.
Wow Cats are 10 for 22 from the foul line. That's where the game is being lost. Shades of Joey Dorsey.

— Seth Davis (@SethDavisHoops) December 29, 2012
Louisville 73, UK 67 - 1:59 2nd Half
Smith is just too fast for Kentucky. Goodwin knocks down a three to answer Smith's drive and finish.
Kentucky continues to miss opportunities to cut into the Cardinals lead. The Wildcats have missed five straight free throws.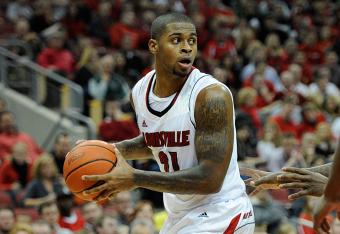 Louisville 71, UK 64 - 2:36 2nd Half
Behanan looks like the best overall player on the floor right now. Smooth pass there that results in a Louisville basket.
Leading scorers: Smith 18, Siva 17, Harrow 17, Behanan 16, Wiltjer 14, Goodwin 12.

— Eric Crawford (@ericcrawford) December 29, 2012
There are no moral victories in this rivalry, but Kentucky fans have to feel better about the young Wildcats after today's performance.
Harrow is playing at a high level once again and Goodwin is making plays for the Wildcats as well. This is definitely a Top 25 team and if Kentucky can put this thing together by the middle of SEC play it is going to be a tough out in the NCAA tournament.
Louisville 69, UK 64 - 3:37 2nd Half
Goodwin continues to go to the bucket and score, but he made a critical turnover on Kentucky's next possession.
Louisville needs to keep feeding Siva and Smith on offense.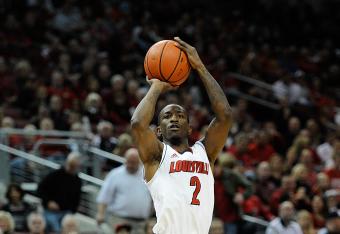 Louisville 67, UK 62 - 4:07 2nd Half
Great play there by Smith to scoop up his own miss and knock down his second shot. Cauley-Stine goes to the line and misses two freebies.
Harrow now has 17 points and four fouls for the Wildcats.
Louisville 65, UK 61 - 5:00 2nd Half
Smith nearly came away with a steal, but Kentucky corralled the ball for an easy bucket. Smith answers by catching the inbound and driving right into two defenders to draw a foul.
#UK shooting 57.1 percent -- 12/21 -- in second half.

— Eric Crawford (@ericcrawford) December 29, 2012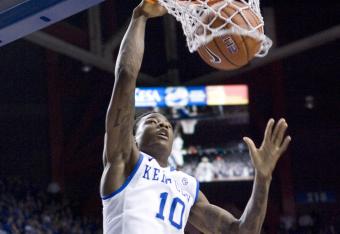 Louisville 63, UK 59 - 6:16 2nd Half
Goodwin starting to take over. Smith couldn't play tight defense because of his four fouls and Goodwin took him to the basket on two straight possessions.
Siva and Dieng coming back in for the the Cardinals.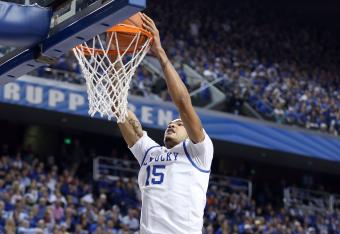 Louisville 61, UK 55 - 7:53 2nd Half
WOW! Cauley-Stein showing off great hands and unbelievable athleticism by snagging a missed shot and flushing it through the basket.
Kentucky is hanging around, but the Wildcats need to make a run right now with Louisville's top three players in foul trouble.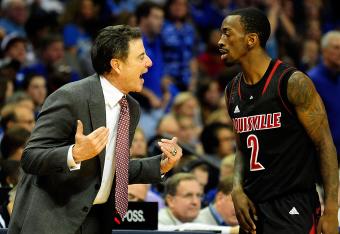 Louisville 61, UK 51 - 9:08 2nd Half
Louisville and Kentucky trading baskets, but Smith picks up his fourth foul. Dieng, Smith and Siva all have four personals for the Cardinals.
Smith staying on the floor.
Pitino gets a bench warning from Shows. Calipari appears to be asking for technical. Makes 'T' sign .

— Matt May (@TCPMattMay) December 29, 2012
Siva going to the bench with 17 points and four fouls. If Kentucky is going to make a run it has to be now with Siva out of the game.
This article is
What is the duplicate article?
Why is this article offensive?
Where is this article plagiarized from?
Why is this article poorly edited?