Kraft Fight Hunger Bowl 2012: Navy vs. Arizona State Live Scores and Analysis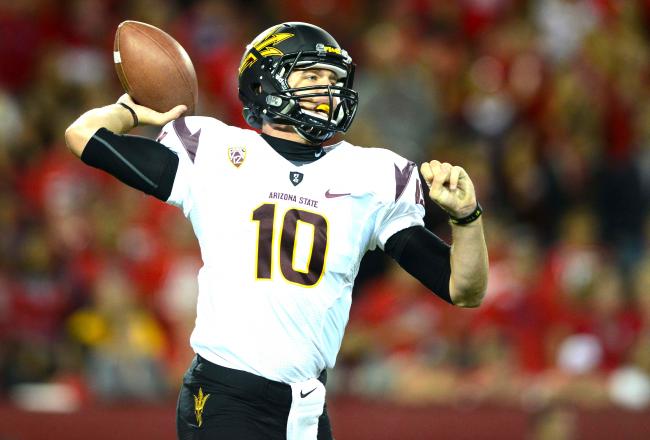 NAVY 28, ARIZONA STATE 62—FINAL
Old-school triple option meet the modern spread as the Navy Midshipmen face the Arizona State Sun Devils in the Kraft Fight Hunger Bowl.
And the spread took the option and kicked it down the stairs.
Arizona State is scoring touchdowns on every single possession while they had their starters in. Meanwhile Navy struggles to find the end zone or to stop the Sun Devils.
Thank you for stopping by for this live blog!
OK, here's my game grades for this one.
Again, thanks for dropping by to this live blog! Please keep coming back as we continue to march toward the BCS National Championship Game!
Here's the final stats from ESPN.com:
Team Stat Comparison
| | NAVY | ASU |
| --- | --- | --- |
| 1st Downs | 18 | 36 |
| 3rd down efficiency | 5-14 | 5-7 |
| 4th down efficiency | 2-3 | 0-1 |
| Total Yards | 351 | 648 |
| Passing | 37 | 272 |
| Comp-Att | 6-12 | 17-20 |
| Yards per pass | 3.1 | 13.6 |
| Rushing | 314 | 376 |
| Rushing Attempts | 55 | 48 |
| Yards per rush | 5.7 | 7.8 |
| Penalties | 6-43 | 2-25 |
| Turnovers | 1 | 1 |
| Fumbles lost | 0 | 1 |
| Interceptions thrown | 1 | 0 |
| Possession | 33:22 | 26:38 |
All of that adds up to is total domination by Arizona State.
I'll post the grades here as soon as I'm done. Thank you for stopping by this live blog!
And Arizona State is taking a knee, so that should do it! Final score will be 62-28
Stats and grades coming at you.
Not a good day for the service academies. Air Force gets beaten by Rice earlier and Navy gets its battleship sunk at the hands of Arizona State.
I'd like to see these service academies do better than this.
Arizona State is trying to run out the clock, but they're still able to make big runs.
That Navy defense was just no match for the Arizona State offensive line all game long.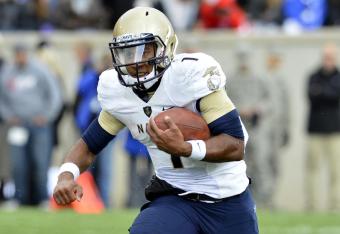 NAVY 28 ARIZONA STATE 62
Navy finds the end zone as Trey Miller leads the Midshipmen to another touchdown.
Moral victory? You bet.
Navy goes for it on fourth down and converts!
I like their attitude. After all, we don't want quitters in the US Navy.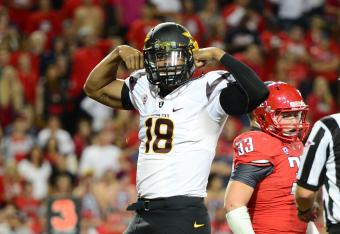 Backup Arizona State QB Michael Eubank hurt after that last play. That's not what you want to happen as you come in and play in a bowl game.
Hope he's OK.
ESPN look in telling us to give basketball a chance!
After a blowout like this, I just might do that...
Announcers talking about watching the ships go by from AT&T Park in the San Francisco Harbor.
That just about sums it up, doesn't it?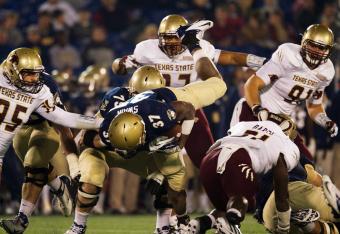 NAVY 21 ARIZONA STATE 62, 10:17 Fourth Quarter
And Chris Swain picks up a 46-yard touchdown against Arizona State's second string.
Well, credit Navy for not giving up.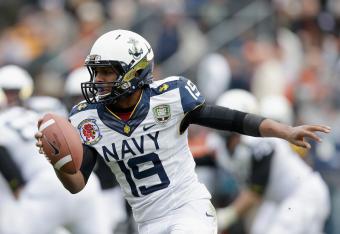 Keenan Reynolds just took a huge pop.
Come on guys. This game is already over. No need to take shots on the QB like that.
So, Arizona State turns it over on downs.
That's the first time they didn't score a touchdown on a possession.
Sorry about that. Got lost on what down it was.
Now it's fourth down for Arizona State. This is their first fourth down of the game.
Another great Tweet:
Call in the #marines because the #navy are getting slaughtered #NAVYvsASU

— Michael Hirn (@mhirn3) December 29, 2012
It's too bad. I have a lot of respect for Navy for all they do, but man they look terrible today!
And mercifully, the third quarter comes to an end.
Arizona State scored 28 points in the third to turn this beatdown into an all out rout.
The Sun Devils have pulled several of their offensive starters now. This game still has 15 minutes to go, but it's been over for some time.
And it's another Navy fourth down.
Let's see if Arizona State can make it to 100...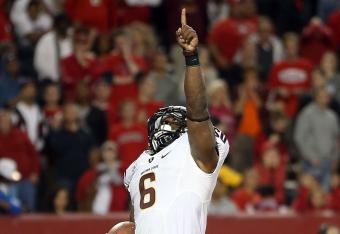 Navy 14 Arizona State 62, 3:39 Third Quarter
Seriously?
I don't even know what to say. Cameron Marshall gets a 33-yard rushing touchdown.
And there's Will Sutton again with another sack despite getting doubled teamed!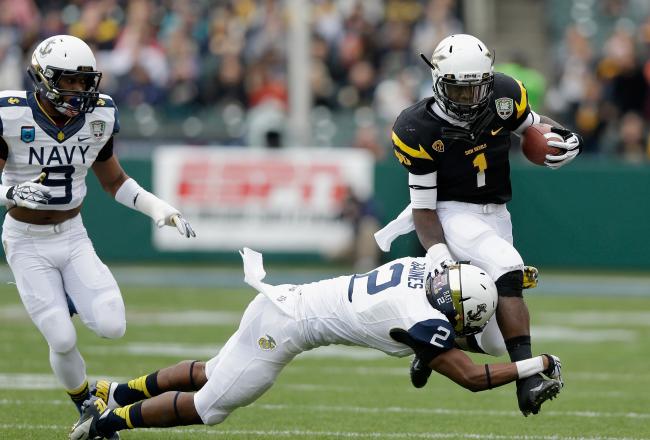 NAVY 14 ARIZONA STATE 55, 5:17 Third Quarter
Marion Grice picks up his second touchdown of the game from 34 yards out.
BTW, he's playing in honor of his brother who was killed last week. That's something else.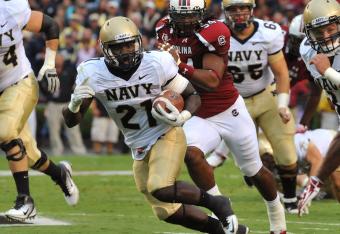 NAVY 14 ARIZONA STATE 48, 6:10 Third Quarter
Well, Gee Gee Greene returns a kick for a touchdown!
Too little too late? Sure. But a bit of a moral booster for the Midshipmen.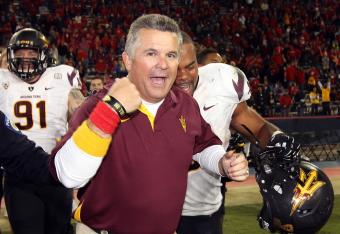 Hard to believe the way that these two teams are playing that Navy won eight games and Arizona State won only seven.
Watch out for the Sun Devils in the Pac-12 South in 2013...
NAVY 7 ARIZONA STATE 48, 6:24 Thrid Quarter
If college football had a mercy rule, we'd be applying it right now.
Keegan Wetzel is hurting after the last play. That's really not good as he's a key part of the Midshipmen defense.
Not that Navy is stopping the Sun Devils with him, but you never like to see a player shaken up.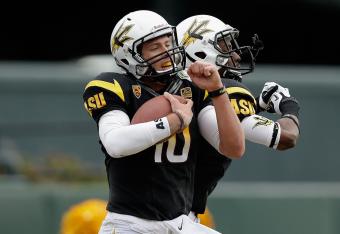 Did you see Taylor Kelly stiff arm Jordan Drake?
That's a symbol of how this game has gone today.
This article is
What is the duplicate article?
Why is this article offensive?
Where is this article plagiarized from?
Why is this article poorly edited?