WWE Worst of the Week: Cena, Santa and More!
screencap from youtube.com

Christmas Eve was a special night for families around the world.
After a great night of delicious food and unwrapping presents, some families turned on the TV to watch WWE and close out the festive night on a high note.
Then they nearly saw Santa die.
Some people were shocked and huddled around the TV to see how it would all play out.
But with the 2.2 rating Raw drew, most just turned the show off.
Around the holidays, WWE gets confused about what kind of program it is, as it tends to forget that it is a wrestling company and instead tries for comedy—a lot of comedy.
Let's get our Scrooge on and take a look back at WWE's bah, humbug of a week!
No. 5: Brad Maddox vs. Khali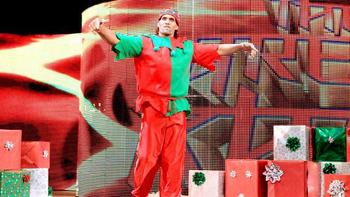 photo from wwe.com
Okay, we get it, Brad Maddox sucks.
He can't beat Ryback, Randy Orton, Khali, Brodus Clay or Sheamus.
In general, his offense is completely ineffective against larger men.
Yet for some reason, those within power in WWE keep giving him chance after chance. Now he's all out of chances.
It has been nearly two months now, and we still don't know what was up with him and Paul Heyman. Is Maddox jobbing to everyone on the entire roster some part of their master plan?
In the end, we know he'll somehow end up on the WWE roster soon anyway. The problem is, they've shown us what an awful competitor he is, so what does it matter now?
He can't hang with any big name, so the most we would have to look forward to is matches between him and JTG or Zack Ryder on Main Event.
No. 4: Cena's Overacting
screen cap from wwe.com
Monday's Raw had an incredible display of overacting, even by John Cena's standards.
Actually, it may be tough for Cena to ever top this performance. It was a sight to behold.
As Alberto Del Rio was being berated by the locker room for hitting Santa with his car, Cena burst onto the scene.
For some reason he started yelling, "The North Pole man!"
Then he got in Del Rio's face, and things got real.
Booker informed us that Santa's possible last words were that he wanted Del Rio to fight Cena in a Miracle on 34th Street match.
It's a good thing that Booker T. knew what kind of match that was, as most fans were probably unfamiliar with the rules.
No. 3: Del Rio Is a Face? a Heel? I Don't Get It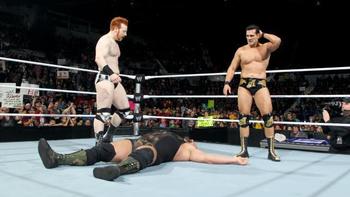 photo from wwe.com
Why did WWE take its newly-turned face Alberto Del Rio and have him hit Santa with his car?
Why then, on Smackdown, was he helping out his old rival Sheamus by laying out The Big Show?
Does WWE not even think out its shows one week ahead of time?
If Del Rio is actually turning face, this may be the absolute most confusing turn of all time.
Miz had a lousy face turn a few weeks ago, but so far it's looking downright phenomenal compared to Del Rio's.
No. 2: Santino Plus Sheamus Equals Negative Funny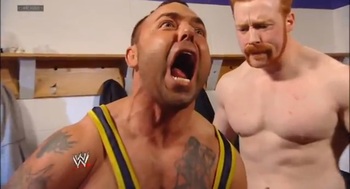 screencap from youtube.com
Sheamus may be a pretty good wrestler and is capable of some great brawls, but he is just horrendously unfunny.
He kicked Smackdown off with a tired Christmas sweater joke, another joke about beer, and then he topped it all off with another joke about how he's pale.
Don't forget, he also tossed in a Big Show fat joke!
Anyway, Booker T. set up a drawing for a superstar to get a shot at Big Show's Heavyweight Title, and Santino Marella won.
In a backstage skit, Sheamus helped him prepare for it, and he tried to show Santino how to do the Brogue kick.
The joke we all saw coming a mile away was about to happen.
Hilarity tried its best to ensue, as Santino injured his hamstring and fell on the floor screaming.
Let's hope that WWE''s New Years resolution is to hire new people to write its comedy skits or at least buy a joke book that wasn't written in the 1950s.
No. 1: Solemn Striker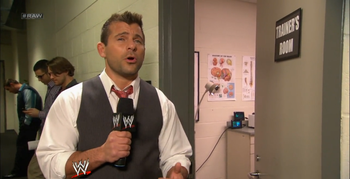 wwe.com screencap
The Christmas Eve episode of Raw was one gigantic mess.
If the WWE is going to put Santa in an episode and pretend that he's real—which I'd strongly advise is a terrible idea—then just let it be cheerful, and have fun with it.
Pretending that Santa may die on live TV is just wrong.
Hear me out for a second.
Anyone who doesn't believe in Santa will just roll his or her eyes at the sketch, but any child who does believe in St. Nick could have found this traumatizing.
They just saw Santa get hit by a car! WWE then acted like this entire thing was real. First, we witnessed Darren Young and Ricardo Rodriguez cry over Santa's possible demise.
Then they cut to backstage segments of Striker updating us on Santa's condition while acting how he would as if a real tragedy happened.
Does no one in WWE recall that Jerry Lawler nearly died on TV a few months ago?
Next time that WWE wants to do a big-injury angle with backstage updates, it's just going to be less effective because of its Santa shenanigans.
At one point, Striker also informed us that Santa had taken a turn for the worse. Too bad he didn't warn us that this entire show was going to take a turn for the worse when it started.
Agree? Disagree? What was your worst of the week? Sound off below, and have a Happy New Year!
Keep Reading