Oklahoma City Thunder vs. Houston Rockets: Postgame Grades and Analysis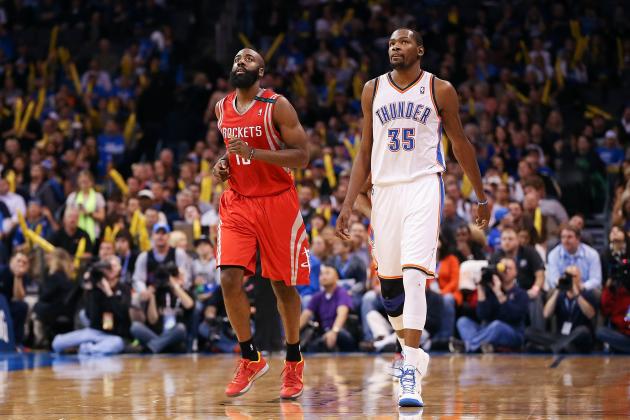 Kevin Jairaj-USA TODAY Sports

In their fourth game in five nights, the Houston Rockets were ambushed by the Oklahoma City Thunder 124-94.
The Rockets trailed by only five points after the first quarter, but toward the end of the half, Oklahoma City went on a 16-0 run that effectively put the game out of reach. The Thunder had 68 points by halftime, and they looked completely unstoppable on both ends of the court.
The Rockets played tired basketball; 24 turnovers and non-existent defensive rotations in response to Oklahoma City's passing doomed them. The results were multiple open looks at the rim and simple open-court baskets for the Thunder.
The Thunder shot 47.9 percent from the floor, including 44.8 percent from behind the three-point line.
Begin Slideshow

»
Russell Westbrook
Westbrook attacked the basket as he usually does, starting the game by getting his teammates involved. He had 19 points in his first 19 minutes and finished with a game-high 28 points, eight assists and eight rebounds.
Grade: A
Jeremy Lin
The no-look passes continue to fool defenders, and in the first quarter, Lin fed Omer Asik on two beautiful passes that led to point-blank conversions at the basket. But he missed his first three three-point attempts of the game and struggled defending Kevin Martin and Russell Westbrook on the perimeter.
Lin didn't score his first basket until there were five minutes left in the first half, finishing with seven points and seven assists in just over 24 minutes.
Grade: C
USA TODAY Sports

Thabo Sefolosha
Sefolosha had a particularly good defensive game. He turned away shots that should've been fast-break layups, and he made everything difficult on the perimeter for Houston's backcourt.
He had 15 points, two blocks and three steals in nearly 31 minutes of action.
Grade: B
James Harden
He began the game being his typically aggressive self, attacking the basket in transition and spotting up whenever his man chose to leave him an inch. Harden did all he could on offense, but on defense he was routinely guilty of ball-watching, leading to several open shots from his man.
He scored 25 points but needed 17 shots to get there.
Grade: B+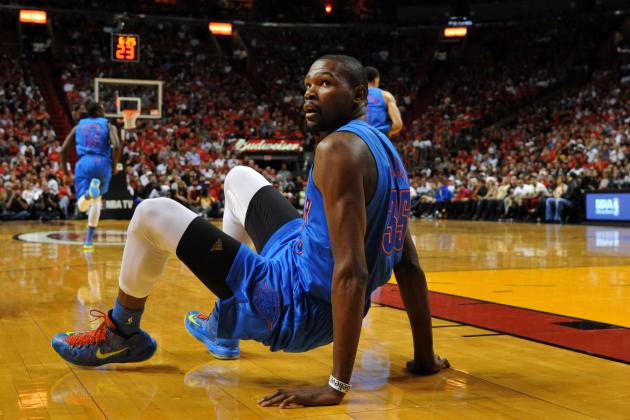 USA TODAY Sports

Durant had an "off" shooting night, but he still finished with 26 points on 18 shots. It wasn't an incredibly efficient outing for Durant, but that's mostly because of the game's pace not being conducive for good looks in the half court.
Grade: B+
Chandler Parsons
Parsons is one of the better individual defensive players in the NBA. He showed why Saturday night in limiting Kevin Durant to four made baskets in the game's first half.
With the ball in his hands, Parsons rarely forced the action and scored only when he had to. That being said, he missed all five of his three-point attempts. Those would've helped.
Grade: C+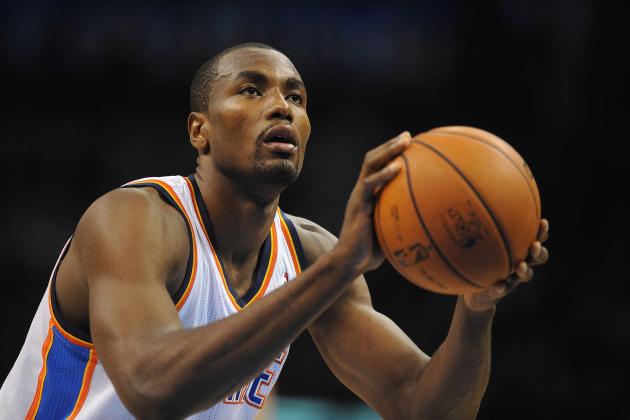 USA TODAY Sports

Serge Ibaka
Serge Ibaka was relatively quiet throughout the first half, scoring just four points and allowing the Rockets to get a chunk of their offense in the paint. He ended the game with nine points and 10 rebounds.
Grade: B-
Marcus Morris
Morris is beginning to establish himself as a true stretch 4 by standing behind the three-point line and forcing his man to stray away from the paint. This is especially useful when that man is block monster Serge Ibaka, and Morris' value was obvious from the opening tip.
He finished with a career-high 24 points on just 14 shots, going 4-of-6 from beyond the arc.
Grade: A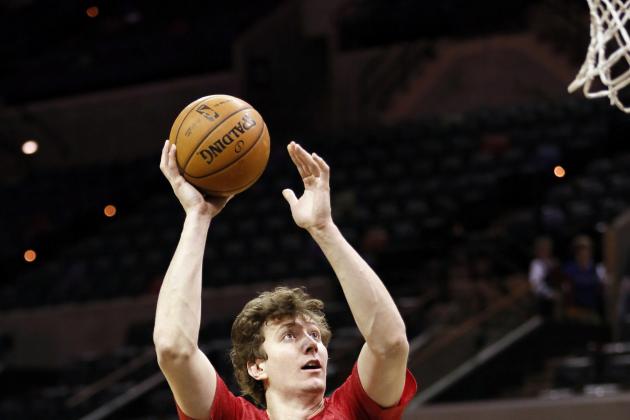 USA TODAY Sports

Kendrick Perkins
Perkins protected the rim fairly well, and he even managed to knock down a foul-line jumper as his only basket.
Grade: B+
Omer Asik
In the first half, Asik finished his opportunities at the basket with touch—something he's struggled to do his entire career. But with the pace picking up as the game went on, the Rockets' need for a plodding seven-footer on the court lessened.
He played just about 21 minutes and grabbed eight rebounds.
Grade: C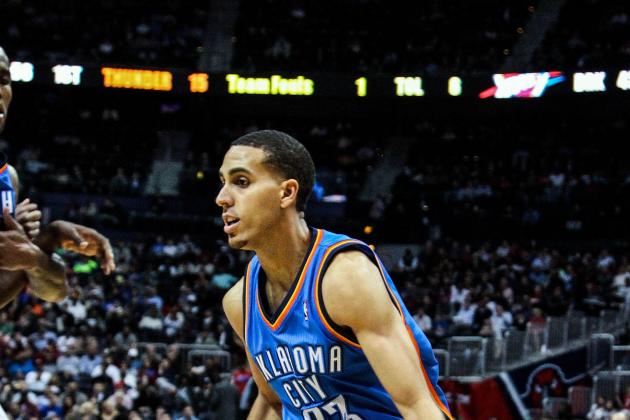 USA TODAY Sports

Kevin Martin
He had 13 first-half points and repeatedly kept Houston at arm's length with a string of timely three-pointers. He hit several more in the second half, finishing with five three-pointers and 19 points.
Grade: B
Toney Douglas
A solid outing from Douglas, who's been one of the more pleasant surprises in the entire league this season. He even flipped in a circus shot with his back to the basket that wouldn't drop again if he tried it 100 times.
Douglas finished with 17 points in just about 33 minutes.
Grade: B
USA TODAY Sports

Oklahoma City
Not that they needed it, but the Thunder's bench was effective. Nick Collison finished with 12 points and 10 rebounds, and Reggie Jackson had eight points. That was in addition to Kevin Martin's 19.
Grade: B
Houston
Houston got very little from its normally productive bench. Although the return of Patrick Patterson from a foot injury should be seen as a step in the right direction, he went 0-of-5 from the floor and finished with two points.
With no Carlos Delfino (out with food poisoning), Houston's bench was mostly big men who couldn't keep up.
Grade: D