Pinstripe Bowl 2012: West Virginia vs Syracuse Live Scores, Analysis and Results
The 2012 New Era Pinstripe Bowl: Syracuse 38, West Virginia 14; Final
Almost from the start of the game, Syracuse appeared ready to take it to the West Virginia defense early and often.
While holding the Mountaineers to 287 total yards, the Orange put up 38 points thanks to 512 offensive yards and some stingy defense—which forced two safeties.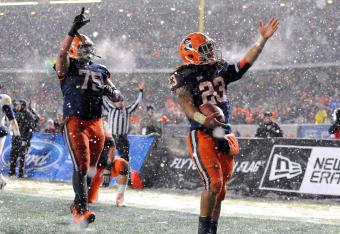 The 2012 Pinstripe Bowl didn't quite turn out the way we all expected.
Chalk it up to a massive snow storm, or questionable quarterback play, or porous defense for West Virginia, but the bottom line is the Mountaineers were never really in this game.
Syracuse outgained WVU 512-287, and 376-100 on the ground.
Geno Smith, hoping to put an exclamation on his career at West Virginia was stymied by the Syracuse defense all day, giving up two safeties. Smith also had just 187 passing yards—the second-fewest all season (Smith had 143 against Kansas State on October 20). Smith finished 16-of-24 with two touchdowns and -20 rushing yards thanks to multiple sacks.
Syracuse's Ryan Nassib also struggled, going 12-of-24 for 127 yards and two TDs (and one interception).
Prince-Tyson Gulley, the standout junior tailback for the Orange, finished with 215 rushing yards and two touchdowns on 26 carries. He was also the leading receiver for the Orange with 50 yards on five receptions, one of which was for a touchdown.
West Virginia will finish 7-6 in 2012 while Syracuse improved to 8-5, capping off its final Big East season with a share of the conference title to go along with a bowl victory.
Thanks for following our live blog of the 2012 New Era Pinstripe Bowl. Make sure to check out all the great bowl coverage Bleacher Report has to offer as we inch closer and closer to the BCS National Championship Game on January 7.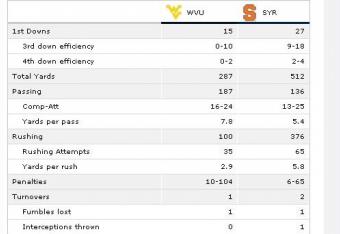 Here is the final box score for the 2012 Pinstripe Bowl.
Syracuse wins the Blizzard in the Bronx.
Stay tuned for some final thoughts and game wrap-up.
State of the game: West Virginia was 0-for-10 on third down attempts today.
It's hard to win a game without converting big first downs.
For the second time in its three-year history, Syracuse will win its home-state bowl game.
Syracuse goes for it on fourth and goal up by 24 with under five minutes left?
Hmmm.
Doesn't matter. WVU holds. For once.
We didn't, but do now.
Um, so, we realize that Syracuse is 13 unanswered points from the 37 margin WVU had that earned Clemson jokes for a year, right?

— Michael Felder (@InTheBleachers) December 29, 2012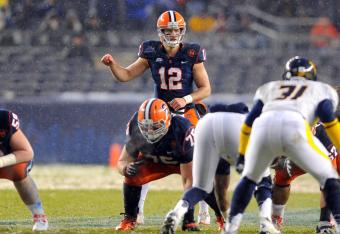 Just five minutes left, and the Orange are threatening to make this one a bona fide blowout.
Syracuse just needs nine more yards for 500 total offensive yards today.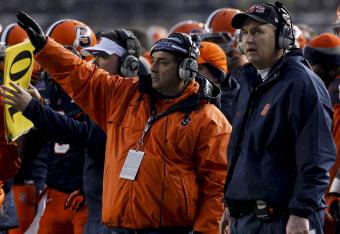 What more can you say about West Virginia? Today was absolutely terrible on both sides of the ball.
For Syracuse, holding a potent WVU offense to just 14 points is a very impressive accomplishment.
WVU is 0-8 on third down.
And to make matters worse, the Mountaineers are 0-3 on fourth down.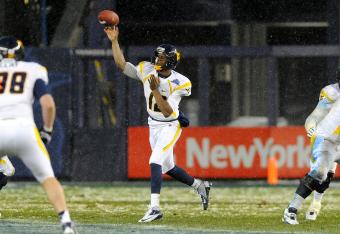 Fourth down and two, Geno Smith fumbles the exchange, recovers, but is stopped short of the first down.
Syracuse takes over and grabs this game by the throat.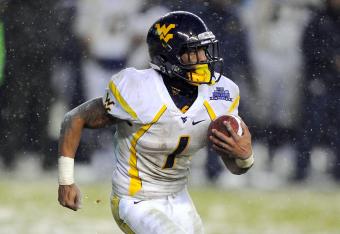 Somewhat surprisingly, West Virginia still going with the Tavon Austin runs.
If it's not time now to throw the ball, when will it be?
All together now: penalty on play.
Someone needs to tell the WVU players you aren't allowed to hold the defense.
For those keeping track, West Virginia has now scored points twice for itself, and twice for Syracuse.

— David Ubben (@davidubben) December 29, 2012
Time keeps ticking away and the deficit for West Virginia keeps getting larger.
Neither of those things are good. Put them together, and it's impossible to come back.
A field goal extends Syracuse's lead by three.
38-14 Syracuse, 11:57 remaining in the game.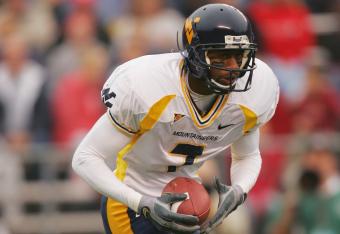 WVU's Terence Garvin nearly comes up with a desperately needed interception.
Syracuse now leads the rushing yard battle, 328-93.
If Syracuse could score 23 points in the third quarter, couldn't West Virginia score 21 in the fourth?
Possibly, but WVU gave the Orange a big helping hand in the third quarter.
Syracuse not only leads in scoring 35,14, but in total yardage by a whopping 452-265.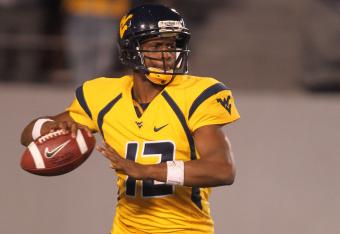 That's the end of the third quarter.
WVU needs to figure out how to make up a 21-point deficit in the middle of a blizzard.
And with the free kick out of bounds, Syracuse gets the ball at the 50.
The wheels are starting to come off the Mountaineers' wagon.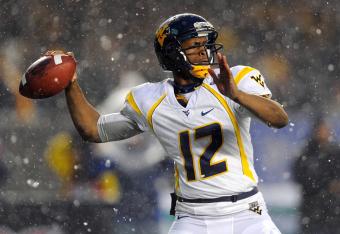 Wow. What kind of cluster-flop was that?
Geno Smith falls into his own end zone and just flops the ball forward.
Intentional grounding call, and a SAFETY.
That's two safeties for the Syracuse defense if you're keeping score.
35-14, Syracuse, 1:08 left in the 3rd.
There were two flags on that return.
Tavon Austin returns it to the 50, but it comes all the way back to the seven.
That's essentially a 43-yard penalty for West Virginia.
This article is
What is the duplicate article?
Why is this article offensive?
Where is this article plagiarized from?
Why is this article poorly edited?