Detailing the Crossroads of 2013 for the NBA's Top Superstars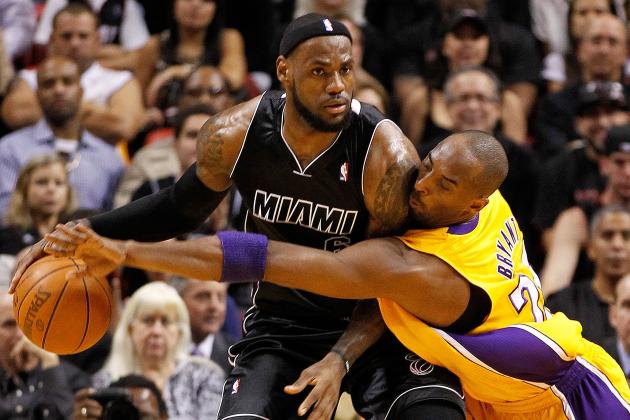 Mike Ehrmann/Getty Images
LeBron James and Kobe Bryant both face a crossroads in 2013.
The NBA's elite superstars are each at a crossroads this season, and though this crystal ball doesn't bounce well, it does gleam some light on how 2013 will play out.
While some of these guys are hitting their prime, others are battling injuries, and still others are determining how they will be remembered in history.
Each superstar has set an early tone for how his season will play out.
All of these highest-level players will find their way into the playoffs, but only one team will finish with a championship.
(All stats reflect games prior to Dec. 31)
Begin Slideshow

»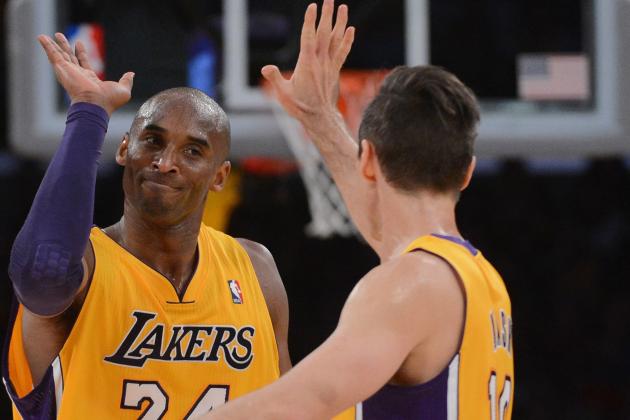 Harry How/Getty Images
Kobe Bryant
The Crossroads
At 34 years old, Kobe Bryant might be the best offensive version of himself yet.
He's averaging 30.1 points per game on 47.8 percent shooting. He's getting to the line more than in years past, and his three-point percentage is the highest it's been since 2002-03.
The Lakers have climbed back to .500, and there's finally some optimism surrounding the team.
Now, Bryant faces a moment of basketball truth. He is already one of the game's greatest players, but could he push himself into the Jordan conversation?
If Bryant takes this Lakers team to the finals and wins it against LeBron James, he pushes even closer and matches Jordan's six titles.
But if this Lakers team ultimately implodes and Bryant never wins again, his legacy may stand just below that of the NBA's greatest ever.
Crystal Ball for 2013
Kobe Bryant is the MVP of a just-not-good-enough Lakers finish, but not the league's MVP.
The Lakers get a No. 4 seed and knock off the No. 5 seed Golden State Warriors in the first round but fall to a deeper Los Angeles Clippers team in the Western Conference semifinals.
Bryant blames everyone (including Justin Bieber) for switching alliances.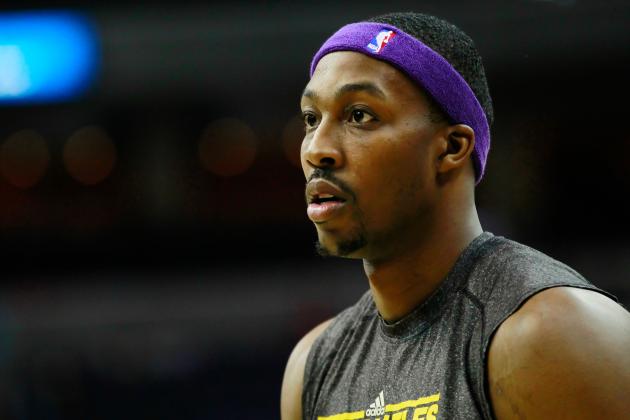 Geoff Burke-USA TODAY Sports
Dwight Howard
The Crossroads
With another decision of where to play beyond this season, Howard might be at the biggest crossroads of all the superstars.
The pressure to win has never been as great as it is in Los Angeles. The pressure to be great individually has never been quite like this either.
He was supposed to be the exclamation mark on the Lakers season, not a seven-foot question mark.
He must prove he's a franchise player, not just a popular sidekick. Is he Peyton Manning or Tim Tebow? Notorious B.I.G. or Puff Daddy? Jennifer Aniston or Courtney Cox?
Dwight Howard doesn't appreciate not being appreciated. So far, he hasn't reached the high expectations set in Los Angeles.
Crystal Ball for 2013
With the Lakers falling in the second round to the Los Angeles Clippers and too much negative focus on Howard, he'll opt to take less money and play elsewhere.
The New York Knicks, unhappy with a conference finals exit at the hands of LeBron James, will find a way to move money around through trades and bring in Howard.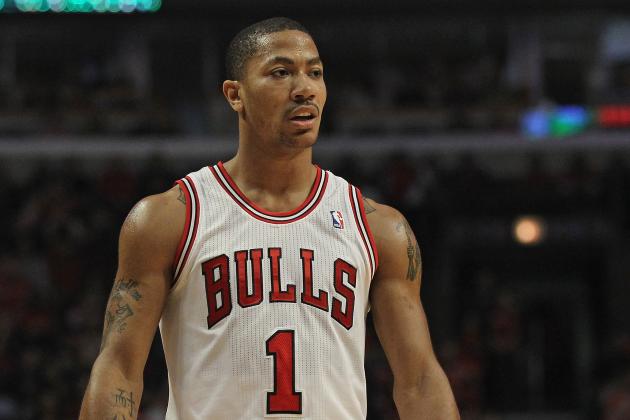 Jonathan Daniel/Getty Images
Derrick Rose
The Crossroads
This is a pretty straightforward junction for Derrick Rose.
Prior to tearing his ACL in the first game of last year's playoffs, Rose was the most electric player in basketball. His cuts and speed could not be contained by even the best NBA defenders.
His humble strength provided leadership to a Bulls team that played greater than its players' talent levels.
So now, as Rose returns to non-contact practicing, according to Aggrey Sam of CSN Chicago, the question remains whether or not he will return with the same vicious athleticism.
If Adrian Peterson's near-record-breaking season is any indication of how well athletes can rebound from knee injuries, then Rose and the Bulls should be fine.
Assuming he does make a sound return, the next question is how that impacts this current Bulls team. The Bulls have played over their head without Rose, so how much better can they become with their superstar?
Crystal Ball for 2013
Rose will return to form, but not right away.
He will find confidence in his footwork and sharp moves come spring, though, and the Bulls will shape around him by the playoffs.
Though the Bulls will have another successful season, there won't be enough time to get their form together and knock off the New York Knicks in the Eastern Conference semifinals. The Bulls will, however, knock off the Brooklyn Nets in the first round.
The 2013-14 season will see Rose fully return to his MVP form.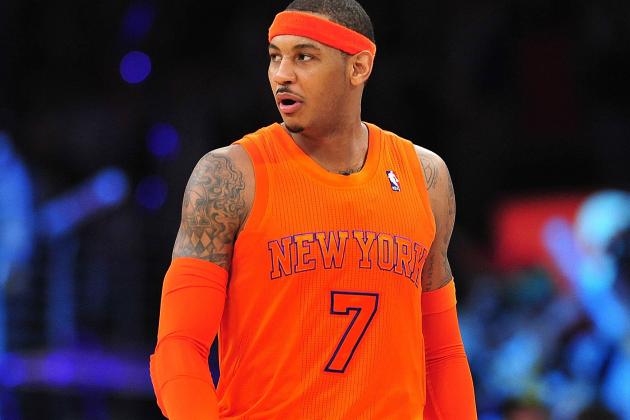 Gary A. Vasquez-USA TODAY Sports
Carmelo Anthony
The Crossroads
This has already been a big season for Carmelo Anthony.
He's proven to be a more complete player while still maintaining his top-level scoring. He's rebounding and showing glimpses of team defense, and he's hungry.
Anthony missed another pair of games recently and is currently day-to-day with a knee injury, but that doesn't overshadow the fact that Anthony is averaging 28.5 points and 6.2 rebounds per game.
This is the most competitive Anthony has been in recent years.
His critical juncture will come in the postseason: Will Anthony finally overcome his playoff drought and win big games to advance to the NBA Finals?
Crystal Ball for 2013
Unfortunately for New York, LeBron James is much better than Anthony.
Knicks fans have been here before against Michael Jordan; it's not going to change this season.
Unless the Knicks embrace the return of Amar'e Stoudemire and play even better basketball, they won't have enough to overcome the Heat.
A first-round series victory against the Boston Celtics and an Eastern Conference semifinals win against Derrick Rose and the Chicago Bulls will bring plenty of feel-good moments, but not a championship trophy.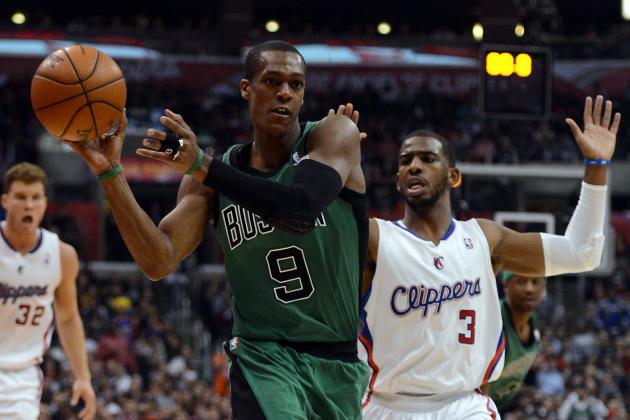 Harry How/Getty Images
Rajon Rondo
The Crossroads
There is a lot for Rajon Rondo to figure out.
The Boston Celtics are sinking, and if Avery Bradley's return doesn't affect change, the season may be lost.
It's not Rondo's fault completely, but as the true superstar of that team, Rondo needs to take some of the blame. Carry yourself like it's your team, then assume the responsibility when your team fails.
You can't be an unstable leader of an unstable team.
Boston has been stagnant offensively; how can that happen if Rondo is the all-universe point guard that he's credit as?
Rondo still has the ability to take over games, despite questionable confidence in his range. But does that mean that he'll always need to be surrounded by scorers like Paul Pierce and Ray Allen to be successful?
That's a pretty tall order for Boston Celtics management, and it could spell disaster if they can't collect scoring talent as Pierce and Kevin Garnett continue to fade way past their prime.
Crystal ball for 2013
It won't end well for Rondo in 2013.
He hasn't experienced a non-playoff season since his rookie year, and he's not used to losing like this.
He won't react well to carrying the blame either. The Celtics will hang on to make the playoffs before falling to the New York Knicks in the first round.
Rondo will demand changes.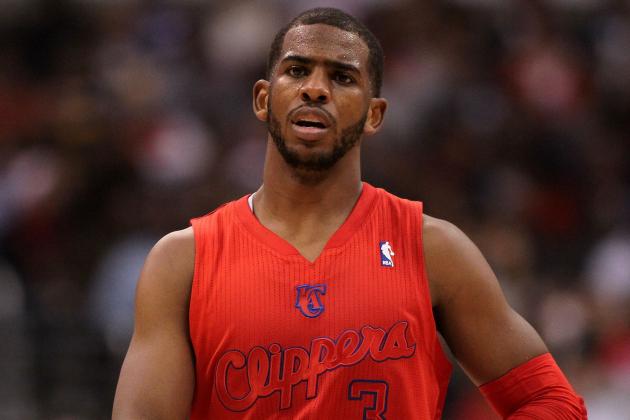 Victor Decolongon/Getty Images
Chris Paul
The Crossroads
This is the best shot Chris Paul has to earn a title.
He is this season's best point guard, and it's not even close. The Los Angeles Clippers' depth is allowing Paul to do more this season, as he is averaging the fewest minutes of his career.
He's taking fewer shots than he did last season, resulting in a drop in scoring despite a similar shooting percentage. He's made a slight jump in assists at 9.4 per game from last season's 9.1 per game.
But it's more than numbers. Paul is controlling the floor and managing victories for this deep Clippers squad. He's once again proving that he knows how to win in this league, and there are few players more valuable.
Crystal Ball for 2013
Chris Paul will put on a show this postseason and will be on display longer than ever with his first appearance in a conference finals.
Paul will lead the Clippers past the Denver Nuggets in the first round and the Los Angeles Lakers in the second round. Ultimately, the sheer talent of Kevin Durant will prove too much for the Clippers in what will be a historic battle against the Oklahoma City Thunder.
He's already won the Justin Bieber battle in Los Angeles, and knocking the Lakers out of the playoffs will provide Clippers fans with even more bragging rights.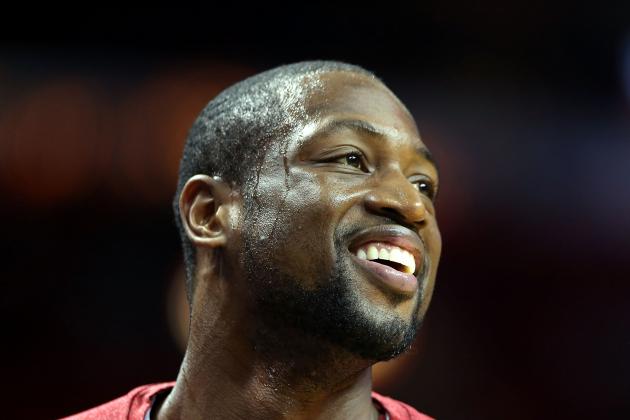 Marc Serota/Getty Images
Dwyane Wade
The Crossroads
Does anyone have more to prove this season than Dwyane Wade?
Wade went from one of the league's most-beloved players to the least villainous of the Miami trio of villains to a fading, dirty sidekick.
He's the Tom Cruise of the basketball world.
Kicking Ramon Sessions in the you-don't-do-that may have been a cry for help.
Wade has a lot to prove this postseason, including that he can still be the superstar, impact player he was in last season's run. He also needs some positive publicity.
Crystal Ball for 2013
Wade will have a great start to the postseason, including a kick to Monta Ellis right in the Ramon Sessions when the Heat knock out the Milwaukee Bucks in the first round.
Wade will reveal that he's still the great player whom the NBA world fell in love with. However, his current 51.4 percent shooting and 20.3 points per game will decrease through the season as a result of inconsistent health up until June.
Ultimately, Wade won't be enough come the finals, when Miami will fall.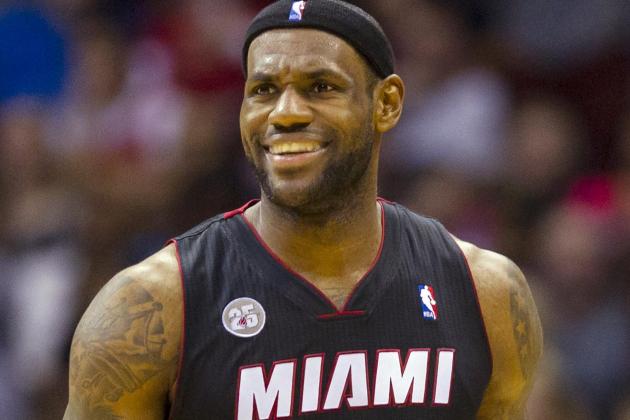 Jeff Hanisch-USA TODAY Sports
LeBron James
The Crossroads
Few disagree that LeBron James has the most talent and greatest physical presence of any player in the league. He'd still go down as one of the greats even if he retired, Barry Sanders-style, tomorrow.
But James has reached another defining point of his career.
If he can defend his title this season and win again in dominant fashion, he will be considered a "winner," a title that has eluded him despite all the winning he did with a relatively talent-deficient Cleveland Cavaliers franchise.
Even last year's championship hasn't been enough proof for some doubters.
If he wins again in 2013, he'll shake completely free of those foggy remnants of doubt.
Crystal Ball for 2013
James won't do it this season, but not for a lack of individual achievement.
James will be the best player on the court when the Miami Heat reach the NBA Finals for a third consecutive year.
But this time, in a rematch of last year's finals, he won't be enough to overcome a further-developed Oklahoma City Thunder squad.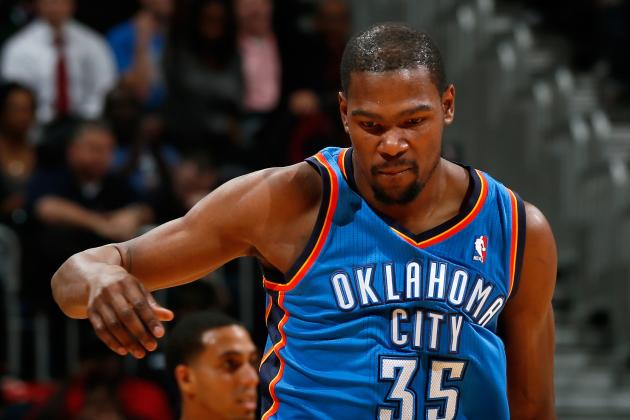 Kevin C. Cox/Getty Images
Kevin Durant
The Crossroads
The championship window can fade fast.
Let's walk through the Dan Marino narrative:
Marino, a Hall of Famer, changed the game as a young player with a golden arm and won Rookie of the Year. He's one of football's all-time greats.
But Marino is better known as the best player in sports to not win a championship.
Marino won the league's MVP honors in his second season, destroyed the Pittsburgh Steelers in the AFC championship and then was flattened by the San Francisco 49ers in the Super Bowl.
The sports world expected that Marino would have plenty of time to return and eventually win it—but he never did.
The title window can disappear quickly in the NBA, too. Just ask Charles Barkley.
Kevin Durant cannot allow this current opportunity with a talented Oklahoma City team to slip away.
Crystal Ball for 2013
Durant will win the scoring title and the MVP award this season.
The Thunder will return to the playoffs as the top seed in the Western Conference and will host the Los Angeles Clippers in an epic conference finals. The Thunder, on the shoulders of Durant, will be victorious in seven games.
Durant will then lead the Thunder past the Miami Heat in the finals and surpass LeBron James to become recognized as the league's most talented player.
He may still be slightly less talented than James, but he's developing at a greater pace and is surrounded by a more complete team.
Follow @jimmypspencer for more NBA news and analysis.