The Definitive Blueprint to the New York Jets' Perfect Offseason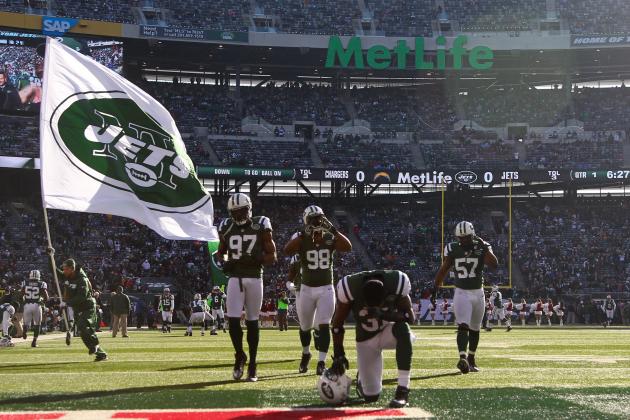 USA TODAY Sports

After a full season of turmoil and controversy, this is a huge offseason for the New York Jets.
Coming off the first losing season in the Ryan/Tannenbaum era, changes to the front office and coaching staff have already begun with Mike Tannenbaum's dismissal. The Jets have a very tight cap situation but need to sign several free agents when the season ends to fill their many roster holes.
Here is a blueprint to the perfect Jets offseason.
Begin Slideshow

»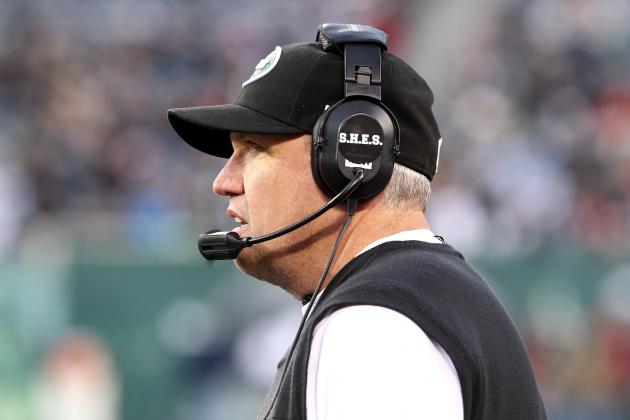 USA TODAY Sports

Woody Johnson has already stated that Ryan is here to stay (via PFT). So far, so good.
Rex has had his share of mistakes this season, but when you look at what he has done with this substandard roster, Ryan deserves a raise, not a pink slip.
A terrific defensive mind and master motivator, Ryan knows how to maximize the talent on his roster. We won seven games with Antonio Cromartie as the team's best player even though he was Chargers garbage just a few years ago.
It may be tempting to get rid of Ryan in favor of an offensive guru to fix the current state of the offense, but those who want change must be careful what they wish for. Coaches of Ryan's caliber do not come around very often, and the odds that his replacement would have won more games than him over his four-year tenure is slim.
As the saying goes, firing the coach is the easy part. Finding an upgrade is the hard part.
Ryan is one of the few bright spots of his organization. Quitting on him because of one losing season with a terrible roster would be a colossal mistake.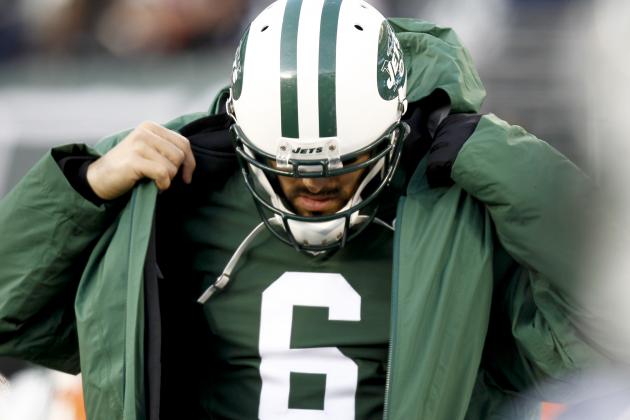 Jeff Zelevansky/Getty Images

It has become a well-known fact that the Jets are financially married to Mark Sanchez for at least one more season. Trading or cutting Sanchez would cost the team $17 million against the cap, which is far too expensive for the Jets to eat.
However, it may be possible for the Jets to work out some kind of deal with another team to alleviate that cap number. Whoever the new GM is could work out a deal with another team interested in giving Sanchez another shot as a starter.
Again, this is all wishful thinking, but in a perfect world, the Jets would find a way to cut their losses from their once-franchise quarterback with minimal financial loss.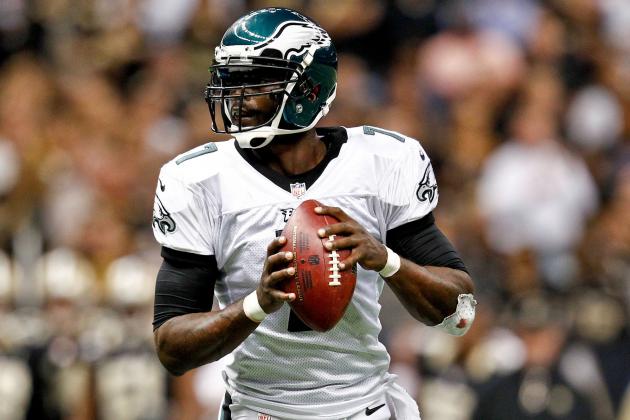 Derick E. Hingle-USA TODAY Sports

This would certainly be a polarizing decision, considering Vick's poor season and checkered past, but Vick would give the Jets a veteran presence at quarterback that they have not enjoyed for some time.
Rex Ryan reportedly loves the idea of having Michael Vick as his quarterback for next season, and for good reason. When healthy and given adequate protection, Vick can do amazing things on a football field.
Even if age is starting to catch up with him and he is not capable of putting up video game numbers like he used to, he would provide a veteran presence at the quarterback position on a team that desperately needs it.
If the Jets maintain efficiency on defense, they only need a competent offense to score about 20 points a game. Vick has his issues, but he is more than capable of leading an average offense that would likely amount to a playoff push in 2013.
The biggest obstacle in getting Vick to come to New York is money, as the Jets already have a lot tied up in Mark Sanchez's contract. But if the Jets can make the numbers work, he would be a massive upgrade over anything they already have.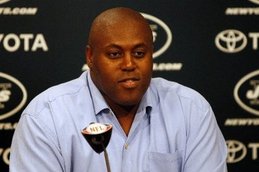 Photo via William Perlman/The Star-Ledger
If the reports claiming that Mike Tannenbaum has been fired are true, the Jets will need to hire a GM that will be willing to retain Rex Ryan.
Joey Clinkscales was on the Jets' staff for 17 seasons and worked under Mike Tannenbaum as the V.P. of College Scouting. Yes, he was on the staff when the Jets had their miserable 2009 and 2010 drafts, but he was also a part of the excellent drafts of 2006 and 2007 when the Jets landed players like Darrelle Revis, Nick Mangold and David Harris.
Clinkscales is currently with the Raiders on Reggie McKenzie's staff, but a GM job would be difficult to pass up even if it meant leaving Oakland after just one season.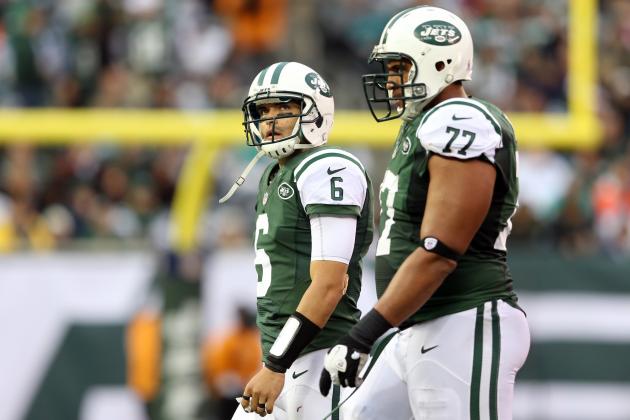 Debby Wong-USA TODAY Sports

Many assume that Austin Howard needs replacing simply because he was a late add-in to the starting lineup in the middle of the preseason, but Howard has played very well this year.
Pro Football Focus ranks Howard as the 30th-best tackle this season, which obviously puts him in the upper half of all 64 starting tackles in the league.
New York's offensive line play as a whole has been solid this year, and the Jets should do everything they can to keep this group intact for one more year to allow it to continue to build chemistry.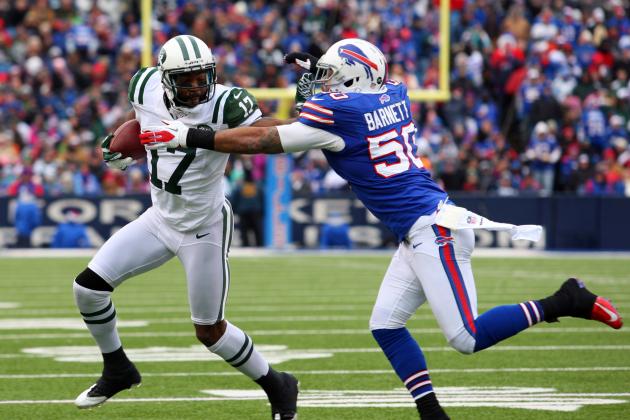 USA TODAY Sports

Despite only being on the team for two weeks, Braylon Edwards has emerged as the team's best perimeter receiver and one of the most vocal leaders on the team.
Despite his rather mediocre stat-line (thanks to poor quarterback play), it is evident that he still has the physical tools to be a quality starter in the NFL. Braylon has stated over and over that he wants to remain in New York for the long haul.
In fact, Braylon never wanted to leave. He would almost certainly take a hometown discount to stay in New York and will be a huge asset for whoever is under center for the Jets in 2013.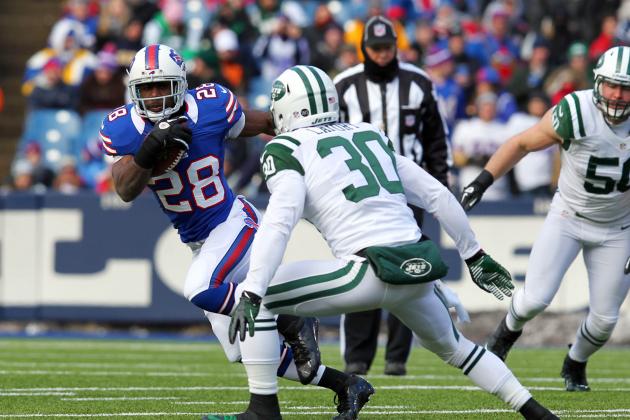 USA TODAY Sports

The gamble on the injury-prone LaRon Landry paid off for the Jets this year, as Landry did not miss any time this year and turned in a Pro Bowl season.
However, because Landry made the Pro Bowl, his price tag goes up because such accolades are used in contract negotiations.
If the Jets are able to somehow keep Landry under the cap, they should move him over to strong safety where he is a more natural fit roaming inside the box. They can then move sophomore free safety Josh Bush into the starting role at free safety.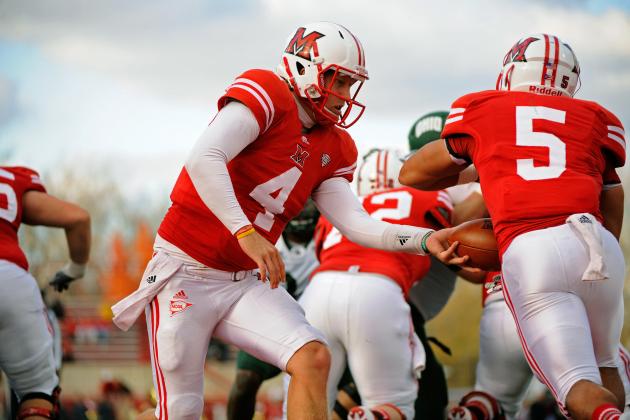 Jamie Sabau/Getty Images

With Sanchez out of the picture and Vick as the starter for next season, the Jets need to find a long-term solution at the position, and Miami (OH)'s Zac Dysert may just be the man for the job.
Dysert turns off some scouts because he ran a spread system in college, but he can make all the passes and throws with anticipation. Plus, he did it all with a horrific offensive line and a pedestrian group of receivers.
This year's quarterback class does not feature a can't-miss prospect like Luck or RGIII, but there are several players like Dysert that can be eventual NFL starters.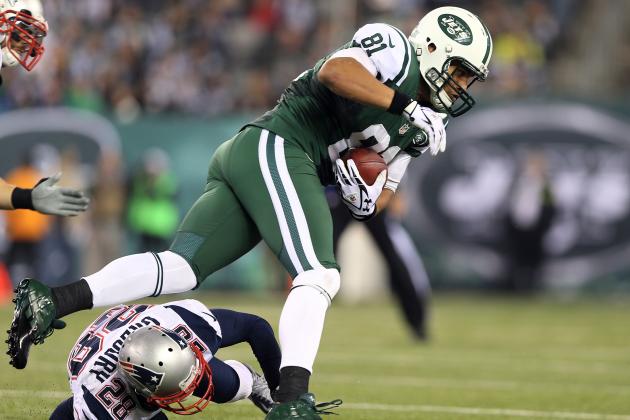 Elsa/Getty Images

Dustin Keller may have been Mark Sanchez's favorite target over the last four years, but Keller is going to command plenty of attention on the open market. With limited cap room, the Jets should let Keller walk and save cap room for other players like LaRon Landry.
Keller missed a lot of time this season with ankle and hamstring injuries, but the offense was hardly much better with him in the lineup.
Mark Sanchez's career as a starter is all but over, so his chemistry with Keller no longer has value. Throw in the fact that he has been injury-prone this season and is not a viable blocker, and the Jets are just better off finding another top tight end in the draft.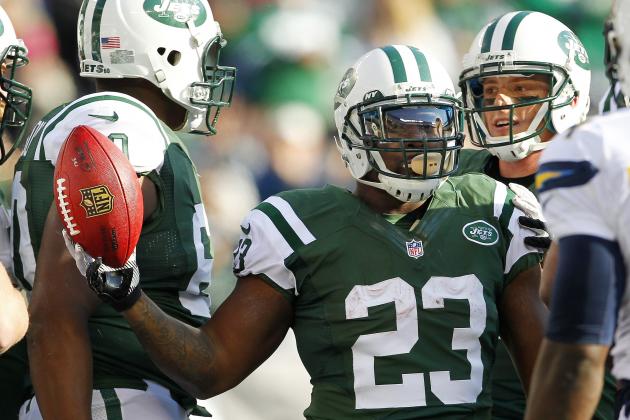 Rich Schultz/Getty Images

Shonn Greene has played very well over the past month or so, eclipsing the 1,000-yard mark last week, but buyers beware of any player that elevates their game when they start to smell the free agency cash.
Greene is a punishing runner that wears down defenses, but he has virtually no lateral agility and cannot make defenders miss. Throw in his pedestrian abilities as a receiver, and Greene is better suited to be a situational runner, not a foundation back.
If the Jets want to be a dominant run-first team, they need to find a high-end runner in the form of Ray Rice or Trent Richardson who can do everything well.