8 New Year's Resolutions for the Cincinnati Reds in 2013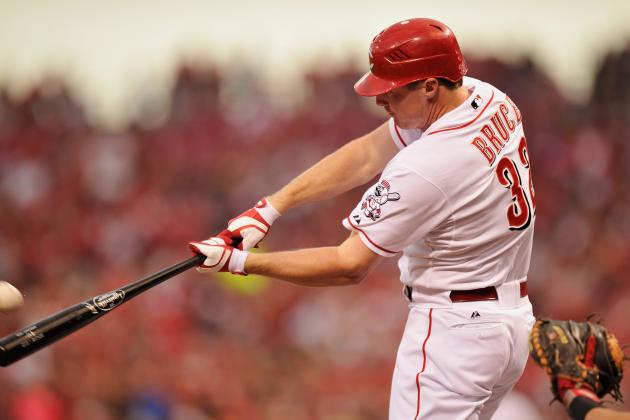 Jamie Sabau/Getty Images

The Cincinnati Reds have a team that should contend for a title in 2013.
However, there are a few things the team should be looking to fix coming into the new season.
In light of the New Year approaching, these are eight New Year's resolutions for the Cincinnati Reds in 2013.
If the team can fulfill these resolutions, then the Reds will certainly compete for a World Series title next season.
Begin Slideshow

»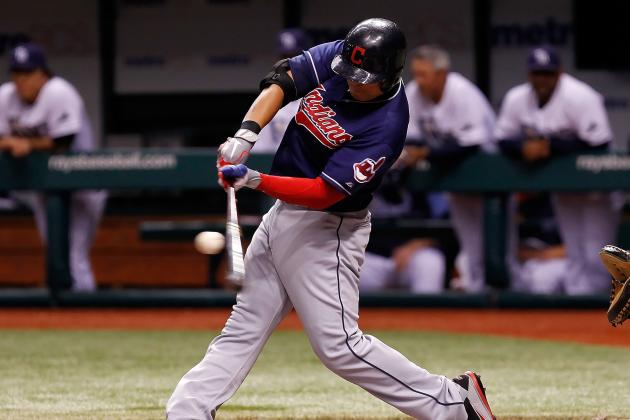 J. Meric/Getty Images

The Cincinnati Reds managed just a .315 team OBP in 2012, good for 21st in all of baseball and 12th in the National League.
If the team is to advance beyond their 2012 performance, this is one area they'll need to improve on. Ditching Drew Stubbs in favor of Shin-Soo Choo should be a good start in fulfilling this resolution, as it was easily the biggest area of concern in the entire lineup.
Over the course of their careers, Choo's OBP (.381) is a full 69 points higher than Stubbs' (.312). Additionally, in the past four years, Choo has averaged 115 runs created per 162 games compared to Stubbs' 79 runs created per 162 over the same span.
Along with the addition of Choo, the progression of Zack Cozart should help to make this goal reachable. Cozart got on base at just a .288 clip last season. However, much of his time was spent bouncing around in the Reds lineup.
This year, Cozart will have a consistent spot in the order (presumably seventh), which will help give him consistent pitches to hit.
Cozart's .332 OBP signifies the ability to get on base at a sufficient rate, but, like Choo, he'll need to live up to that ability in 2013 if the Reds are to truly be the best team.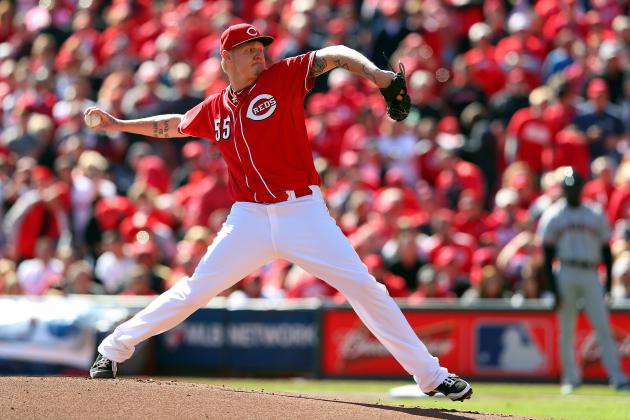 Andy Lyons/Getty Images

Over the course of the last three seasons, the Reds have finished the month of April with an 11-11 record (2012), a 14-13 record (2011) and a 12-11 record (2010).
Though the team enjoyed division championships in 2010 and 2012, it would be nice for the them to come out firing in the first month of the season.
The Reds averaged 3.95 runs per game through the month of April while allowing an average of 4.1 runs per-game. The Reds have a potent offense, but not many offenses can produce at a rate high enough to win games when the pitching staff allows over four runs per game.
Johnny Cueto started out hot in 2012, but the rest of the starting staff managed just a 4.68 ERA in the month of April.
If the Reds can get out of the gate hot in 2013, they might just take hold of the division and never look back.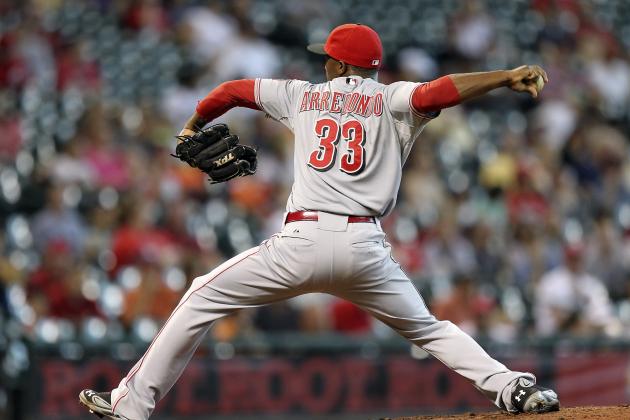 Bob Levey/Getty Images

This is not necessarily essential to the success of the club, seeing as the team won 97 games in 2012; however, it would be nice to see the Reds bullpen stop blowing wins for the starting staff.
In 2012, the five Reds starters combined to have 16 wins blown by the bullpen.
Reds relievers allowed 23 percent of inherited runners to score last season, tied with the Giants for the lowest in the National League.
This may be a bit of nitpicking, but if fans want to see guys like Mat Latos and Johnny Cueto win Cy Young Awards, the bullpen is going to have to preserve leads they're handed.
The return of Nick Masset in 2013 will help the Reds immensely in their attempt to reach this goal.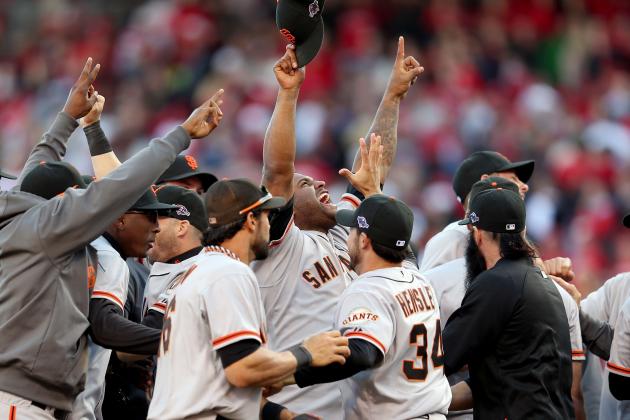 Andy Lyons/Getty Images

The Reds haven't won a playoff series since 1995. On paper, the team they had last season should have run through the National League.
However, an injury to Johnny Cueto, and the sudden ineptitude of the offense in Games 3, 4 and most of 5, led to a disappointing early exit at the hands of the San Francisco Giants.
Blowing the last three games of the NLDS led to a playoff-long feeling of heartache in Reds nation.
Fans generally trust Walt Jocketty and his judgement. However, if fans are going to truly buy into the direction of the team (long-term extensions for Joey Votto and Brandon Phillips) then a playoff series victory is a necessity.
The Reds have a championship-caliber team again in 2013, and another early exit from the playoffs would send the fanbase over the cliff calling for Dusty Baker's job and possibly even Jocketty's.
Reds fans were a passionate and loyal fanbase in 2012, as evidenced by their first-place finishing in radio ratings. It's time for the Reds to reward some of that loyalty.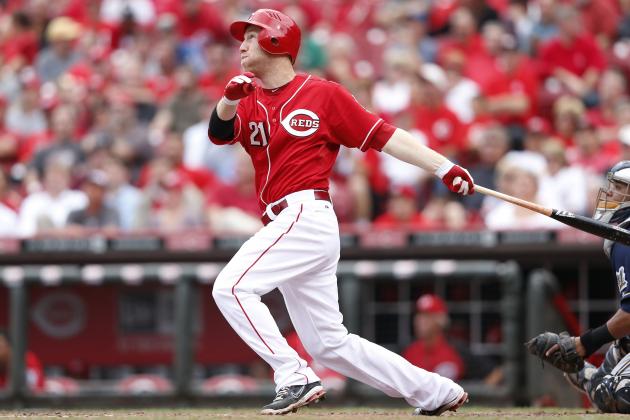 Joe Robbins/Getty Images

Todd Frazier rode pine early in 2012. Baker's fixation with Scott Rolen at third base hindered the early season development of Frazier in 2012.
However, the team seems ready to move forward with Todd Frazier at third base in 2013. Frazier needs to start every game at third, and on Votto's off days, giving Frazier a start at first base could benefit the team as well.
Frazier submitted an impressive 2012 campaign where he finished third in NL Rookie of the Year voting.
In 128 games, Frazier amassed 422 at-bats with a .272/.331/.498 slash line, 19 home runs, 26 doubles, six triples, 67 RBI, 55 runs and 51 extra-base hits.
If Frazier plays 160 games, he'll likely get around 608 at-bats. Expanding Frazier's 2012 stats out over 608 at-bats pans out to be what would be an impressive season from a second-year player.
Frazier would finish 2013 with a .272/.331/.498 slash line with 27 home runs, 37 doubles, eight triples, 72 extra-base hits, 96 RBI and 79 runs scored.
Given regular at-bats, Frazier can certainly have the type of season spelled out above.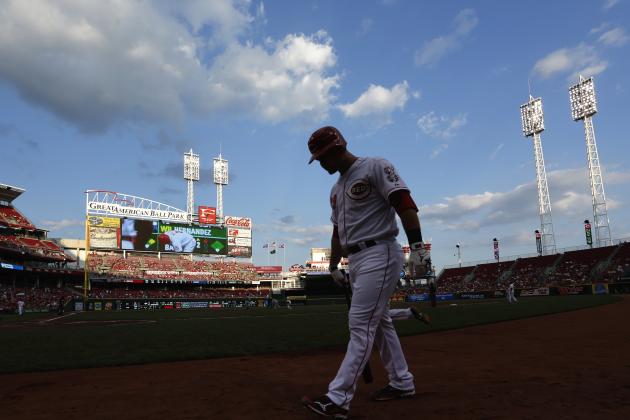 Joe Robbins/Getty Images

Devin Mesoraco has the potential to be a great catcher with the Reds for many years.
However, in 2012, Mesoraco was a bust. Maybe it was due to a lack of at-bats, or regular time spent behind the plate.
Whatever it was, Mesoraco had a dismal year slashing .212/.288/.352 with five home runs in just 165 at-bats.
Ryan Hanigan has been a very solid catcher for the Reds over the last three seasons. However, the team showed their desire for Mesoraco to be the full-time catcher of the future when the shipped Yasmani Grandal to San Diego last winter.
If Mesoraco is truly going to be the team's catcher of the future then he's going to need regular work behind the plate.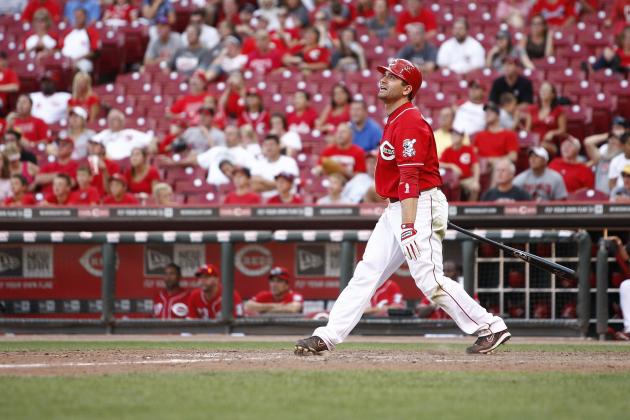 John Grieshop/Getty Images

The Reds made a concerted effort to solidify the top half of their lineup this season by bringing in Shin-Soo Choo and re-signing Ryan Ludwick.
Last year and the year before, Votto's downturn in power (prior to the knee injury) could be attributed to teams simply refusing to pitch to him. Votto led the National League in walks each of the last two seasons and only played 272 games over that span.
If Choo and Phillips are able to get on base, and Ludwick resumes his career resurrection, then teams will have no way to pitch around Votto.
Votto showed great gap power and still hit for a .337 average last season, but better pitches to hit will result in a significant uptick in home runs for Votto.
Choo and Phillips will need to get on base if Votto is going to get pitches to hit. However, it's arguably more important for Ludwick to be a threat behind Votto. If Ludwick slumps, Votto will be pitched around.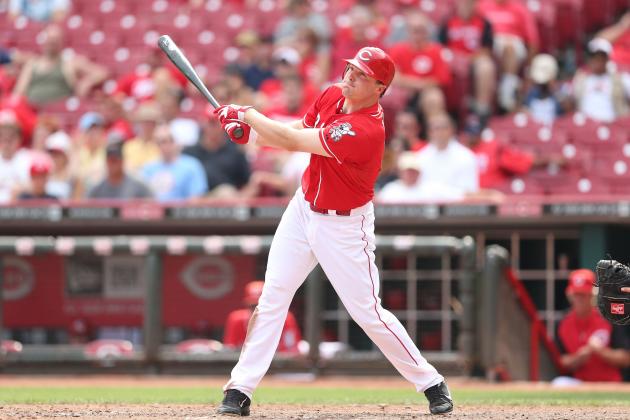 Andy Lyons/Getty Images

Jay Bruce is a streaky hitter, there's no way around it.
Bruce has been a budding star in this league for the last five seasons. At just 25 years old, Bruce has made two All-Star teams, won a Silver Slugger award and has twice been a Gold Glove finalist.
While that sounds great on the surface, Bruce still hasn't quite lived up to the potential he was prescribed, and much of it can be attributed to his streaky nature at the plate.
Bruce finished with five streaks of four straight hitless games in 2012. If he's ever going to break his current .255 career batting average plateau, he'll need to eliminate these streaks.
Why not do it in 2013?
Bruce's hitless streaks mentioned above accounted for 75 at-bats. Given his .252 average in 2012, let's say he hit .252 over those 75 at-bats—that equates out to about 19 hits.
Add 19 hits to Bruce's season total from 2012 and he hits .286 for the year with a .357 OBP.
If Bruce can pop his average up into the .275-.285 range, he'll likely be a 40 home run and 110 RBI guy with Gold Glove defense and an all-around threat on the ball field.