3 Bold Predictions for Every New Year's Day Bowl Game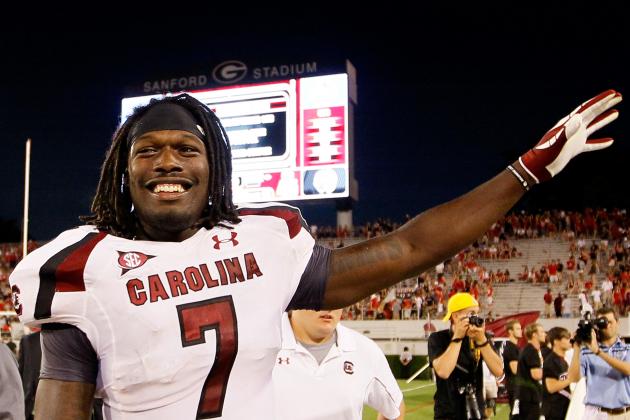 Kevin C. Cox/Getty Images

As far as bold predictions go, the SEC should win every New Year's Day bowl game the conference participates in.
Pretty bold pick for New Year's, right? What? Not bold enough for you? All right, on the sweetest day of the year for every college football fan, we will bear witness to SEC dominance, a Florida State beatdown and a couple of spectacular rushing performances.
Still not satisfied? (sigh) People are so hard to please these days.
Take a peek inside and see if these predictions are bold enough for you.
Begin Slideshow

»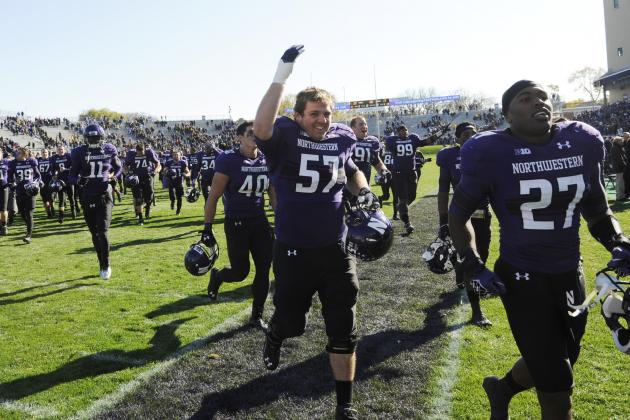 David Banks/Getty Images

Mississippi State wins bowl game for third consecutive season

Mississippi State, which is facing Northwestern in the TaxSlayer.com Gator Bowl, is participating in its third straight bowl game. After a close battle between two evenly matched teams, the Bulldogs will reign supreme.
The Wildcats have the worst pass defense statistically in the Big Ten, and that should have a direct impact on this game. Look for Mississippi State QB Tyler Russell to make a few big plays in the air that decide this contest.
Northwestern rushes for 200-plus yards

Northwestern will keep this game close with its grinding rushing game. Somewhat surprisingly, the Wildcats are 15th in the nation with 230.9 rushing yards per game.
Buckle those chin straps, Mississippi State. The Bulldogs have one of the weaker rush defenses in the SEC, and that doesn't bode well for them when they have to stop Venric Mark and Kain Colter.
State won't allow Mark to break all-purpose yardage record
Though Mississippi State will allow more than 200 yards rushing, the Bulldogs will manage to keep Mark from breaking Damien Anderson's Northwestern all-purpose yardage record.
Mark needs 147 to tie it, but the Bulldogs defense won't allow Mark to break the record or beat them. Mississippi State will win a close one.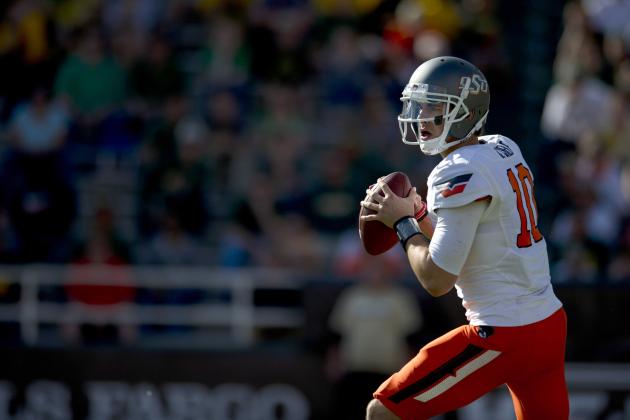 Cooper Neill/Getty Images

Purdue makes it a close contest
The Purdue Boilermakers are entering this contest as a pretty heavy underdog. Well, the Boilermakers have been there and done that. Entering as a 17-point underdog, Purdue finds itself in familiar territory.
These Boilermakers have been underdogs all season long, but Purdue managed to turn in close games against Notre Dame and Ohio State. Considering how badly Michigan and Penn State beat the Boilermakers, this is a bold prediction. But hey, Purdue's on a three-game winning streak. These Boilermakers are hot.
Oklahoma State pulls away in the fourth quarter
Purdue will give it everything it has, but Oklahoma State's offensive firepower will eventually be too much for the Boilermakers.
Purdue is giving up 29 points per game, while Oklahoma State is averaging 44.7 points a game. Yeah, you do the math. Expect multiple touchdowns for the Pokes in the fourth quarter.
Joseph Randle rushes for 200 yards for the first time this season
Surprisingly, Joseph Randle has yet to eclipse the 200-yard rushing mark in a game this season. That all changes at the Heart of Dallas Bowl Game (fantastic bowl name BTW).
With Purdue's defense giving up 179 rushing yards per game and Randle possessing the dexterity to break tackles and make defenders miss, the Heart of Dallas Bowl should easily belong to Randle.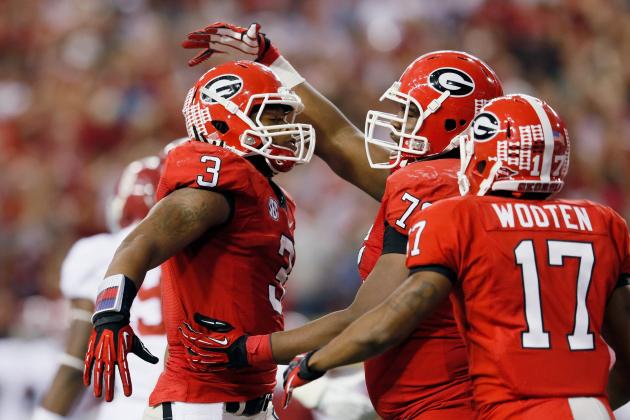 Kevin C. Cox/Getty Images

Todd Gurley and Keith Marshall rush for 150 yards each
Can you imagine the fire in Bo Pelini's eyes after he saw the stat sheet of the Big Ten championship game? An unexplainable 539 rushing yards by Wisconsin?
Let's just say Pelini wasn't in the Christmas spirit on Dec. 1.
Though Pelini will have his defense tightened up, Georgia's dynamic duo should still provide the Bulldogs with spectacular performances. Put Todd Gurley and Keith Marshall down for 150 rushing yards apiece.
Taylor Martinez rushes for 100 yards
Now wait a minute. This is the SEC; this is grown-man football. There's no way that little quarterback from Nebraska is going to gain 100 yards on the ground on a prideful SEC defense.
Hold the phone—Georgia's rush defense has been suspect this season, allowing 177.8 rushing yards per game. Taylor Martinez has produced five 100-yard games this season, and against Georgia's overrated rush defense, he'll have his sixth.
Georgia wins by three touchdowns
But don't let that fool you into thinking this will keep Nebraska in the game. It won't. Rather, Georgia will dominate from the opening kickoff until the end of the fourth quarter.
The Bulldogs have more athleticism in all phases of the game and will create turnovers with their athletic defense and cash them into scores with their vicious ground-and-pound game. Georgia will win this Capital One Bowl contest by at least three touchdowns.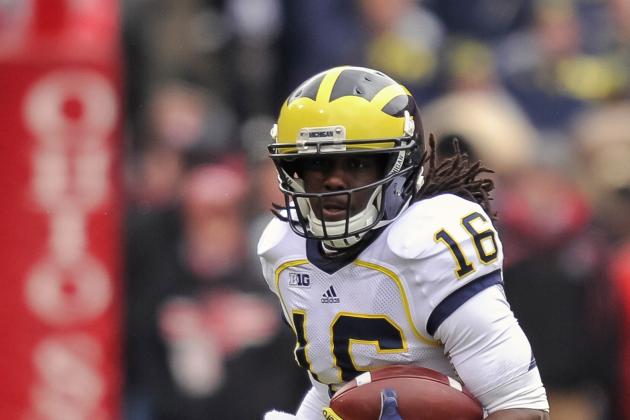 Jamie Sabau/Getty Images

Denard Robinson throws two interceptions
OK, so at first glance this doesn't look that bold. Think about it though. We don't even know if Robinson will play quarterback in this game, and some are speculating that he will play receiver or another position.
My personal prediction is that such secrecy is a strategic move by head coach Brady Hoke. By game time, Robinson will be named the starting quarterback, and he'll throw two interceptions against this pressure-oriented defense.
Jadeveon Clowney will have 2.5 sacks
If you've never watched Jadeveon Clowney do work in the trenches, well, you're missing out. This guy is unbelievable at the defensive end position.
Clowney has 13 sacks and 21.5 tackles for loss this season, and he's sure to add more in the Outback Bowl.
South Carolina wins by 10
South Carolina is slightly favored in this contest with the point spread ranging from four to six points. The Gamecocks will cover the spread.
With the offense doing just enough to put points on the board and the defense suffocating Robinson and this Michigan offense, South Carolina will win by 10.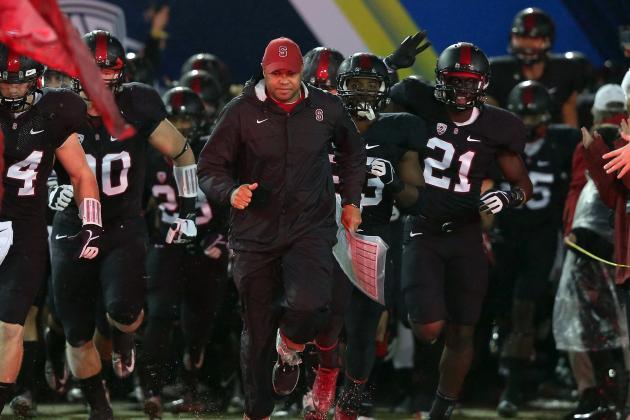 Ezra Shaw/Getty Images

Stepfan Taylor will outgain Montee Ball
Montee Ball's college football career overshadows Stepfan Taylor's, but Ball will be running in Taylor's shadow come New Year's Day.
Ball quietly rushed for 1,730 yards and 21 touchdowns in 2012, while Taylor rushed for 1,442 yards and 12 touchdowns. But because Stanford has one of the best rush defenses in the world, and because Stanford's formula involves repeatedly pounding the rock, Taylor will accumulate more yards on the ground than Ball.
Wisconsin will make a game of it
Wisconsin may be playing the hottest team in the country in Stanford in the Rose Bowl. It doesn't matter. Wisconsin will play inspired football and hang tough.
Why? Well, both teams have the same type of mentality—ground and pound onward toward victory. Wisconsin will match Stanford's physicality in this contest, and it should make for a close game.
Kevin Hogan will produce a game-winning drive
Oh, now we're getting fancy, huh? Predicting a game-winning drive is about as bold as you can get. But this game's going to be close for four quarters, and one of these quarterbacks is going to shine with the game on the line.
Put your money on the calm, cool and collected first-year starter Kevin Hogan. Ever since he's taken charge of this offense, the Cardinal have had a whole new swagger to them. With play-action passing and smart decisions, Hogan will lead Stanford to a Rose Bowl victory with a game-winning drive.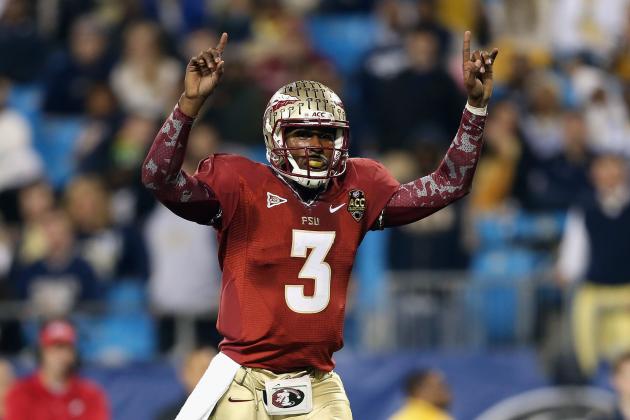 Streeter Lecka/Getty Images

Florida State wins by 40-plus
Sorry, Northern Illinois, you won't find any respect here. Look, we all get it—a 12-win season is impressive, but it's not against the same caliber of competition that even Florida State (easy schedule and all) had to face.
Not to mention Northern Illinois is playing this game without Dave Doeren as its head coach. Oh Mylanta, this isn't going to end pretty. EJ Manuel and the athleticism of Florida State will shine in the Orange Bowl, and the Seminoles will put a 40-plus beating on Northern Illinois.
Bjoern Werner will have 3 sacks
The Orange Bowl might as well be renamed the Bjoern Werner show. Come on, don't act like you haven't heard of this guy.
Werner racked up 13 sacks in 2012, and on Jan. 1, he'll have a lot of fun chasing Jordan Lynch around in the backfield.
Jordan Lynch throws two interceptions
For those who don't know Lynch, the Northern Illinois quarterback is very exciting to watch. He's like a poor man's Johnny Manziel.
Seriously, all kidding aside, this is a very athletic quarterback. But he hasn't faced a defense like Florida State's, and that should force him into making mistakes he normally doesn't make.
Lynch has a remarkable 43 total touchdowns and only five interceptions in 2012, but the beginning of 2013 should be a totally different story, as Lynch will throw two interceptions against the Seminoles.