UFC 155 Results: Questions Facing the UFC Heading into 2013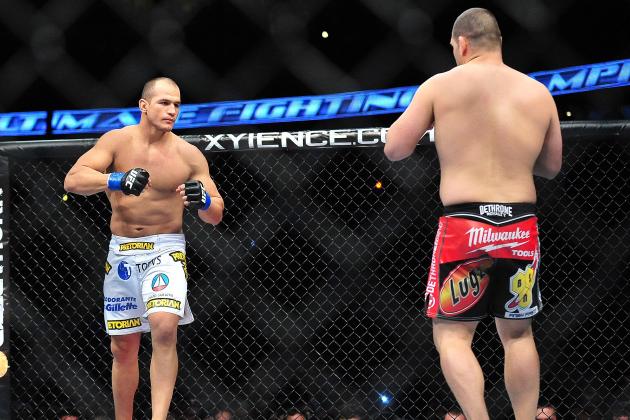 Gary A. Vasquez-USA TODAY Sports

UFC 155 is in the books. Jim Miller and Joe Lauzon put their names in the mix for Fight of the Year with a three-round barn burner, and Cain Velasquez reclaimed the UFC heavyweight crown with a dominant performance. With that, so closes another year for the UFC.
Here are the full results from the Junior dos Santos vs. Cain Velasquez 2 fight card:
Cain Velasquez defeats Junior dos Santos via unanimous decision (50-45, 50-43, 50-44)
Jim Miller defeats Joe Lauzon via unanimous decision (29-28 x 3)
Costa Philippou defeats Tim Boetsch via TKO (strikes) at 2:11 of Round 3
Yushin Okami defeats Alan Belcher via unanimous decision (30-27, 30-27, 29-28)
Derek Brunson defeats Chris Leben via unanimous decision (29-28 x 3)
Eddie Wineland defeats Brad Pickett via split decision (30-27, 28-29, 30-27)
Erik Perez defeats Byron Bloodworth via TKO (strikes) at 3:50 of Round 1
Jamie Varner defeats Melvin Guillard via split decision (30-27, 27-30, 30-27)
Myles Jury defeats Michael Johnson via unanimous decision (30-27 x 3)
Todd Duffee defeats Philip De Fries via TKO (strikes) at 2:04 of Round 1
Max Holloway defeats Leonard Garcia via split decision (29-28, 28-29, 29-28)
John Moraga defeats Chris Cariaso via submission (guillotine choke) at 1:11 of Round 3
2012 was a tumultuous year for the UFC, and you can bet your last dollar that UFC president Dana White and Co. are hoping for a smoother 2013. What follows are some questions facing the promotion as it heads into the new year.
Begin Slideshow

»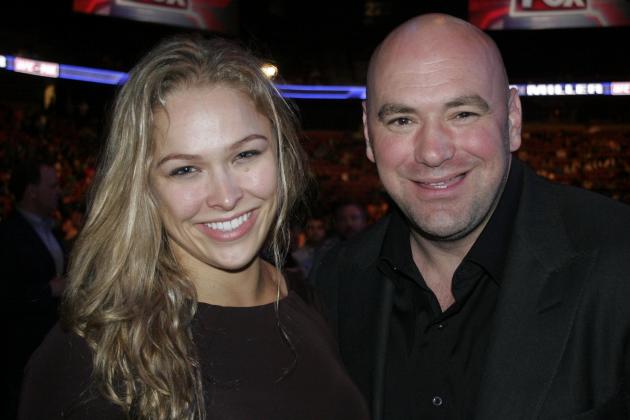 Joe Camporeale-USA TODAY Sports

Not long ago UFC president Dana White plainly stated that women would never compete in the UFC, but that was before Ronda Rousey broke onto the scene (h/t TMZ.com).
White's tune has changed a bit since Rousey began snapping arms, but if you think that his mind was changed by anything but Rousey, you would be dead wrong. White has made it perfectly clear that he and the promotion he represents are not in the business of WMMA, but that they are in the Ronda Rousey business.

At this moment, Rosuey is the most discussed fighter in MMA. If you venture outside "the bubble" you'll find more media covering her than any other fighter on the UFC roster. Rousey is money in the bank, and that attention will only increase as her UFC 157 main event bout against Liz Carmouche nears.

Rousey's future with the UFC is safe as long as she keeps defending her UFC title, but what about the other women competing in the bantamweight division?
That's where it gets tricky. The other competitors are going to have to force White and the UFC to see that WMMA is a viable commodity, Rousey has opened the door, now it's up to fighters like Carmouche and Miesha Tate to kick it in.

Will that be possible? We shall see.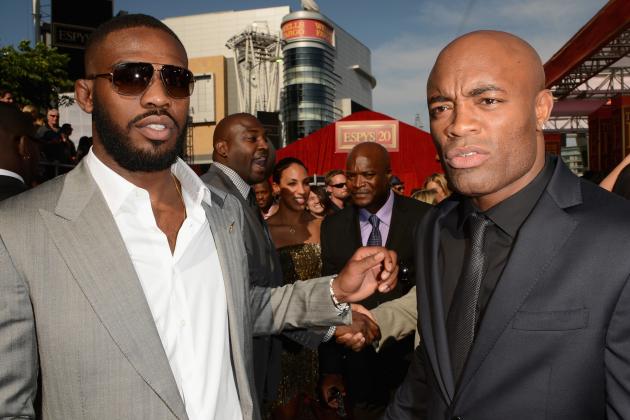 Jason Merritt/Getty Images

Not that long ago UFC president Dana White was guaranteeing that a superfight between UFC middleweight champion Anderson SIlva and UFC light heavyweight champion Jon Jones was going to take place.
White also stated that a superfight between Silva and UFC welterweight kingpin Georges St-Pierre was going to happen "around May (2103)."
Talk of those superfights has died down somewhat as of late, as Jones is booked to face Chael Sonnen in April and St-Pierre is booked to face Nick Diaz in March. Silva is currently without an opponent, but as of now it looks like he may be booked to face Michael Bisping if Bisping can get past Vitor Belfort in January.

To add more wrinkles to the drama, Jones has said he is eyeing a move to the heavyweight division near the end of 2013 (h/t Shaun Al-Shatti, MMAFighting.com), while St-Pierre has claimed he's interested in the Silva fight "when I decide the time is right" (h/t Ariel Helwani, MMAFighting.com).

In short, it looks like the superfights are dead, so can we let them rest in peace?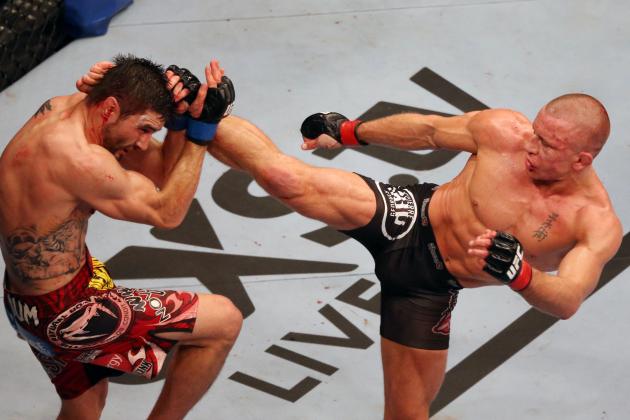 Tom Szczerbowski-USA TODAY Sports

How many events will the UFC hold in 2013?

Right now it looks like the promotion will put on 31 live events in 2013, which puts them in the same ballpark they were in for 2012, when they tried to present 32 events, but ended up with 31 after UFC 151 was scrapped.

Many feel, this writer included, that the promotion's supply is exceeding the demand for its product and that they are putting on cards that are weaker than they would have been in the past when they held fewer events per year.
In the past, a UFC event was a must see. These days, when the fight cards come back to back to back, fans have become choosier about which cards they need to watch and which cards they may skip.

Part of the problem the UFC has is that they are essentially serving two masters at this point. They have their old standby, the pay-per-view business, as well as their partners at Fox to think about these days.
That's forcing them to put on some cards that would not have been assembled in the past.

The low 30s may not be the magic number for UFC fight cards in a calendar year, and it will be interesting to see how 2013 plays out for the UFC.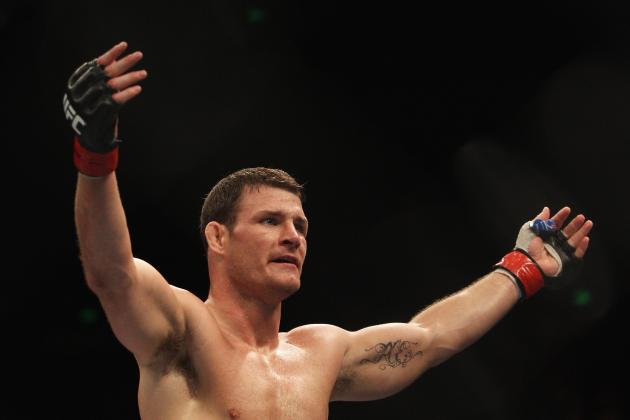 Mark Kolbe/Getty Images

The UFC has been actively expanding its reach over the last few years, and that growth plan does not look like it is going to change for 2013.
UFC president Dana White said that the promotion is looking to book a version of The Ultimate Fighter in Mexico in 2013 as well as produce a show in India (h/t John Morgan, MMAFighting.com).
In addition, the UFC is looking to have four events in Canada in 2013, up from three in 2012. MMAFighting.com's Dave Meltzer has said that the plan is to have five to seven UFC events in Brazil in 2013.

With the number of events looking like it will remain close to the same in 2013 as it was in 2012, that means someone is most likely going to get left out in the cold.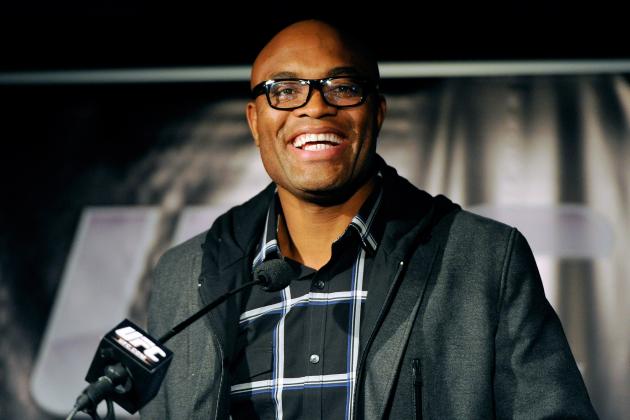 Eric Bolte-USA TODAY Sports

With the talked about superfights against Georges St-Pierre and Jon Jones on the (far) back burner, the question has become when will UFC middleweight champion Anderson Silva fight again, and who will that fight be against?

The two names that come up most often in regard to facing Silva are Chris Weidman and Michael Bisping. Weidman is currently out of action and rehabbing from shoulder surgery, while Bisping is set to face Vitor Belfort on January 19.
If Bisping wins, he may be the next opponent for Silva, but I wouldn't put money on seeing that fight come to fruition. That bout didn't really seem to get a ringing endorsement from Dana White, when he said that Bisping would "probably" get the next shot at Silva with a win over Belfort (h/t Damon Martin, MMAWeekly.com).

The other snag in all of this is that Silva, while all the talk of superfights was going on, said that he had no real interest in fighting again until late 2013 (h/t Franklin McNeil, ESPN.com).

In short, no one knows who or when Silva will fight in his next title defense.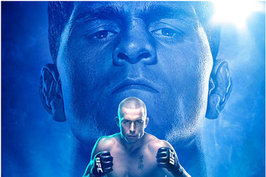 Georges St-Pierre is set to defend his UFC welterweight crown against Nick Diaz on March 16. The fight will be the main event of UFC 158. The question is, will this fight take place?

Let's not forget that these two fighters were set to meet in the main event of UFC 137, but that fight was scrapped when Diaz missed two separate media events leading into the bout. By looking at how the UFC stacked the main card of UFC 158 with welterweight bouts, you can kind of see that they may not have the most confidence in Diaz not shooting himself in the foot again.

If you had to pick a fighter that has most sabotaged his own career, Diaz would be up there along with Rampage Jackson and Jason Miller.

This one will bear some watching.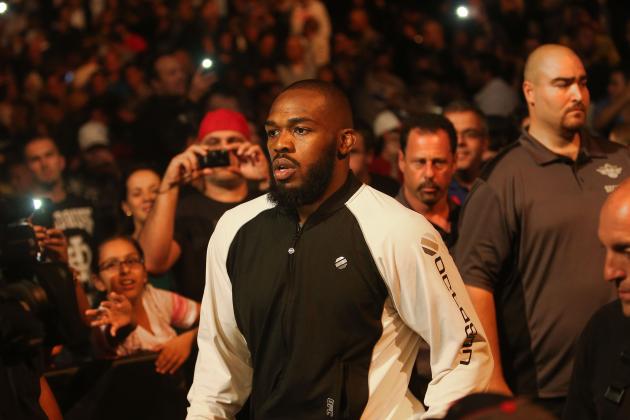 Tom Szczerbowski-USA TODAY Sports

UFC light heavyweight champion Jon Jones has thrown out the idea that he will be making the move to heavyweight sometime in 2013, but I just don't see it happening, at least not during the coming year.
Jones isn't having problems making the 205-pound weight limit, and with Tito Ortiz's record of five consecutive light heavyweight title defenses on his radar, he has no real incentive to move up in weight at this time. Jones has said that breaking Ortiz's record is a motivating factor in his career, and with a win over Chael Sonnen in June he will only tie that record (h/t John Morgan, USA Today).

Jones has the chance to put his name in the record books as the most dominant force in the history of the UFC's light heavyweight division, so why wouldn't he lay waste to that division before moving up a weight class?
The mind reels at to what type of numbers he can put together as the 205-pound champion; he is, after all, still only 25 years old.

Jones will eventually move up to heavyweight, but it will be when his body tells him the time is right, and don't expect that to be in 2013. Unless, of course, there is a motivating factor to make that move—something like tons of cash.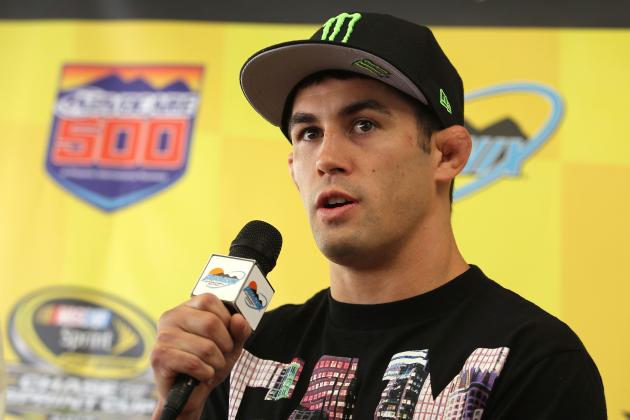 Todd Warshaw/Getty Images

I could go through every injury suffered by UFC fighters during 2012, but why bother?
Just know that there were a lot of fights lost due to injuries during the course of the year, and also know that despite what you may believe, you didn't want to be a matchmaker for the promotion during 2012.

The UFC has a dark cloud hanging over its head as far as injuries are concerned, and with 31 events on the agenda for 2013, you can bet the UFC brass are hoping that the number of injuries drops drastically heading into the new year.

If not, Joe Silva and Sean Shelby need to think about reworking their contracts.
There are a number of fights already booked for 2013 that have fans looking forward to them: Jones vs. Sonnen, Cerrone vs. Pettis, Aldo vs. Edgar, Rousey vs. Carmouche, Henderson vs. Machida and, of course, St-Pierre vs. Diaz.
There are really two questions surrounding these fights. The first question is: Will they live up to the hype, while the second is, will the get fans to tune in?

Most of these hyped fights will be anchoring pay-per-view cards, and as we all know, the UFC's PPV numbers were good, but not great during 2012. Fans have become pickier about what cards they will pay for, and a stellar main event is no longer the draw it once was.
The PPV buying public seems to be looking for deeper cards before they'll throw out cash. UFC 157 and UFC 158 should do well, as the cards do have more than one marquee fight on them, a practice the UFC is going to need to follow through on for all of their PPV events if they want to see climbing pay-per-view buys in 2013.