Wisconsin Football: 5 Changes Gary Andersen Will Make to the Offense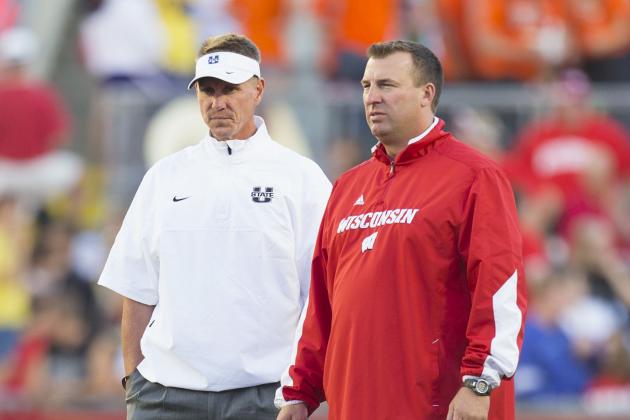 Jeff Hanisch-USA TODAY Sports

When Barry Alvarez hired Bret Bielema seven years ago as head coach of the Wisconsin Badgers, there was still a sense of continuity heading into the following season.
Wisconsin was going to be the same old Wisconsin, running the football for days on end while maintaining its same recruiting pipelines. The job remained in family, and even though Alvarez had been the head man for 16 years, Badger fans still felt secure in the fact that "The Wisconsin Way" would stay intact.
This time around, things will be a little different. Gary Andersen is an outsider from the Wisconsin family, and he ran a spread offense at Utah State, leaving questions about how the Badgers will look offensively in 2013.
The modifications might not be as drastic as you'd expect, but here are five changes Andersen will make to the Wisconsin offense.
Begin Slideshow

»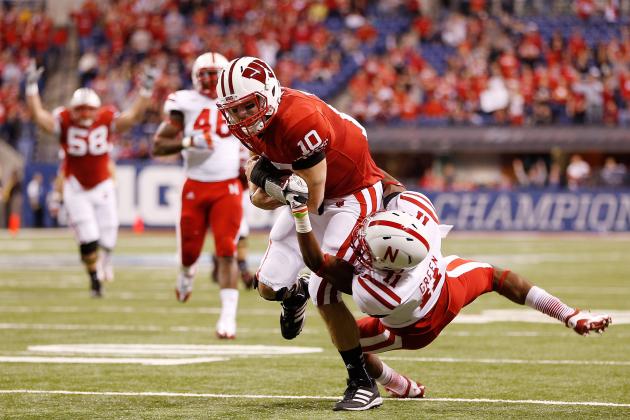 Gregory Shamus/Getty Images

For over 20 years—and probably even longer than that—Wisconsin has consistently lined up in the Power-O and attempted to run it down their opponents' throats for 60 minutes.
According to Andersen in his introductory press conference, that power running game will remain a vital part of his offense in Madison, as he described the Badgers as a "power running team."
But that doesn't mean we won't see more variety from the Badgers on offense next season.
Onlookers can expect to see some option to keep defenses on their toes, and that automatically makes the offense more diverse. With offensive coordinator Matt Canada this season, we already began to see some changes with running backs split out wide and a dedication to the end-around. In 2013, there should be multiple sets and formations to spread out opposing defenses.
With reports of the Badgers hiring the offensive coordinator from San Diego State (H/T The Milwaukee Journal Sentinel, via ESPN), that only means more changes are on the horizon.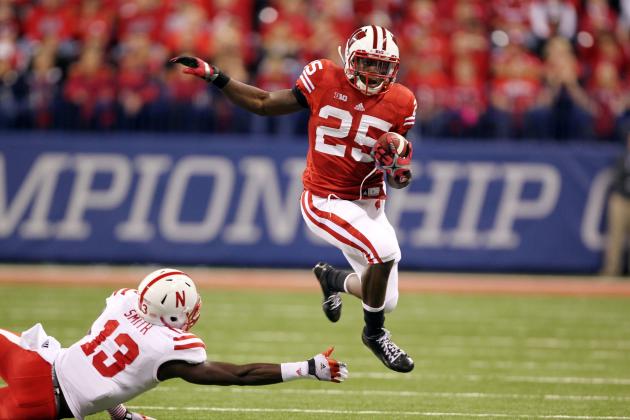 Brian Spurlock-USA TODAY Sports

With the offense having slightly more variety over the past two seasons because of Russell Wilson and the arrival of Matt Canada, there should be even more spacing on the offensive side of the ball next year with Andersen at the helm.
It was alluded to in the previous slide that there would be a hint of option run by the Badgers, and while Wisconsin isn't expected to have much of an athlete playing quarterback next season—whether it be Bart Houston, Joel Stave or even Curt Phillips with his banged up knees—the athleticism Wisconsin will feature at running back makes for a scary threat in the option game.
Even though we shouldn't expect to see all that much of the option, guys like James White, Melvin Gordon and even Jared Abbrederis can expect to be split out wide and be used in unique ways in the run game.
This means more diversion from the classic power-running attack, and therefore, a more spaced out offense.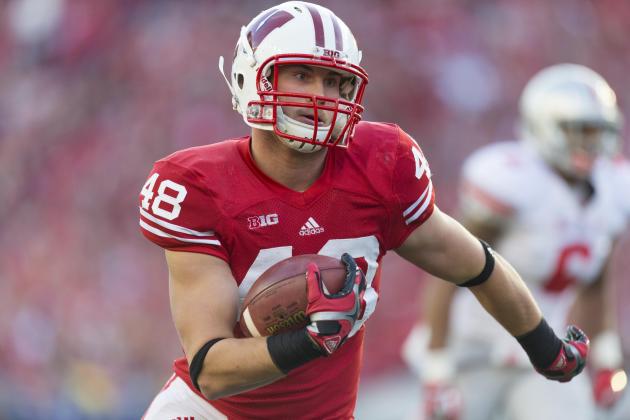 Jeff Hanisch-USA TODAY Sports

The Badgers have essentially been a breeding ground for NFL tight ends over the last decade, with names like Lance Kendricks, Garrett Graham and Owen Daniels expected to be contributors at the pro level for years to come.
This season, however, there seemed to be a deviation from the tight end in the offensive game plan. Perhaps this wasn't by design because of the struggles at quarterback throughout the season, but starting tight end Jacob Pedersen only put up 346 receiving yards this year, the lowest mark for a Wisconsin tight end in quite some time.
Granted, this still made Pedersen the second leading Badgers receiver, but we can expect him to be utilized more in the upcoming season.
Andersen said he would like the tight end position to have a prominent role in the offense, and Andy Ludwig, the reported incoming offensive coordinator, also enjoys using tight ends in the passing game, as his leading receiver this season at San Diego State was TE Gavin Escobar.
All of this bodes well for Pedersen making his mark heading into 2013.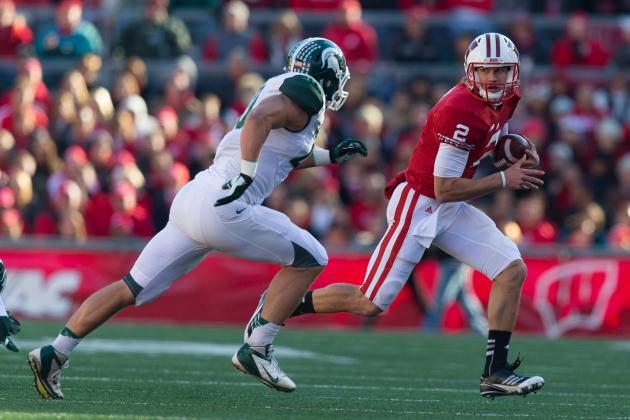 Jeff Hanisch-USA TODAY Sports

We've now introduced Ludwig and one aspect he'll look to change on the offense, and even if he doesn't have the personnel to do it right off the bat, he will want to get the quarterback on the move much more frequently than we're used to seeing at Wisconsin.
Ryan Katz and Adam Dingwell split time at quarterback this season for SDSU, and the two combined for 112 rushes and 391 yards. That's far more carries than fans expect to see from their typical Wisconsin quarterback, but there should be some more designed quarterback runs in the coming years under Andersen and Ludwig.
Combine that with the option being sprinkled in here and there, and the quarterback is going to be on the move a fair amount moving forward.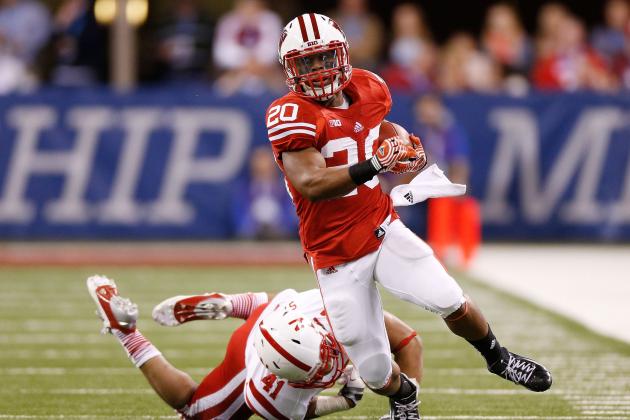 Gregory Shamus/Getty Images

This change almost comes by default because of the departure of Montee Ball and the incredible amount of talent that still remains in the Wisconsin backfield.
James White and Melvin Gordon should carry the bulk of the load in 2013, and with Ball out of the picture, there won't be an obligation to feed the pigskin to the All-American as often as possible because of potential NCAA records being on the line.
The Badgers simply should have used White and Gordon more often throughout the season, and we saw what they did in the B1G Championship Game. Thanks to their ability to get to the edge and be effective lined up outside, Andersen should have a field day in finding ways to use each running back.
While White and Gordon should be splitting carries, don't forget about guys like Jeff Lewis, Vonte Jackson and even incoming freshman Corey Clement. Gone are the days where one running back gets 30-plus carries a game while everyone else looks on from the sideline.