Dolphins vs. Patriots: Final Player Grades, Report Card for New England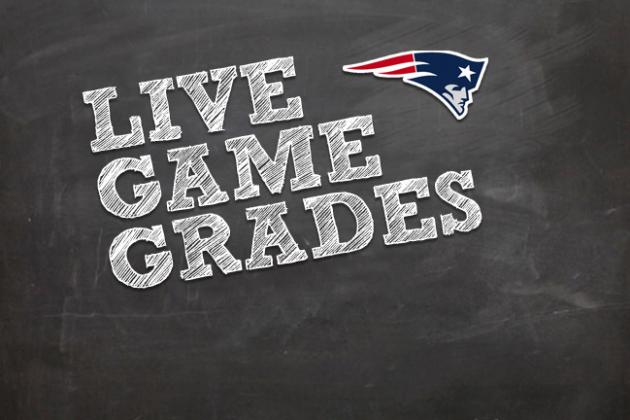 This slideshow will be updated with live grades after each quarter and postgame.
New England Patriots 28, Miami Dolphins 0
Last week, the New England Patriots seemed to have some serious trouble getting up for their opponent, as they struggled to a 23-16 victory over the Jacksonville Jaguars. They didn't have much struggle this time around, clinching a first-round postseason bye by beating the Miami Dolphins for the second time this season, this time in a 28-0 rout at Gillette Stadium.

Following their win on Sunday, the Patriots will be the No. 2 seed in the AFC, and will next play in the divisional round of the playoffs.

There are many good marks to go around Sunday on a dominant performance for the Patriots, but which players were most impressive in the Patriots' regular-season finale? The following slides take a look at that, position-by-position.
Begin Slideshow

»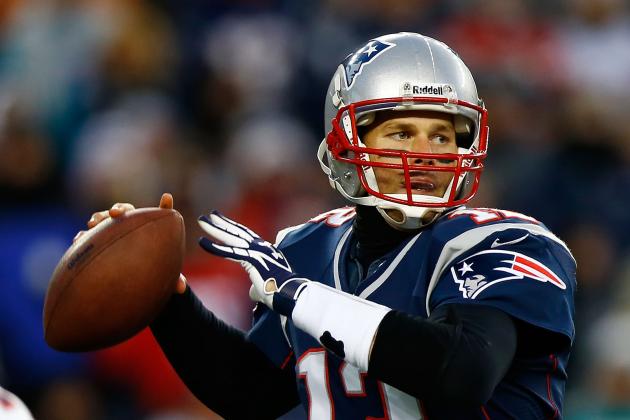 Jared Wickerham/Getty Images
Tom Brady threw for 284 yards and two touchdowns against the Dolphins on Sunday.
Tom Brady: B+

Tom Brady didn't make any incredible plays in this game, but he was accurate, consistent and did what he needed to do in order to lead the Patriots to a big victory. He completed 22-of-36 passes for 284 yards and two touchdowns, taking just one sack and throwing no interceptions.

Brady didn't make many big downfield completions — his 23-yard touchdown pass to Rob Gronkowski was his only non-screen pass that went for more than 20 yards — but he had a game free of any bad mistakes, and he made a number of clutch completions in 3rd- and 4th-down conversion situations.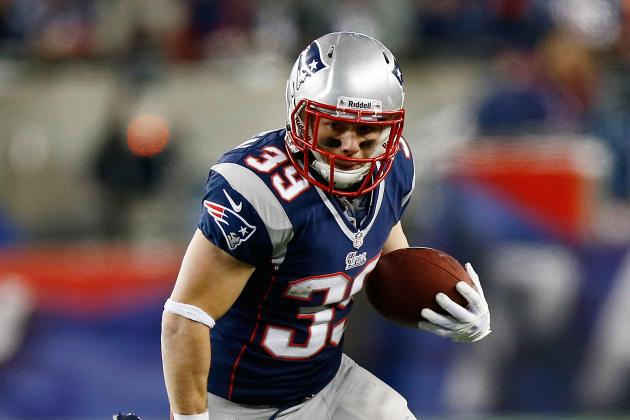 Jared Wickerham/Getty Images
Danny Woodhead was a dynamic playmaker for the Patriots on Sunday.
Danny Woodhead: A

The New England Patriots had very good success on Sunday with running screen passes outside the numbers, and a big reason for that was the speed and playmaking ability of Danny Woodhead. Tom Brady threw five screens Woodhead's way, and he gained a total of 79 yards on those plays, including plays of 24 and 25 yards on his first two screen passes.

Woodhead didn't run the ball out of the backfield much, but did a fine job when he did, gaining 18 combined yards on three carries. He was a big weapon when he was on the field Sunday, and arguably the Patriots' best offensive player in the game.

Stevan Ridley: A-

The Patriots' power running game was re-established on Sunday, and Stevan Ridley did a very productive job leading the way. Ridley came up with some crucial runs throughout the game, most notably on 1-yard and 2-yard rushing touchdowns.

The first of his two rushing touchdowns came on a 4th-and-goal, showing his ability to perform under pressure. Ridley also sparked a drive with a 13-yard run, and converted a 3rd-and-1 off of a direct snap. Overall, it was a very solid day for Ridley, who gained 74 yards on 20 carries.

Shane Vereen: B+

The Patriots used Shane Vereen in a limited role to spell Ridley, and he was also effective running between the tackles in this game. Using his extra quickness to run between defenders, Vereen gained 38 yards on eight rushing attempts.

Brandon Bolden: D+

Brandon Bolden only entered the game on the Patriots' final drive, with the win already well in hand. Bolden was able to break through for a 24-yard run on a cutback up the left middle, but continued to be unreliable as a power back, gaining only two combined yards on his other five carries.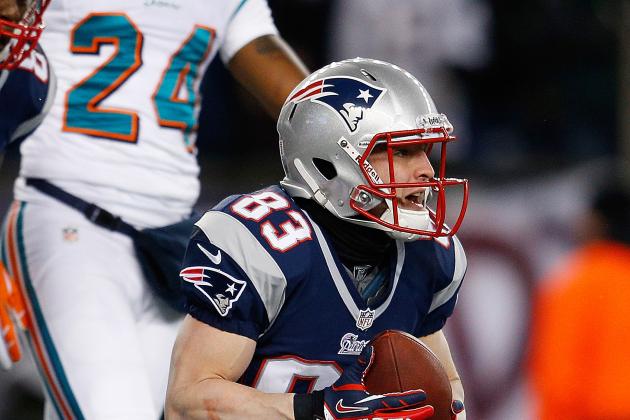 Jim Rogash/Getty Images
Wes Welker caught a 9-yard touchdown pass on Sunday.
Wes Welker: A-

Wes Welker was as reliable as ever on Sunday, catching eight passes for 94 yards and a touchdown.

As is often the case, Tom Brady looked to Wes Welker in most crucial situations. Brady was unable to fit a pass between coverage for Welker on the Patriots' first fourth-down conversion attempt, but later went back to convert a fourth-down play, along with three third-down conversions.

Welker got open throughout the game, including on a 9-yard first-quarter touchdown, and achieved his long gain of 23 yards by making a play off of a screen pass.

As a punt returner, Welker did not do anything spectacular but was decent, gaining a total of 30 yards on four returns.

Brandon Lloyd: D

Brandon Lloyd was one of the few Patriots to truly have an off-day on Sunday. Lloyd was not in the lineup as often as usual, but was ineffective even he was in the game, catching just one pass for nine yards although he was targeted five times.

One reason for his disappointing day, however, may be that he was not fully healthy. Lloyd was working with the medical and athletic training staff prior to Sunday's game due to a knee injury, according to ESPNBoston's Mike Reiss.

Deion Branch: C+

Deion Branch played a larger number of snaps on Sunday with Lloyd in a limited role, but he didn't make a big impact. Branch did have one very good and clutch catch in tight coverage to convert a 3rd-and-13, but was not targeted again on the day.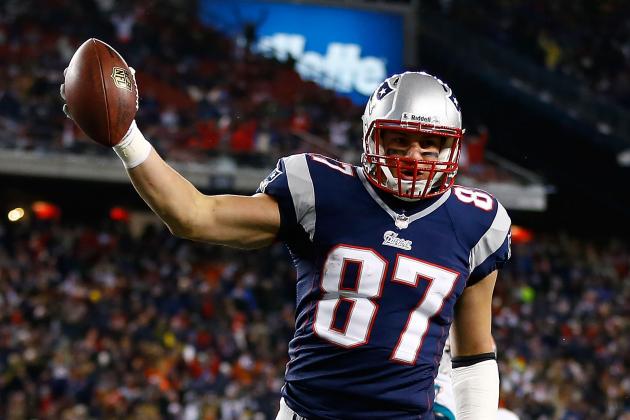 Jared Wickerham/Getty Images
Rob Gronkowski made a triumphant return to the lineup Sunday with a 23-yard touchdown reception.
Rob Gronkowski: B+

After missing five games with a broken forearm, tight end Rob Gronkowski returned in a limited role Sunday, playing 24 of the Patriots' 80 offensive snaps, according to ESPNBoston's Mike Reiss. As his still-recovering arm limited his ability to block, he was used mostly on passing plays.

He certainly didn't go without making his impact in his return. Gronkowski caught two passes for 42 yards, with one being a 23-yard touchdown in the fourth quarter. While he was unable to make his usual impact as a blocker, the fact that he was back in the lineup and back to being a downfield passing weapon was good enough, with him having two more weeks now to heal before the Patriots' next game.

Aaron Hernandez: C

Aaron Hernandez had a productive first half, catching five passes for 44 yards before the break, but his recent issues with drops continued to plague him. While Hernandez made some positive plays in the passing game, he also had two drops and was flagged for a false start.

Michael Hoomanawanui: C-

Michael Hoomanawanui is known for being a blocking specialist, but it was actually his missed block that gave up the Patriots' only sack of the day. Lined up as a pass blocker next to left tackle Nate Solder, Hoomanawanui failed to pick up a corner blitz from Bryan McCann, who was in turn able to get to Tom Brady and take him to the turf.

Hoomanawanui did not have any receptions in the game.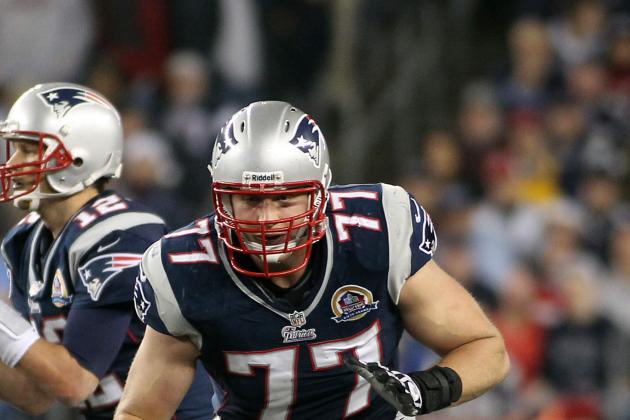 USA TODAY Sports
Left tackle Nate Solder was dominant on Sunday.
Nate Solder: A

The Patriots' offensive line had a dominant day on Sunday, and that effort was led by left tackle Nate Solder. The Patriots had tremendous success running the ball up the left side behind Solder's run blocking efforts, and he also did a terrific job protecting Tom Brady's blind side as a pass blocker, giving up no sacks and very little pressure.

Logan Mankins: A

As mentioned, the Patriots' left side of the offensive line did an outstanding job leading the way for the power running game on Sunday, and left guard Logan Mankins was just as responsible for that as Solder. Mankins hasn't been at his best while dealing with injuries throughout this season, but he appeared to be back in full form just in time for the postseason on Sunday.

Ryan Wendell: B+

Most of the power running game went to the left side on Sunday, but center Ryan Wendell did a good job opening holes as well. The Patriots' line allowed very little pressure up the middle, and Wendell's play was largely responsible for that as well.

Wendell did put the Patriots in a bad situation at the end of the third quarter by drawing a 10-yard holding penalty, but was otherwise very solid in this game.

Dan Connolly: B

Right guard Dan Connolly was an integral part of the Patriots' two rushing touchdowns in this game, as the Patriots split him out as a tackle-eligible next to Solder on the left side, and ran the ball behind the left side of their line both times. In their standard alignment, the Patriots didn't run the ball as much up the right middle, but Connolly had a solid day in pass protection.

Sebastian Vollmer: A-

In the Patriots' first matchup with the Dolphins in Week 13, right tackle Sebastian Vollmer had a shaky performance, struggling in pass protection against star Miami defensive end Cameron Wake. He was much better this time around.

Wake was almost completely neutralized as a pass-rusher. Vollmer wasn't as good as a run blocker in this game, but his dominance in pass-protection against one of the NFL's best pass-rushing ends earns him high marks.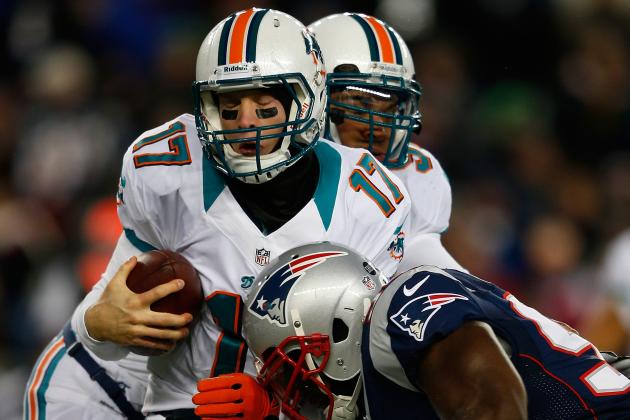 Jim Rogash/Getty Images
Justin Francis had a breakout performance Sunday, leading the Patriots with three sacks.
Chandler Jones: A

After a few subpar performances while recovering from an ankle injury, rookie defensive end Chandler Jones finally looked to be back to 100 percent on Sunday. Jones had a very good game, leading the Patriots' pass-rush efforts while also making a big-impact as a run defender.

Jones didn't have any of the Patriots' seven sacks on the day, but he brought pressure consistently. Against the run, he did a great job of setting the edge, and finished the day with seven total tackles, including two for loss. He also tipped two passes.

Going ahead to the postseason, the Patriots need Jones to be a three-down force, which he was on Sunday.

Rob Ninkovich: B+

The Patriots' other starting defensive end, Rob Ninkovich, also had a great first half. While he only ended up with one tackle, he consistently brought pressure off the edge, and a hit on quarterback Ryan Tannehill forced his only interception of the day.

The news at the end of the day, however, may be bad for Ninkovich. Ninkovich gingerly limped off the field with a hip injury near the end of the first half, and did not return.

Justin Francis: A+

Undrafted rookie defensive lineman Justin Francis did not have any sacks through the first 16 weeks of the season. He stepped up in a big way on Sunday, having a breakout performance as a pass-rusher with three sacks.

Francis lined up some at both defensive end and defensive tackle, and was effective both coming around the edge and as an interior rusher. The Patriots needed someone to step up for a big pass-rushing day on Sunday, and Francis did exactly that.

Trevor Scott: B

Another defensive end who stepped up early in the second half in Ninkovich's absence was Trevor Scott. While Scott did not receive a great deal of snaps or make a consistent impact throughout Sunday's game, he did bring pressure to force sacks on two consecutive plays early in the third quarter, the second of which he got all on his own by dominating Dolphins right tackle Nate Garner.

Jermaine Cunningham: D+

Defensive end Jermaine Cunningham returned Sunday from a four-game suspension, but his return could have easily gone unnoticed. He made very little impact as a pass-rusher or a run defender, finishing the game with just one tackle.

Vince Wilfork: B+

The defensive line pressure on Sunday came from the inside as well as the outside, and that effort was led by nose tackle Vince Wilfork. Wilfork did a good job as an interior pass-rusher on the day, getting his third sack of the season but also bringing pressure that led to other sacks from his teammates.

The Patriots were also very stout against the run on Sunday, allowing just 47 rushing yards, and Wilfork's plugging of gaps was a big reason for that.

Brandon Deaderick: B+

The Patriots made the change from Kyle Love to Brandon Deaderick in their starting lineup earlier this season in order to bring more interior pressure from the under tackle spot, and that change paid off well on Sunday.

Deaderick did a very good job bringing pressure up the middle, coming up with a sack but also hurrying Tannehill on other occasions as well. He also had a solid game shutting down the Dolphins' power running game up the middle.

Kyle Love: C+

Love rotated in as well at defensive tackle, but did not make much impact when he was in the game. When he did bring pressure, it was a result of his linemates taking up blockers, and he finished the day with only one tackle.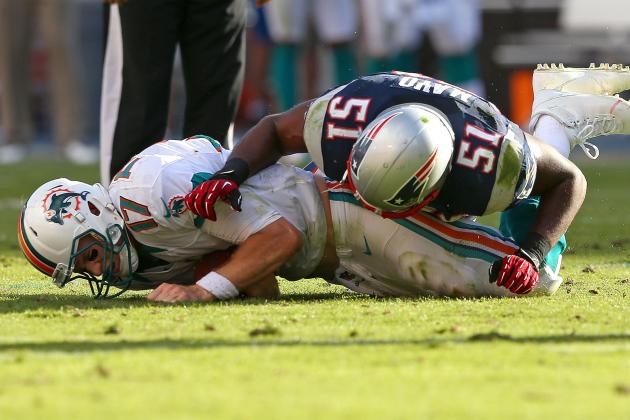 Mike Ehrmann/Getty Images
Jerod Mayo had a very solid game on Sunday.
Jerod Mayo: A-

Jerod Mayo did not end up with as many tackles as usual, but a big reason for that was a reduced number of run plays from the Dolphins on Sunday. In fact, Mayo had a very good all-around game, making stops in run defense while also bringing pressure as a pass-rusher.

Mayo made two big run stops at or behind the line of scrimmage, and while he was not used as a pass-rusher as often on Sunday, he brought some pressure and also tipped a pass in pass coverage. His lone negative of the game came when he was beat on a Reggie Bush screen out of the backfield for a 19-yard gain.

Dont'a Hightower: B-

Outside linebacker Dont'a Hightower was not at his best on Sunday. He was flagged for a late hit on Dolphins quarterback Ryan Tannehill, was beaten multiple times in intermediate pass coverage and did not make a big impact as a run defender.

Hightower did, however, make possibly the most important play of the game in preserving the Patriots' shutout. When a fumbled handoff rolled to the Patriots' own goal line, Hightower did a great job of diving on the football and covering it up, coming up with the Patriots' most crucial defensive play of the day.

Brandon Spikes: D

Still recovering from what the Patriots have listed on their injury report as knee and ankle injuries, middle linebacker Brandon Spikes played only in a limited role on Sunday, and was ineffective when he was on the field. Spikes made virtually no noticeable impact on the game, finishing the game without a single tackle.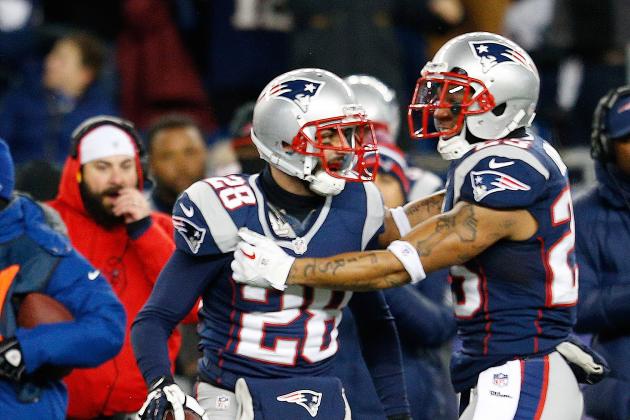 Jim Rogash/Getty Images
Steve Gregory celebrating after coming away with an interception.
Devin McCourty: B

With starting cornerbacks Aqib Talib and Alfonzo Dennard both out of the lineup for the second consecutive week, Devin McCourty moved back to his old position from free safety again on Sunday. Even without their starting cornerbacks, the Patriots' pass defense had one of their best performances of the season, and McCourty's coverage was a big factor in that.

Matched up against Brian Hartline for most of the game, McCourty did allow Hartline to make three receptions of 15 or more yards against him, but was otherwise very good. He was never beaten badly, something that had been an issue for him earlier this season before moving inside to safety.

Kyle Arrington: B-

Unsurprisingly, the Dolphins picked on Kyle Arrington on Sunday, knowing that he is very weak as an outside cornerback. Given that, however, Arrington actually had a solid game.

While he did get targeted often, he did not have any terribly blown coverages, and although he allowed a number of catches, he consistently made tackles against opposing receivers. He did make one very nice pass swat when he leaped behind Anthony Fasano and came over the top to knock down a pass.

Arrington was the Patriots' leading tackler on Sunday with eight stops: most of those came on passes thrown against him, but he did make two tackles on special teams.

Derrick Martin: B

With Talib, Dennard and Marquice Cole all out due to injury, the Patriots were forced to put Derrick Martin, who is usually strictly a special teams player, in at slot cornerback.

Considering this, Martin actually played a very solid game: he did not give up any big catches over the slot, and even beat Dolphins left tackle Jonathan Martin with a bull-rush off a corner blitz to sack Tannehill. Martin was flagged on an illegal block on a punt return, but he exceeded expectations as a cover corner.

Steve Gregory: A-

Steve Gregory had one of the Patriots' two defensive takeaways of the game on a first-quarter interception, which he returned to the Dolphins' 28-yard line to set up a two-play Patriots touchdown drive.

Lined up at free safety in McCourty's usual spot, Gregory had a very good day overall in coverage. He did not make a big impact in run defense, coming up with just one tackle, but he filled his role well on Sunday.

Patrick Chung: C

As is often the case when he is in the lineup, strong safety Patrick Chung was the Patriots' weak link in pass coverage. Often assigned to help coverage on the right sideline with McCourty, Chung provided little assistance.

Chung had six tackles in the game, but most of those came downfield on plays where his coverage was ineffective. He did make a very nice pass breakup in the third quarter on an inaccurate pass, but dropped his chance at an interception.

Tavon Wilson: B

Tavon Wilson made a very noticeable impact during the Dolphins' long second-quarter offensive possession.

Lined up mostly in the "star" role as a third safety, Wilson nearly became the scapegoat of blowing the shutout when he was burned on a deep ball intended for Reggie Bush, but which was overthrown by Tannehill. On that same series, however, Wilson did a good job coming up to the line to get in on a number of tackles and also bring pressure.

Wilson also combined with Malcolm Williams with very impressive kickoff return coverage to stop Marcus Thigpen at the Dolphins' own 6-yard line on a third-quarter return.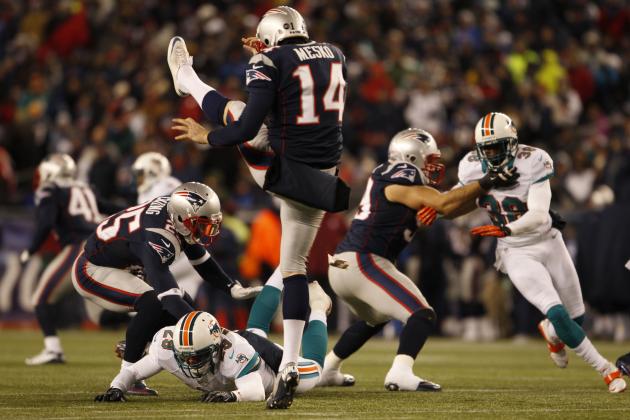 USA TODAY Sports
Zoltan Mesko was a huge weapon punting the ball for the Patriots on Sunday.
Stephen Gostkowski: B

With winds that made it nearly impossible to kick field goals from distance on Sunday, placekicker Stephen Gostkowski never received an opportunity to attempt a field goal, even though the Patriots ended up in multiple situations in which he would normally enter the game.

The winds did not affect Gostkowski's kickoffs much, as he put two of five into the end zone for touchbacks, while the others were returned at an average of only 14 yards per return.

Zoltan Mesko: A+

Zoltan Mesko was about as good as a punter can be on Sunday.

Even with high winds, Mesko hit all five of his punts well. He got great hangtime on all of them, pinning four of his five punts down within the 20-yard line, while the other punt travelled 56 yards through the air.

Malcolm Williams: A

Just signed from the practice squad on Sunday, Malcolm Williams made the most of his opportunity to play on Sunday and was the Patriots' special teams standout. Using his speed as a kickoff and punt gunner, Williams made two big plays: he was the first man down to make a kickoff return tackle on Marcus Thigpen at the 6-yard line, and also did a great job to down one of Mesko's punts at the 3-yard line.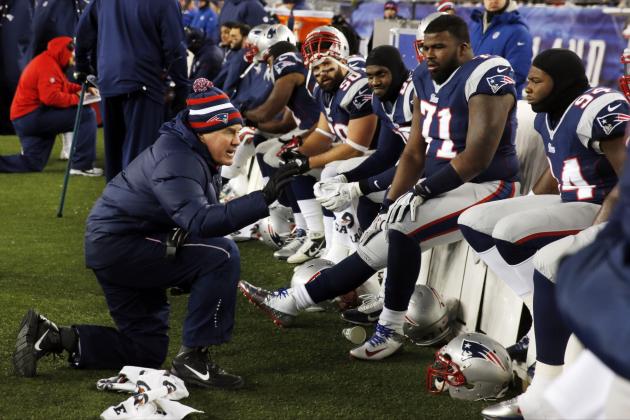 USA TODAY Sports
Bill Belichick's team earned the No. 2 seed in the AFC playoffs on Sunday.
Coaching Staff: A
The Patriots had a dominant performance on Sunday, as they were both very efficient on offense while dominating defensively, and the coaching staff certainly had them prepared.

Head coach Bill Belichick had to make more tough decisions than usual today, in large part due to the heavy winds that affected the ability to kick field goals, but his decisions paid off.

While the Patriots' fourth-down conversion attempt on their opening drive failed, they converted two further fourth-down conversions later in the game. By punting rather than kicking into the wind when the Patriots decided not to go for it, the Patriots consistently pinned the Dolphins deep in their own territory, rather than giving them good field positions if they were to instead miss a field goal.

The Patriots' offensive gameplan was balanced and worked very effectively, while the defense did an outstanding job compensating for some key absences in their starting lineup and having their most dominant performance of the year.

The Patriots' coaching staff clearly has their team ready for the postseason, and now with a first-round playoff bye, they will have two weeks to get their team rested and ready for their next opponent in the divisional round.
Dan Hope is the New England Patriots game day correspondent and an NFL draft Featured Columnist for Bleacher Report.

Follow @Dan_Hope