One Player from Each MLB Team Who Will Be Gone Before 2014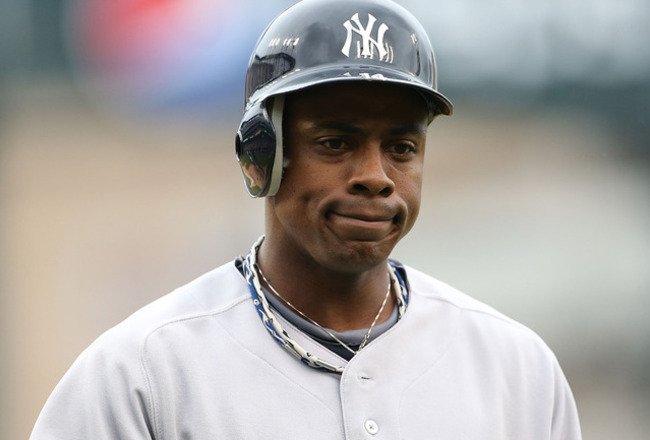 Curtis Granderson's tenure with the New York Yankees is coming to an end. Leon Halip/Getty Images

We seldom see MLB teams begin and finish the year with identical personnel. Players on every roster will be unemployed or working elsewhere when the ball drops to usher in 2014.
The offseason isn't over yet, so several misfits could be traded or released before/during spring training. Most of them, however, will depart as the summer progresses. Anybody certain to leave via free agency has also been included.
Don't let any of these changes catch you by surprise.
Arizona Diamondbacks: Jason Kubel
Kubel is too much of a defensive liability.
Stephen Dunn/Getty Images
Jason Kubel was born to be a designated hitter. Even at 30 years old, he struggles defensively.
The Arizona Diamondbacks have an obvious surplus of outfielders. Only one spot needs to be determined with Gerardo Parra and Cody Ross all but assured to play regularly.
General manager Kevin Towers backed off Justin Upton trade talks earlier this winter and ESPN's Buster Olney has learned that Kubel is most likely to move.
Atlanta Braves: Brian McCann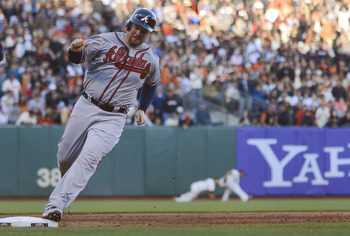 Brian McCann.
Thearon W. Henderson/Getty Images
The Atlanta Braves have reportedly been more proactive in trying to extend Martin Prado, another impending free agent. Without a high payroll, they won't be able to match other offers that Brian McCann receives.
Panamanian prospect Christian Bethancourt didn't perform well at Double-A last season, but he's still considered Atlanta's future behind the plate.
Baltimore Orioles: Brian Roberts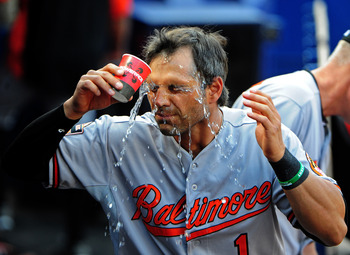 Roberts recently underwent hip surgery.
Scott Cunningham/Getty Images
The 2000s was a dark decade for the Baltimore Orioles, during which Brian Roberts was one of the few bright spots. An athletic and durable second baseman, he led off their lineup and twice represented them in the MLB All-Star Game.
But after opting for hip surgery, it's clear that he'll never be an everyday player again.
Roberts earns $10 million in 2013. Beyond that, though, even the Orioles wouldn't offer him a major league deal.
Boston Red Sox: Jacoby Ellsbury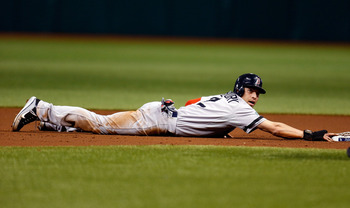 Jacoby Ellsbury.
J. Meric/Getty Images
Jacoby Ellsbury was the American League's top position player in 2011. He smashed 32 home runs, swiped 39 bases and provided 8.0 WAR, according to Baseball-Reference.com.
Simultaneously, Matt Kemp enjoyed that kind of campaign in the NL. The Los Angeles Dodgers rewarded him with an eight-year, $160 million contract.
Agent Scott Boras will surely make that comparison in talks with other teams when Ellsbury reaches free agency.
Considering their center fielder's injury concerns, the Boston Red Sox should be reluctant to make that sort of guarantee. However, there are always suitors eager to roll the dice on talented, up-the-middle position players.
Chicago Cubs: Alfonso Soriano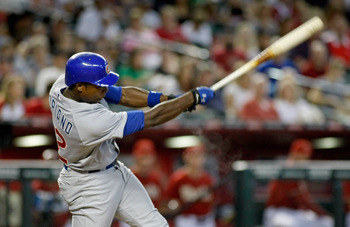 Alfonso Soriano.
Ralph Freso/Getty Images
Alfonso Soriano proved last season that he still has plenty left in the tank. He avoided the disabled list and launched 32 home runs—his best total since 2007.
The outfielder is under contract through 2013 and 2014, but the rebuilding Chicago Cubs don't expect to be World Series contenders in the near future.
Not surprisingly, they have attempted to trade Soriano (rather than wait until he reaches free agency). Jon Heyman of CBS Sports tweets that the team would even pay $26 million of the $36 million he is owed to receive a capable prospect in return.
Decline seems likely in his age-37 season, so the Cubs will almost certainly complete a deal in the next few months.
Chicago White Sox: Paul Konerko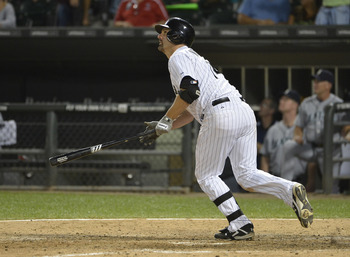 Paul Konerko.
Brian Kersey/Getty Images
Paul Konerko isn't interested in clinging to his playing career for as long as possible.
In January 2012, the veteran first baseman told Chuck Garfein of CSNChicago.com that "at some point you got to go home and be around your kids." He admitted that he would consider retirement when his contract expires after the 2013 season.
Konerko's defense has worsened with age, but he remains a potent middle-of-the-order presence. He has earned three straight All-Star Game selections and maintained a .304/.384/.530 triple-slash line during that stretch.
The Chicago White Sox captain will undoubtedly be missed.
Cincinnati Reds: Shin-Soo Choo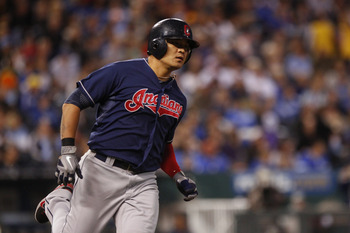 Shin-Soo Choo.
Kyle Rivas/Getty Images
Shin-Soo Choo is a Scott Boras client on the verge of free agency. He's very comparable to Jayson Werth, who signed for $126 million earlier this decade.
The Cincinnati Reds can't pursue him. Several of their stars have been inked to back-loaded deals, and others could be extended this summer.
The team will enjoy this veteran leadoff man in 2013 before giving speedster Billy Hamilton an everyday opportunity the following season.
Cleveland Indians: Chris Perez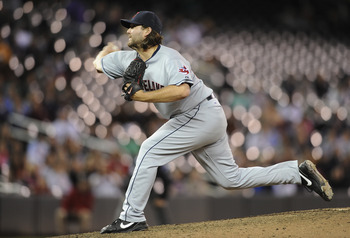 Chris Perez.
Hannah Foslien/Getty Images
The arbitration process reward compilers. That's why Chris Perez—thanks to his 107 MLB saves—could make north of $7 million next summer.
Despite his outspokenness, other teams like that Perez is under control through 2014. Some will get desperate as the non-waiver trade deadline approaches.
Conveniently, closer-in-waiting Vinnie Pestano is ready for a promotion.
Colorado Rockies: Todd Helton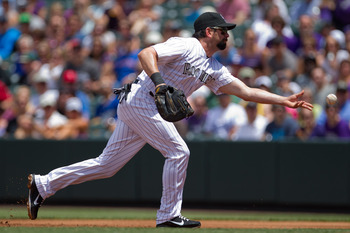 Todd Helton.
Justin Edmonds/Getty Images
Patrick Saunders of the Denver Post reports that Todd Helton is going to be limited in his return from hip surgery. There's even a possibility that he retires this spring if his body doesn't respond well to workouts.
Regardless, his contract expires after the World Series, at which point Helton has the option to transition into the Colorado Rockies front office.
Detroit Tigers: Rick Porcello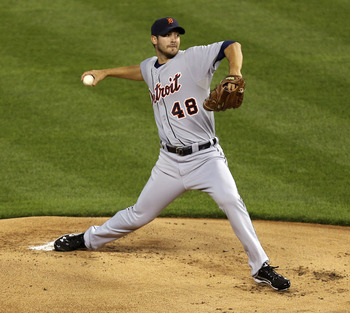 Rick Porcello.
Ed Zurga/Getty Images
Rick Porcello cannot succeed with the Detroit Tigers. With Miguel Cabrera and Prince Fielder at the corners and Omar Infante and Jhonny Peralta in the middle, there's not nearly enough infield athleticism to make plays on his ground balls.
The right-hander is starting to get expensive, and Detroit has five other guys to fill out the rotation.
Jon Paul Morosi of Fox Sports tweeted that several teams have spoken with the Tigers about him.
Houston Astros: Jed Lowrie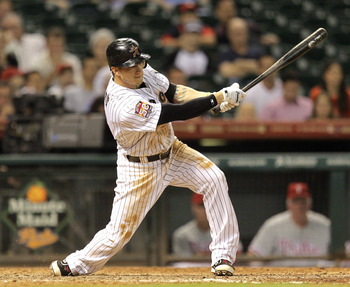 Jed Lowrie.
Bob Levey/Getty Images
As a versatile defender who's comfortable in the batter's box, Jed Lowrie has too much value to not get dealt.
He'll be on the move this summer. At least one potential contender will lose an everyday player to injury and seek a veteran's services.
The Houston Astros consider Carlos Correa their shortstop of the future, so they might as well swap Lowrie for a promising prospect.
Kansas City Royals: Ervin Santana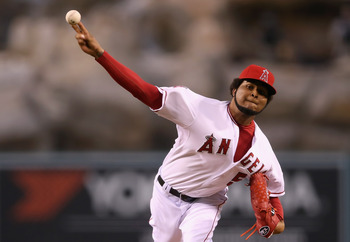 Santana becomes a free agent after the 2013 season.
Jeff Gross/Getty Images
The Kansas City Royals won't be able to afford Ervin Santana if he bounces back strong in 2013. On the other hand, should he stink for a second consecutive year, they will probably decline to re-sign him.
Santana is just a stopgap until back-end starters Danny Duffy and Felipe Paulino recover from their Tommy John surgeries.
Los Angeles Angels: Ryan Madson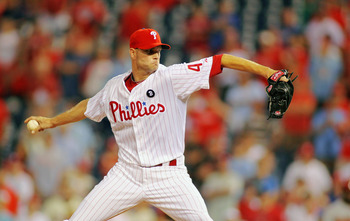 Ryan Madson.
Len Redkoles/Getty Images
All the highest-paid Los Angeles Angels—Josh Hamilton, Albert Pujols, Jered Weaver and C.J. Wilson—have signed back-loaded contracts. That should make it difficult for the team to make any huge acquisitions in 2013.
Bringing back Ryan Madson will qualify as one if he reestablishes himself as a shutdown closer.
L.A. has him at a bargain price this season, but he'll likely settle in another big market afterwards.
Los Angeles Dodgers: Juan Uribe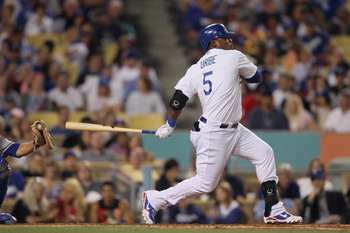 Juan Uribe.
Victor Decolongon/Getty Images
Juan Uribe has been awful in his two seasons with the Los Angeles Dodgers. Superior reserve infielders—Nick Punto and Skip Schumaker—now populate the team's bench.
Either via trade or outright release, the Dodgers will move the 33-year-old before the season begins. With $8 million remaining on Uribe's contract (a la Chone Figgins), the latter is more realistic.
Miami Marlins: Ricky Nolasco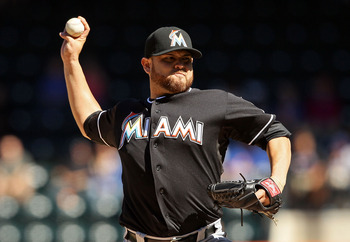 Ricky Nolasco.
Alex Trautwig/Getty Images
The Miami Marlins certainly have no interest in extending Ricky Nolasco's contract as they rebuild. Mutually, the right-hander prefers to pitch elsewhere, writes ESPN.com's Jerry Crasnick.
Nolasco could be traded during spring training, especially if a potential playoff team loses a back-end starter to injury.
Considering his declining strikeout rate and $11.5 million salary, the Marlins will need to include cash in any trade if they expect to receive a decent prospect in return.
Milwaukee Brewers: Carlos Gomez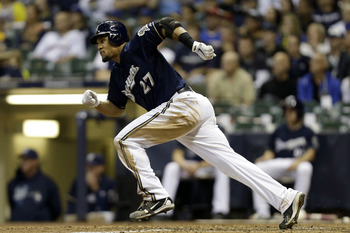 Carlos Gomez.
Mike McGinnis/Getty Images
See the Jacoby Ellsbury slide.
Carlos Gomez is at an identical stage of his career and is bestowed with similar athletic gifts. He even has Scott Boras as his representative.
Being two years younger than Ellsbury will make him all the more desirable.
Minnesota Twins: Justin Morneau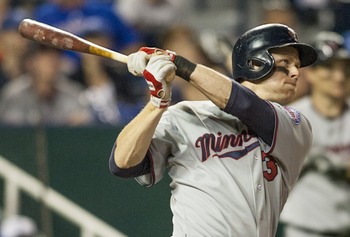 Justin Morneau.
Tim Umphrey/Getty Images
The former AL MVP is reportedly healthier than he's been in years. Justin Morneau feels so good, actually, that he has agreed to represent Canada during the World Baseball Classic.
From the get-go, he'll excel in the middle of the Minnesota Twins' lineup.
By midsummer, the team will accept that it can't contend in 2013 and place Morneau—an impending free agent—on the trading block. There's always somebody seeking left-handed power.
New York Mets: Johan Santana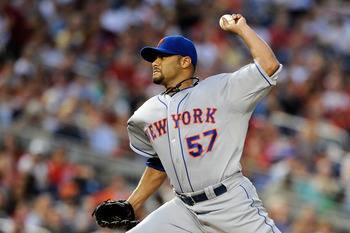 Johan Santana.
Patrick McDermott/Getty Images
Rest assured, Johan Santana will find work after we flip the calendars again. It just won't be with the New York Mets.
For the first time in a generation, the franchise has a slew of young starting pitchers to comprise the rotation.
Paying Santana anything on top of his $5.5 million buyout would make it difficult to complete a competitive roster.
New York Yankees: Curtis Granderson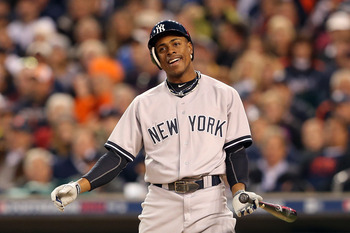 Curtis Granderson.
Leon Halip/Getty Images
Aside from being one of the game's top power hitters, Curtis Granderson is a positive clubhouse influence. Despite that, the New York Yankees aren't going to make much of an effort to keep him.
Their top priority next winter will be re-signing second baseman Robinson Cano, who might cost them $25 million annually through the end of the decade.
Next, they will address the starting rotation. A couple spots could open with Andy Pettitte and Hiroki Kuroda potentially retiring. Even Phil Hughes might chase the money elsewhere as a free agent.
New York wants an athletic, inexpensive outfield, which means Granderson isn't a fit.
Oakland Athletics: Bartolo Colon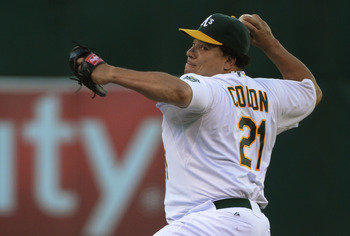 Bartolo Colon.
Thearon W. Henderson/Getty Images
Bartolo Colon turns 40 next May.
Surely the Oakland Athletics can find a slightly younger starter on the free-agent market once his contract expires.
Colon is heavily reliant on fastballs (via FanGraphs). As he ages (and gets away from PEDs), the velocity will dip, as will his effectiveness.
Philadelphia Phillies: Michael Young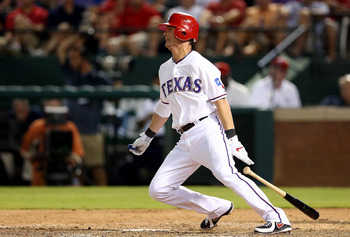 Michael Young.
Ronald Martinez/Getty Images
This winter, the Philadelphia Phillies needed to improve their outfield, middle relief and back end of the rotation. Without much money to work with, they settled for Michael Young as their 2013 third baseman.
The former AL batting champ will get them through the summer, but they should find a way to get younger at the position once he comes off the books.
Pittsburgh Pirates: A.J. Burnett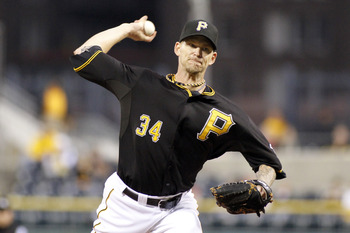 A.J. Burnett.
Justin K. Aller/Getty Images
A.J. Burnett's bounce-back season wasn't a fluke. He just changed his approach to induce more ground balls.
The Pittsburgh Pirates signed catcher Russell Martin in November, and working with this familiar target should only lead to improved performance.
Wealthier teams will bid for his services when he becomes available. Besides, the Pirates have plenty of internal options.
San Diego Padres: Edinson Volquez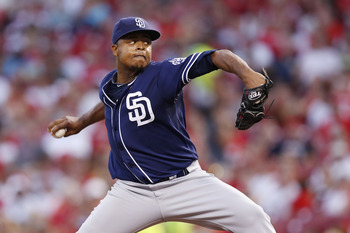 Edinson Volquez.
Joe Robbins/Getty Images
Edinson Volquez's wildness should be more of detriment in newly-downsized Petco Park. The San Diego Padres have been tolerant in the past, but it's hard to imagine them sticking with him for 32 starts again.
Their injury-torn rotation will be back to full strength by 2014, so the odds of San Diego re-signing Volquez are also slim.
San Francisco Giants: Barry Zito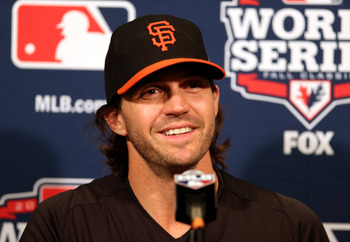 Barry Zito.
Christian Petersen/Getty Images
Barry Zito needs to pitch 200-plus innings for the first time since his Oakland Athletics days to get his $18 million option to vest. But because he doesn't miss enough bats to work efficiently, that's not going to happen, even if he stays healthy.
Instead, the San Francisco Giants will opt for the $7 million buyout.
Despite Zito's heroics last October, they aren't likely to pursue him.
Seattle Mariners: Kendrys Morales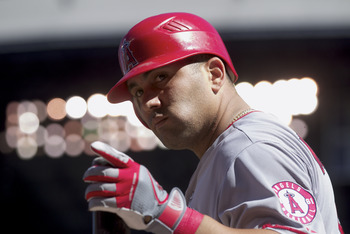 Kendrys Morales.
Stephen Brashear/Getty Images
The next free-agent class includes several more legitimate first basemen than this current group.
There's still a possibility that Kendrys Morales returns to 2009 form and becomes the best individual available. But more likely, the Seattle Mariners will make their big splash by signing Justin Morneau or Michael Morse.
St. Louis Cardinals: Rafael Furcal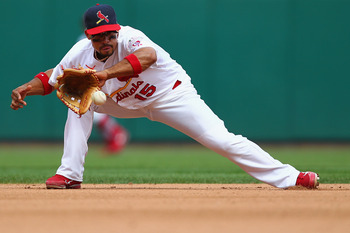 Rafael Furcal.
Dilip Vishwanat/Getty Images
Like so many speedy players before him, Rafael Furcal isn't aging well.
The shortstop used to provide great value with his base-stealing and range at shortstop. Now, as a 35-year-old, that's no longer the case.
His durability is an issue too. Furcal has averaged fewer than 100 games over the past five years, landing on the disabled list with a variety of serious injuries.
The St. Louis Cardinals would be better off with Pete Kozma.
Tampa Bay Rays: David Price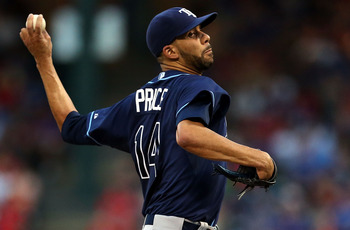 David Price.
Ronald Martinez/Getty Images
ESPN's Buster Olney reports that David Price will cost the Tampa Bay Rays more than $10 million in 2013. The two sides avoided arbitration with a one-year deal.
The bad news: Price is eligible again next year and the year after. Just remaining healthy can earn him pay raises.
Olney has repeatedly written about the inevitability that this superstar left-hander will get traded. His small-market team cannot afford to plug all its roster holes and give him an eight-figure salary.
Particularly if the Rays fall out of the playoff hunt early on, the Texas Rangers should be making calls to their front office this summer.
Texas Rangers: Colby Lewis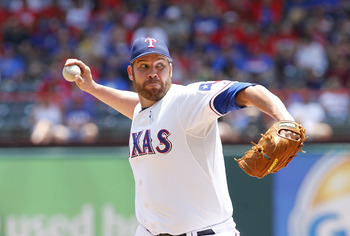 Lewis is recovering from a torn flexor tendon.
Rick Yeatts/Getty Images
Speaking of the Texas Rangers, they will retain Colby Lewis through the 2013 season, but not beyond that. The starting rotation should fill up with younger talent.
Yu Darvish and Derek Holland are already signed to long-term contracts, while Jeff Wilson of the Fort Worth Star-Telegram reports that Texas has entered preliminary extension negotiations with Matt Harrison. Neftali Feliz, who will be 20 months removed from Tommy John surgery by Opening Day 2014, is also expected to get a starting job.
The Rangers have high-ceiling prospects valuable enough to pluck an established pitcher from a non-contending team. They could also complete the rotation internally with Justin Grimm, Martin Perez or Robbie Ross.
Toronto Blue Jays: Adam Lind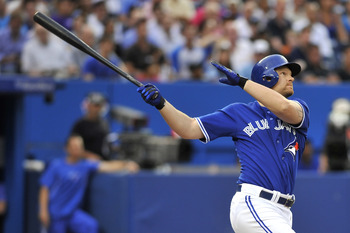 Adam Lind.
Brad White/Getty Images
Adam Lind definitely swung the bat better after returning from a midseason minor league demotion.
Still, $7 million is a steep price to pay for a platoon player. That's the value of his 2014 club option, which can be bought out for $2 million.
If the Toronto Blue Jays stand any chance at extending/re-signing Josh Johnson when his contract expires, they will need to trim payroll in other places. David Cooper could match Lind's production for pennies on the dollar.
Washington Nationals: Michael Morse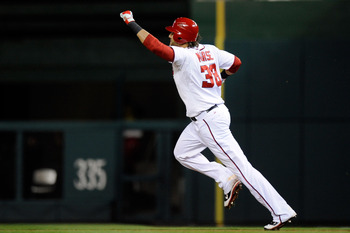 Michael Morse.
Patrick McDermott/Getty Images
He could be moved before spring training if the Washington Nationals ever come to an agreement with free agent Adam LaRoche. A handful of teams like Michael Morse enough to surrender young pitching for him.
Regardless, the first baseman/outfielder will leave the nation's capital next offseason as a free agent. It wouldn't be surprising to see Morse get a three-year deal worth more than $30 million.
The Nationals, meanwhile, have their money committed elsewhere.
Keep Reading