Remembering the Players Italian Soccer Lost in 2012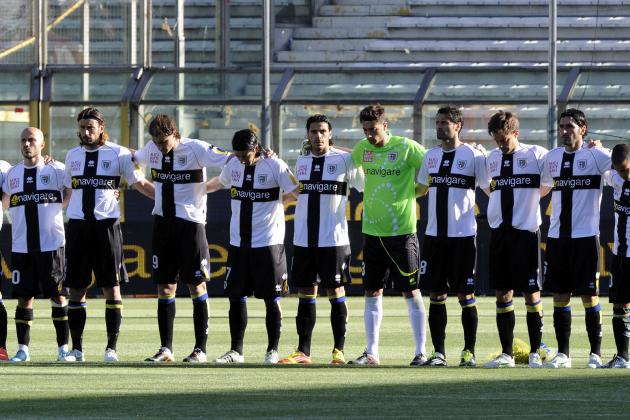 Claudio Villa/Getty Images

Unfortunately, death is a part of life. It's a reality that no one wants to think about but that every person and every community must confront.
Over the course of 2012, the Italian soccer community has been no exception. So let us take a moment to give a minute's silence for the following men who played on Italian soil at some point in their careers—most old warriors, some who left us tragically early.
Begin Slideshow

»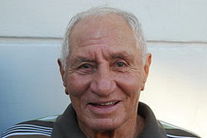 Used under Creative Commons License
1924-2012
Lefter Kucukandonyadis is well known as one of the greatest players in the history of Turkish giants Fenerbahce. One of the best players Turkey ever produced, he was one of the first Turks to to play abroad, and his first stop on foreign soil was Italy, playing a single season with Fiorentina in 1951-52. He played in 30 matches for the viola, scoring four times.
After the '51-52 season he moved to Nice for a year before returning to his native Turkey for his second, much longer stint with Fenerbahce, where he became one of the greatest players ever to play for the club, eventually totalling 423 goals in 615 games over 15 years with the club over two stints.
He died in Istanbul in January at the age of 87.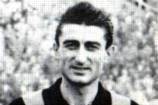 1926-2012
Stefano Angeleri began his career in 1943 with Voghera, then moved to Juventus in 1947. He spent two years there before moving to Atalanta. It was in Bergamo where he found his home, spending 11 seasons at the Stadio Azzurri d'Italia.
Never a scorer, the midfielder eventually played 314 matches for La Dea, netting two goals in the league. Atalanta was in the midst of one of its longest continuous stays in Serie A when Angeleri arrived, and they stayed up for almost all of his time there. They were relegated in 1958-59, but Angeleri stayed with the club and helped them regain promotion to Serie A after just one season before retiring.
Immediately after his retirement he took command of Atalanta's youth program, and took the helm of the senior team four years later. He spent four years in that post before bouncing Italy, managing 10 different clubs including Parma, Modena, and Cremonese. He last managed at Lecco, tending the team for the 1985-86 season.

1921-2012
Born in Hungary, Arpad Fekete started his career at Carmen Bucuresti before moving to Italy in 1946. He played for two years at Como, earning 38 caps and scoring 13 times from his center forward position.
After leaving Como, he spent single seasons at Pro Sesto, SPAL, Cosenza, Messina, and Cagliari before ending his career as a player.
After his playing days, Fekete became well-known as a manager in Mexico. He won three Mexican titles, two with Chivas Guadalajara (back to back and 1959 and '60) and one with Oro de Jalisco (1963). His final season as a manager was 1989-90 with Chivas. He died in Guadalajara in February.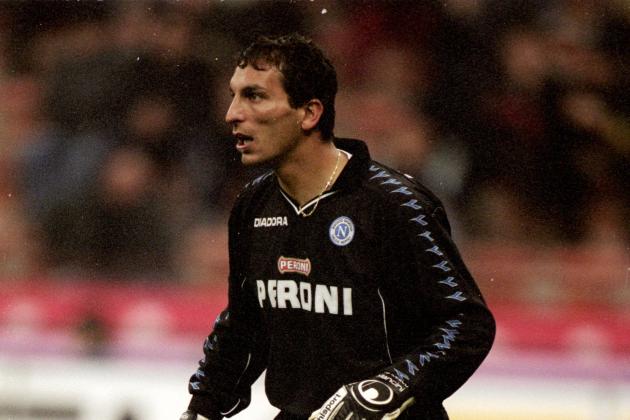 Claudio Villa/ Grazia Neri/Getty Images

1968-2012
Francesco Mancini started his career with his hometown club, Matera, before landing at Foggia in 1987. He was the No. 1 keeper at the Apulian club for ten years, winning the Serie B title in 1991 and spending five years at the top flight before the team fell back into Serie B and then spiraled downward.
He played 235 games for Foggia before moving back into the Serie A with a transfer to Bari. He played 95 games in three years there before moving to Napoli for a further three.
After Napoli signed a replacement for him in the summer of 2003, he bounced around Serie C1 for five years, playing at five clubs and never staying at any one of them for more than a year before retiring.
After his playing career he became the goalkeeping coach at Manfredonia and then served the same role under his old manager Zdenek Zeman at both his old club, Foggia, and at Pescara, where he and Zeman led the Delfini to Serie B title and promotion to the top flight for the first time in 20 years.
Mancini was found dead by his wife in their Pescara home in March, the victim of a sudden heart attack. He was 43.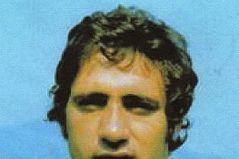 1947-2012
Giorgio Chinaglia was a prolific striker with an equally prolific personality.
Chinaglia started his career in Wales after his family emigrated following World War II. He made his pro debut with Swansea in 1964 and played in six matches for the Swans over two years as a teenager before moving back to Italy when he was 19 due to his military obligations for his country.
According to the rules of the day, Chinaglia was banned from playing in the Serie A for three years because he had played professionally in another country, so he played for Serie C teams Massesse and Internapoli before moving to Lazio in 1969.
In seven years for the biancocelesti, Chinaglia played 209 games and scored 98 times, helping lead the team to the scudetto in 1973-74.
From Lazio, he moved to the New York Cosmos of the North American Soccer League, where he teamed with the likes of Pele and Franz Beckenbauer. Unlike those legends, however, Chinaglia moved to the fledgling American league in his prime, and from 1976 to 1983 he scored a mind-boggling 193 goals in 213 games for the Cosmos, leading them to four titles, scoring game winners in three league finals.
Chinaglia fell in love with the USA and became an American citizen in 1979. Late in his life he hosted a daily two-hour soccer radio show on Sirus radio.
He had a heart attack in late March and succumbed to complications thereof on April 1. He was 65.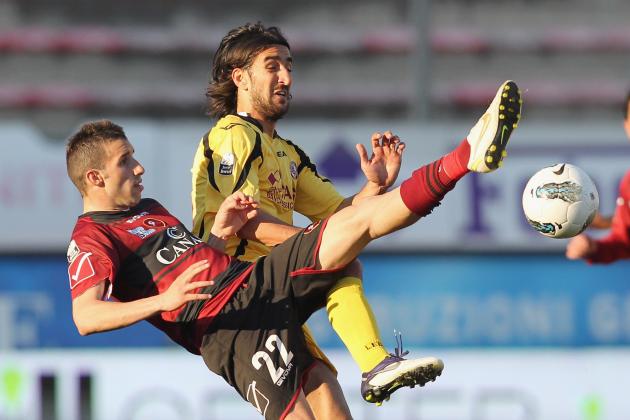 Maurizio Lagana/Getty Images

1986-2012
The death of Piermario Morosini was one of the greatest tragedies to strike Italian soccer in its history.
Playing for Livorno on loan from Udinese, the promising young midfielder and U-21 international suffered a cardiac arrest in the 31st minute of a match between Livorno and Pescara on April 14 in Pescara and collapsed on the field. A defibrillator was used on him on the field, and he left the field conscious on a stretcher, but died en route to the hospital. Italian media was reportedly alerted to his death by "and explosion of shouts and tears" from teammates who had travelled to the hospital. He was 25.
The incident was not without controversy. Reports state that a police vehicle blocked the entrance for an ambulance for about 60 seconds, although cardiologists later said that it would have made no difference had the delay not occurred.
Morosini's death was all the more painful because the soccer world had just dodged a bullet in a similar incident in England when Bolton Wanderers midfielder Fabrice Muamba suffered a cardiac arrest and was without a heartbeat for over an hour before making a miraculous recovery. All Serie A and B matches were postponed, and Livorno took the unusual measure of retiring the number 25 shirt that he wore for the club during his loan.
The tragedy did see the best brought out in people, however. Udinese captain Antonio Di Natale—who reportedly considered retirement in the wake of his teammate's death—took on the responsibility of caring for Morosini's disabled sister, who was financially dependent on Piermario and was left with no family after her brother's passing.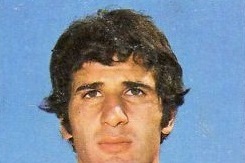 1948-2012
The definition of a journeyman, Carlo Petrini was the property of no fewer than 13 clubs from 1964 to 1985. He never stayed longer than four years at any club (Genoa, his first) and played his most matches with then-Serie B side Catanzaro (71, with 22 goals scored).
Petrini played a total of eight seasons in the Serie A, playing with AC Milan, Torino, Varese, Ternana, Roma, Verona, and Bologna.
His career effectively ended in in 1980, when he was suspended for three and a half years for his role in the Totonero betting scandal. He played for several years after his suspension ended in the lower levels of the Italian pyramid before going into business. His venture had initial success, but eventually he fled Italy to escape creditors when debts started piling up.
In 2000, he wrote an autobiography which alleged rampant doping in the sport in the 60s and 70s. Petrini himself suffered from glaucoma that may have been brought on by use of performance enhancing drugs. He was a staunch advocate against PED usage until his death in April at age 64.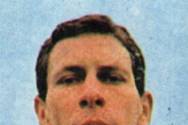 1939-2012
A midfielder, Dante Micheli played for Mantova (twice), SPAL (twice), Fiorentina, and Foggia. He made more than 250 appearances in Serie A play, although the majority of his career was spent in Serie B with Mantova.
During his lone season with Fiorentina, the viola beat Rangers 4-1 on aggregate in the final of the Cup Winner's Cup.
He passed away on June 10 at the age of 73.

1929-2012
Ennio Cardoni played from 1948 to 1961, starting out with Siena. The defender played a combined six seasons in Serie A with Genoa, Roma, Atalanta, and Lecco. He arrived at Genoa after they were promoted in 1953 and played 92 games with them, the most of any club he played for.
A journeyman, he never played more than three years with any club. He passed away in July at age 83.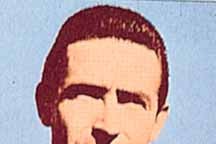 1924-2012
A midfielder, Mazza started his career with Crema and played with nine teams overall. He spent his longest stretch at Inter, with whom he won consecutive titles in 1952-53 and '53-54.
Two years later he moved to Fiorentina, who won the title in 1955-56, although Mazza was small issue to it, appearing in just four games. He also had a single cap for the national team.
He managed Crema briefly in 1961, but did not embark on a long managerial career.
He died in June at age 88.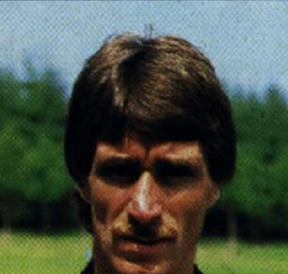 1953-2012
A defender/midfielder with a reputation as a good technical player adept at passing, dribbling, and crossing, Aldo Maldera spent the majority of his career at AC Milan, for whom he made 227 appearances and won a scudetto in 1978-79 and a Coppa Italia in 1976-77.
After 11 years with the rossoneri he moved to Roma, reuniting with his old Milan boss Nils Liedholm. His time with the giallorossi was fruitful, garnering him a second scudetto in his first season and a second Coppa Italia the next year.
He represented Italy 10 times, and was on the roster of the 1978 World Cup and 1980 European Championship teams that both garnered fourth place in their respective competitions.
After his playing career Maldera worked as an agent and also helped out with Roma's youth program. He also served as sporting director at Greek club Panionios.
He died in Rome on August 1 at the age of 58.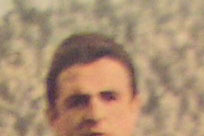 1926-2012
Rino Ferrario was a defensive midfielder who was known for his rugged, physical play. He was built like a rugby player, and at 6'1" was one of the biggest players ever to play for the Italian national team up to that point. He was nearly impossible to knock down and difficult to get past with the ball.
After starting his career with Arezzo and Lucchese, Ferrario was signed by Juventus and spent seven seasons with the bianconeri over two stints, winning the scudetto in 1952 in his first stint and in '58 during his second, along with a Coppa Italia title.
In between his stints at Juve the midfielder spent time at Inter and Triestina before ending his career on the other side of Turin with Torino once his second stint was over.
He played for Italy 10 times between 1952 and 1958 and was an unused substitute on the 1954 World Cup roster.
He died in September at the age of 85.
1925-2012
A defender, Gianfranco Dell'Innocenti played professionally for 18 years, spending 12 of those seasons in Serie A.
He spent his most time out of those 18 years with Roma, where he played for four years. He also saw top-flight action with Luccese, SPAL, Bologna, and Vicenza. He played more games with SPAL than with any other side he was involved with, garnering 102 caps in three years.
Dell'Innocenti's grandson, Cesare Rickler, was one of the men caught up in the calcioscommese scandal, and he was recently suspended for four years.
Dell'Innocenti died in Viareggio in September at age 86.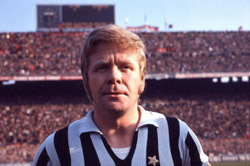 1939-2012
Born in Augsburg, Germany, Helmut Haller was a midfielder and striker who represented West Germany in three World Cups and scored a goal in the 1966 World Cup final.
After spending five years at Augsburg on the club level, Haller was lured to Italy by financial incentives. He first played with Bologna, where he helped the team to the title in 1964, the last time the team has won the championship.
After six years in Bologna Haller moved to Juventus, where he won two more scudetti in 1971-72 and '72-73 (his last years with the team). He also reached the 1973 European Cup final, which Juve lost to a Johan Cruyff-led Ajax side.
After Juve he spent the last six years of his career back in Germany with Augsburg and Schwenningen.
Haller was known for technique and finesse, especially on the dribble, and is universally considered one of the best wingers of the sixties. Despite all his gifts, he also struggled throughout his entire career with his weight, which may have held him back from even greater heights.
Haller died on October 11 in Augsburg, survived by his third wife, two sons, and a daughter.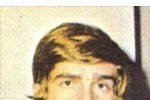 1946-2012
A striker, Alberto Reif spent his career as a journeyman. Reif played for ten teams over 13 seasons. The majority of the games he played were in Serie D and below with Mestre and Belluno.
The highlight of his career was a two-year stay at Inter at the tail end of the period known as La Grande Inter. He played in 12 games over those two years and was part of the team that won the title in 1970-71.
Reif died in Padua on October 15 after a battle with pancreatic cancer.

1925-2012
Goffredo Stabellini was a midfielder who spent all but one season of his 15-year career in the lower levels of Italian soccer with the likes of Parma, Lecce, and Taranto.
The one season he spent in the top flight was early in his career, when he appeared four times for Roma in 1946-47.
He spent the most time at Taranto, playing 112 games over four years.
He died in November at age 87.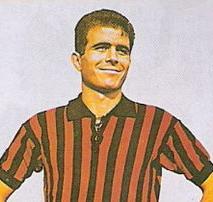 1938-2012
Cosimo Nocera was a top player at Foggia in the sixties. The striker spent ten years with the club, playing in 257 matches and scoring 101 goals. He was capocannoniere of Serie B in 1962-63, scoring 24 goals.
Nocera was with the team when they were promoted to Serie A for the first time in their history after the 1963-64 season. Starting from '64-65 the satanelli stayed in the top flight for four seasons, and on January 31 1965 scored a shock 3-2 victory over la grande Inter. At the end of '65 Nocera was called up to the Azzurri, scoring a goal in his only international appearance in a 4-1 victory against Wales.
Nocera followed the team down to Serie B when they were relegated after 1966-67, and stayed for two more years before ending his career with a year at Massiminiana.
He died in Foggia on November 28 at age 74.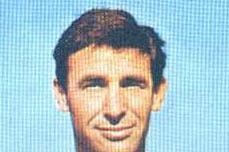 1938-2012
A defender, Mario Ardizzon played 10 seasons in the top flight and 17 overall. In two stints with Venezia he played a total of 215 matches. In between he had three- and five-year stints with Roma and Bologna.
Always a first team player, he never played fewer than 92 matches with any of the clubs he played for.
After retiring Ardizzon was the assistant manager at Venezia for two years before taking charge of his old club for a year in 1976-77. He then led Adriese to promotion from Serie D into Serie C2 and took charge of low-level club Jesolo for a year in the early 1980s.
He died in Venice in November at 74.