Eagles vs. Giants: Final Report Card, Analysis for Philadelphia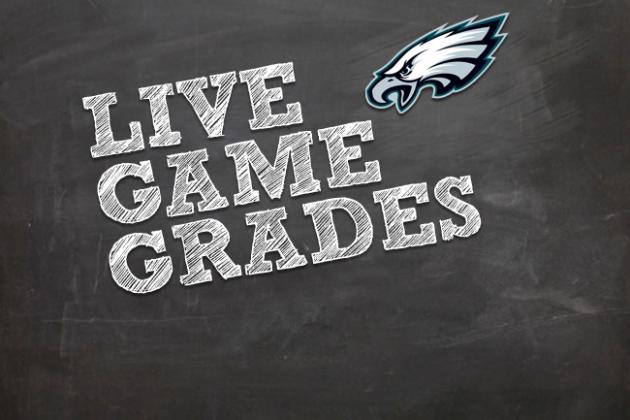 FINAL: Giants 42, Eagles 7
The Philadelphia Eagles (4-12) lost again, falling to the New York Giants (9-7) by a 42-7 score that represents the largest margin of defeat by the Birds this season.
It likely concludes Andy Reid's tenure in Philly, as Reid lost 11 of his final 12 games at the helm of the program. Reid's 4-12 mark is his single-season worst since he took over as the head coach.
Stay tuned to this article for full player grades and evaluations.
Begin Slideshow

»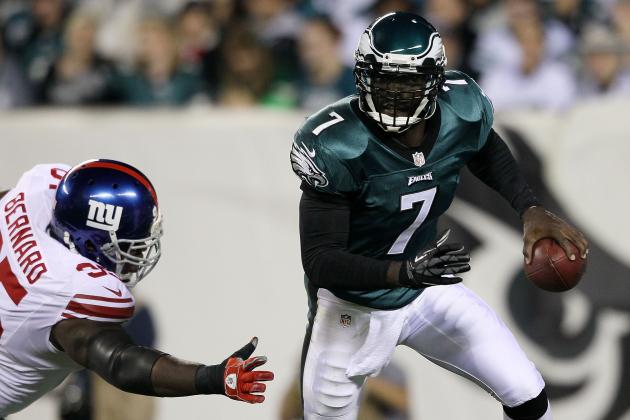 Alex Trautwig/Getty Images

Michael Vick: D
Michael Vick looked nothing like the kind of quarterback a team would want to play for them in 2013. He completed 19 of 35 passes for 197 yards for a touchdown and an interception, leading the Eagles to just seven points before he was mercifully benched in the fourth quarter.
Vick failed to generate any momentum. His only score was when the Eagles went for a fourth-down conversion. Vick missed a wide-open Damaris Johnson in the end zone on a third-down play one drive later.
He looked fresh as a runner, gaining 25 yards on five plays, with a long of 11 yards. But in all, it was an incredibly disappointing performance by Vick, who was starting his first game in half a season.
Trent Edwards took his first snaps in two seasons, completing both passes for seven yards total.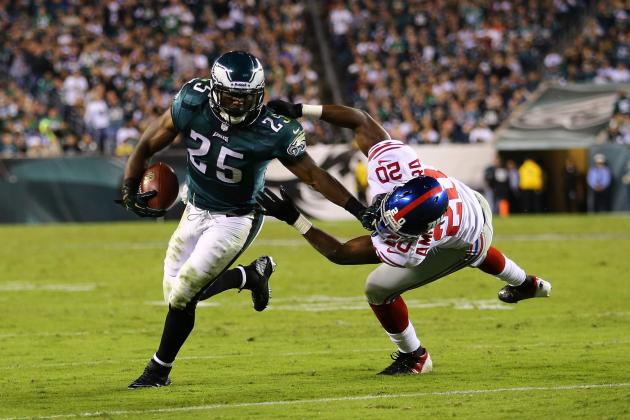 Al Bello/Getty Images

LeSean McCoy: A-
LeSean McCoy only got 10 carries today, but 45 yards is solid enough production given the awful offensive line. McCoy also led the team with five catches for 61 yards, including a brilliant 36-yard catch-and-carry across the field in which he juked out half the Giants defense.
McCoy finished with 106 yards on 15 touches.
Bryce Brown: C-
No fumbles is always a good thing for Bryce Brown, but he quietly struggled as a runner. He had the one very nice 13-yard run between the tackles, but he still finished with just 18 rushing yards on eight carries. That's not very good at all.
Dion Lewis: B+
Dion Lewis has looked very explosive in these last several games, and he finished with 15 rushing yards on three carries.
Stanley Havili: B
He played limited snaps as a fullback, and he's not nearly the blocker he was at the beginning of the year. But Stanley Havili provided good plays for McCoy and Brown.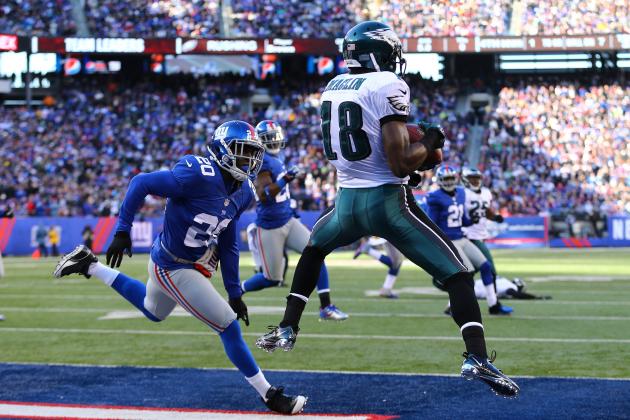 Al Bello/Getty Images

Jeremy Maclin: B
Twenty-two receiving yards is a quiet total for Jeremy Maclin but he did come up with four catches and the Eagles' lone touchdown of the day.
Jason Avant: C+
Jason Avant finished with four catches today, which is a fairly typical day for him. His passes netted 39 yards, and he did come up with a big third-down conversion.
Riley Cooper: C
Three catches for 22 yards is an unspectacular day for the Eagles' fourth receiver.
Damaris Johnson: C
Damaris Johnson totaled just one grab for eight yards today.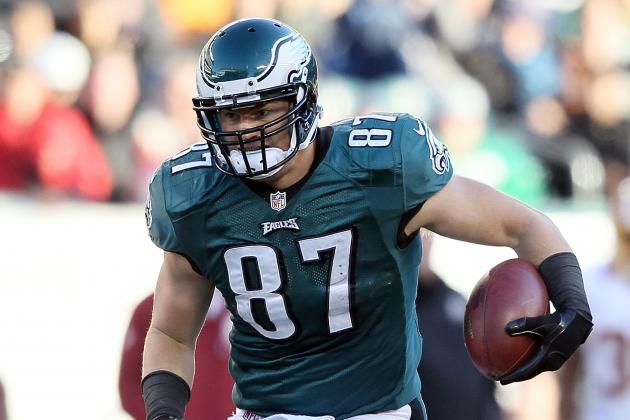 Alex Trautwig/Getty Images

Brent Celek: B-
Brent Celek snagged three passes today for 43 yards, including a 28-yarder across the middle when he was hit hard and held on to the ball.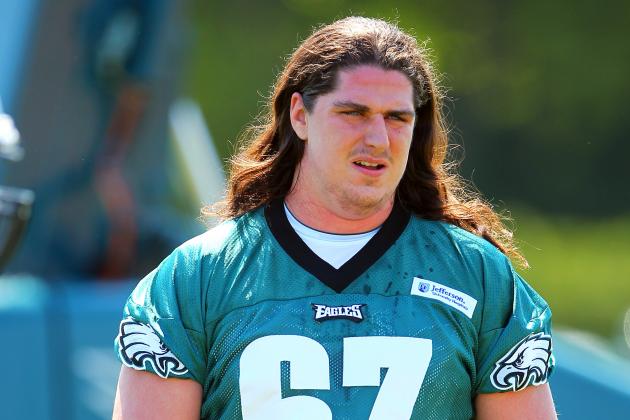 Rich Schultz/Getty Images

King Dunlap: D
The King Dunlap Era will likely end after today. He's on a one-year deal and he's not vital to the future of the team. Dunlap is a mediocre blocker who is best suited on the bench as "depth."
Evan Mathis: A-
Evan Mathis continues to shine as the best player on the Eagles' offensive line. The one clip FOX showed of Mathis way down the field run-blocking for McCoy highlights Mathis's strengths.
Dallas Reynolds: D+
Dallas Reynolds won't likely be back in Philadelphia in 2013. He had some decent moments as a blocker but he's too often overmatched, even against an interior Giants defensive line that isn't particularly strong.
Jake Scott: C-
Jake Scott really faded down the stretch, playing some fine football early on before looking like a liability as a blocker.
Dennis Kelly: D
Dennis Kelly was tasked with blocking Vick's blind side today, and he didn't have his best game. Kelly was part of an Eagles offensive line that only allowed one sack but numerous pressures.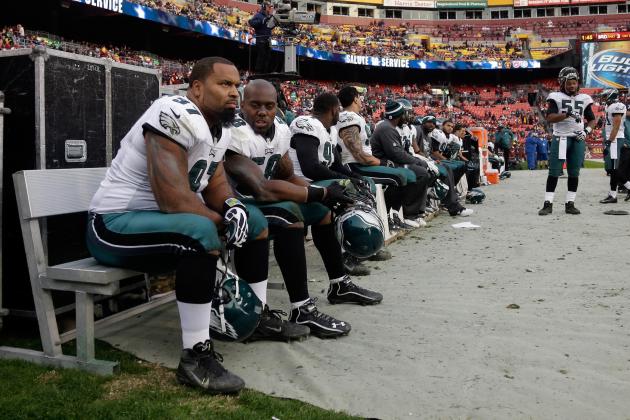 Rob Carr/Getty Images

Trent Cole: C-
Such concludes an incredibly disappointing season for Trent Cole, who finished with just three sacks in 15 games played. Cole was a no-show as a pass-rusher for way too many games in 2012.
Cullen Jenkins: D+
This may have been the last game in which Cullen Jenkins will be an Eagles. He had two tackles, no sacks, and was called for a hands to the face penalty.
Derek Landri: C-
In his first game as a starter in many weeks, Derek Landri had just one tackle and little pass pressure.
Brandon Graham: B-
Brandon Graham was relatively quiet as a pass-rusher today, finishing with just two tackles and no sacks or quarterback pressures.
Cedric Thornton: B
Cedric Thornton was the most explosive defensive lineman on the team today, finishing with three tackles and a big tackle for a loss. He did get flagged for a penalty.
Antonio Dixon: B+
In his first game back with the Eagles, Antonio Dixon registered four tackles in limited snaps. That's pretty impressive.
Phillip Hunt: A
For the first time all season, Phillip Hunt had a breakout game. He totaled a big sack of Eli Manning and a stuff of David Wilson in the backfield.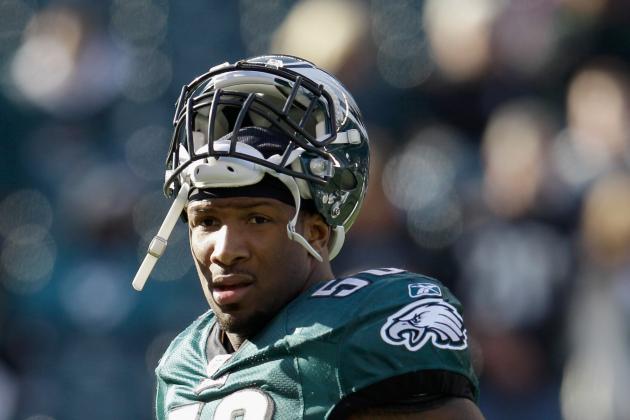 Rob Carr/Getty Images

DeMeco Ryans: D
DeMeco Ryans has really regressed down the stretch, and he finished with just two tackles today. Ryans also got beat badly in pass coverage, allowing an early touchdown pass.
Akeem Jordan: B
Akeem Jordan played a quietly productive today, picking up six tackles and a big tackle for a loss.
Jamar Chaney: C-
In pass coverage today, Jamar Chaney got beat very badly. He was burned for a touchdown pass, and this is by a linebacker whose strength is supposed to be defending the pass.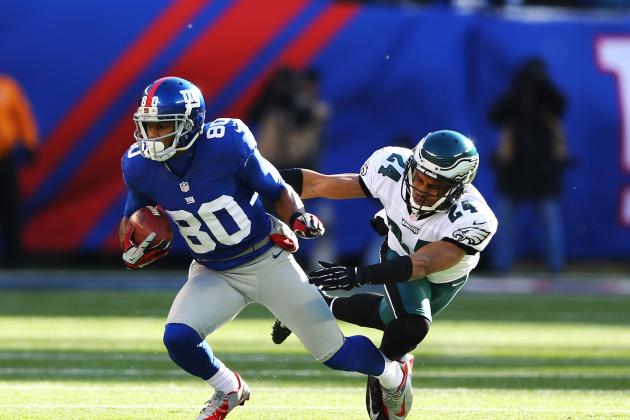 Al Bello/Getty Images

Nnamdi Asomugha: F
What an absolutely miserable season for Nnamdi Asomugha, who seemed to get progressively worse every time he stepped out onto the football field. Asomugha was beat badly on a touchdown pass to Rueben Randle, and then he was flagged for multiple defensive pass interference penalties, including one in the end zone. Asomugha was eventually benched for a former college running back who has seen just 58 snaps in the NFL.
Dominique Rodgers-Cromartie: B-
DRC played fairly good as a cover corner today. He also finished with six tackles and didn't get flagged for an penalties.
Brandon Boykin: C
Brandon Boykin was only seen in limited snaps today, registering two tackles without allowing any big plays.
Curtis Marsh: B
Curtis Marsh eventually took over for Asomugha late in the game. Marsh wasn't targeted on any pass attempts.
Kurt Coleman: C+
Kurt Coleman has played significantly better without the wide-nine defense, although he probably still doesn't have a future with this team. He did finish with nine tackles though.
Colt Anderson: C
Colt Anderson led the Eagles with 10 tackles today in what will finally be his final start for the team, but he also got beat badly in pass coverage.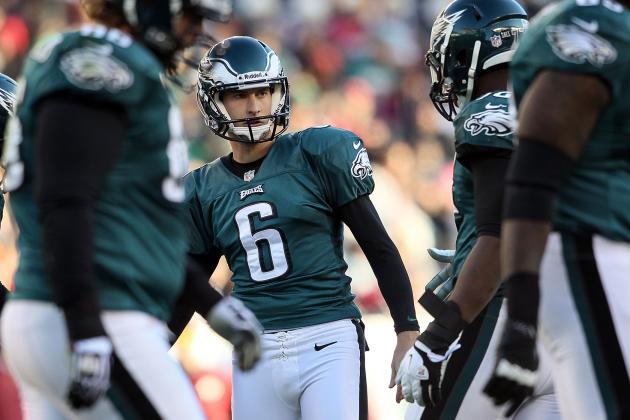 Alex Trautwig/Getty Images

Alex Henery: F
After missing one field goal in his first 12 seasons, Alex Henery missed three in his final four games. Henery's 27-yard miss was as bad of a miss as you will ever see on any kick.
Mat McBriar: D+
Mat McBriar did have a good punt downed at the 12-yard line but he averaged barely 40 yards on four different kicks.
Brandon Boykin: B+
Three kick returns for 28 yards per return is a very productive game for any kick returner.
Damaris Johnson: D
Damaris Johnson continues to look lost as a punt returner, and he totaled four yards on two returns.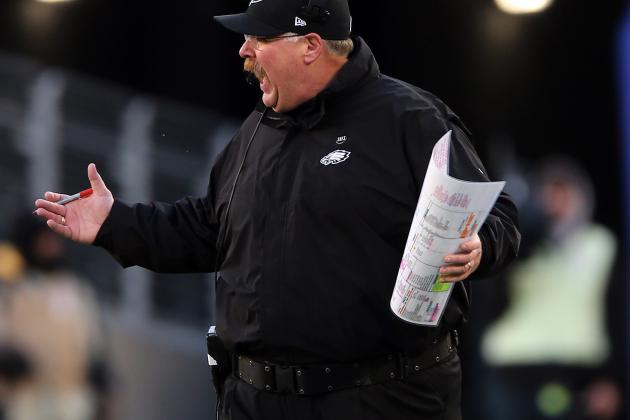 Elsa/Getty Images

Andy Reid: F
Whether it's his fault or not, the Eagles showed absolutely no effort today against the Giants. The Eagles were blown out by 35 points, looking very much like they just wanted to get off the field.
Marty Mornhinweg: C
Marty Mornhinweg's game plan was fairly balanced today, although still more in the direction of being pass-heavy. The Eagles called 43 pass attempts to 22 runs.
Todd Bowles: F
If this man gets a job in the NFL next season, I'm not sure where it will be. His defense gave up five more touchdowns today without coming close to an interception.
Bobby April: F
Bobby April's days as a special teams coordinator for the Eagles are over, and no one will miss him.