Rex Ryan's Biggest Mistakes of 2012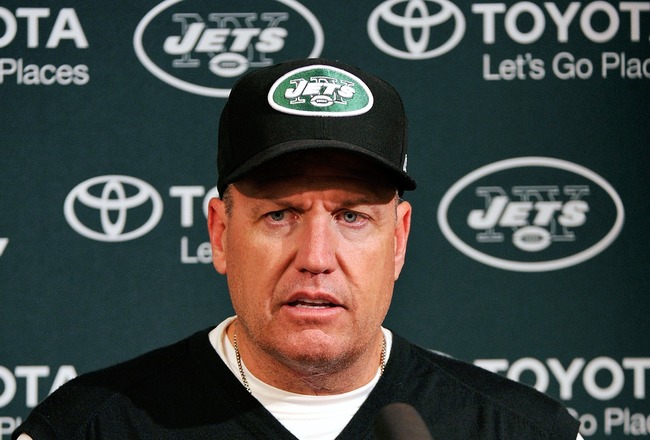 Rex Ryan discussing the MNF game that knocked the Jets out of the playoffs.
Frederick Breedon/Getty Images
Rex Ryan will coach the New York Jets in 2013. Injuries and a lack of depth were as much to blame for the Jets' first losing season since 2007 as any of his mistakes.
However, if Ryan does not learn from history, he is bound to repeat it.
2012 exposed more serious issues than winning and losing. Players criticized teammates and fans in public. Coaches blamed superiors for personnel decisions.
An offensive coordinator who was supposed to revive the offense put it to sleep instead.
The worst issues involved quarterbacks. First, Tim Tebow joined the team. Second, he was underutilized. Third, his presence may have undermined Mark Sanchez's self-confidence and with it his play.
Ryan is probably back because he kept the Jets in the playoff hunt for 14 weeks despite injuries that decimated offensive skill positions and took away his best defensive player, Darrelle Revis.
But unless he supports rebuilding the offense to meet today's high-octane, quarterback-centered trend and rebuilding the Jets' public image through sensible media policies, 2013 could be Rex Ryan's last as the New York Jets' head coach.
Endorsing Sparano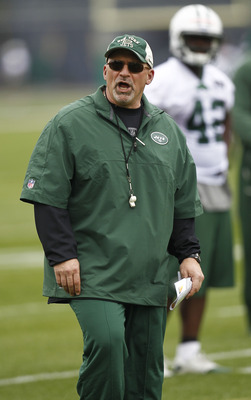 Tony Sparano failed to revive the Jets' offense or quarterback Mark Sanchez.
Jeff Zelevansky/Getty Images
Maybe Rex Ryan did not negotiate the contract by which Tony Sparano became the New York Jets' offensive coordinator. However, head coaches generally have significant input in selecting staff. So once Ryan endorsed Sparano as his choice for offensive coordinator, it was up to Mike Tannenbaum to complete the signing.
To quote Ryan,
When we sat down with Tony, I knew that he was the right person at the right time for our offense. I've admired his work as a competitor in the division for the past three seasons. His teams were always physical, tough and hard-nosed.
Hindsight shows that Sparano did not fulfill Ryan's hopes.
Rich Cimini of espnnewyork.com wrote that "Sparano believes in the running game and emphasizes pass protection." Granted, Sparano's new blocking schemes helped the running game in the season's second half. However, something in pass protection blew up against San Diego. Greg McElroy was sacked 11 times.
Cimini also wrote that Sparano was "...known as a disciplinarian, and that...is one of the reasons why he was hired." He was supposed to cure the locker room ills that led to friction between quarterback Mark Sanchez and his receivers Plaxico Burress and Santonio Holmes.
He didn't do well there either. The locker room fire changed its target to Tim Tebow.
Sparano's final positive trait was his ability to overcome adversity. This was based on taking a Miami Dolphins team that was 1-15 in 2007 to the playoffs in 2008. That 2008 team also brought the Wildcat to prominence, using it to upset New England.
However, the Jets' offense suffered adversity of a different kind—injuries. The Jets opened the season with starting wide receivers Santonio Holmes and Stephen Hill, slot receiver Jeremy Kerley and tight end Dustin Keller. Only Kerley was available for the season finale.
Sparano never could compensate for these injuries. In contrast, defensive coordinator Mike Pettine built the NFL's eighth-ranked defense despite the loss of cornerback Darrelle Revis and the failure of outside linebacker Aaron Maybin to repeat last year's success.
In the end, Sparano's perceived weaknesses, inexperience calling plays and developing quarterbacks, may have been his downfall. The offense struggled to score aganst good and bad teams alike. NFC West champion San Francisco shut out the Jets; NFC West cellar-dweller Arizona allowed them one touchdown.
Acquiring Tim Tebow
Tim Tebow at his introductory press conference
Mike Stobe/Getty Images
If Rex Ryan was the prime mover in the Tim Tebow deal, that was 2012 mistake No. 2.
Two stories have circulated about the Tim Tebow trade. One says that Woody Johnson wanted a media event to rival the Broncos' signing of Peyton Manning.
The other says that Mike Tannenbaum and Rex Ryan convinced Johnson to make the deal. The premise was that Tebow would revive the Jets' Wildcat formation. Brad Smith's departure had taken the Wildcat's potency as well. Ryan and Tannenbaum hoped that Tebow's ability to improvise would make the Wildcat a potent alternative Mark Sanchez's standard pro set.
However, no one considered the effect Tebow's celebrity status would have on Mark Sanchez's self-image. Brad Smith was not an NFL quarterback. Tebow was, and he had completed a season in which he led the Broncos to an improbable playoff appearance and first-round win.
Maybe Ryan did not perceive Tebow as a replacement for Sanchez. But in public eyes, he was a viable option. Whenever Sanchez struggled, cries of "Te-bow! Te-bow!" would be heard from the stadium crowd.
As it turns out, against San Diego Jeremy Kerley ran the Wildcat and gained almost a third of Tebow's 2012 output on one play. So getting Tebow was not just an unwelcome challenge to Sanchez. It was an unnecessary use of a roster spot.
If only the Jets had that spot open for a breakaway wide receiver or dominant running back.
Inefficient Substitutions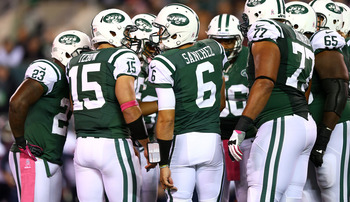 Do two quarterbacks belong in this play? The Jets often didn't seem sure.
Elsa/Getty Images
How many times did you see the New York Jets' offense look confused in 2012?
It often looked like players didn't know who belonged on the field at any given moment. Worse, avoiding delay of game or too many men on the field penalties often cost precious timeouts.
You would think that it was the offensive coordinator's job to fix this. However, when this issue persisted week after week after week, the head coach should have assumed responsibility.
Rex Ryan has been credited with being a defensive genius. He has also been accused of ignoring the offense. Maybe he wasn't as involved in the details of offensive preparation as he was in the details of defense.
However, he needed to take personal responsibility for resolving this lack of poise.
Should he have called the plays? Probably not. However, he should have given personal attention to details like practicing substitutions, changing formations between pro set and Wildcat and getting formations set and plays called on time. These are basics of running an offense.
It's one thing for lack of talent to inhibit an offense. However, that shouldn't be evident until after the ball is snapped.
Quarterback Role Confusion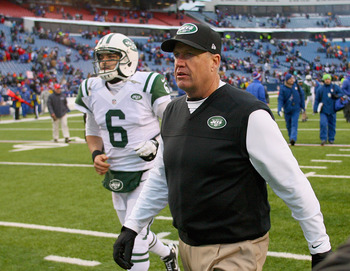 Mark Sanchez and Rex Ryan at Ralph Wilson Stadium in what may have been Sanchez's final appearance as a Jet.
Rick Stewart/Getty Images
There are clearly more questions than answers about the Jets' 2012 quarterback fiasco.
It started with hiring an offensive coordinator with little experience calling plays or developing quarterbacks.
Then came the Tebow acquisition. Tebow had gotten the Broncos to the playoffs. However, he ran more of an option formation instead of the standard pro set.
The impact on offensive coordinator Sparano was that he had to design two separate offenses, a standard pro set offense for Sanchez and McElroy and a Wildcat or option formation for Tebow.
It sounds like a lot to ask of someone who had never been an NFL offensive coordinator. Sparano proved it with his largely predictable Wildcat plays.
That's what concerned many observers. Tebow wasn't productive in limited use. What if he had to replace Sanchez for a longer period?
Ryan's decision to replace Sanchez with No. 3 quarterback Greg McElroy instead of No. 2 quarterback Tim Tebow against San Diego confirmed these observers' suspicions: Rex completely mishandled the 2012 quarterback depth chart.
The Jets played most of the season with an active No. 2 quarterback who had trouble operating out of the standard pro set.
The No. 3 quarterback, who could run the pro set, wore a baseball cap and carried a clipboard until Week 13.
In short, Ryan didn't have a working contingency plan in case Sanchez got injured. With McElroy inactive, Tebow was his only option for most of the season. Yet there was no evidence that any comprehensive plan existed for Tebow to run the offense.
McElroy should have been No. 2 all year. Tebow was a "Slash" player, like Kordell Stewart used to be for the Pittsburgh Steelers. Such a role didn't need a quarterback's roster spot.
Hopefully, next year Tebow will be elsewhere, Jeremy Kerley will run the Wildcat and the No. 2 quarterback will be a real No. 2.
Oh, lest I forget, there will be a No. 1 in whom we all have faith.
Disruption of Quarterback Rhythm
Mark Sanchez attampts a pass against Tennessee.
Andy Lyons/Getty Images
Quarterbacks and their offenses try to develop something called "rhythm." It's a state where everything begins to run like clockwork. When an offense gets "in rhythm," it's time to sit back, enjoy the ride and wait for good things to happen.
That's exactly what Rex Ryan and Tony Sparano did not do.
They stuck to their scripts, even when Mark Sanchez started to move the offense through the air.
A great example occurred in the third quarter of the Tennessee game. With 9:54 remaining, the Jets got the ball at their 12-yard line. On 3rd-and-6, Sanchez completed a pass to Jeremy Kerley for 11 yards and a first down. On 1st-and-10, Sanchez completed another pass, this one to Jeff Cumberland for 22 yards and a first down. It was 1st-and-10 at the Jets' 49-yard line and they appeared to be on a roll.
However, Tim Tebow replaced Sanchez for that first-down play. Tebow fumbled the shotgun snap, which Shonn Greene recovered at midfield.
An encroachment penalty negated that play and advanced the ball to the Tennessee 46.
Sanchez rejoined the huddle for 1st-and-5, but after two incompletions and a sack, the Jets punted from their 47-yard line.
Why did Tebow replace Sanchez when the offense seemed to be in rhythm?
Normally teams run a fixed script of 15 to 25 plays to begin a game. That lets coaches determine what adjustments to make thereafter. However, this Tebow substitution occurred well after those scripted plays were finished. If Sparano and Ryan continued to be slaves to a script, they displayed a lack of flexibility and responsiveness.
We will never know if Sanchez would have scored on that drive. However, with such a promising start, Sanchez deserved a chance to continue. If Tony Sparano would not give it to him, Rex Ryan should have overruled his offensive coordinator and kept Sanchez under center.
Who knows, more sensitivity to offensive rhythm might have prevented some turnovers.
Tebow's Ribs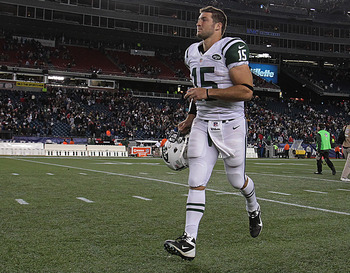 Tim Tebow was active despite two broken ribs against New England on Thanksgiving night.
Jim Rogash/Getty Images
Rex admitted he blew this one.
It took him 11 days to do so, but he finally admitted his mistake to espnnewyork.com reporter Rich Cimini. Supposedly Tebow had talked Rex into it.
Rex actually ignored medical advice twice. The first time was Thanksgiving night when he let Tebow play. The second time was the following game. Ryan declared Tebow inactive against Arizona.
Somehow things worked out. Greg McElroy was activated against Arizona. McElroy relieved a struggling Mark Sanchez and led the Jets to their only touchdown and a 7-6 win.
The following week Tebow's ribs must have improved, because he was active against Jacksonville. However, he did not play. It seemed a strange decision to dress Tebow in his home town and not showcase him.
However, showcasing Tebow in his hometown is a minor issue. Of greater concern is Ryan's treatment of injured players. If Mark Sanchez had been injured against New England, Ryan would have had to expose Tebow's ribs to further damage.
The saner approach would have been to deactivate Tebow and activate Greg McElroy.
Next time an injured player begs to stay active, Rex needs to think with his head instead of his heart.
Lack of Special Teams Control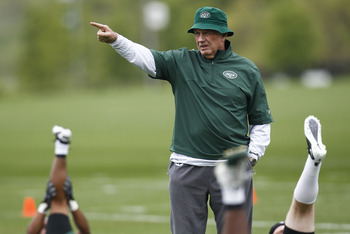 Rex Ryan may have exerted too little control of Mike Westhoff's special teams.
Jeff Zelevansky/Getty Images
Rex Ryan may have exercised too little control over special teams during Mike Westhoff's final season.
Special teams errors and lack of judgment plagued the Jets, even in victory. Consider these examples:
In the St. Louis game, Tim Tebow lined up as the punt protector. He had the option to take the snap and run the fake or let the snap go through to punter Robert Malone. Although the Rams anticipated the fake, Tebow attempted it anyway. He failed to make the first down, giving the Rams a drive start at their 46.
Fortunately, the defense rose to the occasion. Three plays later, Muhammad Wilkerson sacked Rams quarterback Sam Bradford, forcing a fumble. Bart Scott recovered Bradford's fumble and returned the ball to the Rams' 28.
Now, consider the Arizona game. Arizona's longest play from scrimmage also involved special teams. A fake punt on 4th-and-7 from the Cardinals' 25 advanced the ball 40 yards to the Jets' 35. Arizona advanced five more yards before Jay Feely kicked a 47-yard field goal to end the half.
In that case, special teams errors cost points.
Lapses in judgment, such as Tebow's fake attempt and Joe McKnight's attempts to return New England kickoffs from deep in the Jets' end zone, occurred regularly. This is where Ryan should have intervened, making a solution to the problem a top priority.
Instead, special teams errors continued through the end of the season. It was an unfortunate way to end Mike Westhoff's distinguished career.
Hopefully, Westhoff's successor will restore Jets' special teams play to excellence.
Media Mismanagement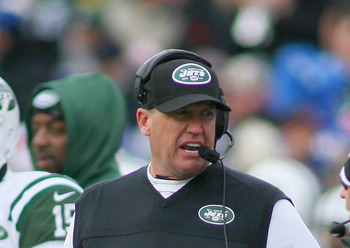 Rex Ryan was much more reserved in the postgame press conference at Ralph Wilson Stadium following the 28-9 loss to the Buffalo Bills.
Rick Stewart/Getty Images
In past years, Rex Ryan was known for his ability to generate tabloid headlines. This season, he took a back seat to his players. Much of it was Ryan's fault.
Ryan did not learn the lesson of 2011, where Plaxico Burress and Santonio Holmes disrupted the locker room with their public criticisms of Mark Sanchez.
Instead, Ryan supported the players' right to voice their opinions in public. He reserved his criticism for those who spoke anonymously, calling such behavior "cowardly."
That meant that when Bart Scott ridiculed the athleticism of overly critical fans, he did not violate team policy. Ryan had no basis on which to fine him. Instead, he lectured Scott about proper fan appreciation. Scott tempered his remarks but was not completely apologetic.
In the future, Ryan and the Jets should keep their criticisms of each other and their fans behind closed doors. Make the media work for their dirt.
Hopefully the postgame remarks in Buffalo, where neither players nor coaches said anything inflammatory, will serve a model for the future.
Keep Reading

New York Jets: Like this team?