Meineke Car Care Bowl 2012: Minnesota vs. Texas Tech Live Scores and Analysis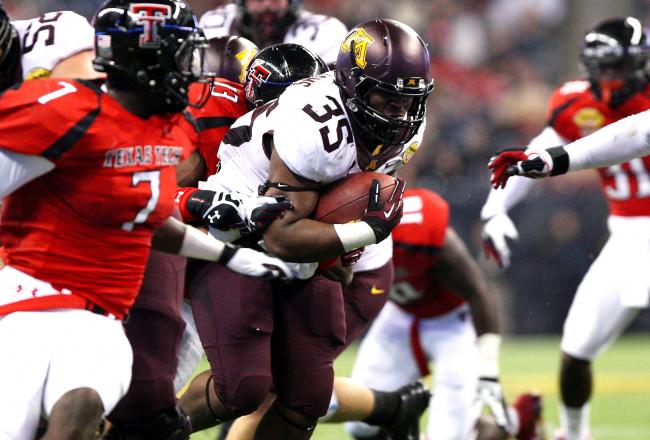 FINAL: Texas Tech 34, Minnesota 31
It was a wild one in Houston for the Meineke Car Care Bowl of Texas, but the Texas Tech Red Raiders emerged with a 34-31 victory over the Minnesota Golden Gophers in a crazy Big 12/Big Ten showdown.
Texas Tech continually shot itself in the foot with turnovers and penalties, but a late touchdown drive led by quarterback Seth Doege and an even later interception from D.J. Johnson led the Red Raiders to an incredible bowl victory.
TTU improves to 8-5 overall on the year, while Minnesota falls to 6-7.
As always, thanks for following along and keep the conversation going below with your thoughts on tonight's Texas Bowl.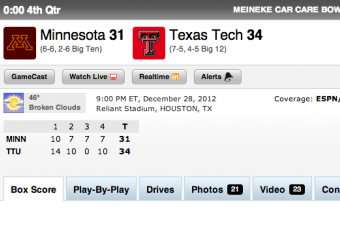 Texas Tech Field Goal Good
FINAL: Texas Tech 34, Minnesota 31
Just a heartbreaking loss for the Gophers. Texas Tech tried and tried to give this game away and, all things considered, Minnesota played the better game.
However, Tech made just enough plays in just the right time to win the game.
Ryan Bustin knocks through the 28-yarder for the win. Here's a final shot of the box score.
More stats available from ESPN here.
Texas Tech Field Goal Attempt—Fourth Quarter, 0:02
Red Raiders with a field goal try to win it. Gophers blocked one already in this game—they need another right now.
Minnesota Intercepted—Fourth Quarter, 0:43
Wow. Just wow.
Incredible turn of events here. Nelson with an overthrow and D.J. Johnson picked it off and made an excellent return that may have won this game for Tech.
Raiders already in field goal range and inside the Minnesota 20-yard line.
Minnesota Third Down
A low snap there but Nelson averted distaster, picking it up and running for a few yards.
TTU takes one of its time outs and has just one left now. Interesting call here. Will the Gophers go for the first down or force the Red Raiders to burn their last timeout?
Ugly play to start this final drive. Freshman Nelson dropped the snap then overthrew his receiver. That was nearly a disaster for Minnesota.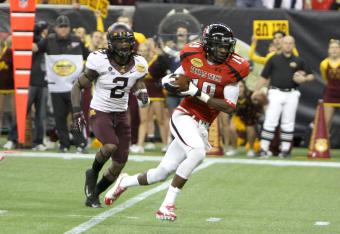 Texas Tech Touchdown
Texas Tech 31, Minnesota 31—Fourth Quarter, 1:10
Eric Ward was wide open down the seam and Doege drilled him in stride.
Beautiful pass and catch and we may have some free football on our hands! Doege has had his share of mistakes in this one, but now he comes through when the Red Raiders needed it the most. Great two-minute drill by Tech.
Wow a near-interception from Doege but Martez Shabazz couldn't hold on. That might have ended the game, but TTU has live once again.
Texas Tech First Down—Fourth Quarter, 2:06
Doege to Ward has Tech across mid field now.
Quick-hitter from Doege to Ward has Tech in business.
No margin for error now for the Red Raiders, but plenty of time to score on this drive with a pair of timeouts.
Minnesota Punt—Fourth Quarter, 3:24
Texas Tech with another excellent defensive stand. Red Raider offense must reach the end zone here.
Texas Tech Intercepted
Carter again! He jumped that route and hauled in another pick.
Rather than guns up, the Red Raiders been guns down in this second half, shooting themselves right in the foot.
Hard-nosed run by Stephens to move the chains for Tech. Ground game has come by committee for both teams and No. 24 for TTU has had his share of success.
Minnesota Punt
Was I just saying something about Tech penalties? That's infraction No. 13 on the Red Raiders and it negates an excellent punt return.
Still, TTU comes up with the stop it needed as the Gophers fail to capitalize on the interception.
Red Raider offense needs to wake back up on this drive.
At the same time, if Texas Tech didn't commit so many stupid penalties, this game might be 45-31 in favor of Tech.
If Minnesota's quarterbacks were more accurate, this game might be 45-24.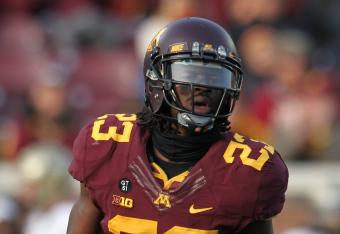 Texas Tech Intercepted
Carter with outstanding coverage staying between his man and the ball. Carter was the only one who had a shot at catching that ball.
Could be a game-changing play, especially if Minnesota can capitalize on the scoreboard.
Would have to take a closer look at the current regulations, but a little bump wouldn't hurt.
It's so often you see teams vastly improving (like Minnesota tonight) through a few weeks of bowl practices.
Given that drastic improvement, it would make sense if the NCAA upped the allotment weekly practice time or extended the preseason practice period.
Minnesota Punt
Texas Tech with its much-needed three-and-out as Nelson's deep ball sails just out of reach.
Back to the Red Raiders with a chance to tie and 10:45 remaining in the contest.
Enormous drive for the Texas Tech defense. Red Raiders need a stop otherwise they will be in some serious trouble in this game.
Texas Tech Punt
Play was overturned, but Minnesota will still take over. Field position nowhere near as favorable, but still Gopher ball with a seven-point lead.
Texas Tech Fumble
Almost an awesome play by Doege but he ended up coughing the ball up. Looked like he was down, but the Red Raiders will have to punt regardless.
Either way, hard to believe that TTU is scoreless in this half after looking almost unstoppable in the first two quarters.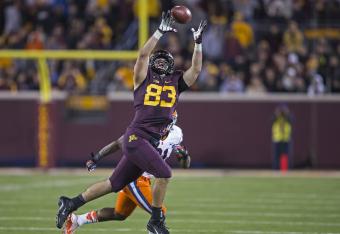 Minnesota Touchdown
Minnesota 31, Texas Tech 24—Fourth Quarter, 13:07
Brock Huard: "Awesome."
Nelson hits Drew Goodger with a touchdown strike and the Gophers are now in control.
Let's see where Texas Tech's head is at offensively on this drive after the events of last series.
Wow. Texas Tech making an unbelievable stand so far. Gophers on third and goal now.
This article is
What is the duplicate article?
Why is this article offensive?
Where is this article plagiarized from?
Why is this article poorly edited?