Buck Showalter's Best Managerial Moments of 2012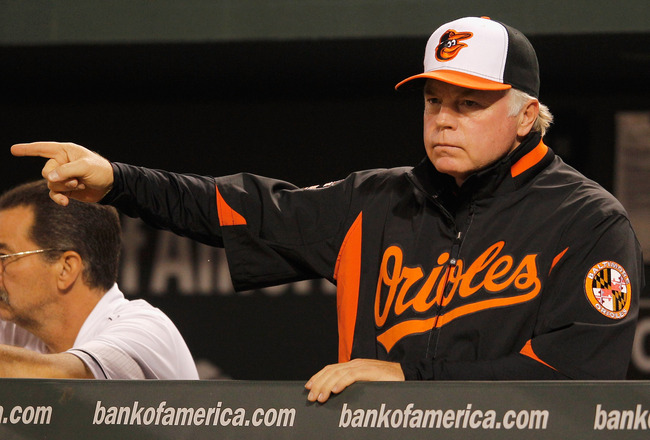 Rob Carr/Getty Images
Even though he didn't win AL Manager of the Year, it's hard to believe that anybody else could have done a better job managing the Baltimore Orioles than Buck Showalter. The newly crowned "Marylander of the Year" led the Orioles to their first winning season and playoff appearance since 1997.
As a manager, Showalter makes thousands upon thousands of decisions every year that affect his team. The following list is made up of only a miniscule portion of those decisions that were deemed most memorable and most important to the Orioles success last year. So if there is any managerial decision that you feel that is missing, please comment below.
But anyway, here are Buck Showalter's best managerial moments/decisions of 2012, in no particular order.
Pedro Strop, ALDS Game Four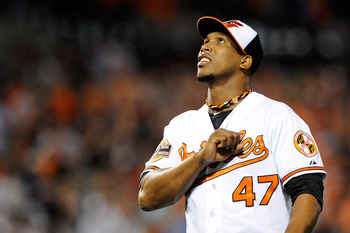 Patrick McDermott/Getty Images
Let's start the list with one of the last decisions of the season.
In the 12th inning of Game Four of the ALDS, Showalter decided to pitch Pedro Strop. Many Orioles fans saw this as a decision that would surely lose the game.
From April to August, Pedro Stop was arguably the Orioles best reliever. In that time period, the Orioles set-up man had a sub-2.00 ERA, a solid 5-2 record and 23 holds. However, the wheels fell off for Strop in September.
More likely than not, the main issue for Strop in September was simply exhaustion, as his fastball lost velocity and he lost command of his pitches. No matter what the issue was, Strop's ineffectiveness lost him his job as set-up man in the playoffs. So, when he was summoned in Game Four, fans were scared.
Strop performed admirably, however, as he only allowed one hit in two innings while picking up the win.
The gutsy decision to pitch Strop in the situation can be credited to Showalter. Not only did this decision help lead to a win, but he gave Strop a chance to regain his confidence, which he did.
Mark Reynolds' Transition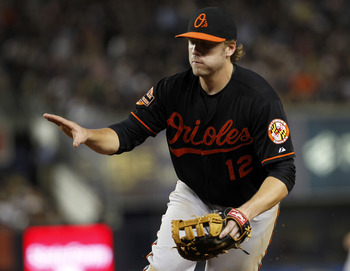 Jeff Zelevansky/Getty Images
Another move that dramatically helped the Orioles' defense was the transition of Mark Reynolds from third base to first base.
Mark Reynolds wasn't good at third. In 15 games at third, he made six errors. Moving him across the diamond and eliminating the long throw made Reynolds a much better defensive player, as he committed only five errors in 108 games and made many important plays at first.
This did lead to a hole at third base until another big decision later in the year.
Manny Machado's Call-Up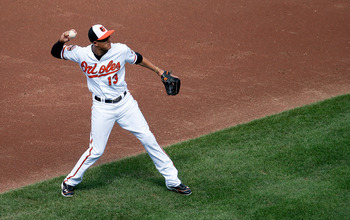 Rob Carr/Getty Images
The call-up of Manny Machado can be credited to general manager Dan Duquette as much as it can be to Buck Showalter. Either way, the decision to call up the 20-year-old in August worked out wonderfully.
The inclusion of Machado to the Orioles' lineup not only improved the team offensively, but it improved the defense dramatically. Games were won simply because the Orioles finally had a third baseman who was effective.
September Starting Pitching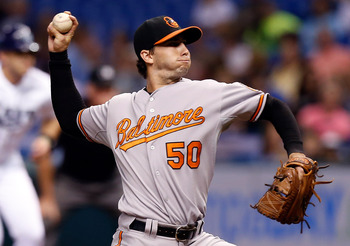 J. Meric/Getty Images
The Orioles' rotation was perhaps their biggest strength in September. Oddly enough, the rotation was rather makeshift, with no set order.
Buck Showalter was forced to constantly make changes and revisions, most of which turned out swimmingly. The likes of Wei-Yin Chen, Jason Hammel, Zach Britton, Chris Tillman, Joe Saunders, Randy Wolf, Miguel Gonzalez and Steve Johnson all made important starts in September.
AL Wild Card Game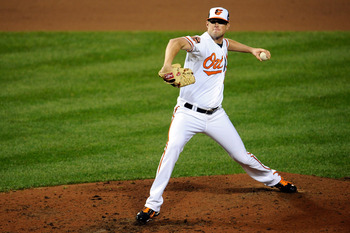 Patrick McDermott/Getty Images
There were two big decisions in this game. One was more obvious at the time, but both were memorable.
The decision on who to use as starting pitcher for this game was one of the toughest decisions Showalter had to make all year. He went with Joe Saunders.
He was not disappointed.
The mid-season acquisition pitched wonderfully, going 5.2 innings and only allowing one run, picking up the win.
The other decision was bringing in Brian Matusz to face Josh Hamilton in the bottom of the eighth with a man on base, up 3-1. Matusz struck out Hamilton on three straight fastballs.
At that time, it made sense to bring in the lefty to face the opposing lefty. However, it shows how good of a decision it was to move Matusz to the bullpen in the first place.
Chris Davis Pitching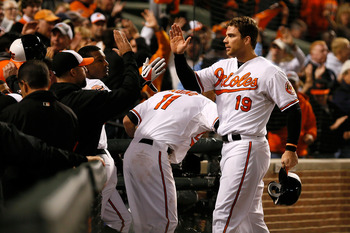 Rob Carr/Getty Images
To be honest, Showalter was probably a little lucky with this decision. Pitching a position player in a tie game is a huge risk, no matter what the situation. And if the game ends up as a loss, it'll be put on the manager.
However, Chris Davis looked better pitching as an Oriole than Kevin Gregg ever did.
This huge win in early May will go down in history and be remembered for a long time by Orioles fans.
Nick Markakis Leading Off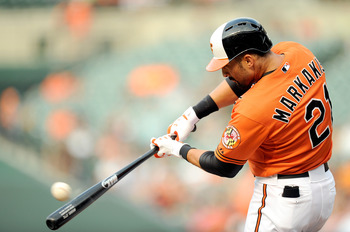 Greg Fiume/Getty Images
Over the last few years, with Brian Roberts being consistently hurt, the Orioles had trouble finding a leadoff hitter. It wasn't until mid-July of last season where Nick Markakis, who was returning from a DL-stint, was assigned the role.
Before his injury, Markakis was having a rough season as he was only hitting around .250. After his return and batting leadoff, Markakis' season took off, as he hit .335 in that role.
Jim Johnson Closing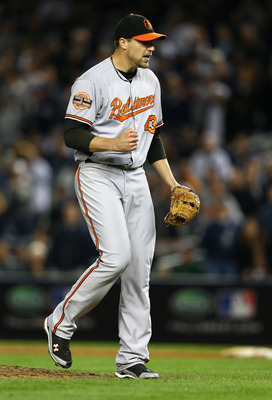 Al Bello/Getty Images
For years, Jim Johnson seemed confused. He was a starter, but he was being used as a set-up man. Every year it was unclear what role Johnson would exactly pitch in. He always ended up being a reliever, but it was still some hint that he would be given a shot at starting.
Going into the 2012 preseason, Showalter made it clear Johnson was a reliever. Then Showalter officially named Johnson the closer.
Fifty-one saves later, I think it's safe to say that it was a good decision.
Keep Reading

Baltimore Orioles: Like this team?