UFC 155 Predictions: Final Preliminary Card Predictions for UFC 155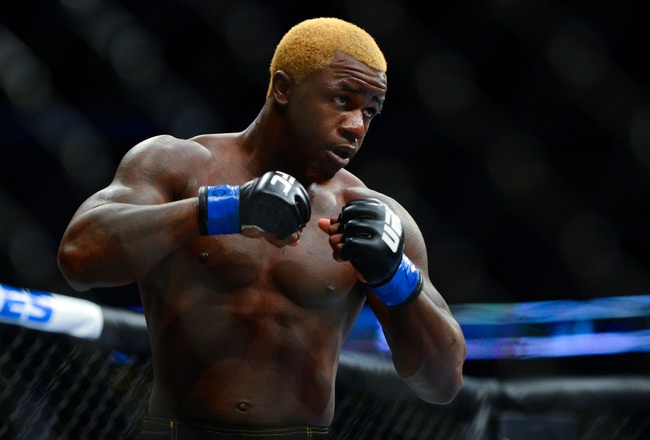 Ron Chenoy-USA TODAY Sports
With UFC 155 just a day away, it's time for the final round of predictions. At least for Saturday night's seven preliminary bouts it is, and those predictions is precisely what you'll find here.
From Facebook to FX, UFC 155 will play host to a handful of exciting and competitive matchups that shall serve as an appetizer to the night's main dish of Junior dos Santos vs. Cain Velasquez II.
The undercard mostly features contests from the lighter weight classes, though a heavyweight tussle is on the agenda to balance things out.
Post your thoughts about the UFC 155 prelims in the comments section below.
Chris Cariaso vs. John Moraga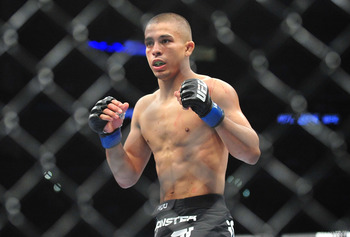 Gary A. Vasquez-USA TODAY Sports
UFC 155 will kick off with a trio of Facebook prelims, the first of which will feature a flyweight bout between Chris Cariaso and John Moraga.
Since 2010 Cariaso has put up a 5-2 record at bantamweight and flyweight, with his only two losses coming at 135—and to superstars Renan Barao and Michael McDonald at that.
Moraga has gone 10-1 in that same time frame, his only loss coming to current No. 1 flyweight contender John Dodson.
Cariaso will enter the bout riding a three-fight win streak, with Moraga on a six, the last of which marked his successful UFC debut.
Though both guys are members of the 125-pound division's second tier (the top consisting of Demetrious Johnson, Joseph Benavidez, Ian McCall and Dodson), I expect Moraga to come away with the W in this one.
Both fighters are well-rounded, but it's Moraga that finishes fights. Though he may or may not get a stoppage at UFC 155, he will officially announce his intention to challenge the division's top dogs in 2013.
Prediction: John Moraga defeats Chris Cariaso via unanimous decision.
Leonard Garcia vs. Max Holloway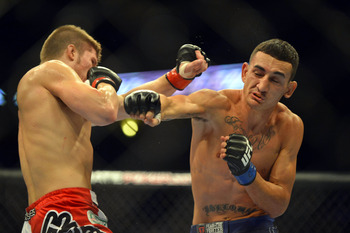 Ron Chenoy-USA TODAY Sports
If Garcia can put Holloway on the mat, there is a good chance he can earn a submission victory. So what could possibly go wrong for "Bad Boy" at UFC 155?
Well, Holloway's takedown defense has looked much improved since he was schooled by Dustin Poirier in February. There's also the fact that Garcia often seems repulsed by the idea of taking a fight to the mat. Between these factors, the bout has the makings of a stand-up battle.
Garcia is a solid striker in his own right, but lacks the speed and power wielded by Holloway, who may just turn out his opponent's lights if given ample opportunity. If so, it would be the first time anyone has done that to Garcia.
Of course, if the match goes to the judges, you'd have to figure Garcia is a lock to win a split decision. Nevertheless, I'm going against logic and making the following prediction.
Prediction: Max Holloway defeats Leonard Garcia via unanimous decision.
Phil De Fries vs. Todd Duffee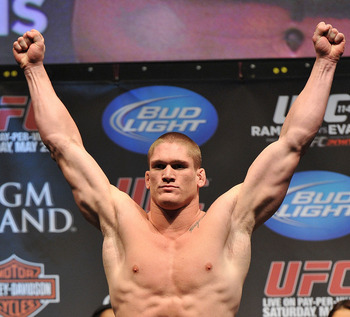 Jon Kopaloff/Getty Images
After a self-inflicted exile from the UFC, Duffee returns to the promotion with greatly mitigated expectations. Still, he's expected to take his heavyweight battle against De Fries without considerable difficulty.
De Fries has exhibited fine submission skills over his career but, in two UFC fights, has shown a propensity to walk around with his chin exposed.
That bodes poorly when sharing the Octagon with a guy that hits like Duffee, who could end the Brit's night faster than Stipe Miocic did earlier this year (he knocked De Fries out in 43 seconds).
Prediction: Todd Duffee defeats Phil De Fries via knockout, Round 1.
Michael Johnson vs. Myles Jury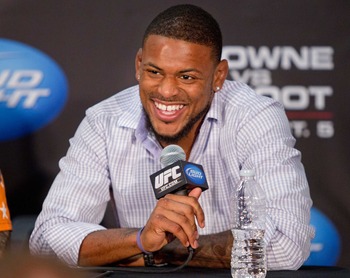 Bruce Kluckhohn-USA TODAY Sports
Jury failed to make good on his Ultimate Fighter opportunity, but did take home a W at the show's 15th season finale. At UFC 155, he'll look to build on that success, but will be in tough against a fellow TUF alum that has rolled to three consecutive victories.
Johnson has been busy this year, raking in a trio of wins and showing how much he's progressed since his time on The Ultimate Fighter along the way. If he continues riding the learning curve at his current trajectory, there is no reason to think Jury will be able to stop him.
The only real problem "The Menace" might encounter is Jury's strong grappling game, but his superior wrestling should permit him to keep the action upright more often than not.
Not only will Johnson hand Jury his first professional defeat, he'll also give him his first stoppage.
Prediction: Johnson defeats Jury via knockout, Round 3.
Melvin Guillard vs. Jamie Varner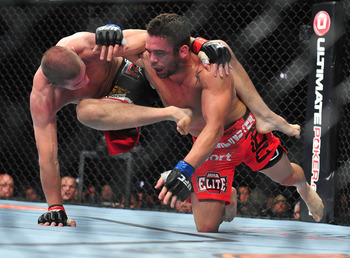 Gary A. Vasquez-USA TODAY Sports
This FX bout is a holdover from The Ultimate Fighter 16 Finale, which went down on December 15. It was scrapped when Varner told Dana White that he was to ill to fight and rescheduled for December 29.
Guillard apparently didn't think much of Varner withdrawing, so this one has some bad blood. It also spells fireworks, as both guys have a penchant for putting on a good show.
I've been leaning toward Guillard until recently, but am pulling a last-minute switcheroo. Why? Because styles make fights, and Varner's wrestling, submission ability and granite jaw suggest Guillard might not be able to get the knockout he's always looking for.
Instead, it seems more likely he'll be submitted for the 10th time in his MMA career.
Prediction: Jamie Varner defeats Melvin Guillard via submission, Round 2.
Erik Perez vs. Byron Bloodworth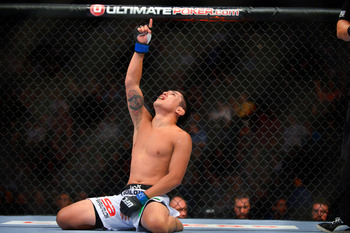 Ron Chenoy-USA TODAY Sports
This is essentially a showcase fight for the up-and-coming Perez. He's looked outstanding in two UFC matches and faces what is a de facto steppingstone in Bloodworth.
Perez is the quicker, more powerful and more well-rounded fighter of the two and in all probability will run his streak of first-rounded stoppages to three at UFC 155.
Am I being too generous to Perez, a fighter with a 12-4 record? Maybe, but keep in mind that it's difficult to stave off losses when you turn pro at age 18.
Prediction: Erik Perez defeats Byron Bloodworth via submission, Round 1.
Brad Pickett vs. Eddie Wineland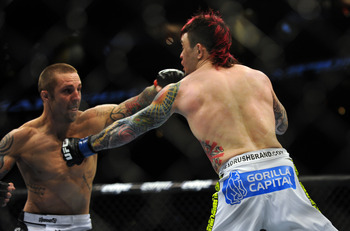 Steve Mitchell-USA TODAY Sports
For all intents and purposes, the best preliminary bout features a pair of tough bantamweights in Brad Pickett and Eddie Wineland.
Though Wineland has just one win over his past three contests, he's faced a who's who of 135-pound stars, which excuses his recent cold snap. Pickett, on the other hand, needs no excuses; he enters the bout coming off two straight wins.
The stand-up in this contest will be defined by Pickett's speed and technique vs. Wineland's power. The grappling will pit Pickett's submission game against Wineland's staunch wrestling.
Anyway you slice it, this one has the makings of an epic show.
The fighters head into UFC 155 at even odds or close too it, depending where you check, and that's as it should be. Both fighters have a legitimate chance to win, and no outcome would surprise me.
That said, I see Wineland doing enough damage on the feet to pull out a decision.
Prediction: Eddie Wineland defeats Brad Pickett via unanimous decision.
Keep Reading