5 Things the ECW Relaunch Did Well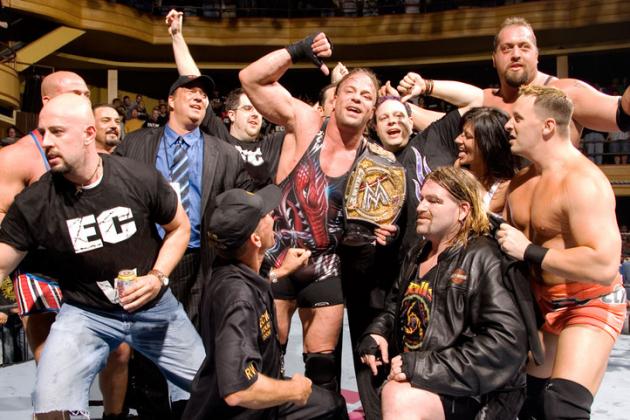 Photo Credit: WWE.com
About a week and a half ago, WWE.com published a story about the 2006 relaunch of ECW under their umbrella, a third brand meant to run parallel and independent of Raw and SmackDown.
The story contains quotes from people who were a part of both the original Extreme Championship Wrestling as well as the new vision of the company, including Tommy Dreamer, Joey Styles, Stevie Richards, Mick Foley and Paul Heyman, all of whom made their feelings especially clear about the circus that ECW became.
While the doomed third brand is not always fondly remembered, there were some things that WWE's version of ECW managed to pull off that should not be overlooked as time passes and wrestling history is taught to later generations.
It may not have been the Extreme Championship Wrestling that started in south Philadelphia, but it was never meant to be. We're going to look at a few things that I remember enjoying about ECW and you are welcome to do the same.
Let's get to it!
Begin Slideshow

»
While Raw and SmackDown had their own rosters and creative teams, ECW had an altogether different presentation. The TV show had a more intimate feel to it (at first), with the lack of a big stage and ramp meant to send the wrestlers into the thick of the crowd.
Furthermore, unlike SmackDown (which was taped on the same Tuesday night), ECW was typically live and thus made for a potentially more entertaining audience.
The emphasis on "sports entertainment" was also not as apparent. With the combination of Joey Styles and Tazz on commentary, a greater nod to wrestling was always present.
With only one hour a week, more emphasis was on in-ring action, and promos didn't take up as much time as they would on the bigger blocks of programming that Raw and SmackDown occupied.
I can think of a lot of priceless moments during ECW's infancy, including The Sandman's interaction with a zombie, caning the living hell out of Big Dick Johnson and the shenanigans involving Ariel and Kevin Thorn.
Nothing, however, will beat a room full of WWE Divas and ECW Vixens, as they were called, seated around Balls Mahoney, one of the most physically repulsive wrestlers to ever be filmed on live television.
Balls was known for his ability to both give and receive chair shots to the head, and one look at his face should tell you he has the credentials.
While the space for people like The Sandman, Sabu, Rob Van Dam and Tommy Dreamer became less and less available as ECW progressed as a brand, it didn't stop WWE from giving the four veterans the spotlight they had earned by bleeding all over sweaty, dingy arenas for years.
WrestleMania 23 took place in Detroit at Ford Field in front of 80,000 people that saw the "ECW Originals" defeat The New Breed, consisting of Matt Striker, Elijah Burke, Kevin Thorn and Marcus Cor Von.
On a night that was highlighted by the Battle of the Billionaires, The Undertaker winning the World Heavyweight Championship, a Money in the Bank Ladder Match and John Cena vs. Shawn Michaels, ECW had only seven and a half minutes to make a WrestleMania moment for themselves. The tears in Dreamer's eyes at the end of the match tell us it was enough time.
Paul Heyman will be the first to tell you that the current reigning and defending WWE Champion of 400+ days, CM Punk, got his start in the newly designed version of ECW. While Punk has been the biggest success story to come out of the third brand, he wasn't the only new face to get his start there.
John Morrison, Sheamus and Jack Swagger are a handful of the names who cut their teeth on Tuesday nights on SyFy before moving on to the other rosters.
ECW was also the first brand to directly import talent from FCW, WWE's developmental territory, and introduce new names to the company. This would be the precursor to ECW's replacement in NXT.
Before The Big Show became the dominating force that he is today as the World Heavyweight Champion, he first aligned himself with Paul Heyman and became the first to defeat Rob Van Dam for the ECW Championship.
He held the title until December when he left WWE for some time off to heal his injuries, but his stint in ECW showed the world that the giant who constantly was made to be a clown had evil intentions inside.
We would not be able to see the current rendition of The Big Show without reflecting on the time he spent in ECW under the tutelage of Heyman.
So, what did I miss? What else does everyone remember about this newer version of ECW? Thank you as always for reading!