Both the Ravens and Bengals have already locked up playoff berths—Baltimore clinched the AFC North last week while Cincinnati earned a wild card. Despite having already punched its ticket to the playoffs, Baltimore still has something to play for in the NFL's final week of regular-season games.
Right now Baltimore is the No. 4 seed in the playoff picture, but with a New England loss and a win on Sunday, the Ravens would earn the No. 3 seed. Should that happen, Baltimore would host Cincinnati (locked in as the No. 6 seed) the following week. However, if New England wins, Baltimore will face Indianapolis in the first week of the playoffs regardless of Sunday's outcome.
One advantage to earning the No. 3 seed is a potential home playoff game in the AFC Championship should both the one and two seeds lose.
After losing three straight games, the Ravens bounced back last week in a big way, beating the New York Giants 33-14. In the victory, quarterback Joe Flacco threw for 309 yards and two touchdowns while running for another score.
The Bengals enter Sunday having won six of their last seven games. By defeating the Pittsburgh Steelers 13-10 last week, Cincinnati clinched its second straight playoff berth. With the score tied, a late interception by Bengals safety Reggie Nelson gave his team excellent field position with just seconds remaining. After Andy Dalton found A.J. Green for a completion, kicker Josh Brown converted a 43-yard field goal to win the game.
The Ravens have beaten the Bengals four-straight times—most recently in the seasoning opening 44-13 blowout of Cincinnati.
Here is a bold prediction for each team for Sunday's game...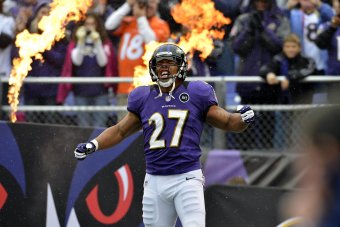 Ron Chenoy-USA TODAY Sports
Ray Rice over 150 all-purpose yards and two touchdowns
The generator for the Ravens offense is Ray Rice—when he is doing well, the others around him also are doing well. In his last four games against the Bengals, Rice has averaged 110 yards on the ground. Of those four games, Rice has scored two touchdowns in the last three.
Last week against New York, Rice accounted for 158 total yards (107 rushing and 51 receiving). With the return of right guard Marshal Yanda to Baltimore's offensive line, Rice had huge holes to run through all day.
Always a threat as a receiver out of the backfield, the Ravens' Pro Bowl back has been targeted 84 times this season—catching 61 passes for 478 yards. Rice, the best running back in the NFL at catching the ball out of the backfield, will get of plenty of looks from Flacco Sunday as the Cincinnati pass rush can get after the quarterback, so expect Flacco to look for Rice on check downs.
While the Bengals have a stout defense (opponents average 100.6 yards a game on the ground) look for Rice to get at least 20 carries on Sunday. Rice's success against Cincinnati will continue Sunday.
Gino Atkins records two sacks and forces a fumble
In just his third season, Geno Atkins has established himself as one of the best defensive tackles in the NFL. This season the former Georgia standout has notched 12.5 sacks and forced four fumbles.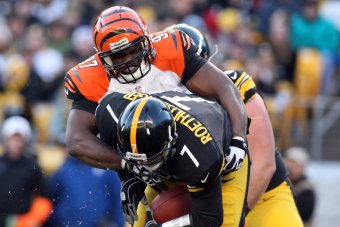 USA TODAY Sports
Atkins, who leads all defensive tackles in sacks, was named to his first Pro Bowl this week. While he is not the biggest player, at 6'1" and 300 pounds, Atkins plays with great leverage and his able to get under bigger offensive linemen to disrupt offenses.
In the Bengals and Ravens previous matchup this season, Atkins had two sacks. Charged with the assignment of blocking Atkins will be center Matt Birk and guards Jah Reid and Yanda.
At 36, Birk is beginning to show his age and has struggled against premier defensive tackles this season. Reid, the weakest of the Ravens' five starting linemen, is not a finished product in just his second NFL season.
Expect Birk and Reid to have problems blocking the Bengals' Pro Bowler on Sunday.