Sacramento Kings: Potential DeMarcus Cousins Trade Scenarios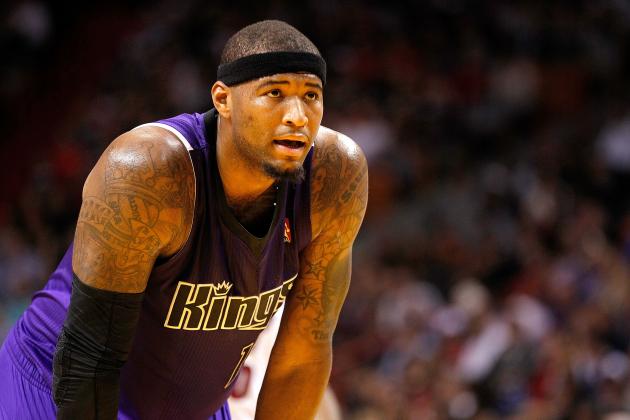 Mike Ehrmann/Getty Images

DeMarcus Cousins is truly an enigma.
Averaging 16.6 PPG and 9.5 RPG this season with a solid 18.91 PER at the age of 22, one would think that a player of Cousins' caliber would be untouchable on the trade market, especially given his incredible athleticism.
Personally, I had very high expectations for Cousins this season and thought this would really be his breakout year where he emerges as one of the few dominant big men in the NBA given his opportunity to step up and lead the Sacramento Kings. Maybe this day will come, but so far it does not look like it will happen this season.
In fact, his numbers have actually regressed since last season in terms of points (18.1 to 16.6), rebounding (11 to 9.5) and field goal percentage (44.8 percent to 41.4 percent).
While it's still early in the season and Cousins could certainly return to form, there are also the questions surrounding his maturity.
In his latest off-the-court issue, Cousins was suspended indefinitely for his feud at halftime with head coach Keith Smart against the Los Angeles Clippers.
When you also factor in his cheap shot towards shooting guard O.J. Mayo that resulted in a one-game suspension and confronting announcer Sean Elliot of the San Antonio Spurs, resulting in another suspension, it has become very clear that Cousins needs to work on controlling his emotions if he wants to succeed in the NBA.
I'm not entirely sure if the Kings should actually trade Cousins given his tremendous potential, but it is definitely worth considering, as Sacramento will have plenty of suitors if they do indeed shop the former Kentucky standout.
Begin Slideshow

»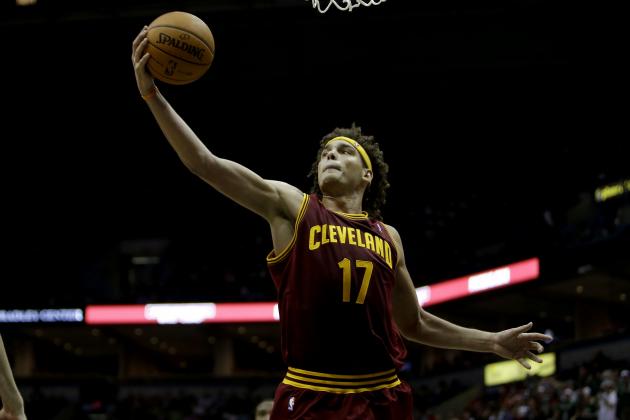 Mike McGinnis/Getty Images

Sacramento Kings acquire: Anderson Varejao, protected first-round pick
Cleveland Cavaliers acquire: DeMarcus Cousins, Francisco Garcia
In this scenario, the Kings could shore up their frontcourt issues with one of the most consistent big men in the league in Anderson Varejao.
Despite his age, Varejao has also shown improvement from year to year, when most players his age begin to decline.
Even at age 30, Varejao is averaging career highs in points (14.1 PPG) and rebounds (14.4 RPG), with an impressive 22.24 PER. His free-throw percentage is a career high (75.5 percent) and he is getting to the line more than ever before (4.1 free-throw attempts per game). He is also displaying his ability to distribute this season, as his 3.4 APG is double his average in assists last season.
Varejao also comes as a relative bargain, as he makes about $8 million a year and is under contract for the next three years.
As a proven veteran who continues to improve, Varejao could also help mentor Sacramento's young power forwards such as Thomas Robinson, who has struggled so far this season, and Jason Thompson.
A leader with playoff experience, Varejao could significantly improve the morale of this young Kings squad. With so many issues regarding the immaturity of Cousins, the role of Tyreke Evans and the potential sale of the franchise, it would be nice to provide some stability in the organization.
Not only would they acquire Varejao, but they could also dump the unwanted contract of Francisco Garcia, giving the team more financial flexibility.
For the Cavs, this move makes sense as well.
Varejao's name has frequently come up in trade rumors because he is playing so well on a rebuilding team. The Cavaliers may not see him as a piece of their future and decide to flip him for younger talent.
Cousins would certainly be an ideal fit.
Despite their underwhelming record, Cleveland actually has some solid young talent because of a few timely lottery picks. However, the missing piece seems to be a dominant, athletic center, as the Cavs could use a powerful force in the paint to complement their successful backcourt tandem of Kyrie Irving and Dion Waiters.
If the Cavs were to acquire Cousins, a core of Irving, Waiters, Cousins, Tristian Thompson, Tyler Zeller and Alonzo Gee seems like it could develop into a very solid team, especially given the fact that they are almost certainly headed for the lottery again this year and can net another young talent in the draft.
While there is obviously a risk with acquiring Cousins, Cleveland needs to be willing to take this leap of faith. Ever since LeBron James departed for the Miami Heat, the Cavs have been struggling to contend, and this move could eventually put them in the thick of the Eastern Conference if Cousins buys into their rebuilding project.
With more potential and young talent in Cleveland right now than there is in Sacramento, Cousins might be ready to grow up if a trade occurred. Playing with an All-Star-caliber point guard and working under coach Byron Scott could help Cousins develop into the player everyone knows he is capable of becoming.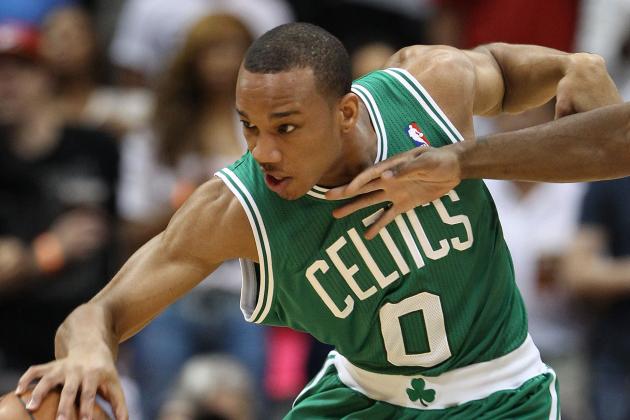 Mike Zarrilli/Getty Images

Sacramento Kings acquire: Avery Bradley, Jared Sullinger, Kris Joseph
Boston Celtics acquire: DeMarcus Cousins
In this potential scenario, the Kings get a couple of young players and a first-round pick to help this team rebuild.
At shooting guard, Sacramento could acquire defensive stopper Avery Bradley. When he is healthy, Bradley is a lockdown defender, and his offensive game is coming along nicely as well, averaging 12.7 points per 36 minutes while shooting 49.8 percent from the field on a crowded Boston lineup. In a larger role, Bradley could truly thrive.
Sullinger could help fill the void left by Cousins in the frontcourt. Averaging 10.4 points and 10.3 rebounds per 36 minutes, Sullinger could thrive in a bigger role but only averages 17.7 minutes per night because of the deep Boston bench. In a bigger role, Sullinger could thrive.
For the Celtics, these players are expendable. Jason Terry, Courtney Lee and Leandro Barbosa are currently filling the void at shooting guard because Bradley is still recovering from a shoulder injury. At forward, Boston has KG, Jeff Green, Brandon Bass and Chris Wilcox, so Sullinger is somewhat expendable as well.
The Celtics lack a true center, as Kevin Garnett is much more of a power forward, and could use a dominant big man like Cousins to help put this team over the top.
If Boston traded for Cousins, they could certainly help his maturity problems. Playing on a team that consistently makes the playoffs with NBA assist-leading Rajon Rondo, Cousins would be in a better situation. He would get his touches because of his talented point guard and could learn from the wise veterans around him. Garnett could especially help out Cousins and take him under his wing as he has done with other young forwards throughout his career, and this could really help Cousins' development.
Factor in hard-nosed coach Doc Rivers with this winning environment, and I think Cousins would be more likely to play to his potential.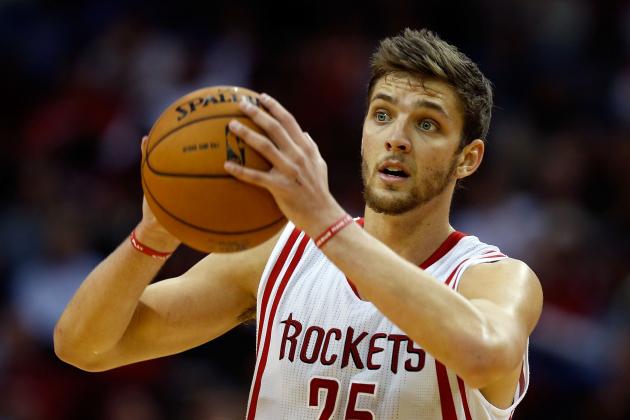 Scott Halleran/Getty Images

Sacramento Kings acquire: Chandler Parsons, Patrick Patterson, Donatas Montiejunas
Houston Rockets acquire: DeMarcus Cousins, Francisco Garica
Here, the Kings would get a bunch of solid young players in exchange for Cousins.
Cousins' former Kentucky teammate Patrick Patterson is having a strong season with the Rockets and would be a great addition for the Kings. Patterson is averaging career highs across the board with 13.2 PPG and 4.8 RPG while shooting 49.1 percent from the field. Featuring a 14.91 PER, Patterson has plenty of potential for a 23-year-old.
Twenty-four-year-old Chandler Parsons is also having a solid season, averaging 14.9 PPG, 6.3 RPG and 3.7 APG while shooting 45.3 percent from the field. While Parsons was not a strong free-throw shooter last year, he has improved to a respectable 71.9 percent this season and could start at small forward in Sacramento.
Despite his lack of playing time so far, Montiejunas is just 22 and still has plenty of upside. A former lottery pick, Montiejunas would factor into the Kings' long-term plans and is under contract for the next four years.
I'm not sure this is the ideal destination for Cousins, simply because an immature player getting traded to the youngest team in the league just might not make sense. Regardless, Daryl Morey has shown in the past that he is not afraid to take risks and trade his plethora of young assets to net a potential star, just like he did in the James Harden trade with the Oklahoma City Thunder right before the season began.
At the same time, Cousins could be a fit. Jeremy Lin ran the pick-and-roll offense effectively with the New York Knicks, and DeMarcus Cousins could fit well into that style of offense. Harden's play-making ability would take pressure off of Cousins, while Omer Asik would continue to play strong defense and grab rebounds.
Given Houston's significant cap room, they would be able to take on the contract of Francisco Garcia.
And if the Rockets agreed to this trade, they would still have plenty of cap room to spare because Cousins is still on his rookie contract, meaning they would still have the flexibility to net a star in free agency.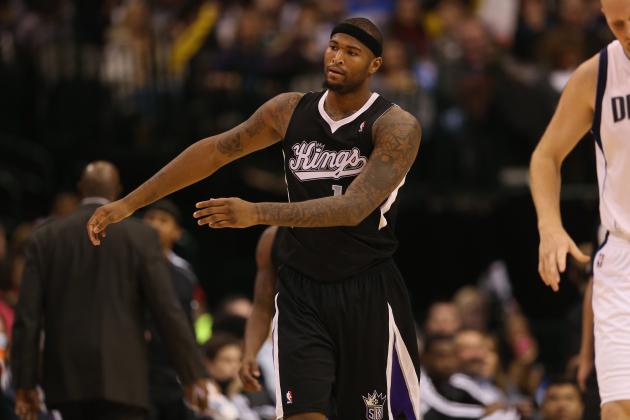 Ronald Martinez/Getty Images

Do I think the Kings should trade DeMarcus Cousins right now?
No.
However, if the antics continue and the team continues to suffer, he might force his way out of Sacramento.
He's only 22, and because of that, the Kings definitely need to give this situation some more time. He has the most talent of any player on their roster, and it would be heartbreaking if they dealt him now and he became an elite big man after the fact.
Because of this, I think the Kings simply need to keep their options open and wait it out. If Cousins grows up and reaches his potential in Sacramento, the Kings will have an ideal situation. If he continues to cause havoc throughout the NBA, they can decide to deal him later on.
He is still under his rookie contract for the next two seasons, so they will be able to wait out the situation without significant cost.
The point being, there's no rush to trade Cousins, but they might look at some of these options if they need to later on.