The NFL draft is the great equalizer in the sport. Teams that struggled one year can turn things around with one big pick. However, some teams are more desperate than others.
A few squads that finished 2012 in embarrassing fashion will need to make a good selection in the first round of the 2013 NFL Draft. If they make a bad choice, it will not only hurt the future of their teams, but fans will start losing faith.
Here is a full first-round mock draft, but the italicized picks will be the most important moves of the offseason.
1. Kansas City Chiefs: Geno Smith, QB, West Virginia
The Chiefs have a lot of playmakers on the offense, they just need someone to throw them the ball. Geno Smith might take some time to get acclimated with an NFL offense, but he will be able to make this team much better.
2. Jacksonville Jaguars: Bjoern Werner, DE, Florida State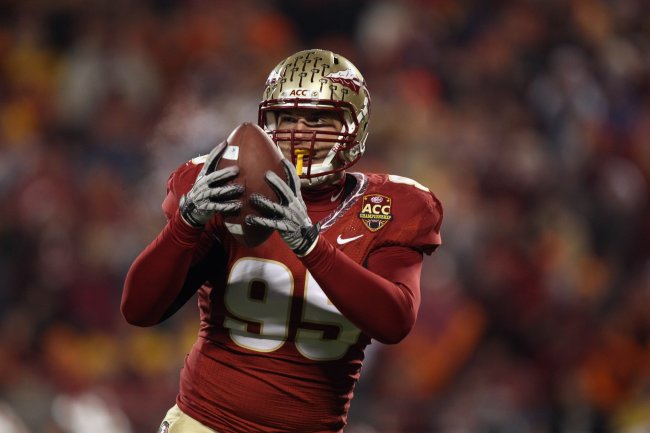 Streeter Lecka/Getty Images
While Blaine Gabbert or Chad Henne might not be the quarterback of the future, there is always the possibility that Tim Tebow enters the conversation this offseason.
Regardless, the team will not be able to defend anyone without a pass rush. For the season, the Jaguars only have 18 sacks as a team. J.J. Watt has more than that on his own.
Bjoern Werner would be the perfect fit after an All-American campaign.
The defensive end has cost opposing teams 116 yards with his 13 sacks, a mark that leads the nation. That includes 3.5 sacks in his school's biggest game of the year against Florida.
Werner would instantly transform this defense and make it at least competitive.
3. Oakland Raiders: Tyler Wilson, QB, Oakland Raiders
Overall, this quarterback class is not as good as last year's group. However, the Raiders need a quarterback and Tyler Wilson will be the best player available.
4. Detroit Lions: Manti Te'o, ILB, Notre Dame
The Lions have a lot of problems both on and off the field. Grabbing Manti Te'o would be the smartest move they can make. He is everything you look for in a middle linebacker and will make everyone around him better.
5. Philadelphia Eagles: Luke Joeckel, OT, Texas A&M
Even if Jason Peters returns to form, adding the top offensive lineman in the draft is rarely a bad move. It would help fix a line that allowed 47 sacks this season.
6. Arizona Cardinals: Taylor Lewan, OT, Michigan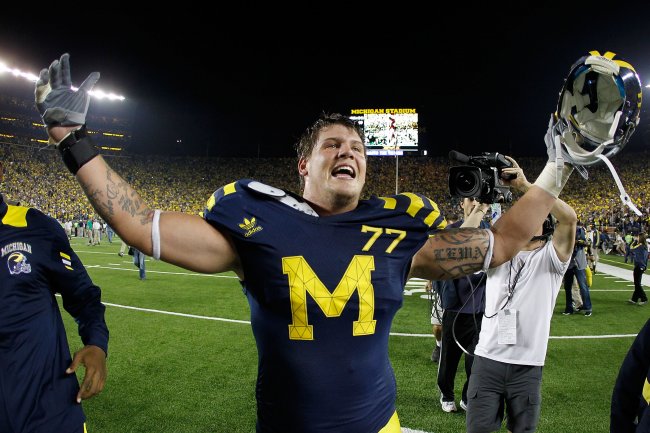 Gregory Shamus/Getty Images
Most fans of the Arizona Cardinals would like to see a quarterback that can become a franchise leader. Unfortunately, anyone who lines up behind center will get destroyed with this line in front of him.
The Cardinals allowed 56 sacks this season, which is nine more than the next highest in the NFL. It does not make sense to invest money in a young quarterback if he will struggle to stay on his feet next season.
Taylor Lewan was an All-American at Michigan and is one of the top players at his position. He will be able to solidify the quarterback's blind side, and it will finally give Arizona a chance to evaluate the players already on the roster.
7. Buffalo Bills: Star Lotulelei, DT, Utah
No team allowed more rushing yards this season than the Buffalo Bills. Star Lotulelei can become a wall in the front of the defense and help shut down opposing run attacks.
8. Tennessee Titans: Jarvis Jones, OLB, Georgia
Jarvis Jones is one of the most impactful defenders in the nation. He was all over the field throughout his career at Georgia and was a leader on a great team. Wherever he lands in the NFL, he certainly will not blend in on the field.
9. Cleveland Browns: Chance Warmack, OG, Alabama
It might be a little early to grab an interior lineman, but the Browns need someone to clear space for Trent Richardson. Chance Warmack has done that in the past and can do it again.
10. Tampa Bay Buccaneers: Dee Milliner, CB, Alabama
If Dee Milliner can fall to Tampa Bay, it would be a match made in heaven. There is nothing better than the top cornerback going to the worst pass defense in the NFL.
11. San Diego Chargers: Justin Hunter, WR, Tennessee
Danario Alexander came on strong at the end of the year, but the Chargers still need help at receiver. Justin Hunter has the size and speed that the team likes at this position.
12. New York Jets: Matt Barkley, QB, USC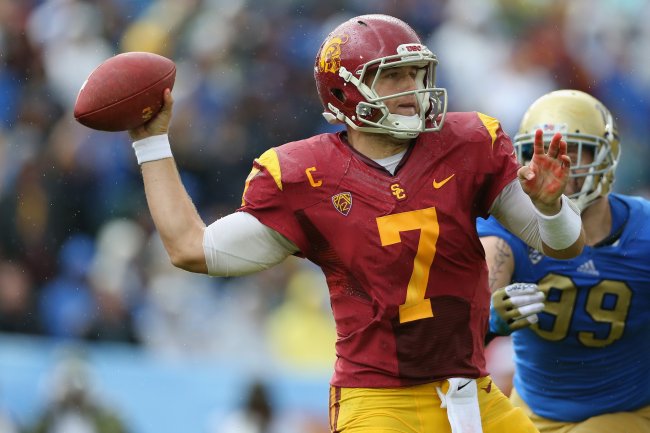 Jeff Gross/Getty Images
The Mark Sanchez experiment has likely come to an end. The same can be said about the Tim Tebow experiment. The Jets now need a new player that can be the leader for this franchise.
While Matt Barkley has had some issues over the past year, he still has a very strong arm and plenty of talent to succeed at the position.
In addition, playing in the USC spotlight will help prepare him for a career playing in the tough atmosphere of New York.
Barkley will be the complete package as an NFL player, and he should be everything the team wanted Sanchez to be but more.
13. Carolina Panthers: Damontre Moore, DE, Texas A&M
The Panthers were much better this season with Luke Kuechly at linebacker. This year, they can improve even more by adding an elite pass-rusher like Damontre Moore.
14. Miami Dolphins: Eric Fisher, OT, Central Michigan
There is a very good chance that Jake Long has played his last game with the Miami Dolphins. He will need to be replaced, so the Dolphins should grab the top remaining tackle on the board.
Eric Fisher might not have gone to a big school, but he is a powerful blocker that will be able to protect Ryan Tannehill for years.
15. Pittsburgh Steelers: Xavier Rhodes, CB, Florida State
When healthy, the Steelers are solid on both sides of the field. However, they still need to get younger, and Xavier Rhodes could be a great option for the future as he learns from some of the best defenders in the game.
16. St. Louis Rams: Eric Reid, S, LSU
Although the Rams had a solid defense this season, Eric Reid can make it even better. He has great instincts from the safety position and will be able to change games with takeaways.
17. New Orleans Saints: Barkevious Mingo, OLB, LSU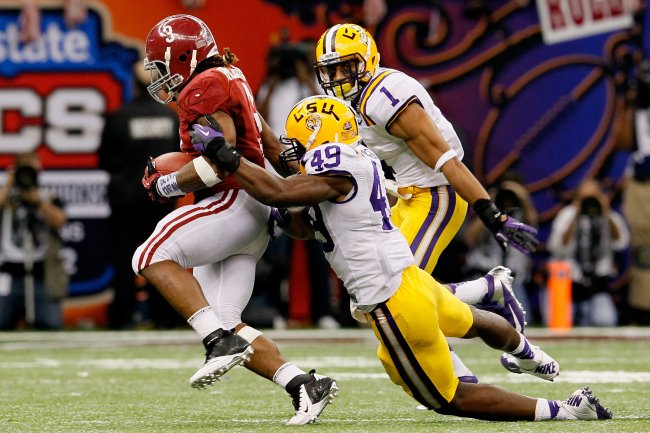 Kevin C. Cox/Getty Images
There were few more disappointing teams this season than the New Orleans Saints.
After winning 13 games a year ago, the squad got off to an 0-4 start and never really recovered. This was mainly due to a defense that ranks dead last in the NFL in total yards allowed.
Although Barkevious Mingo will not completely transform the unit, he has a knack for getting to the player with the ball and simply causing disruption in the opposing backfield.
The Saints must make other improvements on that side of the football, but adding Mingo would be a great start.
18. Dallas Cowboys: Sylvester Williams, DT, North Carolina
Dallas needs an upgrade at almost every defensive position. Sylvester Williams would be a good start as someone who can clog up the middle and free up the rest of the defense to make plays.
19. New York Giants: Alec Ogletree, ILB, Georgia
After years of mediocrity at linebacker, it is time for the Giants to actually pick someone in the draft that can help out. Alec Ogletree is a smart player who can play right away for this team.
20. Chicago Bears: Jake Matthews, OT, Texas A&M
It is possible Jay Cutler would be much better if he was not under pressure all the time. Grabbing a talented offensive tackle would fix a lot of issues on this offense.
21. Minnesota Vikings: Keenan Allen, WR, California
Adrian Peterson will not always be able to carry this offense. The Vikings need someone opposite Percy Harvin who can make plays, and Keenan Allen is that type of player.
22. Cincinnati Bengals: Giovani Bernard, RB, North Carolina
BenJarvus Green-Ellis played better at the end of the year, but the Bengals need a running back with fresh legs to help balance this offense. Giovani Bernard is a powerful back that perfectly fits into the mold of the type of player Cincinnati wants to build around.
23. St. Louis Rams (from Washington Redskins): Jonathan Cooper, OG, North Carolina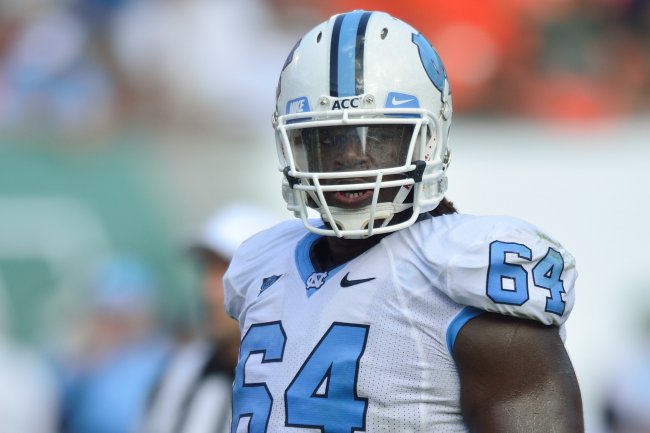 Steve Mitchell-USA TODAY Sports
The Rams had to be satisfied with its 7-7-1 record heading into the final game of the year, especially considering the squad only won two games a year ago.
Unfortunately, seeing Robert Griffin III bring his team to the brink of the playoffs has to make things worse. St. Louis traded away the No. 2 pick of the draft to the Redskins and gave away the opportunity to get a new franchise quarterback.
For this reason, the Rams have to make sure they hit on all of the picks received in the trade, beginning with this additional first-round selection.
Jonathan Cooper is not a sexy pick, but he is a solid guard that should be with the team for years to come. This security is enough to make this selection worth it in the long run.
24. Indianapolis Colts: Anthony Barr, OLB, UCLA
The Colts were a great story this season, but a lack of a pass rush really held this team back. Anthony Barr could fix this problem.
He is new to the position but he is one of the most athletic players in the nation. With some more time to learn, he can be a Pro-Bowl player on the defensive side of the ball.
25. Baltimore Ravens: Johnthan Banks, CB, Mississippi State
Like the Steelers, the Ravens could benefit from some fresh faces on defense. Even with Ray Lewis and Ed Reed, this is not the dominant defense we are used to seeing in Baltimore. The first-round pick must be used to improve that side of the ball.
26. Seattle Seahawks: Zach Ertz, TE, Stanford
Based on the recent play, it does not seem like the Seahawks need anything. However, they could still use more weapons for Russell Wilson to throw to, and Zach Ertz is a solid target that can block as well.
27. San Francisco 49ers: Barrett Jones, C, Alabama
The 49ers have few positions of need after getting nine players into the Pro Bowl. However, adding the versatile Barrett Jones could create even more depth on one of the top offensive lines in football.
28. New England Patriots: Dion Jordan, DE, Oregon
Chandler Jones made a big impact for this team when healthy, but the Patriots still need more. Dion Jordan will make things even harder on opposing quarterbacks while also helping out the young secondary.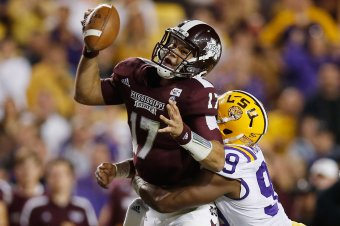 Chris Graythen/Getty Images
29. Green Bay Packers: Sam Montgomery, DE, LSU
Offensive line help would be ideal. Unfortunately, options start to run out toward the end of this round. At least Sam Montgomery would help put pressure on the younger quarterbacks within the division.
30. Denver Broncos: Shelden Richardson, DT, Missouri
Regardless of what this team does in the playoffs, they should be in the fortunate position of picking the best available player. Shelden Richardson is one of the biggest and most athletic players in the draft and would fit in well on this playmaking defense.
31. Houston Texans: Kenny Vaccaro, S, Texas
The second half of the season showed that the Texans are vulnerable against the pass. Adding the local safety will be an upgrade to the weakest part of a very good team.
32. Atlanta Falcons: Ezekiel Ansah, DE, BYU
It is somewhat stunning how statistically bad the Falcons defense is after such a great year. While a new running back would not hurt, the bigger need is someone who can help against both the run and pass.
Ezekiel Ansah was one of the most important players on an elite BYU defense and should be a very good player at the next level.
Love your team's pick? Hate your team's pick? Follow me on Twitter and tell me about it.