Russell Athletic Bowl 2012: Live Scores, Analysis and Results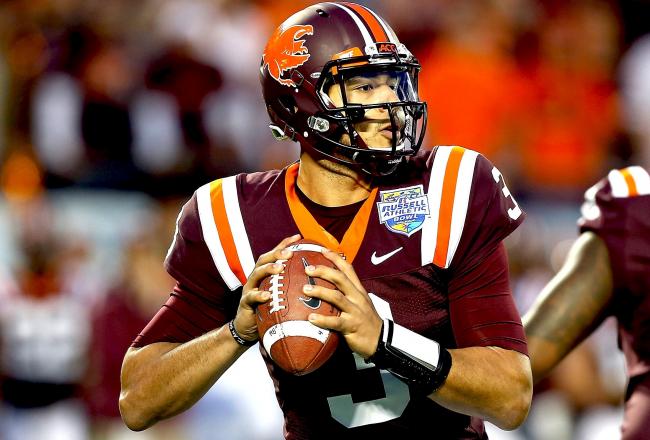 Final:
Rutgers — 10
Virginia Tech — 13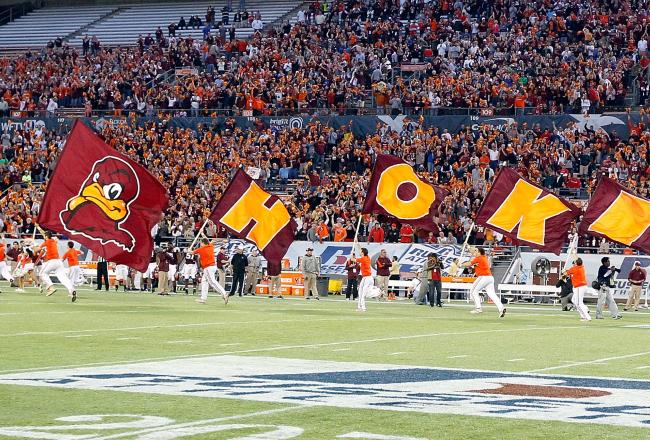 The Russell Athletic Bowl will not be looked back upon as a QB clinic. The offensive play by both Rutgers and Virginia Tech may have set the game of football back about 20 years.
Still, Virginia Tech will take an ugly win over a pretty loss any day of the week.
The Hokies (7-6) avoided their first losing season since 1992 as they beat the Rutgers Scarlet Knights, 13-10 in overtime at the Russell Athletic Bowl in Orlando.
The only touchdown for Rutgers came courtesy of Virginia Tech. A bad snap rolled into the end zone and the Scarlet Knights jumped on it to take a 7-0 lead just 17 seconds into the game.
The Virginia Tech defense allowed only 197 total yards and forced two turnovers in the game.
The defense of Rutgers played well enough to win, but could never deliver a knockout punch to Virginia Tech. QB Gary Nova completed less than 50 percent of his passes and threw for 130 yards.
Although it was not the season that Hokie fans have grown accustomed to, Virginia Tech finished the season on a high note with high hopes for 2013.
Thanks for joining us for the 2012 Russell Athletic Bowl as we provided live scores, results and analysis. Make sure you join us for the remaining bowl games!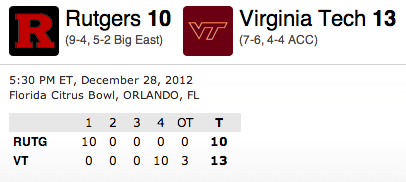 Here is the scoring summary for tonight's game via ESPN.
Turnovers:
Virginia Tech — 3
Rutgers — 2
Time of possession:
Virginia Tech — 27:25
Rutgers — 32:35
Total yards:
Virginia Tech — 196 (192 passing, 4 rushing)
Rutgers — 197 (130 passing, 67 rushing)
Virginia Tech — 14 for 100 yards
Rutgers — 4 for 35 yards
Field goal is missed!
Virginia Tech defeats Rutgers 13-10 in overtime.
The Virginia Tech defense does its job. Can Borgese tie it up to send it to a second overtime?
Field goal attempt is good.
Rutgers will now go on offense. A field goal ties it and a TD wins it.
That was awfully close to pass interference on Kasim Greene.
Ouch.
VT & Rutgers QBs: 39% completion rate, 297 yards, 1 TD, 3 INT. It's so bad you can't stop watching.

— Jon Solomon (@jonsol) December 29, 2012
Great throw by Logan Thomas. Virginia Tech on the doorstep of the end zone.
You and me both, Mr. ref.
Even the ref looks ticked this game is in OT.

— Lisa Horne (@LisaHorne) December 29, 2012
Don't you wish this upon us, Forde!
Inept offenses and sketchy kickers ... Very concerned we'll see 12 consecutive scoreless OT periods before someone breaks.

— Pat Forde (@YahooForde) December 29, 2012
End of regulation.
Virginia Tech — 10
Rutgers — 10
Looks like we will be headed to overtime here in the Russell Athletic Bowl, unless the Hokies can make a miracle here in 19 seconds.
Safe bet.
I'm going to guess this Russell Athletic Bowl won't be shown as a quarterbacking clinic in years to come.

— Andy Bitter (@AndyBitterVT) December 29, 2012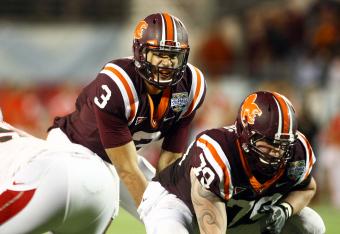 Does anyone want to win this game? That doesn't appear to be the case. The Hokies will have yet another chance with just over a minute left to put some points on the board.
Interception by Rutgers.
Rutgers will get the ball back with over a minute left to try and win the game.
Whew.
Notable: this is the first rainy bowl on this field since we got the fancy new AstroTurf field. No more Mud Bowls!

— RussellAthleticBowl (@RussellAthBowl) December 29, 2012
One more chance for Virginia Tech. Can the Hokies pull it out and ruin the Scarlet Knights' hope of a 10-win season?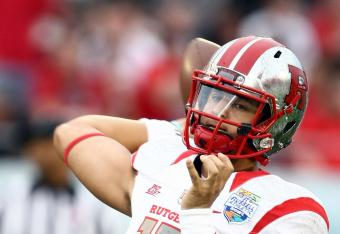 Rutgers QB Gary Nova is having an awful time trying to throw the ball here in the second half.
Field goal attempt is missed.
Rutgers will get the ball back with just over two minutes remaining to win the game.
Do you go for it here? It's definitely close.
I'd go for it because of the weather.
We're getting to that point in the game where possessions become very valuable. Could this be Virginia Tech's last offensive possession in regulation?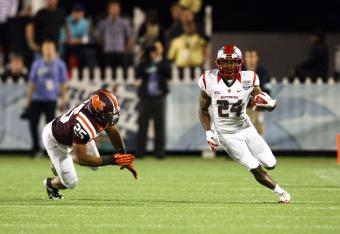 Still tough sledding for Rutgers in the running game against Virginia Tech's defensive front.
Angry Frank Beamer is scary enough. A wet and angry Frank Beamer is even worse.
This article is
What is the duplicate article?
Why is this article offensive?
Where is this article plagiarized from?
Why is this article poorly edited?

Virginia Tech Football: Like this team?