2013 NFL Free Agents: Top Talents at Every Position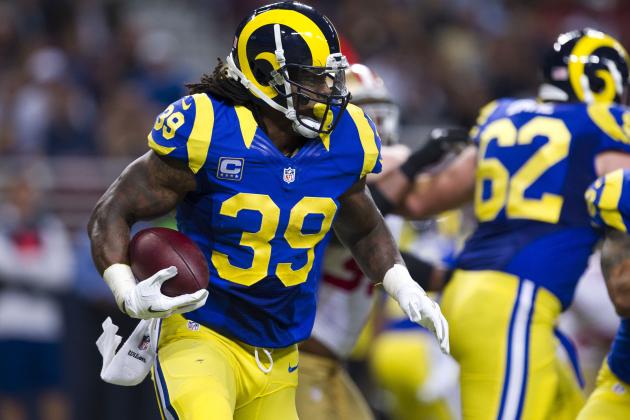 David Welker/Getty Images

The 2013 NFL free-agent market is highlighted by a pair of prolific veteran running backs and two of the game's best wide receivers.
Perhaps the biggest name on the list belongs to a quarterback who has never missed the playoffs. Yet he still hasn't convinced anybody he's elite.
Here are the top two talents at each position in this year's free-agent market.
Begin Slideshow

»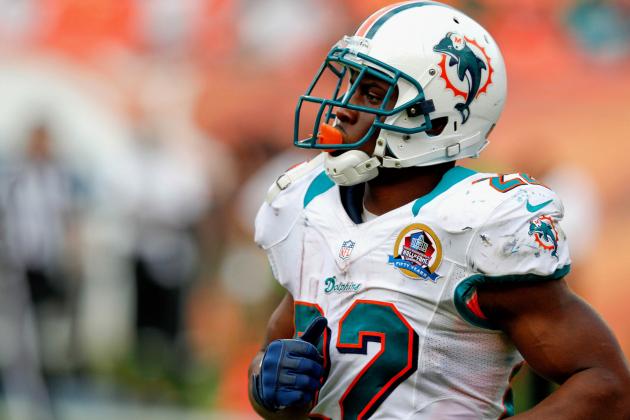 USA TODAY Sports

Steven Jackson
Jackson is 10 yards short of the eighth consecutive 1,000-yard season of his great career. Still, he seemed to fall down the pecking order with the St. Louis Rams earlier in the season.
However, in typical fashion, Jackson has rebounded well. He remains a dynamic, bruising runner with excellent receiving and blocking skills.
Jackson would be a dream acquisition for many teams—that is, if he stays on the market. NFL.com's Marc Sessler, recently reported that the 29-year-old might consider retirement.
If he opts to return for a 10th season, Jackson will be the premier back on the market.
A close second to Jackson will be Reggie Bush. The Miami Dolphins, so far, seem willing to allow Bush to test the market.
That's a surprise considering that Bush is close to recording his second-straight 1,000-yard season in South Beach, and he is still a dynamic open-field runner, with the speed and moves to make many miss.
He has averaged more than four yards a carry in each of the last four seasons. Bush also remains a big-play weapon as a receiver.
The 27-year-old shouldn't be short of suitors once free agency begins.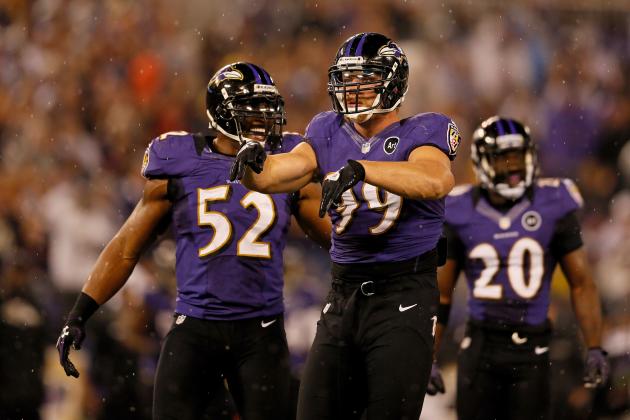 Rob Carr/Getty Images

Paul Kruger
Paul Kruger could cash in on an excellent first season as a starter for the Baltimore Ravens. The 26-year-old has emerged to lead the pass rush in the absence of Terrell Suggs.
Kruger has notched eight sacks and has be the main playmaker for an injury-ravaged Ravens defense. At 6'4" and 270 pounds, he has the size to set the edge and play outside in a 3-4.
Many have taken notice of his performances this season. Any 3-4 team in need of an upgrade in the pass-rush department will likely be willing to part with a lot of money to secure Kruger.
Anthony Spencer
The Dallas Cowboys could lose Anthony Spencer just as he is finally fulfilling his potential. The 2007 first-round pick has largely disappointed during his time in Texas.
However, getting Spencer to produce is one of the few things that defensive coordinator Rob Ryan has done well. Spencer has double-digit sacks for the first time in his career, proving that he can be a blue-chip edge rusher.
Combine that with his stout play against the run and Spencer will be highly coveted once free agency begins.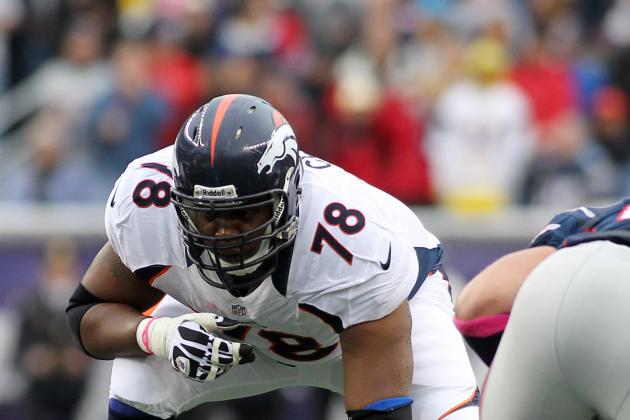 Stew Milne-USA TODAY Sports

Ryan Clady
An exceptionally gifted left tackle, Clady offers elite athleticism and first-rate smarts. He is technically sound and hasn't missed a game in his five-year career.
General managers will be climbing over each other to try to pry the 26-year-old away from Denver.
Jake Long
Anyone who falls short of acquiring Clady would surely be happy to settle for 2007 No. 1 overall pick, Jake Long. The Miami Dolphins' stud is a powerful drive blocker who bullies opponents into submission.
Long has had some injury woes that could scare off a few teams—including the Dolphins. He is currently on injured reserve after suffering a torn bicep.
However, when healthy, there are few more accomplished blindside protectors in the game.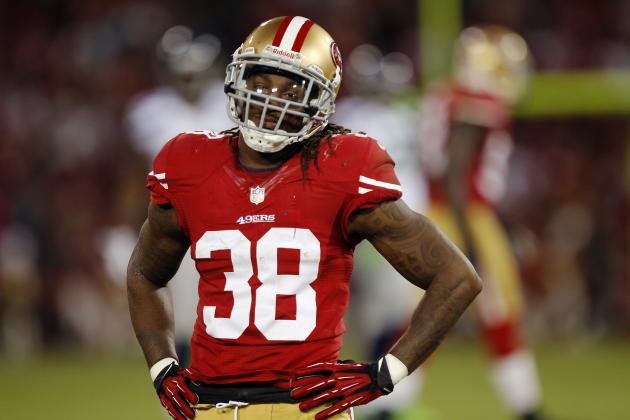 Brian Bahr/Getty Images

There is a lot of quality at the safety position in 2013's market. Narrowing it down to the top two was no easy task. However, smart ballhawks Dashon Goldson and Jairus Byrd get the nod.
Both are opportunistic and have a knack for the big play.They have combined for eight interceptions this season.
Byrd has five and remains a true center fielder. When afforded the freedom to spy on a quarterback and break on passes, he is deadly.
He is a turnover machine, having forced 18 takeaways in four seasons. Given how valuable that quality is, the Buffalo Bills could have a hard time matching offers for Byrd.
There will also be plenty of large dollar amounts presented to Goldson. He has been a key member of the San Francisco 49ers' excellent secondary.
He has stellar instincts and makes his share of highlight reel-worthy plays. However, Goldson is equally physical and tenacious.
He is a fierce hitter who doesn't shy away from run support. He has made 67 tackles in each of the last two seasons and has also defensed 20 passes in that time.
Goldson is a true playmaker in the defensive backfield. The 49ers will have to act fast to keep him in San Francisco.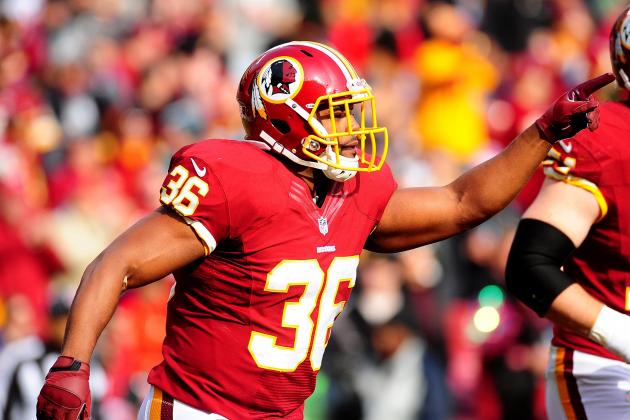 Evan Habeeb-USA TODAY Sports

For those who think the fullback position is no longer relevant, ask Alfred Morris where he'd be without Darrel Young. Better still, why not ask Adrian Peterson how much he values Jerome Felton.
These two punishing blockers headline the free-agent class for a position that still retains its importance.
Young would command a lot of attention on the open market for his work with the Washington Redskins. The converted linebacker has become a key component of the NFL's best running game.
He is a decisive and stout blocker in Washington's zone-running scheme. Young is also an effective ball-carrier in his own right. He is a crafty receiver and a productive runner between the tackles.
As a restricted free agent, teams would have to give up some value to acquire Young. However, he would be worth the price.
Another blocking back who would be a prized commodity is Jerome Felton. The journeyman bruiser, who is playing for his fourth team, has just been voted to his first Pro Bowl.
That's recognition for helping Peterson gain 1,898 yards and carry the Minnesota Vikings to the cusp of the playoffs.
Felton is a classic fullback who has certainly enhanced his reputation this season. He might not be this free-agent market's Vontae Leach, but Felton could certainly be rewarded for a superb campaign.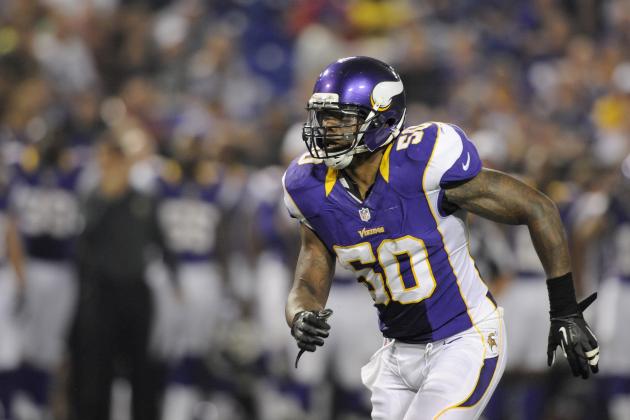 Hannah Foslien/Getty Images

The linebacker class could be dominated by the attention paid to veteran Brian Urlacher. However, Erin Henderson and Rey Maualuga are emerging stars approaching their prime, rather than waving it goodbye.
Henderson is a vital member of the Vikings' scrappy defense. He is quick and aggressive and excels at attacking downhill.
The 26-year-old is versatile enough to thrive in any style of defense and will only become more productive.
Maualuga could likely be the most sought after linebacker in free agency. The Cincinnati Bengals' star is enjoying his finest season, having broken the 100-tackle mark for the first time.
He plays fast despite his 265-pound frame. Flexible enough to play on the outside, or man the middle, Maualuga is a natural and active playmaker.
The Bengals will have to act fast if they hope to keep the suitors away from the former USC standout.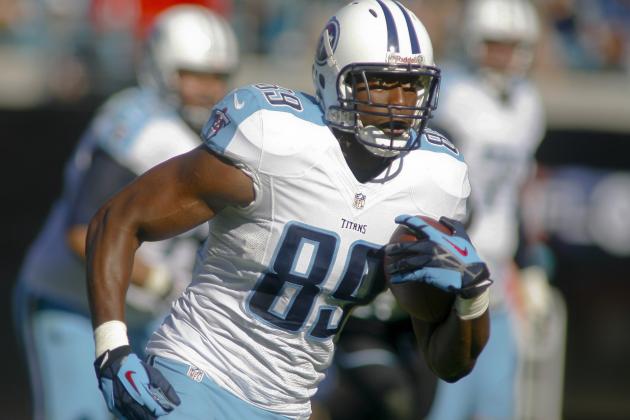 Phil Sears-USA TODAY Sports

Two prolific youngsters currently on injured reserve headline the tight end free-agency class. When healthy, Jared Cook and Fred Davis are talented enough to be playmakers for any offense.
Both have showcased big-play skills. Cook is underused by the Tennessee Titans, but has the size and speed to terrorize any defense.
He has averaged 11.9 yards per reception this season and is dynamic enough to line up anywhere in a formation.
Davis displays similar qualities, despite being lost for the season in Week 7. He is quick and athletic enough to line up in the slot, or even split out wide.
Davis can attack the middle zones on deep crossing patterns and even offers underrated blocking skills. He bears the franchise tag from the Washington Redskins this season.
However, his injury and previous suspension for drug abuse mean Davis is sure to be allowed to test the market.
Charles LeClaire-USA TODAY Sports

Dustin Colquitt has certainly had plenty of practice as the punter for the Kansas City Chiefs. He hasn't wasted his league-leading 106 punts either.
Colquitt has boomed 42 inside the 20, good for second best in the NFL. He is also tied for the league's best mark with seven touchbacks.
If Colquitt's punts, 17 have been downed without return. Those are impressive numbers and valuable qualities in the field position battle.
Donnie Jones of the Houston Texans remains a respected punter and could attract some interest. He has averaged 47.1 yards a punt this season and has only had one punt blocked since 2007.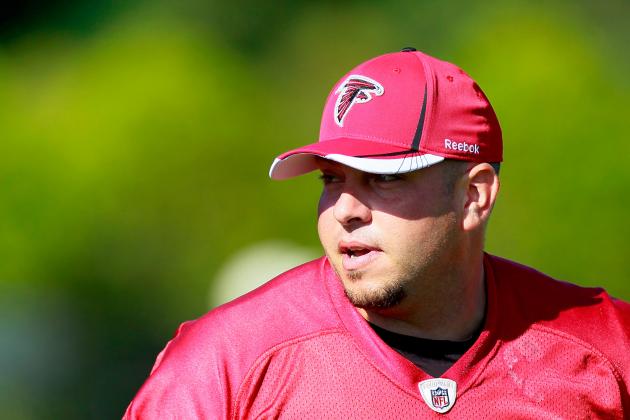 Kevin C. Cox/Getty Images

Veteran Todd McClure is a smart center who could effectively anchor any blocking scheme. The 35-year-old has been a consistent pivot man for the Atlanta Falcons all season.
If they opt for a younger option in the offseason, McClure could explore new offers. That could happen, considering the Falcons drafted Peter Konz this year.
Another experienced center who would tempt a lot of teams is Dan Koppen. He has called the blocking signals for both Tom Brady and Peyton Manning.
He has been invaluable for Manning this season. If the Denver Broncos don't re-sign him, Koppen could soon find another home.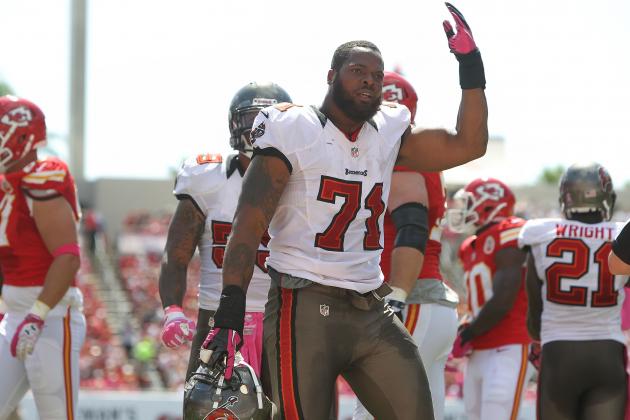 Kim Klement-USA TODAY Sports

There are some veteran names among the free agent defensive ends, such as Dwight Freeney and Osi Umenyiora. However, youngsters Cliff Avril and Michael Bennett represent the best options on the market.
Bennett is a budding star who has developed well for the Tampa Bay Buccaneers. A true 4-3 end, Bennett is stout against the run and a legitimate pass-rush threat.
He has logged nine sacks and forced three fumbles this season. The Buccaneers will have to pay big to keep the talented 27-year-old around.
The Detroit Lions face a similar dilemma with Avril. The used the franchise tag to avoid paying major cash for the 26-year-old last offseason.
Avril has responded with nine-and-a-half sacks and two forced fumbles. He collected 11 sacks last season and is fast building a reputation as a premier pass-rusher.
Those who believe Avril's isn't just a product of the Lions' powerful line would happily hand him a lucrative deal.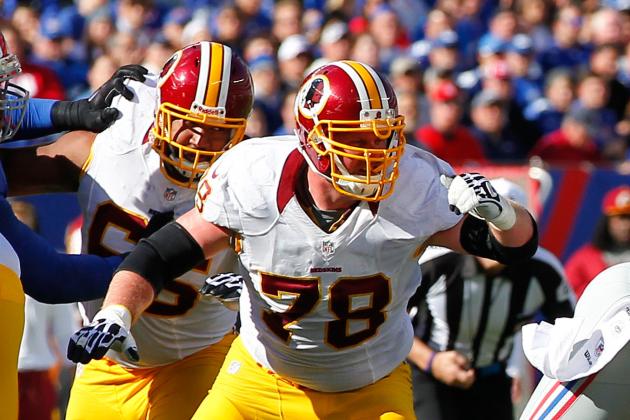 Jim O'Connor-USA TODAY Sports

Like defensive end, there are some veteran names in the free-agent guard class, such as Brandon Moore and Ryan Lilja. However, two younger players represent the best options.
One is Washington Redskins left guard Kory Lichtenteiger. A natural zone-blocker, the former Denver Bronco is key to the Redskins' blocking schemes.
He has managed to stay injury-free this season and has been vital for the league's best running game. Lichtensteiger may choose to stay with head coach Mike Shanahan, but he could draw strong interest elsewhere.
Another young guard who has shined is Donald Thomas. He has replaced outstanding veteran Brian Waters for the New England Patriots.
Thomas has been consistently impressive. The fifth-year pro is strong and skilled in the trenches.
Unlike Lichtensteiger, Thomas is more of a power blocker. He is an excellent pulling guard and ferocious at the point of attack.
It would probably take a lot to get Thomas to leave New England, but he should still draw some interest.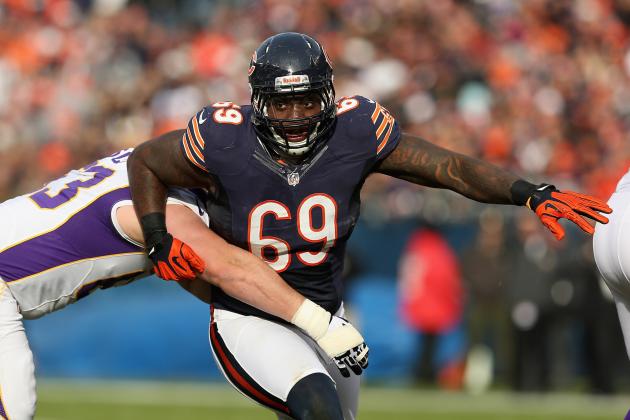 Jonathan Daniel/Getty Images

Re-signing Henry Melton has to be the top offseason priority for the Chicago Bears. The cat-quick, 3-technique tackle has become the most dominant member of a deep and talented line rotation.
He logged seven sacks in 2011 and has six to his credit this season. At just 26, the 6'3", 295-pounder is a rising star.
He would be a stellar addition to any 4-3 front. Melton will likely command a huge contract if he is allowed to hit the open market.
Another team that needs to retain a dominant defensive tackle is the Miami Dolphins. Randy Starks has been a key member of their new-look 4-3 scheme.
The nine-year pro is a disruptive playmaker along the interior. He has successfully mastered the switch from a 3-4 to a one-gap, attacking style of defense.
If the Dolphins don't feel the 29-year-old merits a big investment, Starks won't have trouble finding a team that does.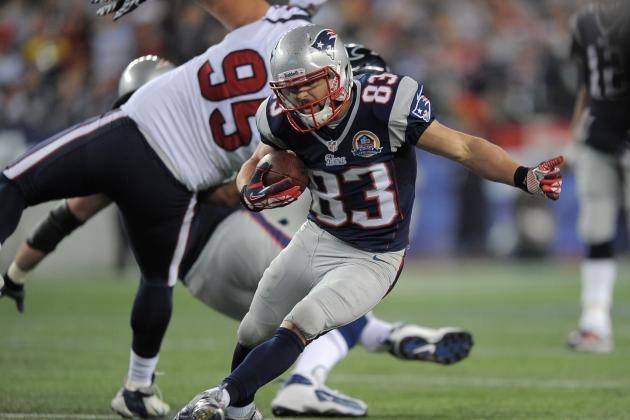 USA TODAY Sports

Greg Jennings and Wes Welker will be in high demand if they hit the free agent market. At different times this season, each has appeared to fall slightly out of favor with their respective teams.
At other times, they have both reminded those teams just how important they are. Even this month, Jennings appeared to suggest he was set to leave the Green Bay Packers this offseason.
However, in his last two games, he has recorded eight catches for 95 yards and a touchdown. Even though it seems like he has been around for longer, Jennings is still only 29.
He's also still a prolific deep threat and an excellent route runner. Any team looking for help at wide receiver has to consider the seven-year pro.
The same must be said about Welker if he ends his stellar relationship with the New England Patriots. The nine-year-veteran can still find space in the underneath zones better than anybody.
He wasn't quite as prominent as usual at the start of the season. However, Welker has rebounded to again assume his role as Brady's favourite receiver.
If he wants one final big payday, the 31-year-old will surely find it. It will just be somewhere other than New England.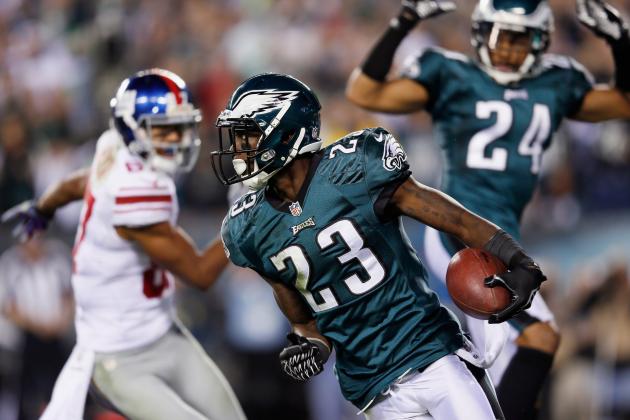 Rob Carr/Getty Images

It is not the strongest free-agent cornerback class in recent memory. However, Dominique Rodgers-Cromartie and Chris Houston could still tempt some teams.
Like so many others, Rodgers-Cromartie has particularly struggled since signing with the Phialdelphia Eagles. Yet the former Arizona Cardinal is still only 26 and remains a capable ball hawk.
He has snared three interceptions this season and can still be a playmaker in the right coverage scheme.
Chris Houston's reputation has been dented as a member of the Detroit Lions' woeful pass defense. However, Houston is still a productive zone defender.
He has recorded seven interceptions in the past two seasons. He also has 54 tackles and two forced fumbles in 2012.
Houston would be a solid pickup for any defense running a zone scheme and looking for an opportunistic defensive back.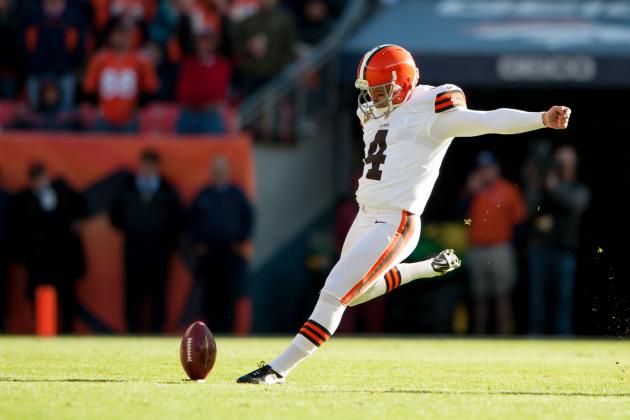 Dustin Bradford/Getty Images

Two AFC North kickers headline their position group in free agency. Cleveland Browns ace Phil Dawson and Cincinnati Bengal Mike Nugent have been accurate and efficient throughout the season.
Dawson's reputation for accuracy is well-founded, as he's missed only one kick for the Browns. Nugent, meanwhile, hasn't wasted his opportunities and has also booted 21 kickoffs for touchbacks.
Kickers are rarely deemed valuable until a few games are decided by their exploits. If any teams need a more clutch presence in the kicking game, Dawson or Nugent would fit the bill.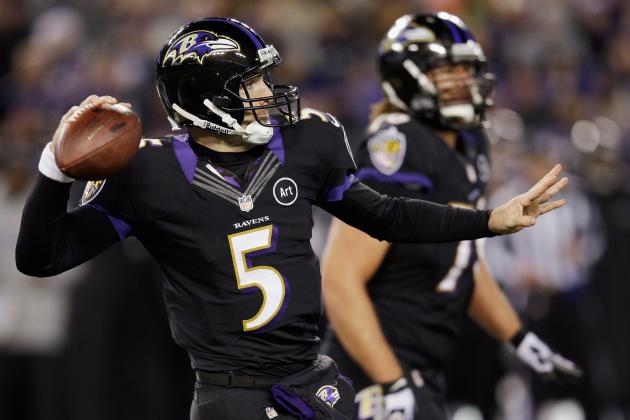 Rob Carr/Getty Images

It certainly is slim pickings at arguably the NFL's most influential position. Joe Flacco headlines the group and would surely attract interest.
However, despite taking the Baltimore Ravens to the playoffs every year since 2008, Flacco has his critics. He remains inconsistent in clutch situations and parts of his technique are still flawed.
Flacco endured some awful performances this season, but has rebounded well at times. It would take big changes in Baltimore to see Flacco leave.
Former Dolphins and Carolina Panthers starter Matt Moore is the pick of a poor bunch behind Flacco. Moore has had his moments as a pro.
He threw 16 touchdowns in 2011, but has never been convincing as a regular leader for an offense. Teams looking for quarterback help would be best served looking to the 2013 draft for any solutions.