Everton Highs and Lows of 2012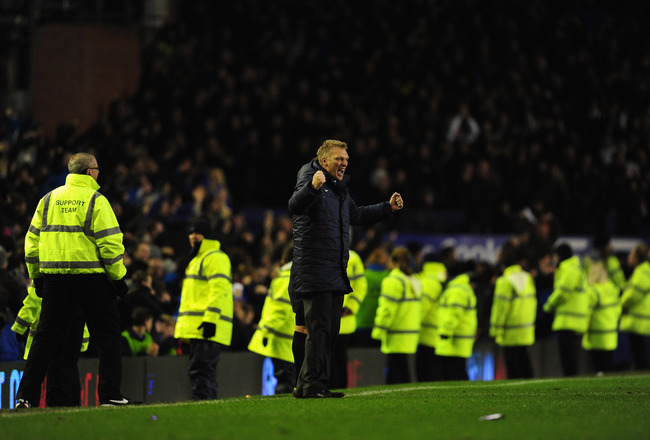 Stu Forster/Getty Images
What a year it has been for Everton Football Club.
Statistically, Everton have been the best English club outside of Manchester, amassing 68 points in the calender year—25 more than rival Liverpool.
The Blues had a successful transfer window in January and were able to make more additions through the summer without losing any major assets.
They retained the services of manager David Moyes despite links away from the club to Tottenham and Chelsea.
Of course there were lows but, all in all, 2012 was a good year for the Blue half of Merseyside. It could get even better with a win against Chelsea in their final match of the year on December 30 at Goodison Park.
Everton 1, Bolton 2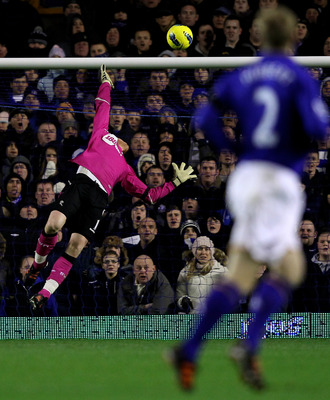 Alex Livesey/Getty Images
The year started with a shocking high/low combination in a 2-1 loss to soon-to-be-relegated Bolton Wanderers.
The game will be forever remembered as the time that Tim Howard scored. His mammoth punt upfield bounced once, caught a Goodison gale and lifted over stranded opposite number Adam Bogdan.
Yet for Everton fans at the ground it was a poor performance against a side that could have, and should have, been easily brushed aside.
With their only good player, Gary Cahill, about to depart the club and falling behind in the most bizarre of circumstances in the 63rd minute, Bolton should have been an easy three points for the Toffees.
To add injury to insult, defender Phil Jagielka was helped off the field with a knee injury just before half-time and was ruled out for nearly two months.
Put it this way: Things could only get better for Everton in 2012, and it took until the end of January for the Blues to show a stark turn around.
January 31, 2012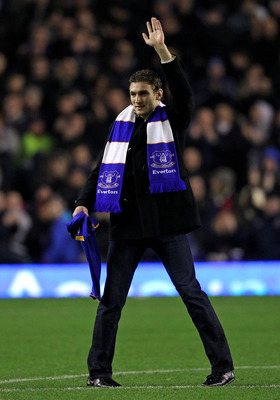 Alex Livesey/Getty Images
What a night!
Everton played host to the future champions of the Premier League on a crisp night that the Goodison Park faithful will never forget.
As it was the last night of the January transfer window, Evertonians were muted in their expectations.
The Blues had signed star of the Scottish League Nikica Jelavic from Rangers that afternoon and ex-Manchester United midfielder Darron Gibson, who was playing in his second game for the club.
American Landon Donovan had been welcomed back with open arms and boisterous chants of "USA! USA!" but with Manchester City the opposition, optimism seemed futile.
How wrong we were.
The atmosphere throughout was electric as Everton constantly hurried and bullied the opposition, with Denis Stracqualursi (remember him? Seems like way more than a year ago!) having a header cleared off the line in the early exchanges.
Half-time came, and out came the untested striker from North of the Border.
Jelavic was paraded like the prized possession he has since become, but there were many grumblings that £5.5 million was a lot to spend on a forward with no experience in a league as tough as this one.
How wrong we were.
On the hour mark, up popped another of Moyes' signings who was originally met with hostility as Darron Gibson poked home the winning goal.
Goodison Park erupted.
Three points against the soon-to-be Champions were enough, but Everton were not done yet.
Awaking on February 1, Evertonians were greeted with the news that a prodigal son had returned: Steven Pienaar was signed from Spurs in the final moments of the transfer window.
January 31, 2012 may have been a turning point for Everton in years to come as we all know what happened next. Gibson blossomed, Pienaar continued where he left off and Jelavic scored more goals with less touches than any striker I can remember.
Oh, and a fan handcuffed himself to the Park End goalpost in protest against an airlines recruitment policy.
What a day, what a glorious day.
Everton 2, Chelsea 0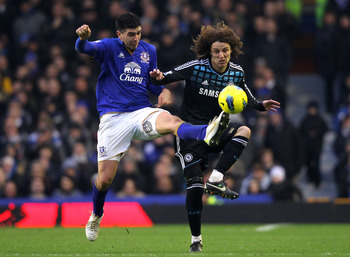 Alex Livesey/Getty Images
A 1-1 draw with Wigan seemed to dampen the high spirits of early 2012, but Everton bounced back with an emphatic victory against Chelsea on 11 February.
It was not merely a victory against a side of the calibre of Chelsea; even though they won the Champions League, they had a poor year in the Premiership.
It was the manner of victory.
Everton outclassed Chelsea in all phases of the game and were never in danger of anything less than three points.
Steven Pienaar struck first within five minutes as Everton shot out of the blocks and never looked back, leaving Chelsea powerless to stop the Toffee onslaught.
That man Denis Stracqualursi netted with 20 minutes remaining as Everton sealed one of their most impressive wins of the year.
The midfield was a particular delight as Tim Cahill and Landon Donovan, both plying their trade Stateside these days, had particularly good games as did goal-scorer Pienaar.
Everton play their final game of 2012 against Chelsea at Goodison Park on 30 December—here's to hoping for a repeat performance to cap a wonderful year.
Derbies...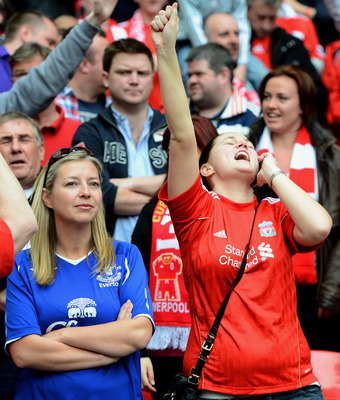 Mike Hewitt/Getty Images
Woe is the Merseyside Derby if you are an Evertonian.
2012 saw the famed rivalry renewed on three occasions with two Liverpool victories and a controversial draw.
Everton were on an eight-match unbeaten run when they first met Liverpool in March 2012, only to be soundly beaten 3-0 thanks to a hat-trick from Steven Gerrard.
With an emphatic away win at Sunderland in the FA Cup, Everton and Liverpool met again at Wembley in the Cup semifinal.
A mass Merseyside exodus ensued for the 118th meeting between the two clubs, and the blue half of Merseyside struck first thanks to a defensive mix-up that Nikica Jelavic was able pounce on.
Sylvain Distin repaid the favour, gifting Luis Suarez an equaliser before Andy Carroll headed home the winner in the 87th minute.
Again, Everton hearts were broken.
Then came a new season and a revitalised Everton, off to their best League start in recent memory as dreams of the 2004/5 season were rekindled.
Again Liverpool proved to be a thorn in the Everton side as they raced into a 2-0 lead with 20 minutes gone.
Leon Osman equalised moments later, and Steven Naismith rounded out the scoring with just over half an hour gone.
The game will be remembered for the Suarez goal that wasn't as the Uruguayan had his late goal wrongly ruled offside.
Everton fans will be quick to point out that it was about time a controversial decision went their way in a Derby. It didn't look like a foul on Osman that set up the goal.
One thing that can be agreed upon as a momentous high for both sides of Merseyside in 2012 is the Hillsborough truth that has finally been revealed.
After decades of hurt, red and blue can unite in the campaign for justice for those 96 fans who never came home.
Everton 4, Manchester United 4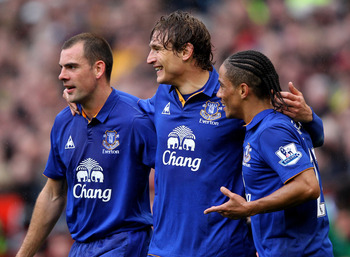 Alex Livesey/Getty Images
Probably the most unbelievable game of the year in the entire Premier League came as Everton met Manchester United at Old Trafford in April.
United were on course for another Premier League title, and had they held on against the Toffees here, that now legendary last day of the season would never have happened.
Everton grabbed a 1-0 lead after a wonderful passage of play thanks to their glorious new striker Nikica Jelavic. Gone were the questions of January as Jelavic went on to score nine Premier League goals after his move from Rangers in January.
The last great striker at Everton, Wayne Rooney, equalised just before half-time. When United snatched another two goals in three minutes at the hour mark, it seemed that Everton had only produced a scare for the perennial Champions.
A brilliant Marouane Fellaini volley in the 67th minute made things interesting, but when Rooney popped up again three minutes later to make it 4-2, the game looked dead and buried.
Everton's new signings had other ideas.
First it was Jelavic again who pounced after good work from Fellaini to draw the United defenders towards the ball before flicking back to the on-rushing Croatian.
The score was 4-3 with less than 10 minutes to go at Old Trafford, but it still seemed like a rather large mountain to climb.
However, more fantastic work from the big-haired Belgian set up Steven Pienaar for the equaliser, and Everton (or Manchester United, depending on preference) held on for the famous draw.
The Rise of Marouane Fellaini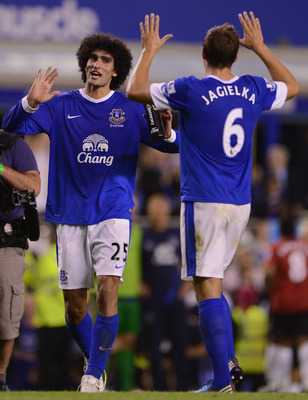 Michael Regan/Getty Images
Same stuff, different day.
Marouane Fellaini opened Everton's season with a bang as he once again proved too much for Manchester United to handle.
An opening-game victory over United was as unexpected as Everton's fantastic start to their Premier League campaign, but the rise of Fellaini has been predicted by many who have seen his growth in his five seasons with the club.
The Belgian international has been talismanic thus far this season, scoring eight in the Premier League to equal his best ever goal-scoring return for the Blues.
It is not just Fellaini's goals that are so impressive—it is the manner of his performances.
Take that game against Manchester United as an example. He punished United defenders throughout the game, and his size and physicality have been key to Everton's success this term.
Earlier in the year, whilst Fellaini was playing further back in the midfield, the Belgian was equally adept as a defensive midfielder, but ever since that season debut he has been deployed in a supporting role for Nikica Jelavic.
Evertonians can still debate Fellaini's best position, but it seems in 2012 if he plays off the striker, in front of the back four or in goal, he is still Everton's brightest star.
Reading 2, Everton 1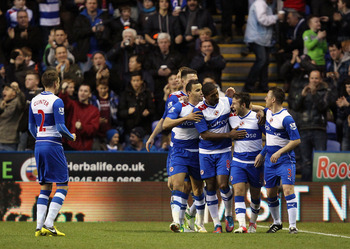 Jan Kruger/Getty Images
Everton had only lost one Premier League game in their first 12 outings when they met Reading at the Madejski Stadium, and everything seemed to be running smoothly.
Admittedly, the fire of Everton's start had somewhat burnt out as four draws in their last five games were pointed to as a bubble burst, but Everton still occupied fourth place in the League and had enjoyed a come-from-behind win against Sunderland the previous week.
When Steven Naismith opened the scoring in the 10th minute of the game, it seemed that everything was going according to plan.
Reading had yet to win a game in the Premier League since their arrival from the Championship. 1-0 to an in-form Everton side that were cruising through the game seemed like another defeat was on the cards.
However, Everton couldn't make their repeated chances pay, and Reading equalised through Adam le Fondre just after half-time.
Everton had 60 percent possession through the game and nearly double the corners and shots of Reading, but an unexplainable foul from Seamus Coleman gave le Fondre a chance to give Reading the lead from the penalty spot.
Le Fondre dispatched the penalty, and Reading won their first, and only, Premier League game so far this season.
With the Blues enjoying such a surprisingly good start—fourth in the Premier League with Champions League whispers beginning to circulate—the loss at Reading showed a side that needs to be more clinical if European dreams are to be realised.
The Brilliance of Baines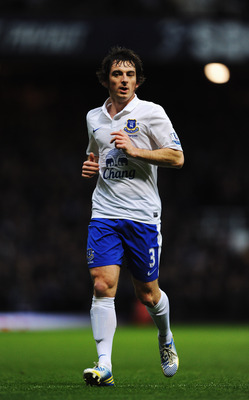 Steve Bardens/Getty Images
What can be said about Leighton Baines that hasn't been said already?
His two goals and two assists seem pedestrian at best for the player Everton fans repeatedly call not only the best left-back in the Premier League but one of the finest in the world.
A further look at his statistics so far this season shows his true worth to Everton.
Baines was the first player in Europe's big five leagues to produce 50 chances, a truly incredible feat for a full-back at Everton.
His crossing is nearly always exemplary, his passing has improved and he has redeveloped the linkup play with Steven Pienaar, which makes Everton's left-side one of the most dangerous in the Premier League.
He is phenomenal from set pieces and produces, on average, 3.4 key passes a game, trailing only Franck Ribéry in Europe's big leagues.
Baines is a tremendous talent whom Everton are lucky to have, and if rumours from The Independent are to be believed, Chelsea may well be lucky to have him come January.
Manager David Moyes has been quick to dismiss such rumours, but whomever Baines is playing for, he is a joy to watch.
He has been, alongside Marouane Fellaini, Everton's best player of 2012.
Leon Osman: Capped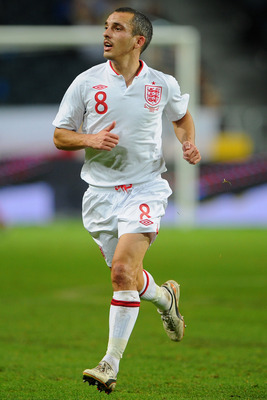 Michael Regan/Getty Images
Many thought that 31-year-old Leon Osman's chance to make a well-earned international bow had long passed, but if the world can end in 2012, I suppose anything is possible.
Osman had represented England at the under-16 level but no higher, until November 2012 when the midfielder was called up by manager Roy Hodgson for a friendly against Sweden.
Zlatan Ibrahimovic may have stolen the headlines with his stunning display and phenomenal goal, but Osman was finally rewarded for his fantastic work for Everton for more than a decade.
The midfielder has recently hit a rich vein of form. He closes 2012 as one of Everton's hottest stars thanks to two wonderful performances against West Ham United and Wigan Athletic.
Osman's cap was one of the feel-good stories of 2012 for Everton. Whether or not the little maestro is capped again, Osman can call himself an England international and Evertonians can call themselves proud.
...2013?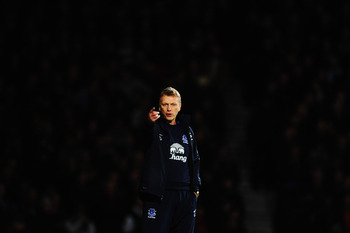 Steve Bardens/Getty Images
2012 was a year of more highs than lows.
The year saw Everton have a successful transfer window in signing players who have made an immense difference to the club. The evidence is there on the pitch.
Key players have strengthened, new arrivals have improved and the ever-constant David Moyes has seen his side play some of the most attractive football in the Premier League.
2013 seems like an uncertain year.
Beginning on the low of Marouane Fellaini's suspension and Nikica Jelavic's massive drop in form, Everton will need to regroup for their now annual New Year run if they want to push for a Champions League place.
The big question mark hangs over that man Moyes, who is yet to agree to a new contract with Everton—suggesting that the January transfer window is all important to his future plans.
If Everton can keep hold of Moyes, Fellaini and Baines, 2013 can build on the success of 2012.
With Kevin Mirallas looking like a new star in waiting, a prolonged run of games free from injury could see Everton boast an impressive attack on both flanks alongside Fellaini and Jelavic in their central roles.
If all goes according to plan, this column next year will celebrate Everton's return to Europe, Moyes' new contract and another Cup run.
Who knows?
Keep Reading

Everton: Like this team?