Independence Bowl 2012: Ohio vs. UL-Monroe Live Scores, Analysis and Results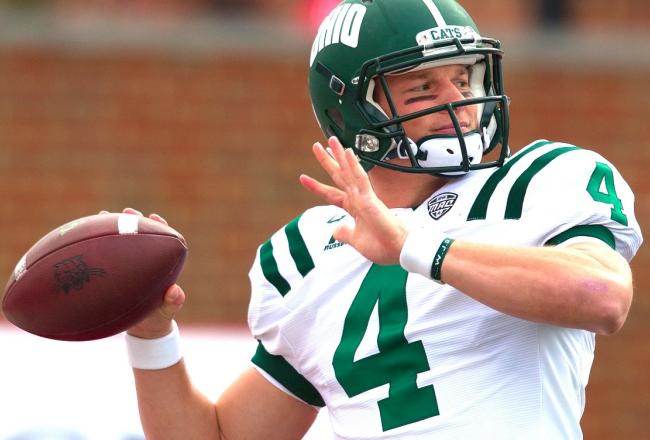 Ohio 45, ULM 14 -- Final

This game turned out to not have the excitement many thought it would.
Ohio dominated from the beginning, en route to a four-score victory.
Running back Beau Blakenship carried the load with an Independence Bowl record four touchdowns.
Quarterback Tyler Tettleton threw for 332 yards with two more scores.
ULM quarterback Kolton Browning struggled, passing for only 219 yards with two touchdowns and three interceptions.
ULM also struggled to move the ball on the ground and that proved to be detrimental.
Here is a recap and game grades from the Independence Bowl.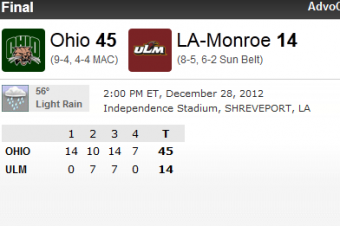 Here is a box score of the game courtesy of ESPN.com
Ohio 45, ULM 14 -- Final
Ohio dominated this one from start to finish and put on quite an impressive showing.
Thanks to everybody for following along and stay tuned for a game recap coming shortly.
Frank Solich has received a Gatorade bath and the clock is winding down.
The jokes are beginning.
"Okay, we'll play ULM in the Independence Bowl." — Louisiana Tech administration, just now

— Hustle Belt (@HustleBelt) December 28, 2012
Both backup quarterbacks are in the game right now.
Now former Shawnee QB Brayle Brown getting some action for Louisiana-Monroe late in Independence Bowl #OKPreps

— Ryan Aber (@ryaber) December 28, 2012
With about six minutes to go, most of the starters are now out of the game.
It is only a matter of time.
This game could not end any sooner for ULM. They obviously have no interest in being here right now.
Daz'Mond Patterson is down on the field for Ohio with what appears to be cramps.
Interesting that ULM has started to run the bowl in the fourth quarter after passing the entire game.
And now ULM decides to run the ball? Weird idiots. #IndependenceBowl

— Sean Linstrom(@Seangone41) December 28, 2012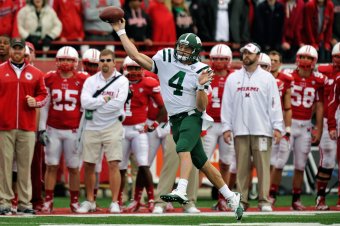 Jamie Sabau/Getty Images
With only 10 minutes to go Ohio has forced two straight ULM punts and has the ball with a chance to run some serious time off the clock.
An old boss of mine and an Ohio grad throwing in his two cents about the Independence Bowl.
By the way plenty of good seats available for that Independence Bowl

— Ken Broo (@kenbroo) December 28, 2012
Cordero Smith picks off a Tettleton pass.
Why is Ohio still passing?
At this point in a game like this there is really not much to talk about. The announcers are always a topic of conversation.
No idea who the color guy is on the Independence Bowl but every time he opens his mouth I'm picturing Charlie from 'It's Always Sunny.'

— Matt Hinton (@MattRHinton) December 28, 2012
Tremayne Scott continues to live in the ULM backfield as he picks up his second sack of the game.
Who knew Tyler Tettleton's dad is a 14-year MLB player.
ESPN just showed Mickey Tettleton at the Independence Bowl. His teeth looked as yellow as a bowl of Kraft Macaroni & Cheese.

— Tony Mazur (@TonyMazur) December 28, 2012
Ohio 45, ULM 14 -- 14:52 left in the 4th Quarter
Beau Blakenship runs in his fourth touchdown of the game, a new Independence Bowl record.
This one was from two yards out.
Ohio 38, ULM 14 -- End of 3rd Quarter
We have reached the end of the third quarter and Ohio is still in complete control.
The Bobcats already have 500 yards of offense.
How many times is ULM going to let Chase Cochran beat them deep?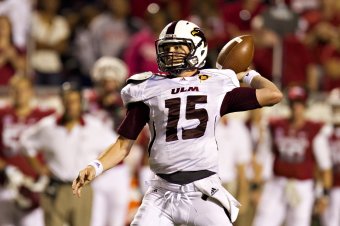 Wesley Hitt/Getty Images
Ohio 38, ULM 14 -- 2:40 left in 3rd Quarter
Browning hits Kevin Steed on a 1-yard touchdown pass to make it a three-possession game.
Tremayne Scott continues to put big hits on Kolton Browning.
ULM however is finally putting a drive together.
Everyone seems to recognize that this game is just about over.
Debating getting a flu shot.. Probably less painful than watching the independence bowl right now.

— Paige Talley (@paige_talley25) December 28, 2012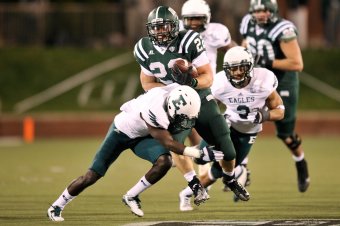 Jamie Sabau/Getty Images
Ohio 38, ULM 7 -- 8:25 left in 3rd Quarter
Beau Blakenship carries it in from one-yard out and this one is all but over.
With the game virtually over, fans are clamoring for Louisiana Tech.
Looks like maybe 15,000 at the Indy Bowl? #Latech should be here. Dumb. Not blaming anyone, I'm blaming everyone. #IBowl #IndependenceBowl

— JJ Kav (@LSU_Johnny) December 28, 2012
ULM has been out-coached big time in this game. Frank Solich knows exactly what he is doing for Ohio.
The same can not be said for Todd Berry right now.
This article is
What is the duplicate article?
Why is this article offensive?
Where is this article plagiarized from?
Why is this article poorly edited?