Vikings May Have to Choose Between Peterson and Playoffs on Sunday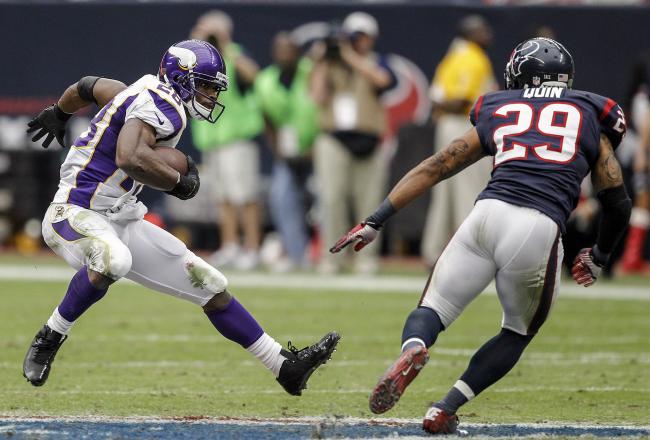 Bob Levey/Getty Images
The Minnesota Vikings may have to choose on Sunday.
Do they focus on getting Adrian Peterson enough yards to break Eric Dickerson's record or do they open things up and win a playoff berth?
Ideally they do both, but last week they eased up on the gas for Peterson and moved the ball a little more through the air. The Houston Texans were unable to get enough pressure on Christian Ponder to force mistakes and while Peterson was limited to under 100 yards for the first time in a while. They won.
The Packers are susceptible to the run and far more dangerous against the pass. However, they are bound to focus on Peterson and make the Vikings beat them through the air.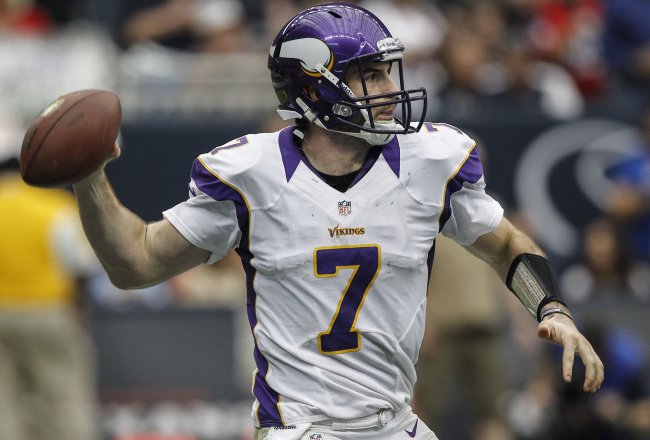 Bob Levey/Getty Images
Last week the Vikings came out throwing, and I'd aim for the same thing. Ponder should be extra cautious in the early part of the game because a turnover early could end the match before it begins.
They should use short, quick passes to avoid allowing Clay Matthews and the Packers pass rush time to establish pressure and to get some momentum going.
When the Packers look to be going after Ponder more, then the Vikings should switch it up and run Peterson. Even if the Packers focus on Peterson, he'll get yards (if not the record) so swapping back and forth shouldn't trip him up.
It might cost him a shot at the record but it's not hard to imagine he'd be happier with a playoff game next week.
Which should the Vikings do more?
More than anything else though, the defense has to find a way to shut down or at least limit one of the best offenses in the league.
There are two areas that the Vikings defense needs to focus on.
First of all, the secondary has to play out of its mind, and even better than it did against the Texans.
Even if Jordy Nelson is out, and if Randall Cobb is limited (and neither looks to be the case), this is a terribly good wide receiver group. On paper, they are more than a match for the Vikings defensive backs.
Harrison Smith, Antoine Winfield and the rest have to be more than just physical.
As the corners don't match up really well with the Packers wideouts, the safeties have to assist them, coming over the top on vertical routes and making sure to contain on the shorter ones.
Meanwhile, the front seven has to get pressure on Aaron Rodgers. This is a dicey proposition because there are few quarterbacks deadlier than Rodgers when on the run. However, he does start to try and force the ball in places it shouldn't be forced when under constant pressure.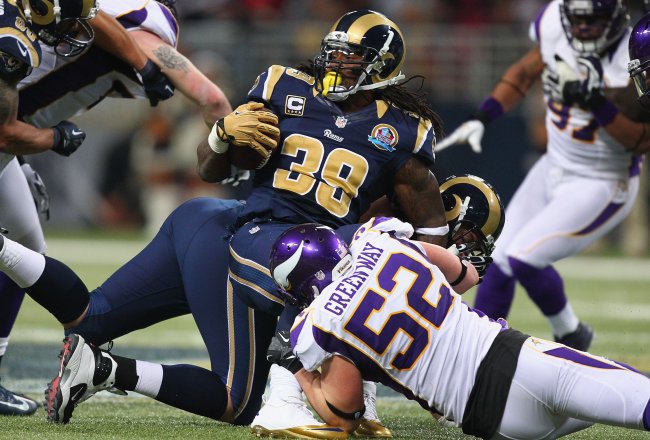 Dilip Vishwanat/Getty Images
Rodgers does get a bit impatient at times and the Vikings can take advantage of that.
Minnesota has to get into the backfield from the first series and pressure Rodgers immediately. What's more, they have to wrap him up when they hit him. They need to generate sacks as well as pressure.
It hasn't been the best month or so in terms of basic tackling technique in Minnesota. They were better last weekend, but this weekend there can be no sloppy execution if they want to win.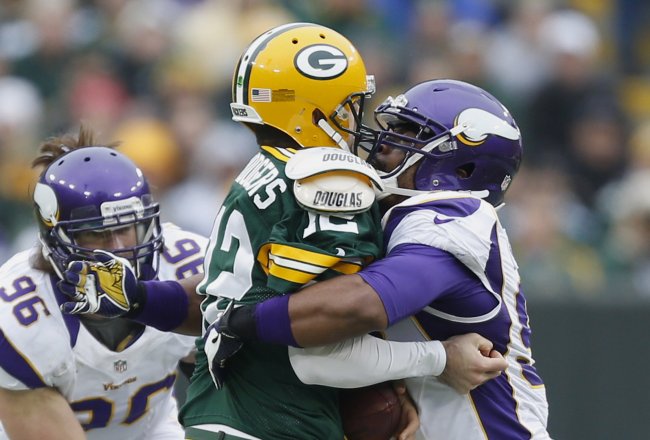 Wesley Hitt/Getty Images
Hit a guy, wrap the guy up. It's that simple.
A near perfect defensive effort is the biggest key to the game, perhaps even more than Ponder avoiding costly turnovers. If the Packers move the ball as they did last game, the Vikings will not be able to keep up offensively. They just don't have the weapons at wide receiver.
The Vikings have to win this to advance. There are too many variables at play otherwise.
For a team that is young and has been very streaky this year, this is a huge test.
They need to step up and show they belong.
Check out the B/R NFC North Facebook page. Like us and keep up with everything NFC North on Bleacher Report.
Follow me on Twitter at @andrew_garda.
This article is
What is the duplicate article?
Why is this article offensive?
Where is this article plagiarized from?
Why is this article poorly edited?