Off the Wall and Bold Predictions for NASCAR in 2013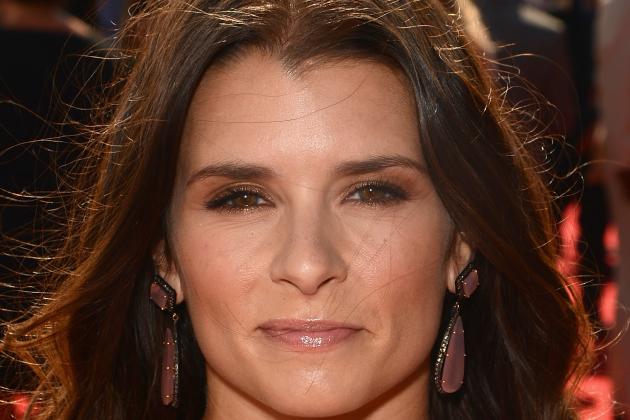 Jason Merritt/Getty Images

Many changes have been implemented for the 2013 NASCAR season that may bring success not only to the sport, but drivers and teams as well. Each season also brings stunning and unexpected happenings.
Who would have thought during Speedweeks last year that Brad Keselowski would bring home the NASCAR Sprint Cup trophy for Penske Racing wheeling a Dodge?
Who would have thought the Daytona 500 would be broadcast, during primetime television on a Monday night, with drama like the collision of Juan Pablo Montoya with a jet dryer?
Who would have thought Carl Edwards would miss the Chase, and Michael Waltrip Racing driver Clint Bowyer would be the runner-up for the Cup title in 2012?
The one sure thing about NASCAR racing in the top-three national series is that the unexpected is lurking around every turn and often on the straightaways.
This slideshow will examine a selection of scenarios that could potentially be stories we reflect upon this time next year.
Because some will be off the wall and a little bold, there will be those who find them ridiculous while others will pause to wonder about what the impact truly could be. See what you think.
Begin Slideshow

»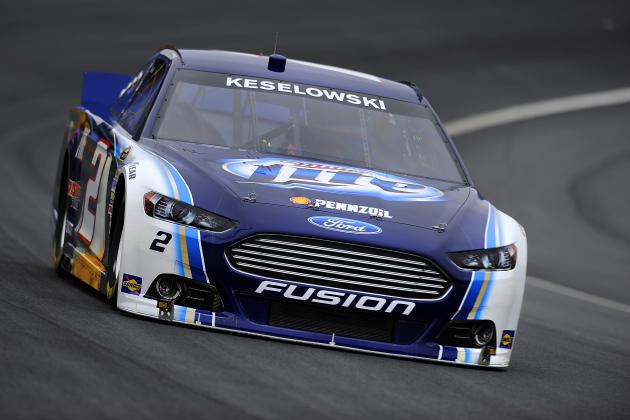 Jared C. Tilton/Getty Images

The much maligned COT that was raced in the Cup series from its introduction in 2007 through the 2012 season has been replaced by a more racier version that has brand identity.
The on-track product in a NASCAR race has two main components, the car and the driver. The driver is a known, but the new G6 (Generation six) race car still has some unknowns that could be game-changing.
The G6 will be less aero-dependent which should put more control in the drivers hands. The cars are expected to be able to move around more and make passes more easily, which translates to better racing for the fans and drivers.
Some drivers adapt more quickly to changes with a race car. Jimmie Johnson drove the COT to his chain of NASCAR Sprint Cup titles. Other drivers never really embraced the COT.
It can safely be predicted that many teams will be strong out of the gate at Daytona with others struggling, and it may be quite surprising to see who is in which group.
Fans will also see the Chevrolet Camaro replacing the Impala raced in the NASCAR Nationwide Series, but it is basically just a cosmetic change.
Prediction for this car is that it will greatly impact the performance of certain drivers and their ability to win races. Fans should have a reason to cheer for the type of racing we see with the G6.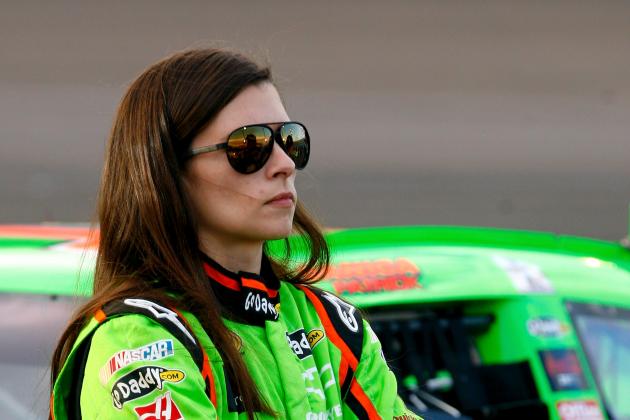 Tyler Barrick/Getty Images

Danica Patrick will debut as a full-time NASCAR Sprint Cup driver for Stewart-Haas Racing at Daytona in February. She will be wheeling the No. 10 Chevrolet SS.
There are two types of tracks that may give Patrick her best chance to pull out a win in 2013. She has shown she can run at the front on a superspeedway, and contend for wins on a road-course circuit.
Granted, she qualified on the pole for the first Nationwide points race of the season at Daytona in 2011, and her strongest road-course run was also with a Nationwide car.
The new G6 may handle slightly more like a Nationwide car, but of course the additional horsepower of the Cup car makes a significant difference in the way a driver attacks the track.
Patrick has shown she could draft with the COT at superspeedways. She seems to drive better on tracks where she doesn't have to lift off the gas, much like IndyCar racing on ovals.
Patrick may very well win at Daytona or Talladega and look for her to qualify in the top 10 with perhaps a pole run at one or more of the four superspeedway races.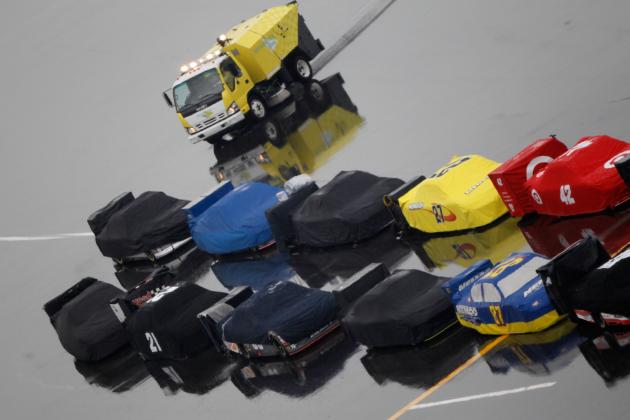 Tom Pennington/Getty Images

Fans pay big bucks to travel to a race, and nothing puts a damper on the good time they planned like a rain delay, especially those that linger to another day.
Drivers have pre-race routines that get them pumped with adrenaline until they settle into the car, and make those first few laps of a race.
Nothing is more disheartening at a race than the tarp-covered race cars, water rolling down the banking of the track and the jet dryers parked.
Rain delays often cause the commentators to rattle on for hours with filler information that includes recorded interviews. Sometimes a long delay results in a race from the prior year being shown.
Fans viewing the race via television tend to find something else to do, then forget to check back for all the updates or perhaps no longer care.
Fans in the stands must find dry places for shelter or perhaps make their way back home without seeing the race at substantial expense.
The 2012 season had more than its share of weather delays that even included the Daytona 500 being run on a Monday night.
With a little help from Mother Nature, the 2013 NASCAR season will have only slight weather delays or perhaps none at all.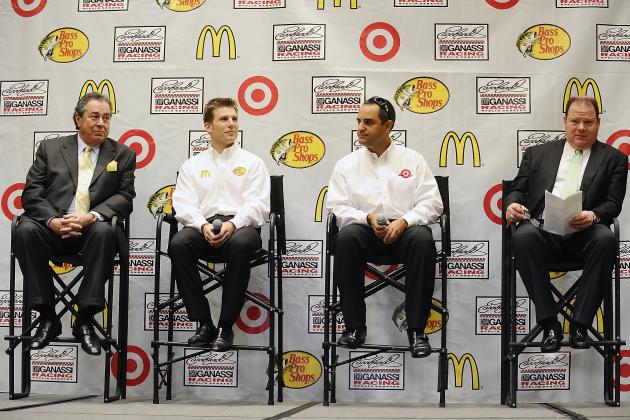 Jared C. Tilton/Getty Images

Chip Ganassi addressed the massive changes made during the off-season at the NASCAR Sprint Media Tour hosted by Charlotte Motor Speedway. We heard that most everything was changed but the drivers for the upcoming 2012 season.
It was not the most pleasant of tasks to change personnel, and make every effort to turn the dismal performance of Earnhardt-Ganassi Racing around.
Well here we are at the end of the 2012 season, and the two EGR drivers, Jamie McMurray and Juan Pablo Montoya finished 21st and 22nd respectively in the points. Neither driver had a top-five finish.
Montoya even managed to create the event of the season when his broken car sped into a track jet dryer under caution at Daytona. The result was an inferno that scorched the track, and resulted in a two-hour delay.
For the 2013 season EGR has made the switch from Earnhardt-Childress power plants to Hendrick Motorsports horsepower.
There is little left to change except the drivers, so perhaps that will provide motivation for at least one of these drivers to notch a wild-card slot in the Chase.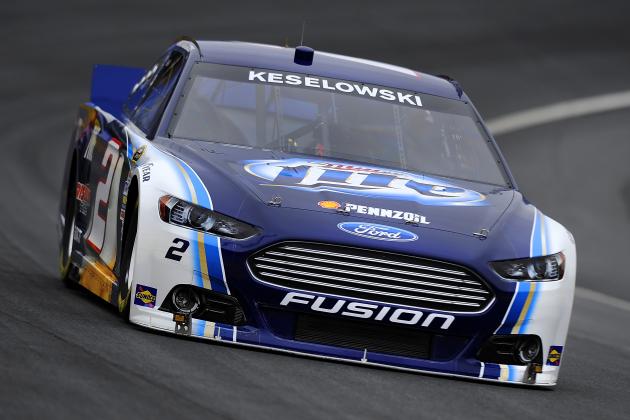 Jared C. Tilton/Getty Images

Brad Keselowski plowed his way through wrecks, with the help of Lady Luck, on his way to Victory Lane five times and a Cup title in 2012. He never faced blown engines issues or blown tires that ruined his day.
The driver of the Miller Lite No. 2 never even won a pole during his run for the NASCAR Sprint Cup trophy. That was a first since Matt Kenseth won the championship in 2003.
It certainly wasn't a stroll in the park for Keselowski, with his fierce battle against five-time champ Jimmie Johnson.
Keselowski finally brought his boss Roger Penske his first Sprint Cup title. He also took Dodge out of NASCAR racing on a high note with his performance.
The 2013 season is a new deal with him piloting a Ford. It is not the COT style car that played to his driving style, but the new and different G6 model.
Penske will no longer be building engines in-house. They will likely rely on the Roush/Yates engines used by other Ford teams which could be very good or perhaps not as good as the Dodge deal.
There are many unknowns facing Keselowski in the upcoming season. He will have a new teammate to mentor in Joey Logano. Though Logano is an experienced Cup racer, he is in a new environment at Penske.
Keselowski made his dream come true with the winning of the 2012 Sprint Cup title. He is still young, and despite his talent and maturity, he has had a somewhat overwhelming experience with a title win in only his third year as a full-time Cup driver.
It may seem harsh to predict, but the driver of the Blue Deuce won't win five races. He may only win a race or two, and worse yet, he may make the Chase via the wild-card.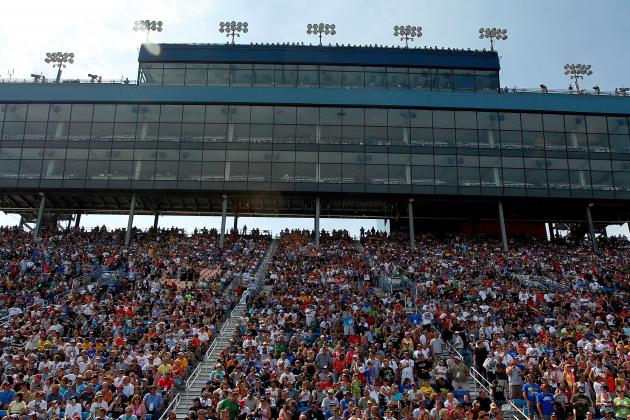 Tyler Barrick/Getty Images

Overall attendance and television viewership was down in 2012. Certainly, the typical suspects like the economy, fuel prices and unemployment have had a significant impact.
The economy appears to be making a turn for the better which should bode well for the NASCAR tracks. There will be some great ticket packages for fans and fun entertainment from the track promoters.
Racing will be different if the new G6 car lives up to its hype. Drivers will have more control of their car, and competition should be more lively with the enhanced ability to make passes, and move around on the track.
Fans will see cars that resemble those they see on the street. The Chevrolet SS, Ford Fusion and Toyota Camry will bring back the competitive nature of the different brands. The Chevrolet Camaro will join the Nationwide series, replacing the Impala.
Young guns that include Cup champion Brad Keselowski and Nationwide two-time champion Ricky Stenhouse Jr. should help bring in the younger demographics that NASCAR seeks.
NASCAR will also become more interactive with social media along with some surprises on NASCAR.com that will engage fans.
Attendance and viewership may not be up for every race, but overall in 2013, it will be up significantly over 2012 and 2011.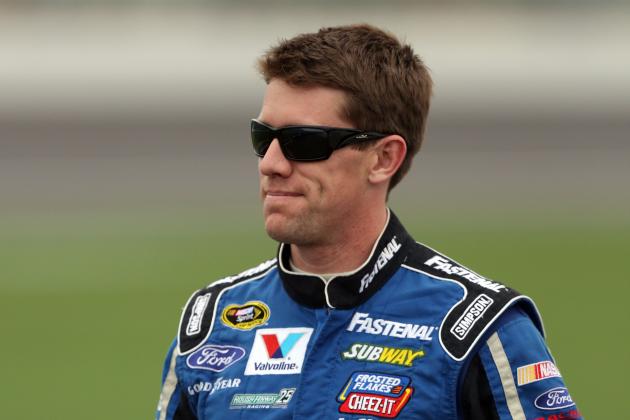 Ed Zurga/Getty Images

Carl Edwards was supposed to be the superstar at Roush Fenway Racing, and pretty much the face of Ford. He was runner-up to Tony Stewart for the 2011 Cup title with the drivers tied in points. Stewart won by virtue of his five wins.
The 2012 season saw the driver of the No. 99 Ford go winless with three top-five finishes and 13 top-10 finishes. Edwards ended the season 15th in points.
Bob Osborne was crew chief for Edwards since his Cup debut in 2004, and together they traveled to Victory Lane 18 times. In July, Osborne stepped away from crew chief duties for undisclosed health reasons.
Chad Norris was brought in as the replacement crew chief for the balance of the season. In 2013 Edwards will have a new crew chief with veteran Jimmy Fennig who was with the No. 17 team and Matt Kenseth.
Fennig is an old school crew chief who just wants to get the job done without being in the limelight. Edwards is a driver who loves the limelight and never met a camera he didn't like.
Despite working for the same organization during Edward's stint at RFR, he really doesn't know Fennig very well. They say chemistry is everything, and one has to wonder if this brew isn't like oil and water.
There is little doubt that Edwards is a talented driver, especially on 1.5-mile tracks. If by some odd chance Fennig and Edwards can find a way to bond and communicate, wins and top finishes may come.
This prediction may be well off the mark, but unless Edwards becomes more involved with his team there is a good chance he and Fennig won't have the results Kenseth did.
Jack Roush is putting these two together in an effort for Edwards to make a run for the title. It won't happen in 2013, and though he may win a race, he will barely make the Chase and not contend for the title.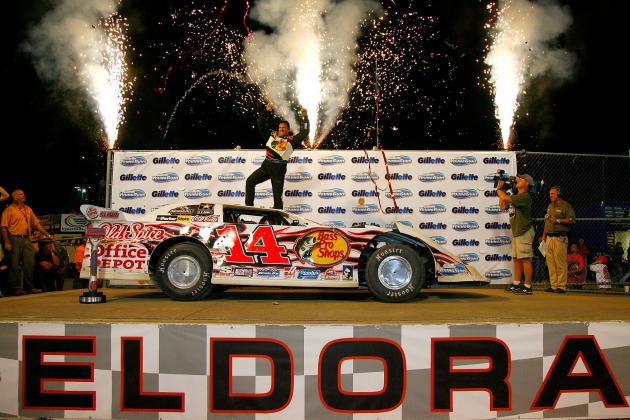 Rusty Jarrett/Getty Images

NASCAR will return to its roots of dirt-track racing when it heads to Eldora Speedway with the Camping World Truck Series the Wednesday before the Brickyard 400 Sprint Cup race.
Eldora Speedway is a half-mile clay oval in Ohio owned by Tony Stewart. He put his annual Prelude to the Dream event on hold for 2013 with the debut of the trucks.
Stewart had hoped that one day he would be able to host a NASCAR race for one of the top national series. His dream has now been realized.
Rules have not exactly been defined for this race. There may be heat races or some format other than what we are used to because there is no pit road.
Eldora Speedway has seating for perhaps 20,000 fans, but you can bet this race will sell out and people will be standing, if need be, to watch the race. There should be a greater viewership on television than there typically would be for a truck race.
Expect lots of hype for this race with drivers from various series, including Cup, trying to get a ride for this race and make the field.
NASCAR's first dirt race since the 70s just might be one of the best races of the year for fans.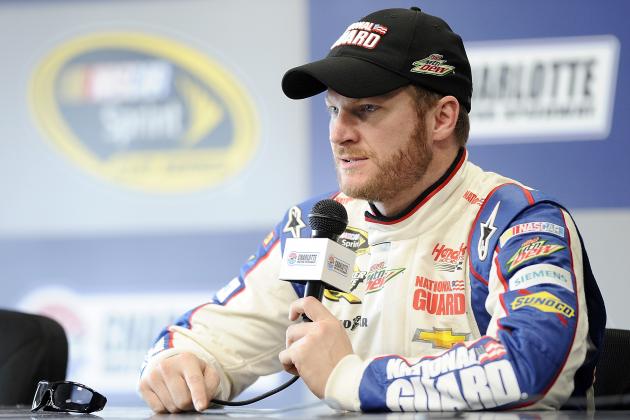 Jared C. Tilton/Getty Images

This prediction is fodder for the Junior naysayers and fuel for those who support Dale Earnhardt Jr. Every year the media touts that this will be year for the driver of the No. 88 to win multiple races.
The 2013 season may well really be the year that we see Junior in Victory Lane multiple times with strong finishes in the top 10 much of the season.
Things are different because Earnhardt will once again be in the kind of car that he can win with. The kind of car that saw him win all but a couple of his 19 career wins.
He tested the new G6 car at Charlotte with positive feedback that reminded him of the old cars before the COT that he was never able to adapt to like other drivers could.
Earnhardt had the most top-10 finishes for a good part of the 2012 season and made the Chase. He even led the points briefly.
Everything is in place for the No. 88 team to perform at least as well as they did last year, and very likely much better with the new Chevrolet SS.
Look for Junior to win races, stay in the top five of the points for most of the preseason, make the Chase and, yes, seriously be one of the top- three drivers to contend for the NASCAR Sprint Cup championship.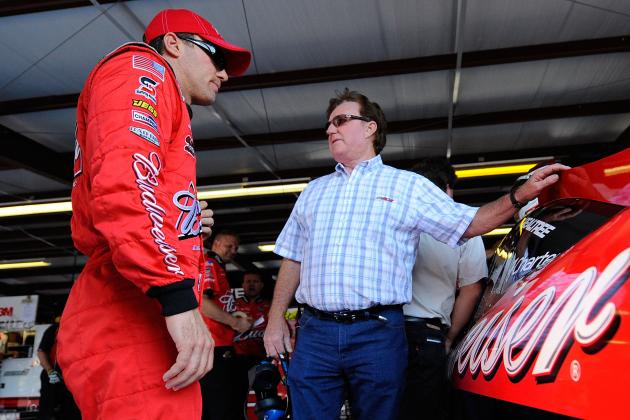 Jared C. Tilton/Getty Images

Richard Childress was not pleased with the way Kevin Harvick's departure from Richard Childress Racing in 2014 seemed to leak into the media at an inappropriate time.
Late in the season it was confirmed that Harvick had a contract with Stewart-Haas Racing in 2014. Harvick has driven the No. 29 Cup car for Childress since 2001.
Despite the fact that he will be considered a lame-duck driver, this may be the year that Harvick brings his boss a championship. He has nothing to lose and everything to gain, so he could be dangerous.
Harvick will drive under the guidance of crew chief Gil Martin who has the ability to get him to Victory Lane. He won the next to the last race of the year and finished eighth in the standings.
Childress may well give Harvick more support than he did in 2012 when things seem to be a bit off at RCR with all three of his Cup drivers.
Harvick finished third in points for the 2010 and 2011 seasons, but he could drive like a man possessed in 2013, and bring Childress his first Cup title since Dale Earnhardt's last one in 1994.