Kansas City Chiefs: 5 Players to Watch in Week 17 Who Could Impact Offseason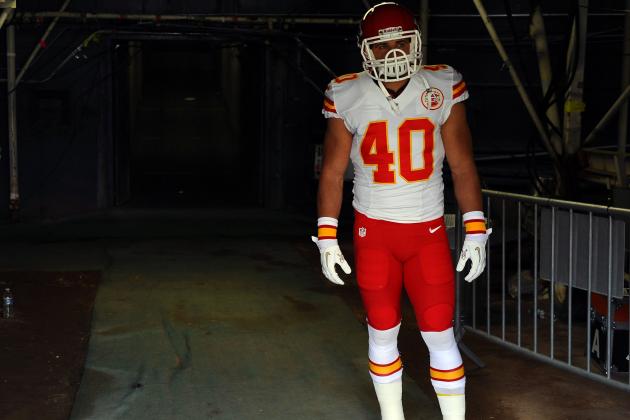 Christopher Hanewinckel-USA TODAY Sports

The Kansas City Chiefs' (2-13) odds of defeating the Denver Broncos (12-3) in Week 17 are thinner than the Mile High air (see 16-point underdogs).
Chiefs fans began shifting their focus to the 2013 offseason midway through 2012. The performances of five players could dictate how next season's Chiefs roster shapes up.
On Sunday, Denver diehards will be eyeing a Broncos win. Conversely, the only lead that most Kansas Citians will be concerned with links to the Chiefs' position in the 2013 NFL Draft.
Early mockups have a variety of college game-changers—from quarterback Geno Smith to defensive tackle Star Lotulelei—hoisting Arrowhead red on draft day.
In the last week of the NFL regular season, five Chiefs could determine who stays and who goes as Kansas City overhauls its ailing franchise.
Begin Slideshow

»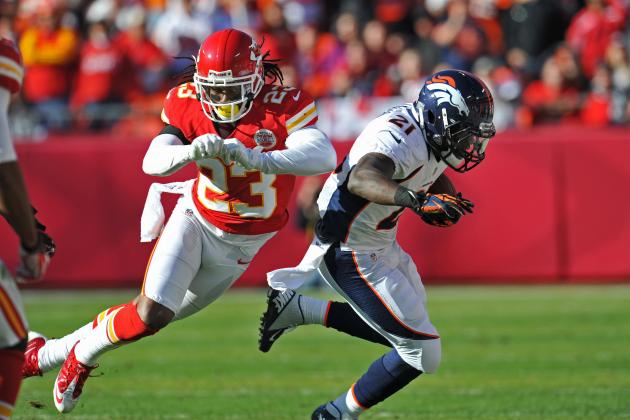 Peter Aiken/Getty Images

Kendrick Lewis hasn't played like himself since suffering a torn pectoral in last season's Week 17 victory over the Broncos.
After rehabbing from the aforementioned setback, a shoulder injury has caused Lewis to miss seven games in 2012.
While the other half of the Chiefs' safety tandem, Eric Berry, has recently shown signs of his 2010 form, No. 23 has not. Lewis debuted with a forced fumble and three interceptions during his first NFL season; he duplicated those stats by the end of his second year.
But throughout eight contests in 2012, the third-year free safety has yet to force a turnover.
Lewis won't be going anywhere during the offseason, but there's little doubt that he will battle it out with stiffened competition next fall.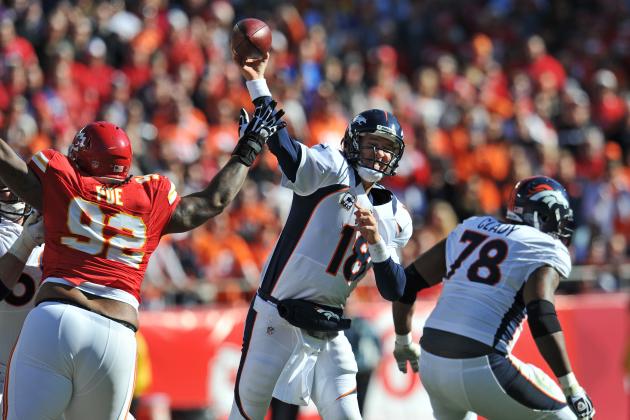 Peter Aiken/Getty Images

Dontari Poe isn't going to receive any votes for Defensive Rookie of the Year.
When last season's first-round pick was announced, Chiefs fans expected a project. And that's exactly what they have watched unfold throughout 15 games in 2012.
But Poe has gradually progressed throughout the season.
After his NFL combine workout set the scouting community abuzz, analysts instantly drew parallels between the Chiefs' 350-pound run-stuffer and Baltimore Ravens All-Pro Haloti Ngata. And in many ways, Ngata's protégé has produced a more effective rookie campaign.
While the Baltimore Ravens' seventh-year roadblock did manage to post a sack and interception in his rookie season, Poe has netted more tackles (35), pass deflections (four) and tackles for loss (three).
Despite Poe's numbers, the first mock draft released by ESPN's Todd McShay shows Kansas City selecting another defensive tackle, Utah's Star Lotulelei, with the first selection.
McShay is likely envisioning the Chiefs using Lotulelei in conjunction with Poe by experimenting and moving one of the players to defensive end—much like Glenn Dorsey's conversion—or possibly transitioning to a 4-3.
But with Tyson Jackson's recent resurgence, a strong finale for Poe could lay McShay's projection to rest, as Kansas City will likely elect to fill the void left by Dorsey—assuming he's not re-signed—through free agency.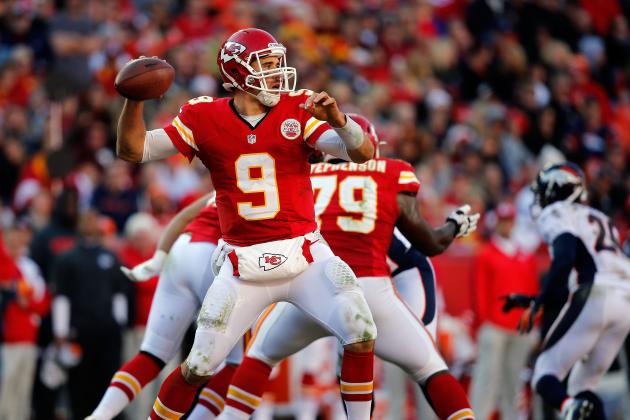 Jamie Squire/Getty Images

No, nobody's implying that Brady Quinn is auditioning for the starting job of the 2013 Kansas City Chiefs (unclench your fist; calm the vein in your forehead).
However, there is a (slim) chance that Quinn will be re-signed and retained in order to compete for the backup role next season.
While the passes of the former Heisman hopeful zip with a little more zing than his much-maligned counterpart, Quinn's production has actually lagged behind Matt Cassel's. Although No. 9 has led a Dwayne Bowe-less aerial attack for the past 10 quarters, no excuse masks his inability to find the end zone.
In a neck-and-neck battle of mediocrity, a stalemate between the two will force Kansas City's front office to weigh its options.
Cassel, who is wrapping up his fourth season with the organization, has started 42 more games than Quinn. If Kansas City plans on drafting a quarterback this April, the rookie will play the role of a gunslinging sponge and absorb as much information as possible throughout training camp. Cassel's aforementioned edge in experience bodes well for him as a potential mentor.
However, after this season is in the books, Quinn's one-year contract will expire, and Cassel's six-year deal will have two seasons remaining. While Kansas City would still be held accountable for $4.5 million worth of bonuses if the team were to release Cassel, it would also avoid paying out the quarterback's combined base salary of $16.5 million throughout those final two years (via Spotrac.com).
Alternatively, the Chiefs could also bid farewell to both passers and woo another veteran via free agency. But a standout performance in Week 17 would add a feather in Brady Quinn's cap.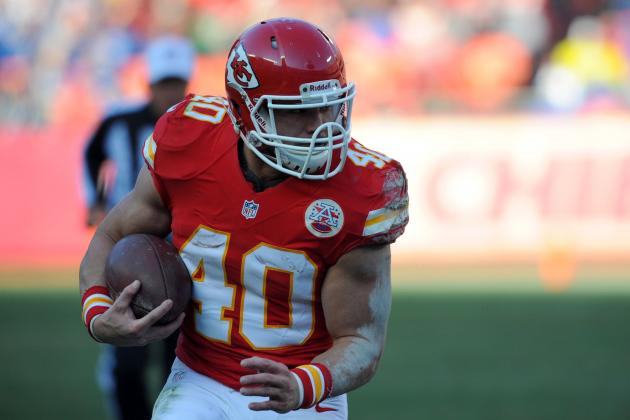 USA TODAY Sports

Heading into Week 16, Kansas City's front office was already prepping the "It's not you, it's me" speech for Peyton Hillis.
The 240-pound barreling barbarian had only posted one notable stat line—a 66-yard rushing effort in Week 2 versus the Buffalo Bills—the entire season and had combated injuries through much of 2012.
Then the Indianapolis Colts came to town, and Hillis repeatedly punished their front seven on his way to 101 rushing yards on 15 carries.
If the fifth-year bruiser outputs comparable numbers against the Broncos—the team that drafted him—Hillis could sprout second thoughts into the heads of his critics who had already scripted his dismissal.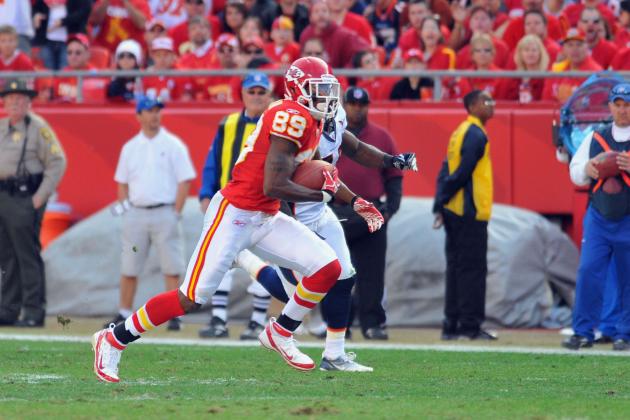 Denny Medley-USA TODAY Sports

Dwayne Bowe folded over in Week 14, then took a knee and eventually managed to end an injury timeout by walking off the field.
With Bowe sidelined, now would be the time to shine for...Jamar Newsome(?).
Yes, Newsome—who was promoted to the 53-man roster in late November—has been the target of 15 passes in five games.
Kansas City's first-round pick of a year ago, Jon Baldwin, only has 20 receptions to his name in 2012.
You can rest assured that when a ball spirals Baldwin's way, the 6'4" 240-pounder will be capping off a go route by springing into the air and narrowly failing to snag a potentially highlight-worthy reception.
While Baldwin occasionally flashes with brilliance, the Chiefs rarely integrate him into the Sunday game plan.
Kansas City is set at the slot with Dexter McCluster and Devon Wylie. But considering Bowe's contract dispute, Baldwin's ineffectiveness and Steve Breaston's recent demotion to the inactive list, the Chiefs will likely have their eyes fixated on the receiver market this offseason.
Email: Gering.Brett@Gmail.com