Dallas Cowboys: 7 NFL Draft Prospects They Could Pick in First 3 Rounds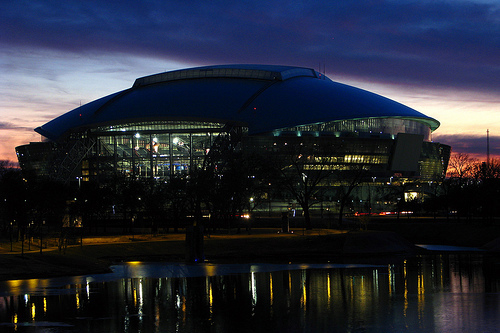 Cowboys Stadium
One game remains in the 2012 NFL regular season for the Dallas Cowboys. Yet, even before that "win and you're in" playoff scenario waiting in Washington Sunday night, Dallas has a really good idea of where it needs to go in the offseason.
The Cowboys are nothing but an average team that is spiked with a few outstanding players—that number slowly growing in recent years. But for too long, Dallas was thought to be just a player or two away from actually reaching the Super Bowl, and reality has shown that this was never the case.
The Cowboys could be a really good football team as soon as next season, but the NFL draft is where most of the key reinforcements will come from. With little in the way of free-agent dollars to spend and hopefully continuing a trend of drafting well on the first couple of days, the Cowboys are in position to fill some needs, not so much at certain positions, but where more good football players are concerned.
Much depends on the future status of outside linebacker Anthony Spencer who's in the final year of his contract and could potentially leave a huge hole at outside linebacker.
The following players will garner tremendous interest from both the Cowboys and the NFL in the draft next April. I'm listing these players, assuming that Spencer will not return, even though I fully expect him back. I don't see how owner and general manager Jerry Jones sells another season to the Dallas fanbase with Jason Garrett as head coach but without Spencer.
Offensive linemen, pass-rushers and maybe even safety are all positions that should warrant strong consideration if the right player is there, but there could also be some surprises, too.
These players are in no particular order, and I'm listing prospects that the Cowboys are likely to have the opportunity to draft based on where they are likely to land in the first round. So, when you don't see a player like Luke Joeckel mocked to Dallas, it's because he is long gone before the Cowboys hit the clock.
Underclassmen decisions are not factored in as well.
Begin Slideshow

»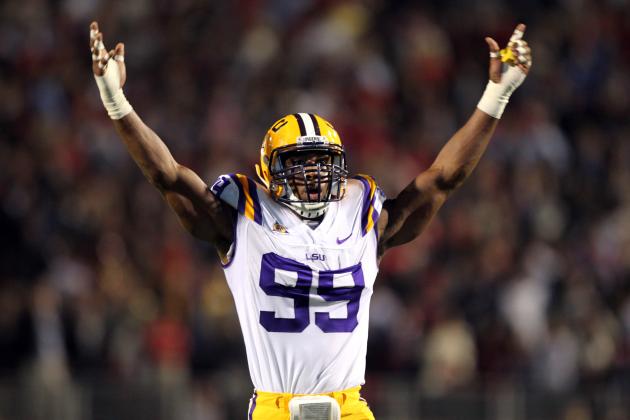 Joe Murphy/Getty Images

In the event that outside linebacker Anthony Spencer leaves Dallas as an unrestricted free agent, the Cowboys will be scrambling to fill those shoes, and they won't have many opportunities to do it.
Sam Montgomery from LSU looks like the most likely premium pass-rush prospect who could fall to the Cowboys, depending on where Dallas ends up.
Montgomery translates to outside linebacker as well as defensive end in the NFL. In Dallas, Montgomery would likely shift to Spencer's current spot, and from there, some good things could happen—in time though.
No college player is a finished product, and Montgomery is no exception in that regard. But, he does have an interesting skill set that reminds me somewhat of former Dallas defensive end and eventual outside linebacker Greg Ellis.
In Dallas' 3-4 defensive scheme, Montgomery looks like the only player who could actually upgrade the pass rush opposite Pro Bowl edge rusher DeMarcus Ware.
Montgomery has all the tools and still has room to add some muscle to his 6'5" frame. As long as Montgomery stays strong in run support, he should be a fine NFL pass-rusher within a couple of seasons in the league.
With Ware on the other side of the line, Montgomery could make an impact even sooner.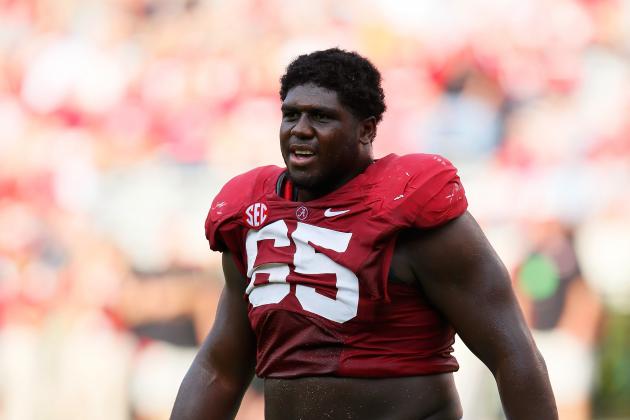 Kevin C. Cox/Getty Images

Should the Cowboys lose to the Washington Redskins this weekend, then the play of the offensive line will go down as the biggest reason Dallas was not a contender this season.
Lack of a dominant pass rush is also up there as a reason for the Cowboys' struggles, but quarterback Tony Romo has spent too much time running for his life in both wins and losses.
The offensive line cannot be ignored, especially in the first round, unless Dallas ends up letting Spencer walk, and the franchise decides to fill that void instead.
Assuming Spencer stays, the interior of the offensive line must be dealt with—and I'm not talking about expensive rejects from other squads that come in just in time for a useless, average decline like Kyle Kosier or Marco Rivera.
Young, blue-chip talent is what helped Dallas win Super Bowls in the 1990s, and that included offensive linemen.
You would be hard-pressed to find an offensive guard better than Chance Warmack of Alabama. The Crimson Tide has the standout program in NCAA football, and the players they bring in are why.
Warmack has helped blow open running lanes for one of the most dynamic running games in college football.
See, college teams generally don't get hung up on cramming as many passing yards as possible to its fans just to sell TV ads.
The smartest teams in the NFL have strong running games, and a few will likely have byes in the first round of the playoffs this season.
Obviously not considered the "offensive genius" he was once labeled as, Jason Garrett has a much steeper learning curve toward calling an NFL offense than anybody could have imagined. You just think that a guy who has played in the league before would have been exposed to enough football to have learned the fundamentals of running the ball.
So, if actually playing with the greatest running back of all time in Emmitt Smith doesn't teach that dynamic to Garrett, maybe Warmack can.
Warmack delivers inside blocking not seen in North Texas since Larry Allen was convincing the league's most intimidating defensive linemen to just keep their mouths shut.
Warmack starts day one and would be a huge step toward rebuilding, arguably, the weakest area of the Dallas depth chart.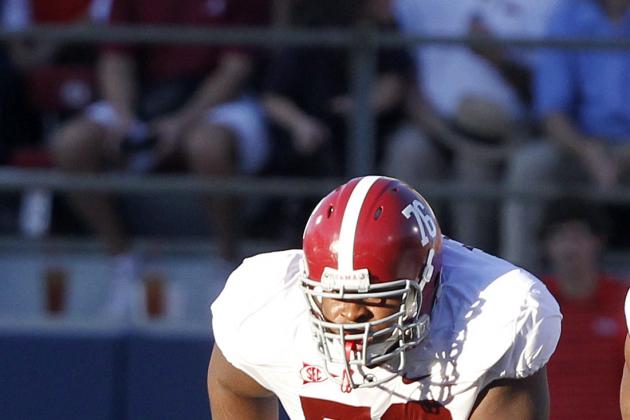 Butch Dill/Getty Images

As stated before, running the ball wins championships, and if Garrett has any serious ambitions to keep a head-coaching gig in this league beyond 2013, he'll require fundamental change in his approach.
D.J. Fluker is a massive lineman who could either play guard or tackle in the NFL. Not since Leonard Davis was prematurely released have the Cowboys had anything resembling the size and power that Fluker brings the instant he shows up.
It won't matter as much what Dallas does with Doug Free because Fluker offers insurance at either guard or right tackle, and this could be a brilliant move.
Free is under contract, and I'm not so sure that Jerry Jones doesn't want to get something more for that investment. This is why I have a suspicion that Free will not be released but rather moved if he doesn't win his job back anyway.
No, you don't release a guy who is paid for just because of one down season and especially not when your green head coach calls 60 pass-protection plays in a single game.
Consider Fluker a bulk-sized bottle of cologne with which to combat the odor of the Garrett arena-league spread.
If you're really curious as to what DeMarco Murray is really capable of, pray that Fluker ends up wearing a blue star next fall.
When a skill position like wide receiver is discussed, Jerry Jones will be a part of it, and he might even offer you draft picks if you have one he wants.
Seriously, this position isn't quite as cozy as it may look.
Fortunately, Dez Bryant has emerged as the Pro Bowl-caliber threat he was drafted to be back in 2010.
Still, can he maintain this pace both on and off the field?
This is a fair question asked by many.
Assuming that Bryant is a part of the long haul, which he certainly is, then only Miles Austin currently sits on the roster as a go-to target for Tony Romo. As quickly as Dwayne Harris is emerging as a receiving threat and a punt returner, more needs to be seen from him before placing bets.
I don't expect to see Kevin Ogletree on the roster next year.
I also have a feeling that Miles Austin could be moved at some point during the offseason, and this move would be primarily for cap room. And it's not like Austin stays healthy very well, and he'll never be confused with a receiver with great hands.
But losing this particular Austin wouldn't hurt so badly, especially if another Austin was acquired.
Meet Tavon Austin, among the very fastest wide receivers coming out of college.
Now, many think that Tavon's pass thrower this season could be the first quarterback selected in the 2012 NFL draft. Geno Smith has made a living throwing footballs to this weapon and don't think that Tavon isn't a big part of what's been happening out in Morgantown, Va.
Whether Miles stays or goes, Tavon (no relation) would bring immediate impact to the Cowboys in much the same way that DeSean Jackson did coming out of Cal-Berkley in 2008.
Harris seems to have a lock on the punt-returning chores for the foreseeable future. But Tavon can certainly step in for kickoffs and can obviously carry out of the backfield too with his 4.39 speed.
Tavon Austin will create points and field position for the Cowboys—and lots of stress for opponents as well.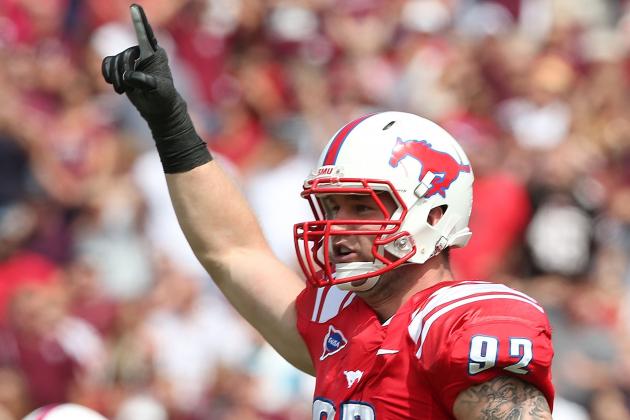 Ronald Martinez/Getty Images

Defensive end is another position that needs to be addressed, but if Jay Ratliff is finally moved back over to the same position, it sure would take some heat off this part of the depth chart.
Marcus Spears has never played to his first-round billing, at least if you do not know what to expect out of a 3-4 end. But Spears is likely gone soon, and while numbers at this position are OK for now, they won't stay that way.
And no team can have too many pass-rushers anyway, right?
I had to look on a map to find out exactly where the country of Estonia is located. I was curious after looking over an SMU product named Margus Hunt, a defensive end likely to be available to Dallas in the middle rounds.
Hunt came to the United States to attend SMU part time and continue with track and field, a sport he started in northern Europe. But upon arriving at SMU in 2007, there was no men's track and field program anymore.
Hunt's physique earned him a scholarship from Mustangs head coach June Jones in 2009, and close to 20 (not a typo) blocked kicks later, he's ready for the NFL.
Hunt may never be available to the Cowboys following his figures at the NFL Scouting Combine in February. All mock drafts are pure speculation at this point because it's really early to start placing athletes in certain rounds.
Hunt is a raw product, but standing 6'8" and weighing in at around 275 pounds will buy him time to develop in the NFL. Hunt's kick-blocking ability alone would get him drafted. Hunt can bench press 225 pounds an incredible 35 times!
By the time Dallas needs another veteran defensive end, like they did when Chris Canty left for New York in 2009, Hunt would be ready. Injuries could also create a need for Hunt's unique skills sooner than later.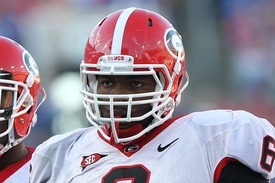 By now, everyone is aware of the situation surrounding Dallas defensive tackle Josh Brent. Having just been indicted for intoxication manslaughter this week, it's a safe bet that the Cowboys need to make other arrangements in the middle of the defensive line.
The nose guard position has been poorly manned in Dallas since the official switch to the 3-4 defensive scheme in 2005. Outside of Brent, only Jay Ratliff and Jason Ferguson have spent significant time at the nose.
Nose guards in the NFL need to be some big, strong dudes. Any player who weighs less than 325 pounds is generally better suited for defensive tackle in the 4-3—and certainly those tackles can be smaller.
But a 3-4 defensive line has only three guys.
The opposing offensive line has at least five guys blocking.
Do the math.
The teams that win with this scheme probably have large nose guards. Think of teams like New England, Pittsburgh and Baltimore. These teams are often contenders, and their defenses, at least most years, is a big reason why.
Well, football starts in the trenches on every play, and only the football gods understand why Dallas has never employed a true nose guard.
It's time for that to change, so other defensive players upfront can be maximized.
There are three things you never pass up on in a football player: speed, strength and height.
Jenkins may not have the speed, but he's got everything else.
Women can claim that size doesn't matter in an entirely different contact sport—but in football, it absolutely does.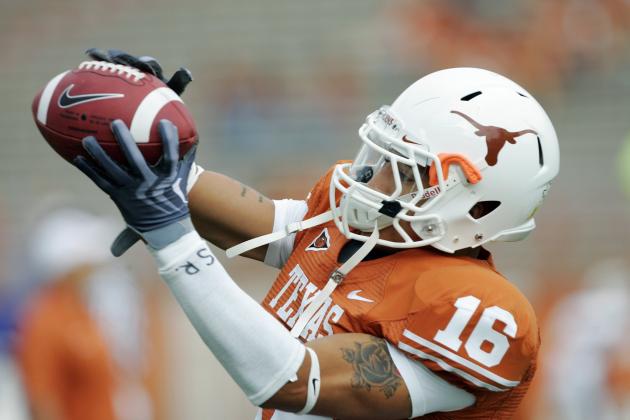 Brian Bahr/Getty Images

If nose guard is the most neglected position on the Dallas defense, then safety is an easy runner-up.
Barry Church seemed set to create a new beginning for the Cowboys secondary at strong safety. Not since Darren Woodson has Dallas really had a complete safety who could do it all.
With Church coming back from a season-ending injury suffered early in 2012, it would seem like he'll have the opportunity to regain his starting job.
Safety is not a position that typically gets drafted in the first round—and especially not strong safeties.
Kenny Vaccaro of Texas is a safety who could get a look from Dallas in the first round, despite the fact that safety might not be a huge position of need.
But, there's not very much proven at this position, and depending on how things fall on draft day, the Cowboys might conclude that choosing where they are is the best move. That location would make a safety a logical choice.
Vaccaro may not get the attention of some others at his position, but Vaccaro is the best of the bunch—and even he could slide to the second round. Vacarro could also help out on special teams for a few seasons, and this is an area that's been an improved unit in 2012.
Whether Church remains the starting strong safety or not, only free safety Gerald Sensabaugh is a sure thing, roster-wise, for the future.
And the Cowboys should not be afraid to upgrade this position if they feel Vaccaro can do so.
If Jerry Jones is still on the secondary bandwagon, like he obviously was last season, then Vaccaro could be the pick. This would not fill a huge need, but it could be the right call.