UCLA Bruins' 5 Keys to Beating Missouri on the Court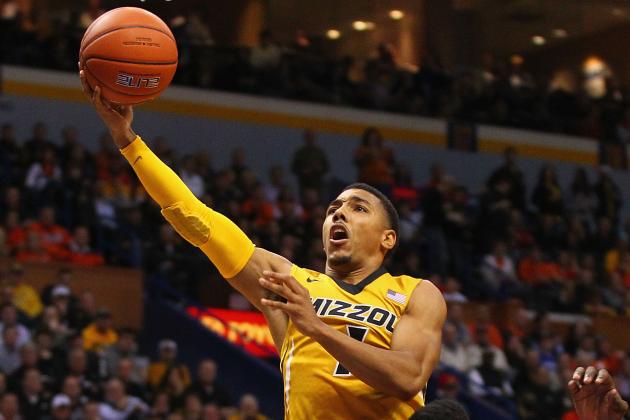 Dilip Vishwanat/Getty Images
Mizzou's Phil Pressey
The No. 7 ranked Missouri Tigers stalk into Westwood, Calif., having won their last six battles and carrying a 10-1 record on the season. But the team from Columbia, Mo., might be more paper than Tiger and are perhaps not the mighty hunters they appear to be from the safety of a statistics sheet.
Mizzou has played a particularly weak non-conference schedule, ranking 148 out of 347 teams, and the two true tests they have had came at neutral sights.
Mizzou was blown out of the semifinals of the Battle 4 Atlantis tournament at Paradise Island, Bahamas, by then No. 2 ranked Louisville, 84-61. The game was not close in any aspect and the Tigers never managed to force the Cardinals to even flutter their wings in fear of a rush.
But the Tigers bodied-up and went rough against then No. 10 ranked Illinois, winning the border-state Braggin' Rights game 82-73—their fourth straight victory over the Illini in the series.
The UCLA game will be Mizzou's first true road game of the young season. But the Tigers represent a potentially lethal challenge for the Bruins in several particular areas. Check out these five key areas of the game UCLA will have to control if they want to send Mizzou home with a limp tail.
Begin Slideshow

»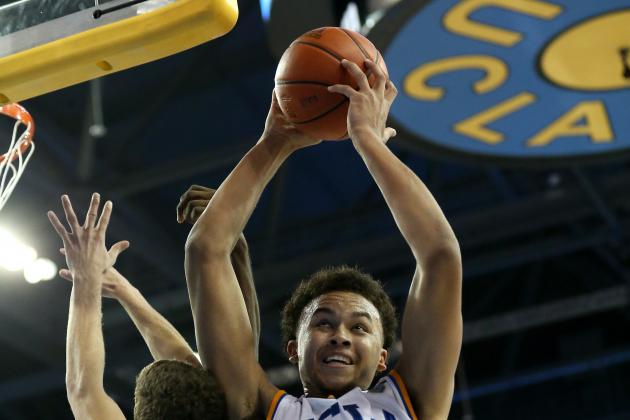 Stephen Dunn/Getty Images

UCLA (9-3) must rebound, cleaning the windows to a sparkle at both ends. Mizzou is second in the country in rebounding margin at +14.2 per game. The Tigers snatch 47.2 boards a contest, including 29.2 at the defense end, but they rarely score in transition.
UCLA pulls down 39.8 rebounds a game, making a 7.4 advantage in Mizzou's favor.
Tigers' head coach Frank Haith has told his point guard, Phil Pressey, to push the basketball from foul line to foul line and distribute to scoring guards and forwards on their way to the rim. If Mizzou has not improved their scoring on the break, the advantage will go to UCLA, who can rest a thin rotation in the transitions and save their energy for run-outs of their own.
In their last game on Dec. 22, Mizzou out rebounded Illinois 58-35 and topped the Illini 44-24 in points in the paint. The Tigers' center, Alex Oriakhi (6'9'', 225 lbs), can be powerful but often settles into a finesse game. Oriakhi is Mizzou's strongest rebounder at nine a game. Their next best rebounder is Laurence Bowers at 6.7 a game. Bowers is a forward who also does a lot of scoring.
The Bruins must go hard-nosed and burly with the Tigers and close the rebounding gap if they are going to win. Freshman forward Kyle Anderson, who averages 8.7 rebounds per game, will have to use all of the high school muscle and his great brain for the game to do his part under the glass.
If Mizzou controls the windows they will wear UCLA down with multiple possessions and limit the Bruins' scoring, which is how UCLA has been winning games this year.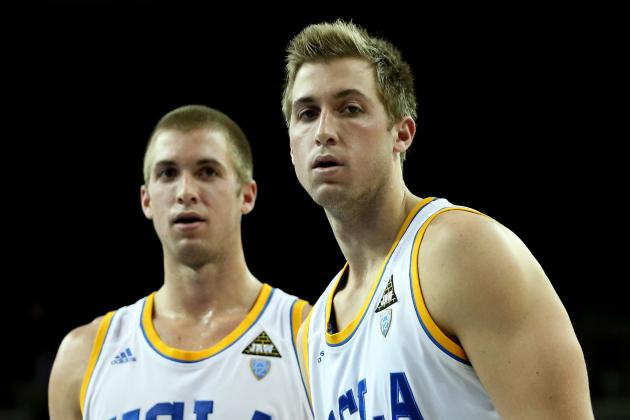 Stephen Dunn/Getty Images

This is the corollary to the rebounding margin. UCLA must at least neutralize the paint as a scoring zone, making it a push between the two front lines so the Bruins' backcourt players, Shabazz Muhammad and Jordan Adams, can flicker the lights on the scoreboard.
The problem is that UCLA's front line—in the form of the Wear twins—is the weakness of the team. Coach Ben Howland has infrequently played freshman Tony Parker, a 6'9'' forward with a strong body and good skills, and as a consequence, Parker cannot be counted on to contribute here—though this may be the game he gets a good chance to demonstrate competence.
The Wears will not be able to hang if Mizzou's front line has had it instilled into them to attack them directly and relentlessly. David and Travis are soft, finesse players who cannot be territorial about the painted zone. If Parker had been worked in and Josh Smith at 6'10'' had not transferred, the Bruins would not be so vulnerable here.
But UCLA's guards and smaller forwards—Adams, Norman Powell, Larry Drew II and Muhammad—must keep their men out on the dribble drive, or be extremely active in that zone, to prevent distortions on the defense that are used for dunks or wide-open perimeter shots.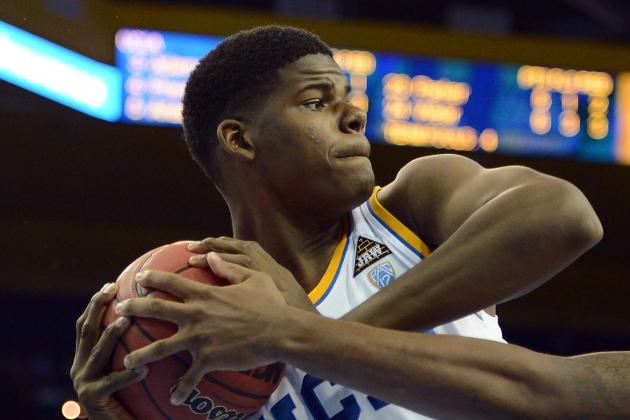 Harry How/Getty Images
The missing man, Tony Parker.
Mizzou runs nine players for more than 10 minutes a game. UCLA plays six men—Muhammad, Adams, Travis Wear, Anderson, Powell and Drew—more than 25 minutes, and the seventh, David Wear, plays for 22.5.
Every game, he Bruins are in danger of being worn down, suffering a devastating injury or getting into serious foul trouble with a gossamer-thin rotation.
UCLA starts three freshman, a junior and a senior. Mizzou starts three seniors, a junior and a sophomore.
The Bruins freshman will be put into a 40-minute grinder against an experienced team from a big time conference. There will be storms to weather over the course of the game, and the resilience will be tested of a group that may be frustrated at both ends by older, stronger players who know what a possession-by-possesion basketball game is like at this level.
Here the baby Bruins will have to embrace the winded-burn on defense and get their points any way they can. We will see about their conditioning and their overall toughness.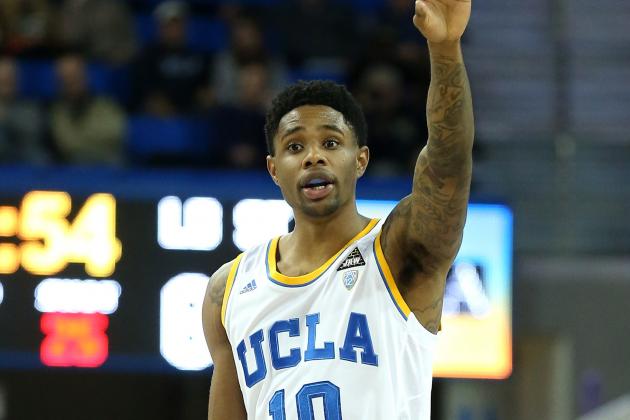 Stephen Dunn/Getty Images
Larry Drew II
Drew Two must push the ball when there's an opening and control the tempo when nothing in transition is available. The senior has done artisan work this year distributing the ball and getting the lads scoring.
Drew goes for 8.5 assists per game against 1.6 turnovers and has really been a rock in terms of reliably holding on to the ball.
Secondly, Drew will be tasked with disrupting Missouri's junior guard, Phil Pressey. Pressey assists less than Drew, turns the ball over more often but also scores 12.3 points a game to Drew's 5.9. If Drew Two can cause chaos here for Mizzou, UCLA will have an opening at both ends to keep the battle close.
Drew is a one man show. Without him, UCLA is left without a true primary ball handler and point guard. Drew is playing almost 34 minutes a game, which is a heavy rotation no matter how it's looked at. He will have to be very good, reliable and durable from horn to horn.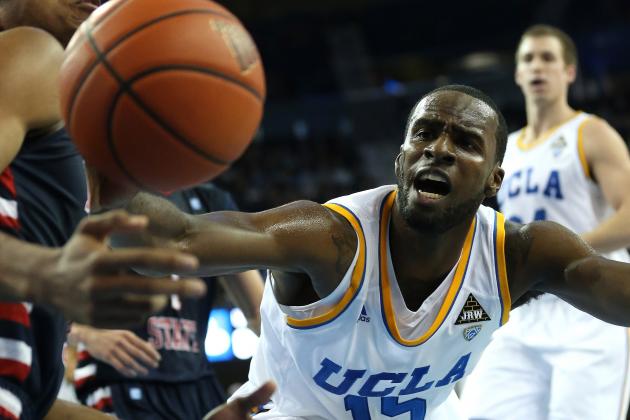 Stephen Dunn/Getty Images
Shabazz Muhammad
The defense has been improving. It has been slow and agonizing, but there are signs.
But the Bruins' last game against Fresno State may have been a step back. UCLA allowed the Bulldogs 78 points on 48 percent shooting and 58 percent from behind the arc. Fresno State shot 40 percent overall and 25 percent from three-point range coming in to the game.
UCLA will have to be sharp on their rotations and energetic in contesting shots. If Coach Haith's directive to Pressey to push is true, then the Bruins must also be vigilant in covering transition attempts from Mizzou.
Mizzou has 6'8'' Laurence Bowers who can stand and shoot and other players like Pressey who will fall happily into a rhythm where they can line up three-point shots and bomb away.
If the Bruins aren't careful with Mizzou's rebounding, the Tigers will launch threes and clean the glass afterwards. That would be a disaster and lead directly to a blowout for the Tigers.
Shabazz Muhammad can be counted on to bring a long-haul, high-RPM engine to every game. Muhammad could lead a frenetic defensive effort that inspired his teammates to a peak performance.
Both schools score nearly 80 points a game, with UCLA at 79.6 and Mizzou at 78.2. The Tigers allow 61.7 a game (92), while UCLA gives up 67.5.
If UCLA's freshman keep their nerves and score when its available, the game will distill down into a 40-minute defensive contest of who can get enough stops to win.